Digital marketing is one of the best ways to grow your equipment rental company, and it offers an impressive return on investment (ROI). Investing in digital marketing opens your company up to many effective strategies, such as search engine optimization (SEO) and pay-per-click advertising (PPC).
These strategies help you meet your clients where they're at and build stronger relationships to keep them returning to rent more equipment whenever they need it.
Ready to learn how to use digital marketing for equipment rentals? Keep reading for six digital marketing strategies for equipment rentals that'll grow your company!
And if you're pressed for time and looking for a do-it-for-me digital marketing agency, learn more about our digital marketing services!
We're a full-service digital marketing agency with experience in 154 industries. We know how to create a results-driving digital marketing plan customized for your equipment rental company.
Our digital marketing campaigns impact the metrics that improve your bottom line.
See More Results

WebFX has driven the following results for clients:

$3 billion
In client revenue

7.8 million
Leads for our clients

5.2 million
Client phone calls
6 ways to use Internet marketing for equipment rentals
Whether you want to grow your web presence yourself or hire an agency to handle it for you, digital marketing for equipment rentals will help you get there.
If you're ready to kickstart the process for your company, check out these six ways to use Internet marketing for equipment rentals:
1. SEO
When you search for something online, how often do you venture beyond the first page of the search results? Most users don't, and the contractors and construction companies who rent from you are no exception.
That's why your equipment rental company should appear as high in the search results as possible. To accomplish that goal, you'll need a website and an SEO strategy.
SEO is the process of optimizing your site to appear higher in the search results. Because every search starts with a keyword, or search term, SEO begins with researching the best keywords for you to target.
You'll want to select keywords relevant to your business and target customers that give you a reasonable chance of ranking. For these reasons, long-tail keywords, or search terms more than three words long, can make the most strategic choices.
For your equipment rental company, you might choose keywords like "scissor lifts for rent [city]" or "how big of a boom lift do I need."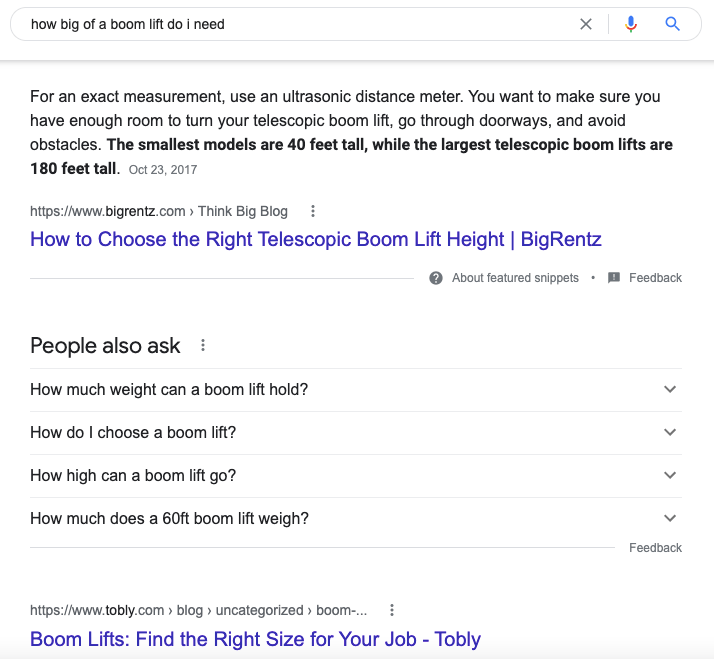 Once you've strategically chosen your keywords, you'll optimize your site content to appear higher in those search results.
SEO involves on-page factors, like creating content for chosen keywords and incorporating your keywords strategically, technical site elements, and off-page factors, like building backlinks to your site.
2. Content marketing
Content is a critical component of SEO. To rank for your target keywords, you need valuable, unique content users want to consume.
From the keyword examples above, you might have noticed that your content can (and should!) target various types of search intent and stages of the purchase funnel.
The keyword "scissor lifts for rent [city]" has a transactional intent. The searcher is looking for scissor lifts they can rent. To target this keyword, you'll want to create user-friendly, SEO-optimized product pages that answer the user's questions.
On the other hand, the keyword "how big of a boom lift do I need" has a more informational intent. While the searcher might want a boom lift in the future, they're now looking for information that answers their question.
The content you create for this keyword could be a frequently asked questions (FAQs) page or a blog post discussing the different sizes of boom lifts and when someone might need each.
Beyond helping your SEO strategy, content marketing also showcases your industry expertise and shows your target audience the value your company can provide for them.
3. Web design
Next on this list of digital marketing strategies for equipment rentals is web design. You might not think of web design as a marketing strategy, but the right design boosts your SEO efforts, improves your conversion rate, and makes an excellent first impression.
Your website also forms the heart of your digital marketing strategy. It's the home base, so to speak, for all your other digital marketing efforts. Ensure you design it well by asking yourself these questions:
Is my site's design optimized for SEO? Search engines want to prioritize websites that are easily navigable and mobile-friendly. The best way to make your site mobile-friendly is by using a responsive design, which automatically adapts to the user's device.
Is my website user-friendly? The construction managers and contractors who rent from you are busy. They need an equipment rental process that makes it easy for them to find the equipment information they need and reserve their chosen equipment.
Is my website optimized for conversions? Likewise, you'll want to ensure those busy construction managers don't click out of your site because they can't find the equipment you offer, how to contact you, or how to rent it. Optimize your design to convince visitors to convert.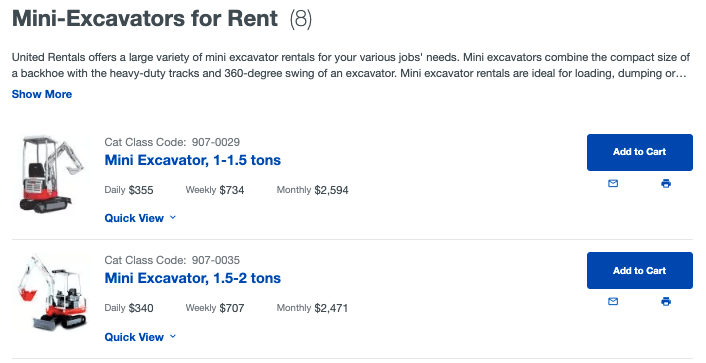 4. Pay-per-click advertising (PPC)
If you want a way to get your equipment rental website seen by prospects more quickly than SEO allows, PPC is a great tactic to add to your arsenal. With PPC, your equipment rental company can appear at the top of the search results as a paid ad, above the organic results.

When you engage in PPC, you'll create a compelling ad based on the keywords you wish to target. On Google Ads, you also set your bid amount, which is the maximum amount you'll pay for every click your ad receives. The actual amount you pay depends on your competition and the quality of your ad.
To engage in comprehensive digital marketing for equipment rental companies, you can use PPC alongside SEO to help your company dominate the search results. Or, you can use PPC to complement your SEO strategy for those search terms you might not be ranking for organically.
Regardless of your chosen approach, PPC gets your company seen by more prospects, increases brand awareness, and drives high-value leads to your website.
5. Social media marketing
If you want to meet your target audience where they're at, try social media marketing. With more than 5 billion users, social media platforms reach 70% of Americans. Given this overwhelming reach, social media allows you to communicate with your target audience, no matter how niche they may be.
To use social media for equipment rentals effectively, you'll want to:
Choose the right platforms: Each social media platform has a different user base. Choose the social platforms that align with your target audience and make strategic sense for your business strategy.
Create valuable content: No matter which digital marketing strategies you choose, valuable content is vital. When you post on your social platforms, you compete with an abundance of content, so help yours stand out by making it high-quality.
Post consistently: All social media platforms love consistency, so choose only those platforms that you'll be able to maintain.
Engage with your audience: Social media is highly conversational, so don't stop at posting your content. Grow your engagement by responding to comments and messages and sharing relevant posts from others.
While creating your social media strategy, don't hesitate to get creative!
Many equipment rental companies might veer away from a platform like TikTok, but you might determine that it works well for your audience and business strategy. Who says you can't make fun, snappy videos about excavators and skid steers?
6. Email marketing
Many businesses use email marketing to nurture leads or stay in touch with customers after they make a purchase.
Your equipment rental company could benefit from email marketing as a personalized means of communicating with contractors or site managers who have previously rented from you. By staying in touch with them and continuing to communicate your company's value, you increase your chances of retaining them as customers.
For best results, segment your email lists to ensure you send the most relevant content to each subscriber. Create valuable content that will answer each segment's questions. For example, what information might a commercial site manager need versus a residential contractor?
Meet WebFX:
Your world-class, tech-enabled marketing agency with over 1.6 million hours of combined expertise.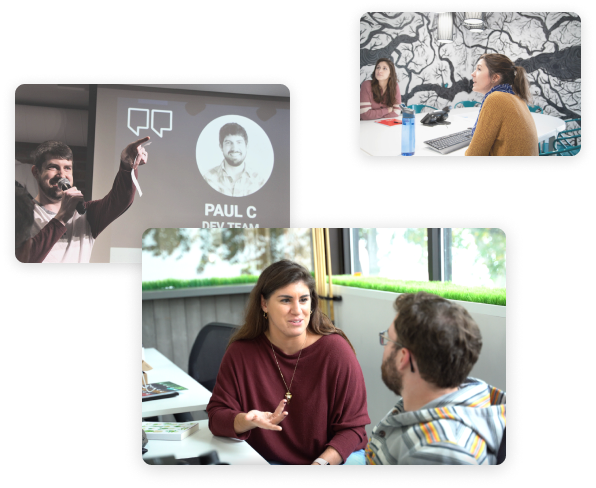 Leverage digital marketing for equipment rentals with our comprehensive services
Ready to take advantage of the many benefits of digital marketing for equipment rental companies? When you partner with our comprehensive digital marketing agency, you'll receive a customized strategy built with your business's needs in mind.
We have over 500 digital marketing experts who have driven over 7.8 million leads and $3 billion in revenue for our clients. We know how to make digital marketing work for your company.
When you partner with us, you can spend more time building relationships with your clients and maintaining your equipment while you trust us to take care of the SEO, PPC, social media, and more.
Want to learn more? Call us at 888-601-5359 or request a free proposal online today!
Earn a 20% greater ROI with WebFX