If you're like many HVAC companies, you rely heavily on word-of-mouth referrals to generate new business. Referrals, however, aren't enough to support your growing business.
Marketing is essential for attracting new customers, and the Internet provides many cost-effective options for businesses in any industry, including the HVAC sector.
If you're looking to grow your operations, HVAC Digital marketing is a smart strategy.
With an HVAC marketing strategy that includes digital channels, your business can earn more calls and service requests. Those increases can lead to not only more revenue but also the opportunity to hire more technicians, purchase more service vehicles, and more.
Keep reading to learn more about the best HVAC marketing strategies, plus services from our HVAC marketing company that can help you take full advantage of these techniques. If you'd like to chat now, call us at 888-601-5359 !
Why does HVAC digital marketing matter?
If you've been relying on traditional marketing methods to spread the word about your services, you've likely been sinking time and money into campaigns that don't attract your target audience.
Digital marketing allows you to reach your best prospects where they're searching online. This means that you can generate new HVAC leads while you're in the field.
Instead of trying to push users to contact your company, you're pulling them to your business by reaching them when they need you, like when they're searching Google for an HVAC company.
Ultimately, online marketing strategies can save you time and money, while increasing leads and sales. That sounds like a pretty good deal, right?
Keep reading to learn more about how Digital marketing can work for your HVAC company.
Hear What It's Like to Work With WebFX!

"WebFX is always quick to respond to a question or request even if they do not have the answer right away. Their expertise on increasing our domain authority over the years has been significant and has had a positive impact on our website. They keep their offerings updated and monthly reporting is always on time."
Hvac Company
4 HVAC marketing strategies that work
Now that you understand how digital marketing can benefit your business, let's take a look at some specific HVAC Digital marketing strategies you can use to start driving traffic and leads to your website.
1. Get found on Google with search engine optimization (SEO)
Search engine optimization (SEO) is an umbrella term that describes a number of optimization activities that help your site rank higher in search engine results.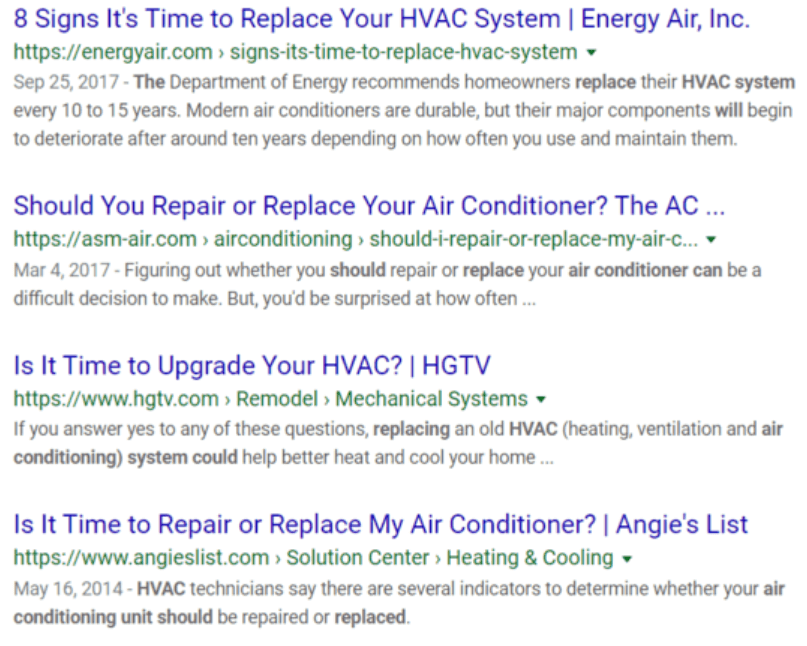 For example, if you're an HVAC contractor and serve local customers, you will want your site to appear at the top of the online search results when people search for HVAC services in your area.
By optimizing your pages with appropriate titles, meta descriptions, and keywords, you can rank in top spots for targeted phrases related to your business.
In addition, you can use Google Business Profile to claim your search listings and add relevant information such as your address and phone number. Then, when people in your area search for HVAC services, your listing will appear, and they can easily call your business for more information.
2. Use paid online ads to reach potential HVAC customers
With pay-per-click (PPC) advertising, you can create advertisements and choose which terms you want to trigger them. Then, if your bid is among the highest, your ad will display above organic search results.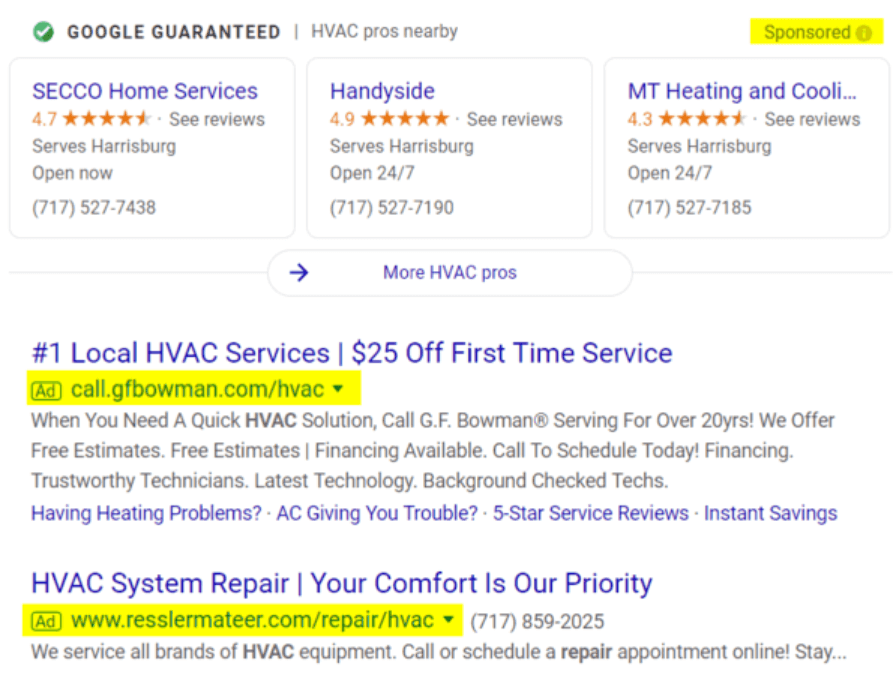 Best of all, you'll only pay when someone clicks your ad – meaning that you don't have to worry about wasting money showing your ads to people who aren't interested in your services.
One of the main benefits of PPC is that you don't have to wait for results. As soon as you launch a campaign, it can start sending targeted traffic to your website.
Is your HVAC company looking to expand your visibility in search engines? PPC is a great option, and it can help you reach more targeted leads.
3. Answer common HVAC questions with content marketing
Content marketing includes a many forms of online content, from blog posts and infographics to white papers and downloadable guides.
Since search engines love fresh, quality content, meaning that it also goes hand-in-hand with SEO.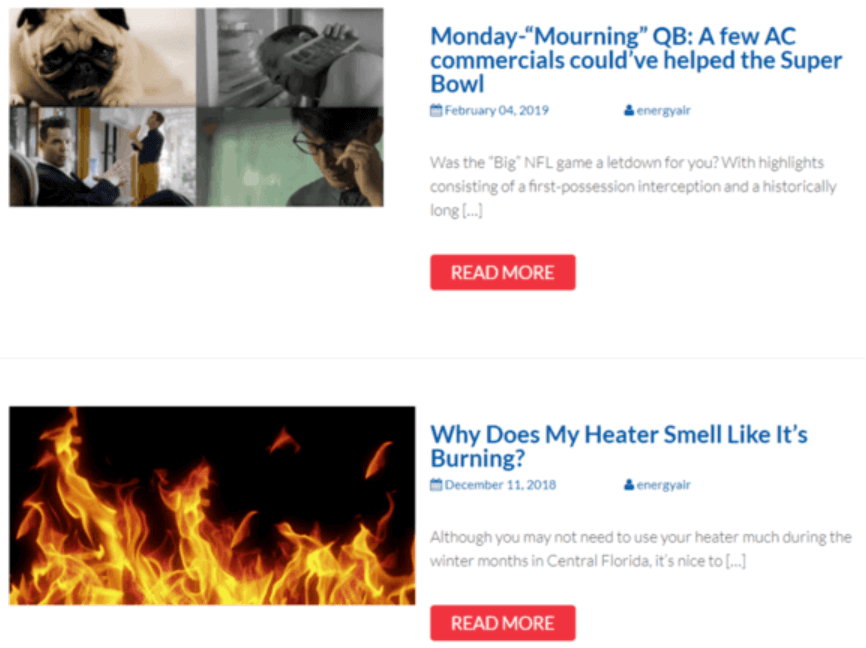 You can start by creating a blog that contains helpful HVAC information and tricks. Then, you may consider expanding your strategy to include long-form content. Long-form content can be several thousand words long, and it serves as a helpful resource that people will likely reference for long periods of time.
Creating and publishing valuable content can help you reach new leads where they're searching online. For example, if someone searches for HVAC information and comes across a helpful infographic published by your business, they will be more likely to remember you in the future when they are in need of HVAC services.
4. Make your business accessible with social media
Social media is a great tool for reaching leads online, and it's a go-to HVAC digital marketing strategy.
People can easily review your services and share your business pages with friends and family.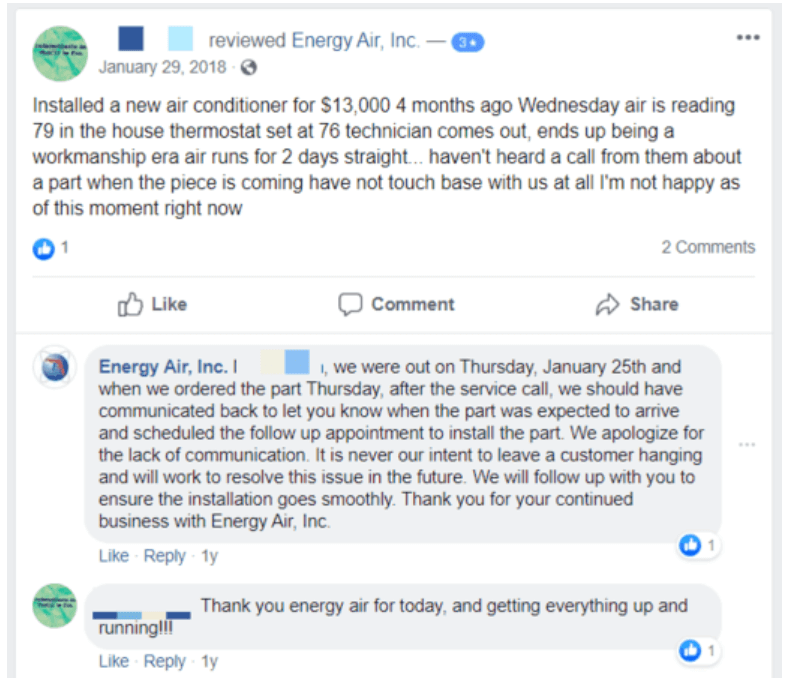 In addition, social media is a great place for your HVAC business to share what makes you unique. You can choose to highlight your staff members, host a contest, or celebrate your business culture with fun posts.
All of these things can help to put potential customers at ease and help them feel confident in their decision to choose your company for their HVAC needs.
HVAC digital marketing services
At WebFX, we offer a suite of digital marketing services for HVAC companies, including:
When you partner with our HVAC marketing company, you get access to an experienced team of digital marketers with experience in your industry. As your partner, we'll take the time to get to know your business and research industry trends to deliver the best possible outcome for your business.
Check out our testimonials page to hear what our clients have to say about our work. Or, view our case studies to see our clients' impressive results!
Time to Level Up Your Sales
Our long list of services helps you grow every aspect of your business with marketing strategies that are proven to increase bottom-line metrics like revenue and conversions.
In the past 5 years, we've managed more than 12.9 MILLION transactions across our client base.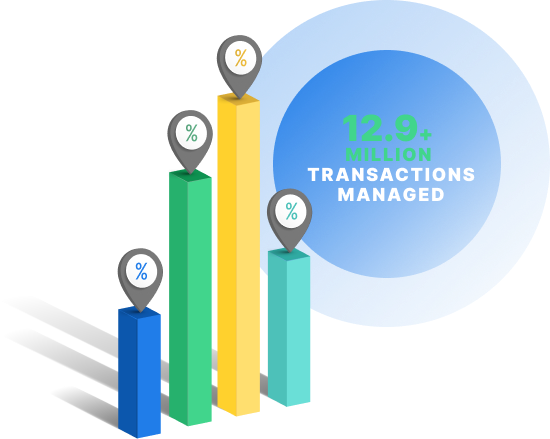 Grow with our HVAC marketing company's services
Interested in learning more about how digital marketing can work for your HVAC business?
WebFX can help. Our HVAC marketing company works with hundreds of businesses across the United States, and we're excited to work with you.
Contact WebFX today, and design a custom plan to help you reach new customers, increase sales, and grow your HVAC company.
Find out how WebFX can create an effective digital marketing strategy for your HVAC company. Call 888-601-5359 or contact us online today for a free evaluation.