Leslie designs beautiful spaces for her clients and wants to help more people design spaces they love. She decides to take her business online so more people can find her services and check her out. She spends some time building her site and making it look beautiful but doesn't know how to help people find it.
That's where search engine optimization (SEO) comes into play.
With an SEO plan for your interior design business, you can optimize your beautifully-designed site to rank in more search results and drive relevant traffic and leads.
So, how do you get started with SEO? Keep reading to get five tips for SEO for interior design!
If you want to jumpstart your SEO campaign, contact us online or call us today at 888-601-5359 to speak with a strategist!
Independent research from Clutch has named WebFX the
top SEO company

in the United States.

Clutch has personally interviewed more than 250 WebFX clients to discuss their experience partnering with us.

Read More Clutch Reviews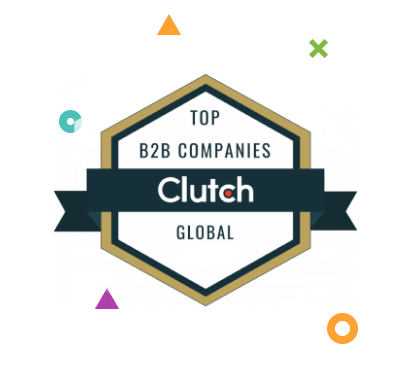 1. Target relevant interior design keywords
The first step in SEO for interior design is finding applicable terms for your business. When users conduct searches on Google, they use keywords to generate related search results. To help you appear in the right results, you need to choose relevant keywords.
To find the right terms, start by conducting keyword research. You can use a keyword research tool, like KeywordsFX, to help you find the right terms.
When you look for relevant interior design keywords, focus on keywords that contain three or more words. These keywords are known as long-tail keywords.
Long-tail keywords are more specific, so they drive more qualified traffic. If someone searches "interior design," it's hard to know what they want to find.
That user could be trying to find inspiration for interior design, to learn what interior design is, or to find an interior designer — the search intent isn't clear.
With a long-tail keyword, like "rustic interior design tips," the search intent is more evident. You know the searcher wants to find because the keyword is more specific.
Once you find these long-tail keywords, you'll integrate them into your site so your pages can rank. Don't over integrate them on to the page — it will lead keyword stuffing, which will negatively impact your site's ranking.
By integrating your long-tail keywords into your page, you can start ranking in relevant search results and drive more traffic to your page.

Hear What It's Like to Work With WebFX!

"WebFX has dramatically opened up our business opportunities through their expertise, understanding, and tireless efforts to help us find competitive edges against our competitors. Their level of understanding of their field in addition to their holistic understanding of our company needs and goals is nothing short of remarkable. We are a much stronger company with WebFX behind us."
Home Furnishings
2. Build your local presence to attract local leads
When you do SEO for interior designers, you must think about your local customers. People in your area are looking for an interior designer. Unless you build your local presence, they might not find your business.
Here's how you can help your business appear in more local search results:
Claim your Google Business Profile listing
When users conduct a local search, it generates a feature called the local SEO 3-pack. This feature appears in a box in search results with three local businesses listings.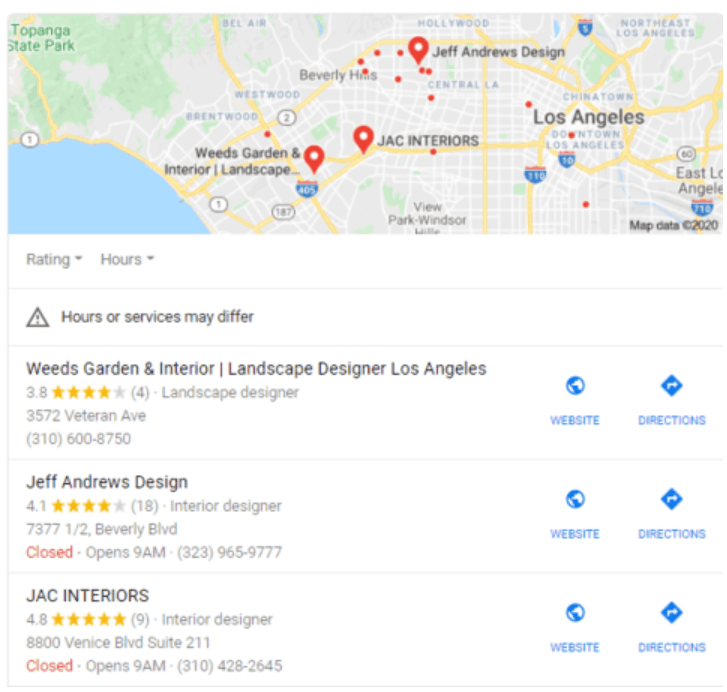 If you want your business to appear in local search results, you need to start by claiming your local listing. Once you claim your Google Business Profile listing, you'll want to optimize it and fill it out completely.
Verify your name, address, and phone number are correct. After that, you'll want to:
Add a short bio about your business
Make sure your listing links back to your website
Add photos to your listing
Add hours of operation
By completing your profile, you'll have a local listing that performs better in search results. You'll increase your chances of appearing in the local 3-pack and drive more local leads.
Verify your local directory listings
Many people use local directories and websites, like Yelp or Yellow Pages, to find a business like yours. You want to ensure that, regardless of how leads find you, the information is accurate.
If there are inaccuracies with your local listing across directories, it can result in a Google Business Profile listing suspension. To avoid this problem, you need to comb through your listings on different directories to make sure it's accurate.
If this seems like a daunting task, don't worry — LocalFX makes updating and verifying your listings a breeze. This tool enables you to sync your listings across 100 directories to ensure you deliver consistent information.
Optimize for local keywords
The last part of optimizing to appear before local leads is targeting local keywords. Local keywords help you drive people in your area to your business.
You can rank for local keywords like "interior designers in Los Angeles" or "interior design company in Dallas." With local keywords, you'll typically focus on location-based keywords to help you drive in leads looking for an interior designer in your area.
3. Make sure your site loads quickly to keep leads engaged
Aside from finding interior design keywords and optimize for local searches, you'll want to focus on the backend of your site. If you want your site to rank in search results, you need to ensure it loads quickly.
Users don't want to wait for slow-loading pages. In fact, 53% of users will abandon your site if it takes more than three seconds to load.
To see how quickly your site loads currently, you can use Google PageSpeed Insights to help you. Plug your website into this tool and get information on how your site loads presently. Google will also provide you with information on how to improve your site's load time.
Some common reasons for slow sites include:
Heavy image files
Too many page elements
Too many redirects
Lack of browser caching
Heavy video files
If you don't have the time to dedicate to improving load time or don't know how to alter your site, you can invest in page speed services from a digital marketing company.
4. Make sure your site is mobile responsive
Along with having a fast loading site, having a mobile responsive site is another critical component of SEO for interior design. More than 50% of Internet traffic comes from mobile, so you need to ensure you're delivering a positive experience to these users.
Additionally, Google considers the mobile version of your account with ranking your site because it operates on a mobile-first index.
So, how do you create a mobile-friendly site?
First, check and see if your site is already mobile-friendly. You can use Google's Mobile-Friendly Test tool to see if you have an excellent mobile site.

If your site isn't mobile-friendly, you can integrate responsive design to help make it mobile-friendly. Responsive design ensures your site adapts to all devices, from smartphones to tablets.
A mobile-friendly site will keep leads engaged on your site longer, which will increase dwell time and lead to higher rankings.
5. Start a blog to increase traffic to your site
When you do SEO for interior designers, you want to include blogging as part of your strategy. If you want to improve your ranking in search results, you need to drive traffic to your page and keep traffic on it. Blogs fulfill both of those needs.
When you create blog posts, you share your knowledge with your audience. It enables you to establish yourself as an authority in your field. People will trust that your interior design company knows what you're doing.
To get started with blogging, you'll want to come up with topics you can cover. Stick to industry-related topics, so you drive traffic to your page that's interested in your business. You'll also want to use a keyword research tool to find relevant terms for your blog posts.
Once you have your topic and terms, you'll want to check the search intent for the topic. See what other content exists in the search results and what's ranking well in search. It will help you shape your blog post to rank.
After you learn about the search intent, you can start crafting your blog. Follow some of these best practices for creating successful blog posts:
Don't overuse jargon — it can confuse your audience
Keep your paragraphs to 2-3 lines to make it easier for your audience to read
Try using bulleted lists or numbered lists to make content digestible
Use visuals, like photos and videos, to break up the text
When you create user-friendly blogs that interest and engage your audience, you'll keep them on your site longer and boost your site's ranking in search results.
Get started with SEO for interior design today
SEO for interior designers is a valuable strategy to help you boost traffic to your site and obtain new leads. If you need help getting started with SEO, WebFX is here to help.
We have a team of over 500 SEO experts ready to help you launch your campaign. We know how to drive valuable results — we've driven over $3 billion in sales and over 7.8 million leads. As a top SEO agency, you can feel confident we'll help your SEO campaign thrive.
Ready to design your custom SEO plan? Contact us online or call us today at 888-601-5359 to speak with a strategist about our SEO services!
Earn a 20% greater ROI with WebFX