Social media is an excellent place for you to connect with people interested in interior design. If you aren't taking advantage of these platforms, you're missing a prime opportunity to showcase your work to potential clients.
Social media for interior design is a valuable tool for helping you build brand recognition and nurture your followers into clients.
Keep reading to get six tips for starting your social media strategy.
If you're ready to launch your strategy, WebFX is here to help. We have a team of over 500 experts ready to help your campaign. Contact us online or give us a call at 888-601-5359 to learn more about our social media marketing services!
Growing your social presence with WebFX is a walk in the park.
"WebFX allows growing your social media platforms to be stress-free! They are knowledgeable and adapt to your company needs!"
Learn More About Our Social Media Services

1. Figure out the best platforms to reach the right people
To get started with social media for interior design, you need to figure out what platforms you will use. You can choose numerous platforms to connect with your audience, including:
So, how do you figure out which of these platforms is right for you?
To determine the right platforms, look at your target audience. Who is most likely to hire you as an interior designer? Determine characteristics like:
Demographics (age, gender)
Location
Hobbies/interests
Income
Occupation
When you establish these characteristics, you can form marketing personas. Marketing personas are fictional representations of actual customers that you can use to target new customers.
Knowing your target audience also helps you figure out which platforms to use to reach people interested in your interior design company.

Hear What It's Like to Work With WebFX!

"WebFX has dramatically opened up our business opportunities through their expertise, understanding, and tireless efforts to help us find competitive edges against our competitors. Their level of understanding of their field in addition to their holistic understanding of our company needs and goals is nothing short of remarkable. We are a much stronger company with WebFX behind us."
Home Furnishings
2. Create a brand style and voice for your content to build brand recognition
As an interior designer, you know that when you design a client's space, it speaks loudly to their style and what they like. When you do social media for interior designers, you need to establish your style to build brand familiarity and stand out from your competition.
You need to establish both your brand style and your brand voice.
Your brand style is how you visually present your brand to your audience. You'll want to establish information like your photo style, color schemes, and more.
Take this example from House Lift Design. All the photos on their Instagram are different, but they have a similar aesthetic.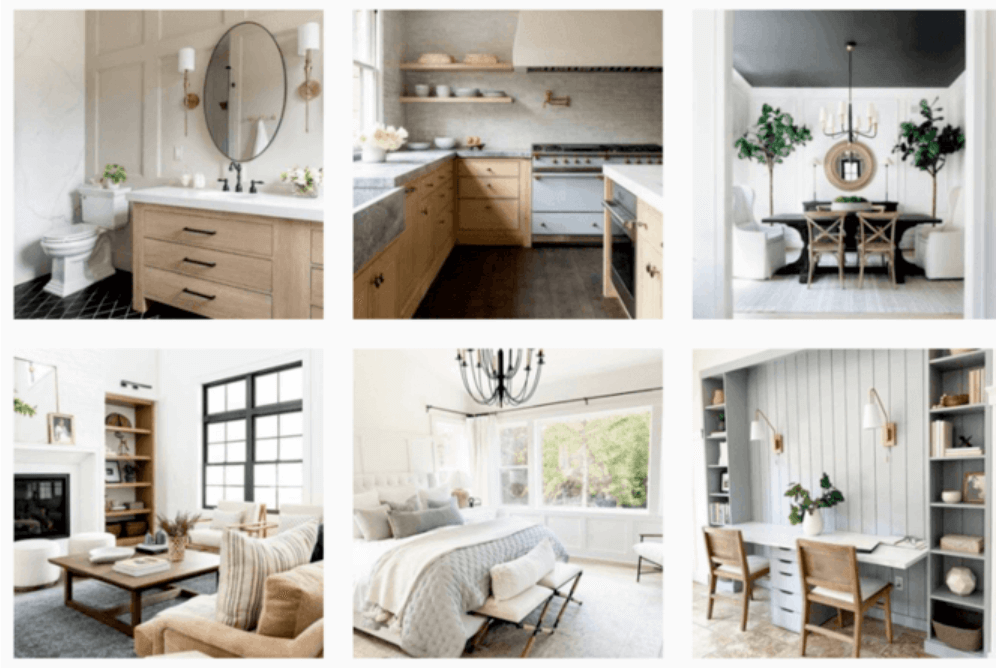 So, if someone sees this design company's content in their feed, they'll recognize it and check it out.
Think about how you want to portray your interior design company to your audience. Do you want to take a warm, earth-tone feel with your content, or a bright, modern feel?
Along with the brand style, you need to establish your brand voice. Your brand voice is reflective in every text post or caption you write.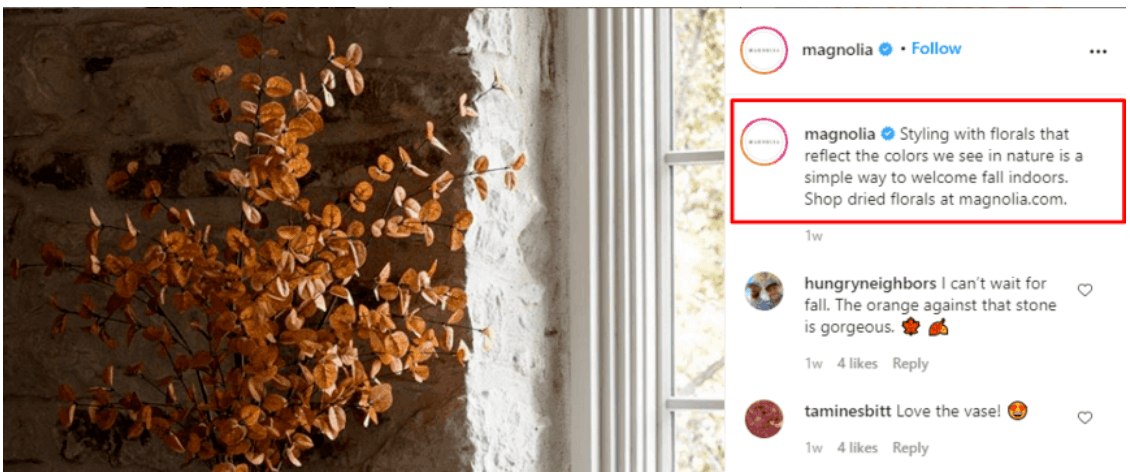 You need to establish the right brand voice for your interior design company. Your brand voice can be uplifting, friendly, professional, or silly. It should reflect your brand and the image you want to portray for your company.
Establishing these two key components will help you stay consistent with your social media strategy. Your audience will get to know your brand better.
3. Go visual with your content to make it more engaging
Next on our list of social media tips for interior designers is to go visual with your content. You want to catch your audience's attention as they scroll through their feed — visual content is the best way to do that.
As an interior designer, everything you do is visual. So, you must use photos and videos to showcase your work to your audience.
Here are some ideas of visual content you can post:
Photo comparison of a before and after shot
A video tour of a room you redesigned
Photo of your favorite feature in a newly designed room
A video of your design process and how you design a space
Creating visual content will help you drive more engagement on your social posts.
4. Create a schedule for your content to stay organized
When you do social media marketing for interior designers, you'll find that a critical component of social media is that you must post content often. You can't post content once a month and hope it's enough. You need to post content regularly to get people to engage with your brand.
To help you stay on top of posting content, create a schedule for posting. Creating a social media calendar will enable you to plan when you're posting content.
There are numerous benefits to scheduling your content, including:
You can create a more cohesive social campaign: When you have all your content planned for the month, you can ensure that your campaign is cohesive and works towards your larger goal.
You can identify content gaps: If you plan out your content for the month, you can determine where you might need to post content. Furthermore, you can see if there are days when you don't have content, so you can schedule something to post.
5. Use branded hashtags to learn what your audience says about you
When you use social media for interior design, you want to take advantage of using hashtags. Hashtags are an excellent way for you to track what people say about your brand.
You want to create branded hashtags that are easy for your audience to remember. If you have a long hashtag like "#Rusticinteriorsdesigncompany," it's going to be hard for people to remember it (or read it!).
A better hashtag, in this example, would be something like "#RusticDesignCompany" or "#RusticInteriors." Both hashtags are short and easy to remember.
Once you create your branded hashtags, you'll want to encourage your audience to use them.
When your audience uses your hashtags, you can search for your hashtag and see what they post. If you like some content they post, you can reach out to them and ask if you can share their content on your page.
This content, known as user-generated content, is an excellent way for you to build your audience's confidence in your interior design company. You can share others' experiences through this user-generated content, and help them see what it's like to work with your company.
6. Run social media ads to reach new clients
Along with social media marketing for interior designers, you'll also want to do social media advertising. Social media ads are paid advertisements that appear in users' social media feeds. They're tagged with the word "sponsored" to indicate paid content.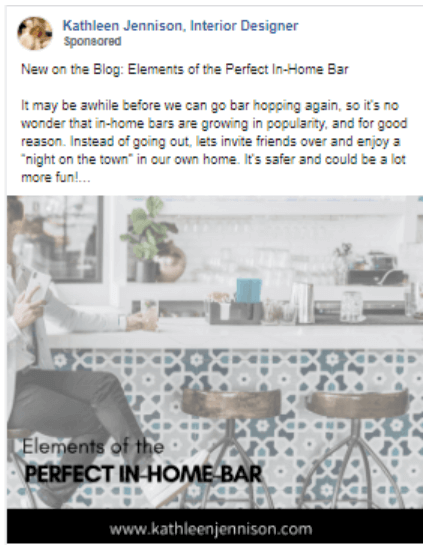 Social media ads are an excellent way for you to reach clients who need your interior design services. These social platforms offer advanced targeting, which enables you to refine your targeting parameters to reach the most interested leads.
When you create your social media ad, you can choose from numerous formats. The extent of formats available will depend upon the platform, but generally, each platform offers:
Photo ads
Carousel ads
Video ads
You can try different ad formats to see what generates the most engagement with your ads.
Additionally, you'll want to ensure that you use high-quality visuals. If your visuals are grainy or stretched, your audience won't want to engage with your ad.
When you launch an advertising campaign, keep track of ad performance. You want to monitor metrics like:
Keep track of ad performance to ensure you're driving the best results with your ad. If you do not see the results you desire, you can alter your ad to try and help it perform better.
Get started with social media for interior design
Now that you've got some social media tips for interiors designers, you can start launching your social media campaign. If you don't feel confident in launching your campaign, WebFX is here to help.
We know how to create social media campaigns that drive results. In the past five years, we've driven over $3 billion in sales and over 7.8 million leads for our clients. You can feel confident that we'll help your business thrive on social media.
If you want to launch a social media marketing or social media advertising campaign, contact us for a free quote or call us today at 888-601-5359 to speak with a strategist!