Cassidy wants to hire a translator for an event she's hosting. She does an online search and clicks on the first results she sees. But the website takes forever to load, and once it does, she has trouble navigating the site from her iPhone. Feeling frustrated, Cassidy heads back to the search results and clicks to visit another site.
If your site's web design and user experience (UX) aren't up to par, you'll send visitors like Cassidy searching for the exit. Without a well-designed website, you'll lose out on a lot of website traffic, leads, and conversions.
But what does it take to master web design for translators? What can you do to improve your site? We'll provide several answers to that question below, so read on to learn more.
Then subscribe to Revenue Weekly — our email newsletter — for more marketing tips from the agency with over 1020 client testimonials!
Our digital marketing campaigns impact the metrics that improve your bottom line.
See More Results

WebFX has driven the following results for clients:

$3 billion
In client revenue

7.8 million
Leads for our clients

5.2 million
Client phone calls
7 tips to help you master web design for translation and interpretation services
Having good translator web design is critical for your business. Fortunately, there are a few simple things you can do to optimize your website for the best possible UX, driving up conversions in the process.
In particular, we'll look at seven ways to boost web design for translators:
Create an intuitive navigation setup
Brand your site
Optimize your images with alt tags
Implement responsive design
Improve your page load speeds
Craft compelling content
Make your site multilingual
Read on to learn more about each of those tactics!
1. Create an intuitive navigation setup
When building a website, you'll first want to lay out a clear navigation structure. Navigation refers to the way you group and interconnect the different pages across your site, allowing users to find their way around.
To create an intuitive navigation setup, add a navigation bar at the top of each page, where users can easily see how the site is divided up and move from one section of it to another.

You can also use breadcrumb navigation to show users where they are at any given time.

When users can seamlessly navigate your site, they'll be far more likely to stick around long enough to convert.
2. Brand your site
Branding is critical for all your marketing, but particularly for web design. You need to harness various elements of your site — primarily visual ones — to represent your company's unique brand in a way users will remember.
You can convey your brand in numerous ways, including color schemes and font styles. Whether you want to come off as casual, prestigious, fun, or any number of other things, visual branding is the way to communicate that.
If you don't brand yourself, it'll be easy for users to get your site confused with all the others they visit, so you won't stand out in anyone's mind. That's why it's such a critical part of interpreter web design.
3. Optimize your site's readability
Website readability is critical. A website that's hard to read won't attract many users.
Two of the easiest ways to make your site readable are to:
Use white space
Use appropriate typefaces and font sizes
When you leave plenty of blank space around your text and format it in easy-to-read fonts, readers will respond much better to it.
You can also greatly improve your site's readability by using alt tags for your images.
Alt tags are short snippets of text you can attach to images to describe what they show. For example, if you were to include a picture of a translator working at a conference, you could use the alt tag "translator-interpreting-at-a-conference."
Alt tags serve two functions. To start with, they make your site more accessible to people with screen readers who can't see the images themselves. They also allow Google to read what the images show, so they can contribute to your search rankings.
4. Implement responsive design
Did you know that over 50% of all Internet traffic comes from mobile devices like phones and tablets, not from computers? That means that if your site isn't mobile-friendly, you're missing out on the majority of your traffic.
In addition, Google ranks sites based on their mobile format, so a non-mobile-friendly site won't rank well at all. For both of those reasons, you need to make your site accessible on multiple types of devices.
The best way to create a mobile-friendly site is to use responsive design, which causes your site to adjust its layout to fit the screen where it appears.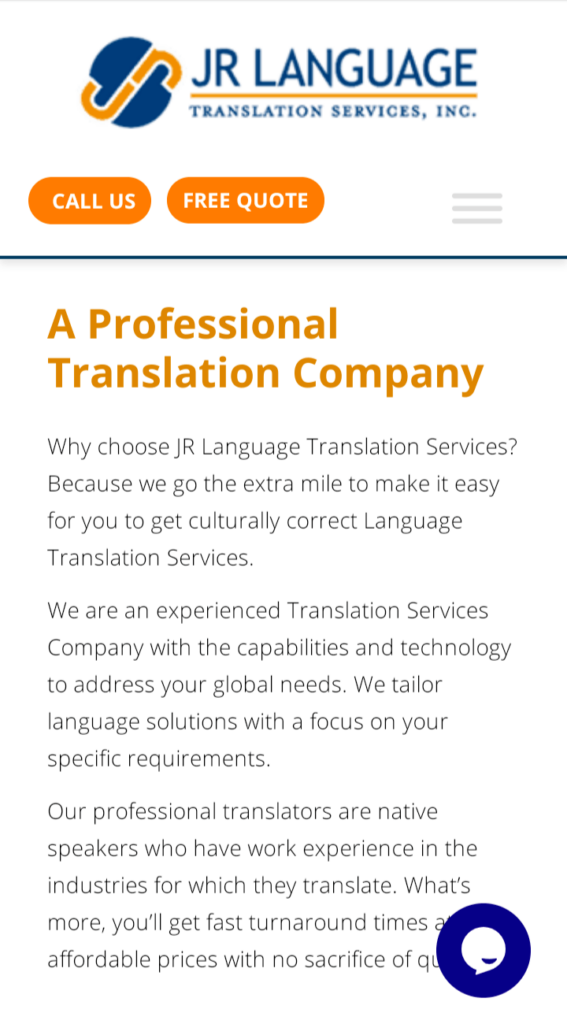 When your site works well on both desktop and mobile, you'll be able to reach the largest possible audience without losing out on valuable traffic. That's why at WebFX, all our web design plans come with responsive design!
5. Improve your page load speeds
When users visit your site, they expect it to load quickly. In fact, 83% of users expect pages to load in three seconds or less. If your site takes longer than that to load, most people will probably hit the "back" button, causing you to lose out on a lot of traffic.
To avoid that issue, you can take steps to help your pages load more quickly. To start with, it's a good idea to check your current page speeds, which you can do by using Google's PageSpeed Insights tool.
From there, you can work on optimizing your page speeds. Specifically, you can:
Compress images
Cache web pages
Minify code
When you do each of these things, your site will begin running much more quickly. That way, you'll be able to vastly improve your interpreter web design and retain more traffic.
6. Craft compelling content
You can create a website that loads quickly, works perfectly on mobile, and has beautiful visual design — but if no one has any reason to visit, none of that will matter. That's why it's critical to fill your site with valuable content about your business and what you do.
One of the best content options is to start a blog. You can write blog posts about different types of translation and how your services can benefit your audience. You can also write service pages explaining exactly what you offer and how it works.
Another option is to create videos on your site, which you can use to convey similar information to the blog or to introduce members of your team. Whatever type of content you create, it will draw in users who want to view it, bolstering your translator web design.
7. Make your site multilingual
A final interpreter web design tip is to make your site multilingual. After all, you're a translation service — it wouldn't make much sense for your site to be available in only one language.
If possible, you should aim to provide a version of your site for each language you specialize in translating. You can allow users to switch to their preferred language by displaying a drop-down menu or similar element at the top of the site.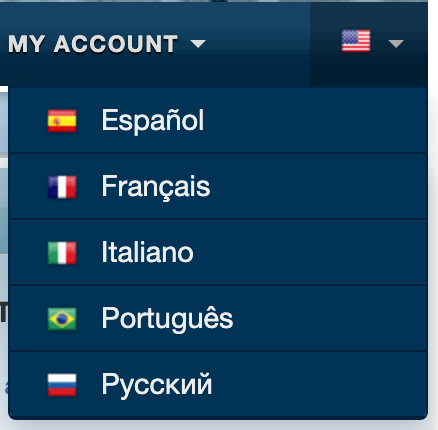 Having a multilingual site will not only ensure that your site is accessible to all your potential clients, it will also help with your branding as a competent and trustworthy translation service.
WebFX knows web design for translation and interpretation services
Ready to get your translator web design off the ground? WebFX would love to lend a hand! With over 25 years of experience, we're the experts on web design for translators, and we can drive superior results for your website.
With our web design services, you'll get help optimizing your site for each of the elements listed above and more. You'll also be assigned a dedicated account representative to personally keep in touch with you about every aspect of your marketing.
To get started with us, just give us a call at 888-601-5359 or contact us online today to learn about PPC for translation companies, SEO for translation companies, and more!
Earn a 20% greater ROI with WebFX