Payroll has changed extensively in recent decades. With online software streamlining the payroll process, many businesses offer these services that didn't have the means to do so before.
Whether your accounting company adds payroll services to your regular offerings or your payroll company looks to gain new business, digital marketing helps you stand out from the competition.
According to recent statistics, 71% of business-to-business (B2B) customers start their research with search engines. If businesses look for payroll services, use digital marketing strategies to make yourself the first choice.
Curious about what digital marketing will do for your payroll business? Reach out to WebFX to learn more!
Our digital marketing campaigns impact the metrics that improve your bottom line.
See More Results

WebFX has driven the following results for clients:

$3 billion
In client revenue

7.8 million
Leads for our clients

5.2 million
Client phone calls
What is digital marketing for payroll services?
Digital marketing refers to any method used to advertise your business online. These methods may include pay-per-click (PPC) ads, social media, email, and search engine optimization (SEO).
Digital marketing works differently than traditional marketing. Previously, you may have used methods like print advertisements or mailers to advertise your payroll services.
While traditional marketing still brings value, many businesses search online for a payroll provider. If you advertise online, you place your business in front of numerous interested eyes.
Why is digital marketing essential for payroll companies?
Maybe you have a stable customer base for your payroll services, advertise using traditional means, and rely on your existing client base. There are still benefits even if lead generation isn't your main goal.
If you wonder whether digital marketing benefits you, consider these reasons for investing in it:
Save money:

With digital marketing, choose your budget and scale your marketing efforts accordingly. Implement digital marketing strategies for little to no cost except time.

See measurable results:

With traditional marketing, you might struggle to know whether it's working. Digital marketing allows you to track metrics like clicks, shares, and conversions.

Target your ideal audience:

Digital ads allow you to set a target audience, so your marketing efforts find companies most likely to buy.

Reach people early in the buying journey:

When a business looks into payroll software, use digital marketing to educate customers and demonstrate value immediately.
3 proven marketing strategies for payroll services
A digital marketing strategy uses various actions across online marketing channels to achieve goals. Your digital marketing strategy should seek short- and long-term goals to achieve the best success for your payroll business. For a payroll business creating an online marketing strategy, consider these top marketing strategies.
1. Help businesses find you with SEO
Search engine optimization involves strategies to improve your website's ranking on Google and other search engines. If you use SEO to make your website appear higher on search results, more businesses will find your site and contact you.
Businesses searching for payroll services often turn to Google. They might use common search queries, like "payroll services near me" or "payroll companies in [your city]." If you optimize for SEO, your site will show up as they search, leading to more qualified leads.
Use these strategies to optimize your service website for SEO:
Use relevant keywords on your website.

Include

header tags

and meta descriptions.

Update your website design for better usability.

Increase page speed.
If you wonder how to improve those website aspects, consider some SEO tools to guide your efforts.
2. Gain new clients faster with PPC
SEO focuses on long-term results. If you start optimizing for keywords and improving your site, you might not receive new clients immediately. Alternatively, PPC ads earn you a high return on investment early — about $2 for every $1 spent.
PPC ads primarily display on Google search results pages. They often appear above organic search results with an "Ad" tag. You might also see PPC ads on social media or other websites you visit online.
PPC ads work well in a digital marketing strategy because you only pay when someone clicks on the ad. The businesses that click on the ad have an interest in your payroll services, and if you use your landing page to convince them you suit their payroll needs, you have won a new client.
3. Connect with customers through social media
Social media marketing continues to gain popularity in digital marketing. This strategy involves using social networks like Facebook, Instagram, and LinkedIn to connect and engage with current customers or connect with prospective customers.
You may wonder whether social media works well for a payroll business that provides business-to-business services. Social media lets you connect with employees and CEOs at the companies you seek to gain as clients. These individuals often appreciate social media's personal connection and may choose you based on your brand.
If you're looking to start a social media page, follow these tips:
Choose the right platform:

LinkedIn works well for B2B businesses since it focuses on business connections.

Share informational content:

Show your payroll expertise, so companies trust you with their finances.

Share reviews:

If you have some long-time customers with praise to share about you, post their testimonials on social media to convince other businesses to choose you.

Interact with your audience:

Respond to comments and direct messages to show that you listen to your customers.
Meet WebFX:
Your world-class, tech-enabled marketing agency with over 1.6 million hours of combined expertise.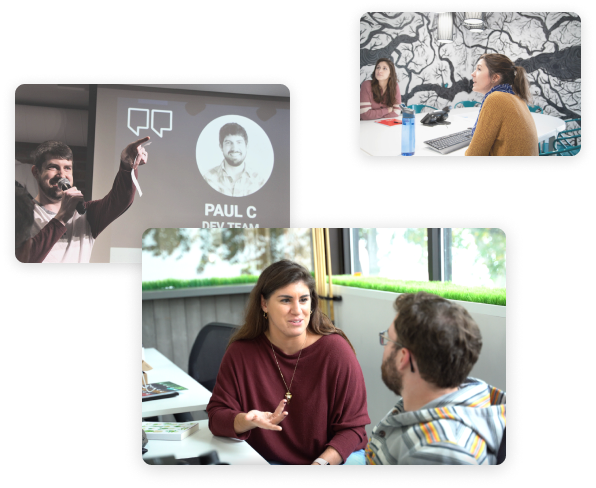 Let WebFX handle your payroll marketing
WebFX makes selling your payroll services easy. We handle the marketing, so you have time to focus on providing a superior experience for your payroll clients.
From social media management to SEO expertise and PPC services, WebFX has a digital marketing strategy to meet your needs. With experience in digital marketing since 1996 and more than 500 subject matter experts to optimize your campaign based on your industry, WebFX will make your payroll company rise above the competition online.
If you're wondering how much digital marketing for your payroll company costs, prices may vary based on your marketing needs. Discover your costs by getting a free quote from WebFX. If you have questions about our digital marketing services and want to speak to a representative, call 888-601-5359 today.
Earn a 20% greater ROI with WebFX