There's a lot of competition in the consultancy world. While you know you have something unique to offer your leads, you need ways to show what sets you apart.
Launching a web marketing strategy will help your consultancy generate leads while communicating your unique selling propositions. Continue reading to learn how web marketing can establish your consultancy firm as the go-to for your ideal customers.
You'll learn even more about digital marketing when you subscribe to Revenue Weekly from WebFX. Join our mailing list for more helpful tips!
Don't miss our Marketing Manager Insider emails!
Join 200,000 smart marketers and get the month's hottest marketing news and insights delivered straight to your inbox!
Enter your email below:
Inline Subscription Form – CTA 72
"*" indicates required fields
(Don't worry, we'll never share your information!)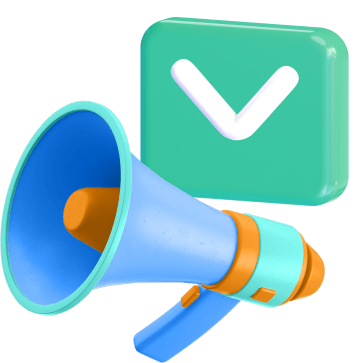 What is a digital marketing strategy?
Digital marketing can widen your consultancy's lead and customer bases. You just need to use the right strategy.
A digital marketing strategy is a plan for using online channels to achieve marketing goals. Common goals include increasing brand awareness, generating leads, securing purchases, and solidifying brand loyalty.
Your consultancy's digital marketing strategy will utilize three types of media — owned, earned, and paid. Owned media is content that you produce and publish independently. Earned media is third-party content that references your brand. Paid media is content that you pay money to produce and promote.
Must-have elements of a consultancy's digital marketing strategy
The consultancies that stand out from the rest bolster their digital marketing strategies with various techniques. Here are a few essential elements that your consultancy's digital marketing strategy should include.
A specific audience
Focus is critical to successful internet marketing. You'll experience the greatest return on investment when you tailor your strategy to the audience.
As a consultancy, you want your digital marketing campaigns to target decision-makers from businesses in the industries you specialize in. Pinpoint your target audience so you can form a strategy around factors like the information they want to find, the places they're most likely to search, and the tones they respond to the best.
One way to ensure your marketing strategy targets the right audience is to form buyer personas. A buyer persona is a fictional person you create to represent your target audience. You can reference the buyer persona as you develop marketing content.
Flawless web design
Your website will do the most for your marketing campaign when you prioritize its design. Web design is the process of customizing the page elements that your users will see. It includes anything from page layout to navigation, font, and even color scheme.
Your consultancy's web design should emphasize user experience. The vast majority of the time, your users will form their first impression of your consultancy based on your site's design. Make sure your website looks professional and is easy to use so potential clients think highly of your consultancy.
Useful content
Businesses will find your consultancy's website if it features the information they're searching for. You can implement content marketing to fill your site with useful information that targets viewers at every stage of the customer journey.
Content marketing doubles website conversion rates by driving traffic and establishing credibility. You can boost traffic and lead generation by filling your consultancy's website with blogs, infographics, and videos about key topics. Here are some ideas to try:
Target new leads with articles on the latest trends in your ideal customer's industry.

Address those further in their journey with the benefits of choosing a consultancy.

Solidify a lead's decision to use your consultancy through case studies that display your value.
Natural keyword integration
So, you have ideas for content that will answer the questions your target audience is asking. The next step is to write the content in a way that tells search engines like Google that your page has the information readers want. Keywords are your consultancy's best friend during search engine optimization (SEO).
A keyword is a term that indicates your page's topic and matches it to users' search queries. You can conduct research to determine the best keywords to use.
But remember — keyword usage is a delicate art. Use keywords naturally instead of stuffing them in your content. Google and its users appreciate readability and will reward you for it.
Personalized email marketing
Did you know that 59% of people say emails influence their purchase decisions? Use email marketing as a part of your digital strategy to capitalize on this opportunity. An email campaign can consist of newsletters, blog summaries, promotion announcements, and other company updates.
You'll see the most email marketing success when you personalize your approach to the audience or even to the individual. Personalization leads to an open rate boost of nearly 42%.
To personalize your consultancy's email campaign, tailor your content to the reader's interest. You can also address your reader or their business by name to establish a personal connection.
If you know a lead is high in the marketing funnel, send them top-of-the-funnel content. For those you know are closer to hiring your consultancy, give an overview of the ways you can benefit their company.
A mixture of organic and paid strategies
Many of the ideas we've discussed so far fall under the umbrella of organic marketing techniques. Organic tactics use free resources or strategies like SEO and keyword integration to garner views.
Paid marketing is when you invest money to promote your content or search listings. Examples include pay-per-click advertising, where companies bid to have their listings appear higher on Google, or sponsored Facebook posts that the site pushes to the users you target.
As a consultancy, you can use paid marketing to appear higher on Google when a user searches for consultation services. The same applies to searchers for topics you cover in your blog. The return is often worth the investment — businesses make $2 for every $1 they spend on PPC advertising.
Our digital marketing campaigns impact the metrics that improve your bottom line.
See More Results

WebFX has driven the following results for clients:

$3 billion
In client revenue

7.8 million
Leads for our clients

5.2 million
Client phone calls
Boost your consultancy's online presence with WebFX
As a consultant, you know better than anyone that every business can benefit from a little outside assistance. When it comes to digital marketing, WebFX is the best company to have on your side. Our experts are ready to develop an online strategy that will help you generate more leads and conversions for your consulting business.
Ready to make the most of your web presence? We invite you to contact us online or call us at 888-601-5359 to see how WebFX can help you achieve your goals.
Earn a 20% greater ROI with WebFX