For many people, golf has long been a social activity where friends, family, and coworkers can spend time together, talking and enjoying each other's company.
When it comes to marketing your golf course, one of the best ways to draw people in is to appeal to this social mindset. And where better to do that than on social media, where the average users spend 28% of their Internet time?
There are several ways you can use social media for golf courses to boost your marketing. We'll cover eight of these tactics below.
Read on to learn more, and then consider partnering with WebFX — the digital marketing agency with client testimonials — for our social media services. Just call us at 888-601-5359 or contact us online to get started!
8 tips on propelling your golf course social media
Social media for golf courses is unquestionably a valuable marketing tool, but how do you make the most of it? Here are eight ways to drive results with your golfing social media strategy.
1. Interact with users
If you want to use social media to engage people, the first thing you have to do is interact with them.
When you treat your social media account like a stage, you can certainly succeed at projecting your brand to many users, but you won't convey the sense of personal connection your audience wants. You must talk to users one-on-one to draw them in and get them to engage with your business.
Leave comments on posts that mention your account, and respond to comments on your own posts. Answer any questions users have for you as well. When you interact with your followers online, you help keep your brand at the forefront of their minds and build better relationships.
2. Run contests and promotions
Another great golfing social media strategy is to attract people to your page with incentivized contests or promotions. People love winning prizes, making contests a great way to draw in people who haven't yet followed you.
You can approach the contest tactic in multiple ways. One way is to run a simple giveaway, where you draw names from your follower list. Another is to host some sort of game, like golf trivia, to determine a winner.
You can also vary your prizes. You could reward contest winners with anything from new golf balls to a free round of golf. Either way, the incentive is a great way to get users to engage with you on social media.
A word of caution: Don't use contests too often. If you're constantly holding contests, you're going to get people who follow you solely to win prizes, rather than to learn about your golf course and visit you. Consider saving this strategy for special times, like your business's anniversary or a holiday.
3. Encourage user-generated content
Running an entire online marketing campaign can quickly become a lot to manage, and sometimes you just need to take a short break. Thankfully, you don't have to do it all alone. In many cases, you can rely on your audience to create content for you!
That's the idea behind user-generated content. You can encourage your followers to use a certain hashtag or tag your business to get relevant content for your social profile.
For example, you could post a picture of one of your staff members teeing off at your golf course and invite your followers to share photos of them teeing off with your selected hashtag.
Soon enough, you'll have a slew of photos spreading across social media that depict people golfing on your course.
4. Use photos and videos
A plain-text social media post might convey a fantastic message about your business, but it's also more than likely to be scrolled past by most of your followers. People don't have long attention spans, so you need to create social posts that catch their attention.
To catch users' eyes and make them pause their scrolling, try injecting some visual elements into most of your posts. Photos and videos are valuable options for creating more engaging posts.
Whether you're posting about a promotion or simply wishing your followers a happy Thanksgiving, incorporating an image can help draw their interest. Videos are fantastic tools in their own right — you can use them to show off tours of your course or to introduce your team.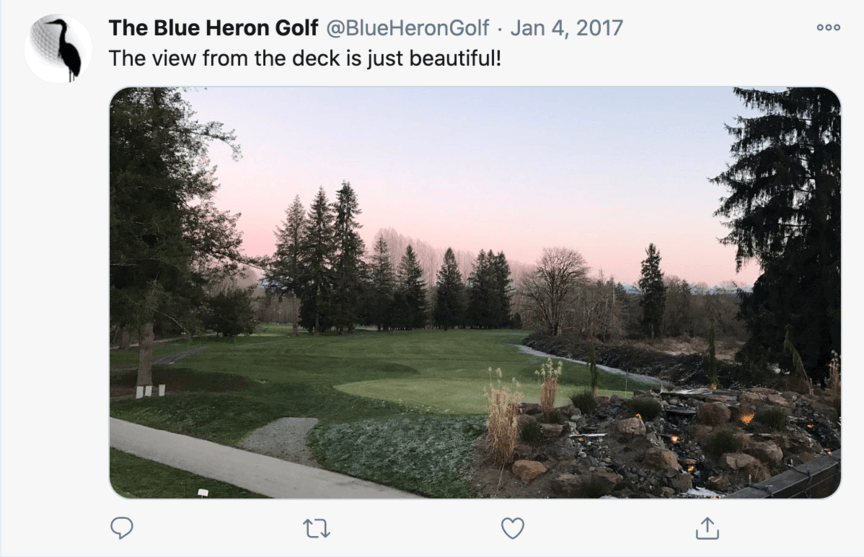 5. Respond to feedback
If there's one thing people like to do on social media besides interact with people, it's voice their opinions about their experiences. As a result, many people will share their opinions of their experience with your golf course on social media.
Usually, these "reviews" are simply posts people make about their experiences, though Facebook does allow users to leave official reviews for products and services.
If people are talking about your golf course on social media at all, they're almost certainly leaving reviews for it. Keep an eye out for these reviews and respond to as many of them as possible. When someone leaves you a good review, be sure to thank them.
Respond to negative reviews as well. Anytime you see a bad review, start by publicly apologizing for the problem and offering to make it up to the reviewer. Then message the reviewer privately to try and resolve the issue.
6. Create a social media calendar
To run a successful golf course social media campaign, you need to post on a consistent schedule. You don't want to let your account fall into a state of inactivity — that's a sure way to lose the interest of your followers that you've worked so hard to acquire!
A social media calendar can be a valuable asset in helping you maintain your posting schedule. You can create your posts in advance and set them up to go live at a specific time. That means you can still be posting new content even when you're swamped with other work.
You can create social media calendars using a variety of tools online, such as Hootsuite and Buffer.
7. Craft compelling infographics
One of the reasons people might be inclined to follow a golf course account is that they're interested to learn more about the game itself. You can use social media to provide informational content for those people, and infographics are the best format in which to do it.
Infographics allow you to present meaningful information in a visually appealing way. A colorful graphic can catch your audience's attention and help them obtain valuable information fast.
You can use infographics to teach users about everything from how scoring works to how to properly angle a golf club.
8. Use in-feed ads
Organic posts from your account aren't the only advertising format available on social media for golf courses. You can also use paid ads to reach your audience.
Paid ads sometimes appear in the margins of social media websites, but you'll probably want to rely primarily on in-feed ads. In-feed ads are those that appear in users' social media feeds.
The benefit of paid ads is that you can target them to custom groups of users based on things like age and geographic location, allowing you to reach people from your ideal audience who aren't yet following you.
74% of people use social media when making a purchasing decision.
Make their decision easy with a stellar social media presence. See how your brand can level up by requesting a no-obligation proposal today.
One of our experts will be in touch within 24 hours!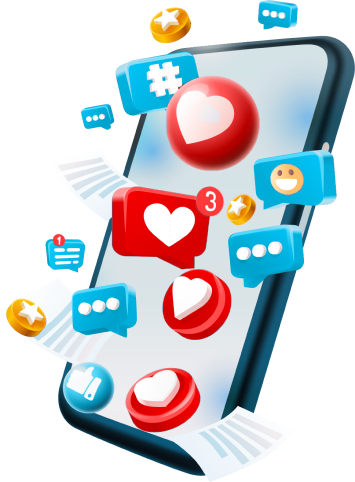 Hear What It's Like to Work With WebFX!

"WebFX is a great partner in our companies success. They take the time to understand our business and put campaigns in place to meet those business needs. They also bring fresh new ideas to the table on a regular basis. Excellent company to work with."
Outdoor Recreation
Get help optimizing your golfing social media strategy with WebFX
Looking for help optimizing each of the above tactics for your social media campaign? WebFX is here to help. With 25 years of experience in digital marketing, we're the experts on social media for golf courses.
We can implement each of the strategies listed above and more for your golf course. Whether you don't have social media profiles yet, or already have an account that you're looking to improve, our social media services can create the progress needed to drive up your online leads.
To partner with us, just give us a call at 888-601-5359 or contact us online today!