If you operate an ecommerce store, you need to constantly attract new customers and provide them with the information they need to make a purchase.
But if you have any experience with SEO, you know that selecting the right keywords to attract them can be challenging.
On this page, we'll take a look at how you can use long tail keywords to improve your search engine optimization (SEO) strategy and earn more leads and revenue for your ecommerce business.
To learn more, keep reading, and give us a call at 888-601-5359.
Use our proprietary keyword research tool,
KeywordsFX

, to help you find high-quality keywords for content and PPC campaigns. Identify Top Keywords for Free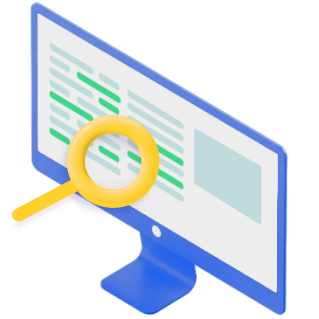 What are long tail keywords?
Any phrase with three or more words is technically considered "long tail." However, the most effective long tail keywords are often longer, highly-specific phrases that people search to find information related to your products.
For example, if you sell hiking gear, you could target the phrase "best lightweight hiking backpacks" as opposed to the more generic term "hiking gear."
Long tail keywords are typically less competitive than generic keywords, and they can help you attract people who've displayed clearer search intent — in other words, people who are more likely to be ready to make a purchase.

Hear What It's Like to Work With WebFX!

"Our WebFX team was on top of everything. Best part is our lead contact felt like she was part of our company. She learned everything about our business so quickly and was able to be very efficient with our brand. Reacting to what we needed or wanted to change, making us feel so comfortable the whole way!"
Retail
5 benefits of long tail keywords for ecommerce?
Here are five of the most important benefits of long tail keywords.
1. Less competition
Long tail phrases might not get as many searches each month as generic keywords. As a result, there are typically fewer sites trying to rank for long tail keywords.
There are already millions of pages built around broad search terms (like "hiking gear"), meaning that you'd need to outrank lots of competitors in order to get your content in front of people who are searching for those keywords.
When you target long tail keywords, on the other hand, there's less competition. That means your ecommerce site will have a better chance of ranking well and attracting search traffic from those phrases.
2. More qualified traffic
Long tail keywords can also help your business attract more qualified leads. This is because more specific search queries tend to reflect a higher purchase intent.
For instance, if someone searches "women's size 7 hiking boots", they are more likely to be ready to purchase than someone who searches "hiking boots" or a more generic phrase.
Users who search this broad keyword could be looking for general information, like how to select a pair of hiking boots or why they're necessary. And while ranking for those keywords can be valuable from a brand awareness standpoint, it's unlikely to generate as many conversions as longer, more specific keywords.
3. More conversions
Less competition and more qualified traffic can also lead to more conversions for your ecommerce business.
People who conduct long tail searches most likely have a better understanding of what they want. And searchers who find your site from long tail searches will probably be more inclined to learn more about your store or make a purchase.
4. Increased revenue
This should go without saying, but given the more qualified traffic and higher conversion rates, you can also expect to see an increase in revenue when you use long tail keywords for your ecommerce store.
It's important to note that not all long tail keywords will result in a lot of direct revenue. However, they can introduce potential customers to your brand and boost traffic to your website.
5. Targeted content
Understanding and targeting long tail keywords can also help you discover topics that are important to your target audience and create new content related to those long tail search queries.
Sticking with the hiking store example, you could create a comprehensive guide or video that addresses "what to pack for a day hike" or "best beginner hikes in [your state]."
When searchers find helpful content created by your business, they will be more likely to click on your site, learn more about your ecommerce store, and ultimately make a purchase. And creating valuable content can position your business as a leader in your industry.
Our digital marketing campaigns impact the metrics that improve your bottom line.
See More Results

WebFX has driven the following results for clients:

$3 billion
In client revenue

7.8 million
Leads for our clients

5.2 million
Client phone calls
3 tips for finding long tail keywords for ecommerce
Let's take a look at three top tips for finding long tail keywords for your ecommerce business.
1. Keyword research tools
Tools like KeywordsFX, Answer the Public, and Keyword Tool are a great starting point for keyword research. Not only will they help you expand your keyword list, they also allow you to uncover long tail variations of generic keywords.
For instance, you can start by entering a generic keyword related to your business. Then, the tools will provide a list of related topics based on information people actually search online.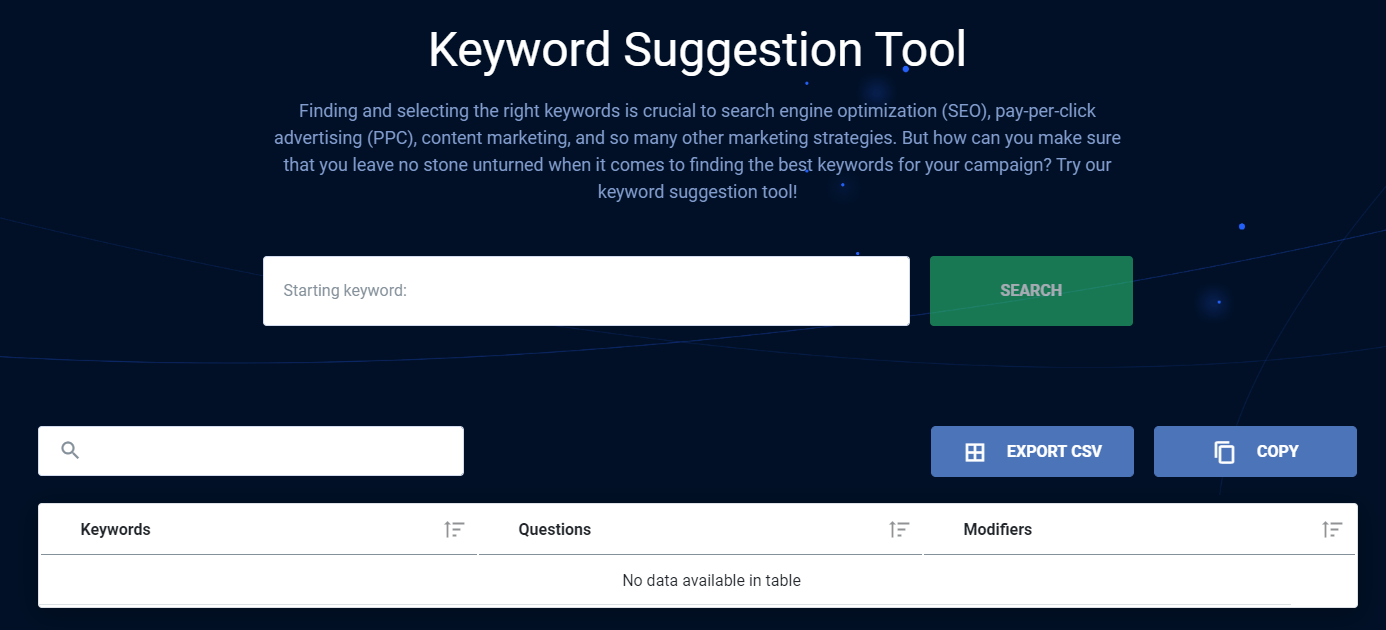 This can help you gain valuable insight about the topics potential customers are interested in learning about, and you can optimize your pages to include information about those topics.
Keep in mind that not all the keywords you uncover with these tools will be relevant to your business. However, they can be a great starting point for determining which long tail keywords you should target for the greatest impact.
2. Google Autosuggest
You can also use Google's Autosuggest feature to discover long tail keywords for your ecommerce business.
All you have to do is start by typing a generic keyword into Google. Then, instead of hitting enter, take a look at some specific phrases the search engine suggests.
For instance, you can type "hiking gear" or "hiking supplies." Google will suggest related searches based on things people actually search.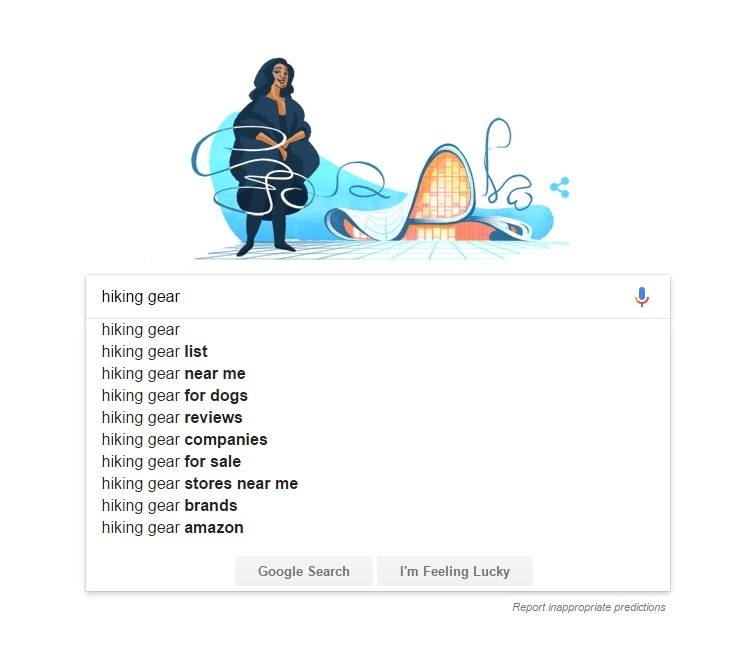 This means that users are already looking for this information on a regular basis. So if you create content to address these specific, long tail searches, people will be more likely to find your website and click to learn more.
3. Keyword difficulty
You'll also want to pay attention to the difficulty level of the long tail keywords you want to target. In other words, how hard will it be to rank in search results for a certain phrase?
Tools like Google's Keyword Planner and the Keywords Everywhere extension allow you to examine search volume data, trends, and level of competition for the keywords you enter.
Then, you can also take a look at pages that already rank in search results for the long tail keywords you want to target. Is there additional information you can provide on your pages that will provide greater value to searchers?
If so, creating the page could be genuinely helpful to your target audience, and can help you attract the traffic you want.
Understanding this information can help you select the long tail keywords that will provide the greatest impact and create copy that is useful to potential customers.
SEO plans from WebFX
WebFX provides custom SEO plans to help ecommerce stores like yours rank higher in search results, attract more leads, and earn more revenue.
We'll work with you to conduct keyword research and select the long tail phrases that will best resonate with your target audience and bring more potential customers to your online store.
We also offer content marketing plans, and we'll work with your ecommerce store to create original blog posts, infographics, motion graphics, ebooks, guides, and more. All of these content services are designed to help you increase your site's authority and search rankings.
When it comes to SEO and content marketing, WebFX is an industry leader. We're the top-ranked company in the US for organic SEO, and we drive digital revenue for more than 1000+ satisfied clients.
We work with ecommerce stores across the country, and we're excited to work with you to select long tail keywords, create custom content, and boost your rankings in search results for keywords and phrases related to your business.
Rank for long tail keywords with ecommerce SEO
Want to learn more about how custom SEO plans from WebFX can help your ecommerce store rank higher in search results, attract more leads, and earn more revenue?
Check out our SEO plans and pricing, and contact us to speak with a strategist and receive a free quote.
We work with a number of ecommerce businesses across the United States, and we're excited to drive results for your business!
Earn a 20% greater ROI with WebFX