Online Media Buying Services From WebFX
Media buying and ad placements are two of the best ways to reach extremely targeted, responsive audiences online. That means more clicks on your ads, more visits to your site, and more revenue for your bottom line. Pricing for our media buying services starts at $350/month and is 100% transparent - you always know exactly where your money goes. Scroll down for more details or fill out the form for an exact quote!
Speak with a Consultant
View Pricing Packages
About Our Online Media Buying Pricing
When it comes to online media buying, you need a company that adapts to your needs and gets your ads in front of the right people. WebFX, a leader in media buying and ad placements, ensures optimal reach of your target audience. With WebFX, plans include:
Customized solutions tailored to meet the needs of your business and connect potential customers to your website, ranging from demographic, psychographic, geographic targeting and more
A large directory of available online ad space, ensuring your online ads will appear on sites your target customers are visiting most often
Dedicated support from online media buying specialists who are consistently monitoring and testing to focus on the sites that convert best for your business
Most online agencies don't publish their pricing online. Maybe they're afraid of the competition, or they just don't feel comfortable with Internet media buying. But that means you, the client, have no idea what these plans will cost.
At WebFX, we are proud to publish our pricing. We know you won't find more competitive pricing anywhere for the value you receive — and we want you to have all the information you need right up front, including what happens when we buy online media. When you work with our award-winning team of Internet marketers and web designers, you'll get a cohesive and cost-effective Internet media buying campaign created just for your business.
Online Media Buying Services and Pricing Packages
Features
Bsic Plan
Aggressive Plan
Market Leader
Enterprise
Monthly online media spend
Up to $2,500
$2,501 to $5,000
$5,001+ Custom
Custom
Initial campaign development & strategy

✓

✓

✓

Custom
Demographic Targeting

✓

✓

✓

Custom
Geo-location

✓

✓

✓

Custom
Age range

✓

✓

✓

Custom
Gender

✓

✓

✓

Custom
Interest

✓

✓

✓

Custom
Education level

✓

✓

✓

Custom
Related website interests

✓

✓

✓

Custom
Keyword based targeting

✓

✓

✓

Custom
Mobile device targeting

✓

✓

✓

Custom
Mobile carrier targeting

✓

✓

✓

Custom
Product based

✓

✓

✓

Custom
Day(s) of week

✓

✓

✓

Custom
Hour(s) of day

✓

✓

✓

Custom
B2B targeting - Position(s)/Title(s)

✓

✓

Custom
B2B targeting - Industry (Company)

✓

✓

Custom
B2B targeting - Company(ies)

✓

✓

Custom
B2B targeting - Company sizes

✓

✓

Custom
B2B targeting - Company location (State)

✓

✓

Custom
Web media flight schedule

✓

✓

✓

Custom
Brand positioning research & insights

✓

✓

✓

Custom
Network research and price negotiations

✓

✓

✓

Custom
Impression based targeting (if desired)

✓

✓

✓

Custom
Google analytics integration & goal tracking

✓

✓

✓

Custom
Results analysis/reporting

✓

✓

✓

Custom
Strategic bid management

✓

✓

✓

Custom
Ad rotation for conversion

✓

✓

✓

Custom
Dedicated account representative

✓

✓

Custom
Up to two personal consultations per month

✓

✓

✓

Custom
Banner Design

✓

✓

✓

Custom
200+ SMEs behind campaign driving results

✓

✓

✓

✓

468x60
JPG
JPG & Gif
JPG, Gif & Flash
Custom
728x90
JPG
JPG & Gif
JPG, Gif & Flash
Custom
250x250
JPG
JPG & Gif
JPG, Gif & Flash
Custom
200x200
JPG
JPG & Gif
JPG, Gif & Flash
Custom
336x280
JPG
JPG & Gif
JPG, Gif & Flash
Custom
300x250
JPG
JPG & Gif
JPG, Gif & Flash
Custom
120x600
JPG
JPG & Gif
JPG, Gif & Flash
Custom
160x600
JPG
JPG & Gif
JPG, Gif & Flash
Custom
Remarketing strategy & implementation

✓

✓

Custom
Setup of "micro" conversions

✓

✓

Custom
Setup and management of conversion funnel

✓

✓

Custom
Campaign conversion management

✓

✓

Custom
Video ads

✓

✓

Custom
International campaign implmentation

✓

Custom
Language targeting

✓

Custom
Landing Page design & implementation

✓

✓

✓

Custom
Website conversion analysis reporting

✓

Custom

✓

Custom
Website conversion analysis implementation

By Quote
Custom
Multivariant testing on landing page

✓

✓

By Quote
Custom
Multivariant testing ecommerce store & checkout/cart process

✓

✓

By Quote
Custom
Monthly performance & analysis reporting

✓

✓

✓

Custom
Ad exchange - Automated bidding

✓

✓

✓

Custom
One time setup (1st month):
$1,500
$2,500
$3,500
Get Quote
Progressive monthly management
$350
14% of monthly budget
12% of monthly budget
Get Quote
Need more information?

Call Us: 717-609-1553

Sign Up
Sign Up
Sign Up
Sign Up
Defining the Target Market for Your Online Media Buying Campaign
In order to best meet your business goals, WebFX will work with you in defining your target customer's interests and lifestyle to ensure we are reaching your target demographic with our services. Those available demographics include age range, gender, education level, and more — and they all play a huge part in a media buying strategy.

Still, while it's important to reach the target gender and age range of your target market, online media buying requires you to dig deeper. What are your demographic's interests? What do they like to read about? What are their passions? What do they do in their free time? All of these questions, and more, will allow us to better understand the appropriate placements for your campaign.
Some of our client Successes
Your Customers Are Unique
Just as your business is unique, your customers are, too. Customers who define your market both geographically and behaviorally help your business prosper and grow while guiding your media buying online. And who better to target with your campaign than the customers you know will be interested in your products and services?
Our services support your overall Internet marketing efforts by reaching those customers who are not only interested in your products and services, but also those who are likely to be loyal to your business for years to come. Having loyal customers is your end goal, right? And it's a goal that any online media buying agency can help you achieve.
Fine-Tuned Targeting Based on Knowledge

You know better than anyone the target demographics of your customers. WebFX will ensure you reach this specific customer base with your online media buying campaign. With our large directory of available online ad space, we can ensure your online advertisements will appear on sites your target customers visit often.
When targeting based on behavior, WebFX goes beyond basic psychographics to answer common questions. Where have your customers been? What are their main interests? This goes well beyond understanding what they value, or their attitude toward certain products and services.
This customer targeting incorporates very specific interests and lifestyles, including sites they frequently visit, sites your customers recommend to their friends, search engine queries, hobbies, and even their favorite things, all by employing keyword-targeting (sometimes called "contextual targeting").
Time and Location Based Media Targeting Services
Another factor to consider in online media buying is your target customer's geographical location. Whether your business is local, national, or global, WebFX can ensure your ads are placed in specific areas suited to your customer's geographic location. Whether that is based on their IP address or the sites specific to your location is up to you, and our expert team has the training to know what would best fit into your strategy. Google, Bing, Facebook, and other ad websites offer the ability to geo-target with your digital media ads, and as one of the top online media buying agencies in the industry, we know how to make those ads work for you.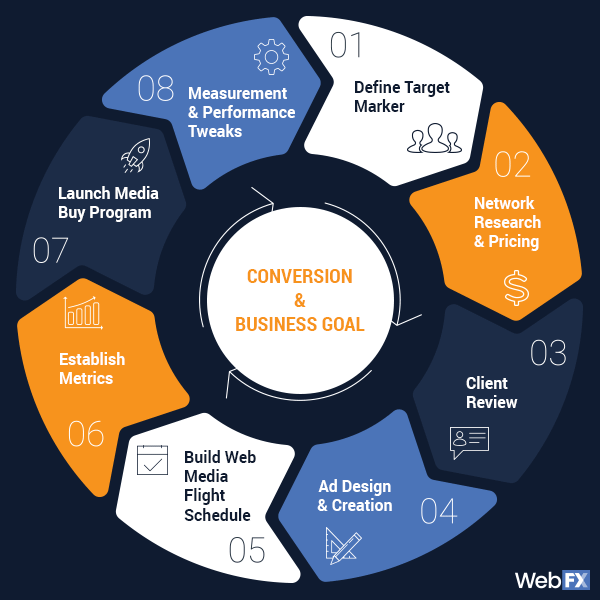 We can even incorporate the time of day you would like your ads to run, whether you want to target certain days of the week or even certain hours of the day. If we find your target customer wouldn't be online at specific times, we can ensure your ads won't run during those days or hours. It's that kind of precision that makes an online media buyer so essential to your company.
Network Research and Online Media Pricing Analysis
It's important to find the most appropriate sites to use for ad placement. With the extensive variety of options WebFX can target, we can ensure we are placing your ads on sites that your customers use. That way, you get the most value possible out of digital media buying instead of wasting your valuable budget on risky hunches or gut feelings.
We will also research the online media buying pricing of each placement opportunity and which placements will bring you sales. WebFX is constantly monitoring and testing to allocate more of your budget to those sites that convert better for your business, bringing you revenue for all of your campaign costs.
Some of our client Successes
Meeting Your Internet Media Buying Objectives
Once we define media buying needs for your business and gain a solid understanding of your goals for a campaign, we will develop a strategy accordingly. The overall strategy for choosing site placement includes a site's audience, how you want to target your demographic, ad space opportunities, and the number of site visitors. Finding the ideal balance of these elements will make sure your online media buys don't go to waste.

Online Advertisement Design and Creation
You have a brand, and your online media ads should reflect that brand. Our award-winning team of designers will create ads that are not only consistent for branding purposes, but that will stand out and garner attention with strong calls-to-action. We will also ensure each online ad corresponds with these specific online media placements.
Building the Internet Media Buying Flight Schedule
So, we have a solid strategy in place and now we're ready to implement, but there's still one more piece to the puzzle: the schedule moving forward. Once we determine the specific ad placements, we will determine when they should appear. This way, we have a schedule you approve of.
Digital Media Buying Remarketing Strategy
Who better to advertise to than those customers who have been on your site already and are clearly interested in your products and/or services? And why stop there? How about those who have abandoned a shopping cart full of products on your site? Or those who went to your contact page but never filled out and submitted the form? These users demonstrated genuine interest, and reaching them with your digital media buying campaign can do wonders for your bottom line.
Ongoing Support and Maintenance of Your Digital Media Buying Campaign
The biggest benefit of online advertising is the ability to change your campaigns on the fly. You can't do that in print publications or magazines. This advantage is why continuous support, monitoring, and maintenance of your online media campaigns is required.
WebFX will manually review the ad campaign and apply any necessary optimization including adding or discontinuing placements or media buys, swapping out the design of your ads, and adjusting the contextual targeting strategy according to statistical data.
WebFX will continually monitor the success of your campaign and make changes which are constructive and supportive to your Internet media buying campaign goals. Can we increase reach at a lower cost? What new online media placements are available? All of these questions and more are addressed as we continue to better the campaign through testing and adjustments. Our industry and passion is Internet media; we're all about adapting to the individual needs of our clients.
Start establishing your strong online presence today with an advertising package from a leading digital media buying agency. Call 717-888-601-5359 or contact an expert to find out how we can help your business thrive.