How to Outsource Your SEO & Choose the Best Option for Your Business
You know SEO is important. You also know you should be focusing at least some of your attention on it. But you just don't have the time. You've finally come to terms with the fact that you can't do it all and you're thinking about outsourcing SEO, but who should you call?
If you're still on the fence about hiring an outside agency or creating an in-house team to handle your SEO, watch our video for some pros and cons to help you make the right choice for your business.
This guide will focus on outsourcing your SEO, so if you think creating an in-house team would work best for you, check out our resource on what makes a successful team.
No matter which direction you choose, congratulations on recognizing the value of SEO and digital marketing. Regardless of who you decide to outsource your SEO to, you're about to embark on an exciting journey.
There are multiple paths you can take when outsourcing SEO work, but be sure to choose carefully. You can decide to outsource to company that strictly does SEO, or you could hire a SEO contractor. You could even elect to work with a SEO freelancer to fulfil your occasional requests. Finally, you could partner with a full-service marketing agency to execute your SEO work, as well as facilitate any other digital marketing needs you have.
Deciding how to outsource SEO may be difficult, but we're here to help. Here's a look at some advantages and disadvantages of outsourcing your SEO tasks to each one of these options.
If you'd like to speak with a specialist about your decision, you can reach us at 888-601-5359 or contact us online!
When should I outsource my SEO?
Companies that decide to outsource SEO often outsource because they struggle to:
Find the time to manage their SEO campaigns
Get the results their business wants from SEO
Learn the different types of SEO, like off-page, on-page, and technical SEO
Implement the necessary changes for SEO, like backend website updates
If you're thinking about outsourcing your search engine optimization, keep reading to learn about the benefits of partnering with an SEO expert, whether a freelancer or agency.
Why outsource SEO?
Deciding to outsource your SEO comes with several benefits, including:
Get a professional SEO expert working on your company's SEO
Have more time for the tasks that need your attention
Start achieving the results your business wants from SEO
Of course, getting the full benefits of outsourcing your SEO requires choosing your business's best partner. If you hire a cheap SEO agency, for instance, you may see none of the above benefits. That's why it's essential to research your options and follow best practices for hiring an SEO expert.
How to outsource SEO: 4 great options
Below, we've listed the four options that you have to choose from in terms of how you outsource your SEO. If you have any questions along the way, feel free to contact us!
1. Independent SEO freelancers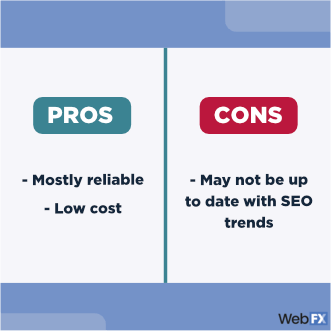 SEO freelancers, like those you might find on a website like oDesk or eLance, can often perform SEO tasks reliably and at a low cost. The advantage of working with an independent freelancer is that you will free yourself of the time it would require to teach yourself how to properly execute SEO tactics, as well as the time it would take to actually perform the techniques you learned.
A freelancer is the best choice for any website owner who has minimal SEO needs, or doesn't often have content projects or link building campaigns that need attention. This allows you the flexibility to choose your freelancers at your convenience and save money.
However, it bears mentioning that the Internet marketing industry is changing so rapidly that it is practically a full time job just to keep up with the emerging trends and updates. If the freelancer you choose isn't up to speed with the current trends or SEO requirements, the work you get could be out of date. Also, most websites need more than occasional SEO work, so the cost of a freelancer can add up quickly.
2. SEO contractors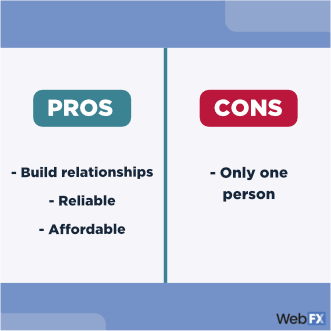 The advantages of working with an SEO contractor are very similar to the advantages you'll enjoy when working with an independent freelancer. However due to the nature of a contractor position vs that of a freelancer who's procuring occasional freelance work from you, you'll likely build more of a relationship with the contractor.
Contractors can often perform extremely accurate and highly technical SEO work, but keep in mind that they are only one person. If the contractor you hire has additional clients, you may find yourself waiting longer than you want to receive work or get tasks completed.
3. An SEO company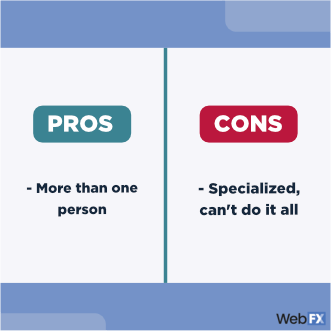 The advantage of working with an SEO company is that you are working with a company and not just one person. So not only will you free yourself of the time and trouble of educating yourself about SEO, executing the techniques you learned, and keeping up on the industry, but your point of contact will be part of a larger team of SEO professionals.
SEO companies are often composed of a team that works together, day in and day out, in the digital marketing industry. They often communicate fresh ideas and successful strategies back and forth. Your campaign and business will definitely benefit from the collective experiences and knowledge of the group.
Having said that, the biggest weakness of an SEO company is that they may be restricted in the kind of work that they can do for you. If you need a website redesign or another non-SEO task performed, you'll have to hire another agency to help.
4. A full-service agency
The advantage to working with a full-service agency is that once again you'll be working with a team of professionals rather than relying on the experience and creativity of just one person. However, this team will be able to accommodate all of your digital marketing needs under one roof – and with one phone call, email, or meeting.
Consider the time you could potentially save by not having to relay messages between your SEO consultant and your designer, developer, or PPC manager. Not only will you avoid being the middle man, but you'll see faster progress on all your marketing tasks, too.
Additionally, working with a full-service agency means you'll benefit from working with a team of digital marketing professionals, not just SEOs. A full-service agency will have copywriters, email marketers, and social media marketers who have worked on hundreds if not thousands of accounts across multiple industries.
While you might not initially see the value in the fact that they've severed other industries, it's actually very valuable to you. Think about it: it means they've worked on many different types of websites, with various goals, unique challenges while targeting different personas. Ultimately, if there is an issue, they've probably already dealt with it and strategized a solution for it previously. If not, you can bet someone else in the agency has!
7 tips for outsourcing your SEO
Now that you know about the different options for outsourcing your SEO, check out these tips for finding the best partner, whether a freelancer, contractor, or SEO agency, for managing your SEO strategy:
Check the SEO's portfolio or case studies
Read the SEO's online reviews and testimonials
View the SEO's pricing (or request a custom quote)
Analyze the SEO's website and its optimization
Learn how the SEO tracks and measures campaign performance
Understand how the SEO adapts to underperforming campaigns
Ask the SEO to create a custom proposal for your business
With these tips, you can start finding the best SEO for your company.
Are you ready to outsource your SEO?
Yes, you have a decision to make. But the good news is that you've already made a great decision to outsource your SEO because you don't have the time or interest in doing it. This means that you can put the online visibility of your website in good hands and ensure online marketing success.
Outsource your SEO with a full-service agency
If you've decided that a full-service Internet marketing agency is the right fit for you and your business, why not start your journey by contacting WebFX? As a leading full-service agency, we're proud to offer not only SEO services, but also website design, redesign, custom development, inbound marketing, and a slew of other plans and services to our clients.
Reach out to one of our expert SEO strategists today to find out just why a full-service agency like WebFX is the right choice to help you find success online. You'll be happy you did!