When it comes to your search engine optimization (SEO), you want to constantly improve. If your SEO efforts become stagnant, you won't generate any new customers, and you'll fall behind your competitors.
How can you improve your search marketing results, though? You may be unsure what you need to do to reoptimize. The good news is, you can figure out what needs optimizing when you track SEO key performance indicators (KPIs).
But what are SEO KPIs, and which ones should you track? We'll explore the answers to both of those questions below, so keep reading to learn more. Then subscribe to Revenue Weekly — our email newsletter — to get more digital marketing tips from the agency with over 1020 client testimonials!
What are SEO KPIs?
SEO KPIs are specific metrics related to different components of your search engine marketing. These metrics provide you with information about your search rankings, the audience you're reaching, and the way your SEO impacts your website.
You can find most KPIs for SEO by using a tool like Google Analytics or Ahrefs. These tools will not only provide you with the essential SEO metrics but will also lay out your data in graphs and charts so you can view it in numerous ways.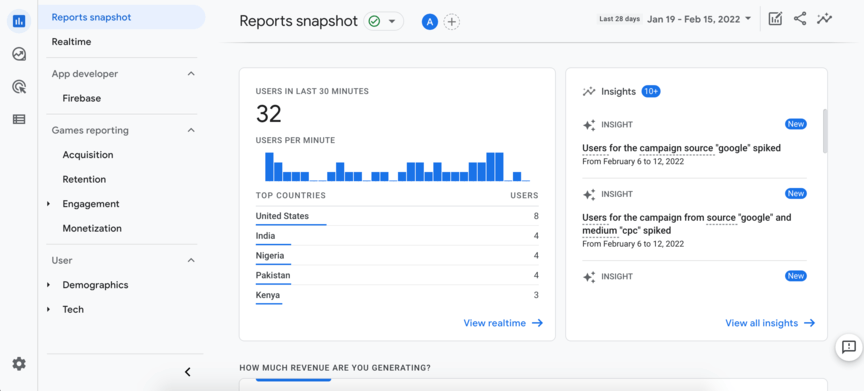 Why should you track KPIs for SEO?
What is it that makes SEO KPIs so essential? Why track search metrics at all?
SEO metrics are vital to measuring the success of your SEO campaigns. If you don't track your search marketing performance, you'll never know the results you're driving. That means you can't reoptimize to improve your SEO.
By keeping up with KPIs, you can identify when a particular piece of content is failing to rank or attract clicks. From there, you can improve that page to bring in more traffic.
What are the best SEO metrics to track?
There are many different KPIs for SEO, but not all of them are vital to your campaigns' success. If you're unsure which metrics are the most beneficial to track, don't worry — we've laid out some of the best ones below.
Here are six search metrics to keep up with in your campaigns:
1. Search rankings
The first SEO measurement you should take is also the most important: Search rankings. This metric simply refers to how high your content is ranking in search results.
Naturally, this metric will vary depending on the page, search term, and day. You might have one page that's ranking incredibly high for a given keyword on one day, but then a few days later, it drops significantly. Or, maybe a page ranks low for one keyword, but high for another.
Because of that variability, it's important to continuously track your search rankings. Use a tool like Ahrefs to see which keywords each page is ranking for. If you see a page that's ranking low for its target keyword, take some time to reoptimize it.
To be clear, you should not track rankings by themselves. Having your site rank high in search results means nothing if those high rankings aren't leading to other results like leads and conversions. So, be sure you consider that context when tracking rankings, and track them alongside the other metrics below.
2. Search visibility
Another key SEO metric is search visibility. Search visibility refers to how many users see your pages in search results. Generally, higher rankings will lead to higher search visibility — 75% of people don't go past the first page of search results.
Bear in mind that just because people are seeing your content doesn't mean they're engaging with it. For that reason, you shouldn't spend too much time focusing on search visibility.
Instead, search visibility is mainly useful when it comes to calculating other SEO measurements, like organic click-through rate (CTR).
3. Organic click-through rate (CTR)
Organic CTR is a measurement of how many people click on your content in search results. But it's not just the raw number of clicks you earn — rather, it's your total clicks relative to your search visibility.
So, let's say you want to find the CTR for a particular page on your site. If 15 people see that page in search results on a given day, that's your visibility. Now let's say three people click on the page.
The raw number of clicks in that scenario is three. But to find your CTR, you should divide that by your visibility — 15 — and multiply by 100 to get 20%. Notice that if your search visibility had been six, you'd still have had three total clicks, but your CTR would be 50% instead of 20%.
This is a valuable SEO measurement because it tells you whether your pages are driving clicks. If your pages have high search visibility but a low CTR, you might want to reoptimize your title tag and meta description to be more compelling.
4. Bounce rate
Bounce rate is slightly different from the other metrics on this list. For most of these metrics, the higher the number, the happier you are. But bounce rate is one metric you want to stay low, because it reflects the percentage of people who abandon your site soon after arriving.
Essentially, if 10 people visit your site but four of them leave after only a moment, you have a bounce rate of 40%. A high bounce rate indicates that your site isn't doing a good job of holding users' interest.
That might mean your title tag was misleading, or it might mean the page is badly designed. Whatever the case, you'll want to spend some time identifying potential issues that may drive people away from your page and fix them.
Other times, bounce rate doesn't indicate bad content, but actually shows that you provided exactly the answer users wanted in a short amount of time. However, you can still reoptimize to try and keep users moving to other pages on your site.
5. Organic traffic
One of the most vital search metrics to track is organic traffic. Organic traffic is a measurement of how many people visit your site after finding it in search results. It's important to track so you can see how much of your traffic is coming from SEO, helping you determine how successful SEO is relative to your other strategies.
Bear in mind that organic traffic is different from the total amount of traffic on your website. Some of your site visitors might come from other places — maybe they click a link on another site or type your URL directly into the address bar.
Organic traffic, though, focuses solely on traffic coming in from search engines. That lets you easily see how much traffic you're driving with your SEO efforts.
6. Conversion rate
The final search metric on this list is conversion rate. Conversion rate, as the name implies, measures how much of your organic traffic ends up converting.
To find conversion rate, start by isolating your organic traffic. For instance, let's say your organic traffic for a given day is 50 people. Then look at how many of those people converted — for our example, let's say there were five conversions.
From there, divide your conversions by your organic traffic and multiply by 100. In the above example, you'd have a conversion rate of 10%.
As you might expect, you want your conversion rate to be as high as possible. The more conversions you drive, the more revenue your business earns!
Independent research from Clutch has named WebFX the
top SEO company in the United States.
Clutch has personally interviewed more than 250 WebFX clients to discuss their experience partnering with us.
Read More Clutch Reviews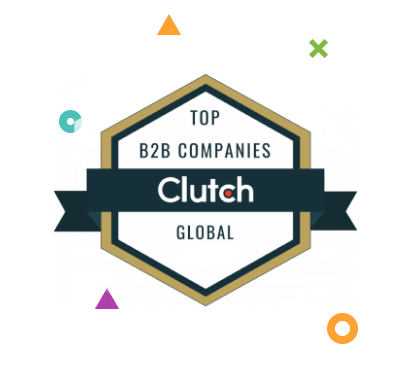 Let WebFX help you optimize your SEO KPIs
Tracking your SEO KPIs is one thing, but reoptimizing your SEO to boost those metrics is another task altogether. If you want help with your SEO reoptimization, don't worry — WebFX is here to help! With over 25 years of digital marketing experience, we're the SEO experts.
When you partner with us for our SEO services, you'll get help improving each of the metrics listed above and more. We'll help boost your rankings and bring more organic traffic to your site, ultimately earning you more revenue.
To get started with us, just call 888-601-5359 or contact us online today!
WebFX Careers
Join our mission to provide industry-leading digital marketing services to businesses around the globe - all while building your personal knowledge and growing as an individual.