How to Advertise a B2B Company on Facebook
With over 2.3 billion monthly active users in the world, it's safe to guess that you — or someone you know — is on Facebook for any reason from keeping in touch with their friends to finding old classmates.
But Facebook isn't just for single users anymore. Today, it's just as useful for business that want to market to potential customers and make lasting connections.
And it's not just for B2C companies, either. B2B companies have a lot of marketing and growth potential on Facebook. You just need to know how to use Facebook the right way to make your B2B company succeed.
If you'd like to speak with a social media specialist, you can reach us at 888-601-5359.
74% of people use social media when making a purchasing decision.
Make their decision easy with a stellar social media presence. See how your brand can level up by requesting a no-obligation proposal today.
One of our experts will be in touch within 24 hours!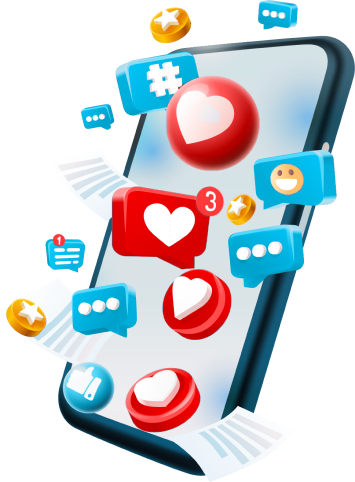 How businesses started using Facebook
After more than 14 years of operation, Facebook has become a worldwide phenomenon. It's steadily grown over its life, and it's become a household name. And beyond that, it's also a name used in offices everywhere.
Today, Facebook is a major player in social media marketing for a number of reasons, including:
It's become a virtual community with billions of users.
It's considered a "safe" place for people to go. Facebook protects users against spam, sneaky sales tactics, and scamming.
It provides a direct, public interface between potential customers and businesses.
When businesses started setting up Facebook pages, it was a huge boom in sales for B2Cs. But B2B businesses were a little more hesitant. After all, they didn't appeal directly to customers — they needed to talk to key decision-makers at businesses.
But Facebook is just as useful for B2B businesses as it is for B2C businesses. You just have to use the right strategies.
B2Bs have to appeal to business decision-makers
Even though businesses are selling to other companies, they are actually selling to people.
That means you have to create your Facebook page around the ideas of running or participating in a business's success.
Look at the kinds of businesses that commonly buy from your B2B and appeal to them. Post about how you help businesses, how you work with different industries, and other interesting facts that deal specifically with client companies.
Ads generate leads — not direct sales
Facebook ads are great for promoting products and services whenever you want.
But they don't deliver immediate sales for B2Bs.
Instead, they generate leads. It's up to you to attract, engage, and nurture these leads so that they can turn into customers. But no matter how you do it, it can all start on Facebook.
Every company needs a human face
Whether you sell mining equipment, software, or outsourced customer service, your company needs a human face.
That face can be your CEO, your entire team, or anyone else that has to do with your business. The benefit to this is that it lets people see, know, and understand that they're dealing with real people when they contact your business.
That may seem strange — after all, why wouldn't a company have real people? But the point is that you humanize your business to make it more relatable for Facebook users.
After setting up a Facebook business page and having a presence on the web, it is time for B2B organizations to take the next step, which includes advertising. Specifically, they can opt to use Facebook ads to reach new potential clients.
Facebook ads for B2B companies
There are many options for Facebook advertising. One option is for Facebook advertisements that run on a pay-per-click advertising (PPC) system.
In other words, you only pay for ads that people view and / or click. This makes PPC easy on your marketing budget, no matter what that budget might be.
If you have ever used Google AdWords, you know the basic premise of PPC ads, although Facebook ads are a bit different with how they're set up.
In fact, there are some true advantages for B2B companies that use Facebook ads:
Facebook ads are optimized differently than Google AdWords ads
Facebook has built its PPC system from scratch.
Facebook ads allow you to target specific people based on demographics data. In other words, you can finally target people in a certain industry, with a certain level of education, or in a certain age range.
With that information in mind, you can take a look at your current customers and profile the decision-makers at their businesses. If most of your customers are high-school educated, 30-something men who founded their own companies, you can target that same demographic on Facebook to get more customers.
Encourage others to engage with your ads
You can create Facebook ads that look a lot like shareable posts so it's possible for someone to see your advertisement and "like" it.
Then, that interaction may lead to delivery in that person's friends' feeds. They'll see that they liked it, and this interaction can serve as valuable social proof.
From there, the advertisement can make its way around Facebook and reach a lot of different people, and they might be in different demographics.
As each new person clicks, you pay a small fee, but you will also get the chance to build your brand identity and get more information on your potential customers.
Key takeaways for B2Bs using Facebook
As you start to delve into the world of Facebook for your B2B company, keep these helpful hints in mind:
Facebook is great for generating interest and getting new leads.
Your Facebook page should have a human face associated with it, even if you decide to include the faces of everyone on your team.
Track your Facebook marketing strategies to see how they're working and whether you can improve them.
The information on this page can help you a lot when you start using Facebook pages. But you have another option besides marketing on Facebook yourself.
WebFX knows Facebook ads — and B2B
WebFX is a full-service Internet marketing firm, and we have a full team of Facebook marketers who know how to get results for B2Bs. We've worked with B2B companies before — and we're a B2B company ourselves — so we know how to get results that help you grow. With so much expertise in one place, we'll do everything we can to get you the positive returns you want for your business.
Contact us today to create a B2B Facebook marketing plan for your business!