Facebook Analytics Report: How to Use Your Best FB Analytics Resource
You've heard it before, and we'll remind you again — without analytics, your marketing campaigns are essentially useless. The same rings true for your social media marketing campaigns, making Facebook analytics reports one of the most important parts of your strategy.
n this page, we'll cover everything from how to create a Facebook analytics report with Facebook Insights to interpreting your Facebook Insights reports, and even a list of the best page analytics report tools for this platform.
If you're ready to dive in, keep reading! Otherwise, feel free to contact us today or give us a call at 888-601-5359 to learn more about how we can help your Facebook presence grow with Facebook analytics!
Creating a Facebook analytics report with Facebook Insights
Facebook provides users with a free, integrated analytics platform called Facebook Insights that can help you understand everything there is to know about your Facebook presence.
1. Find your page's Insights
To access it, you'll simply log into your company's Facebook page and click "Insights" located in the toolbar at the top of your page.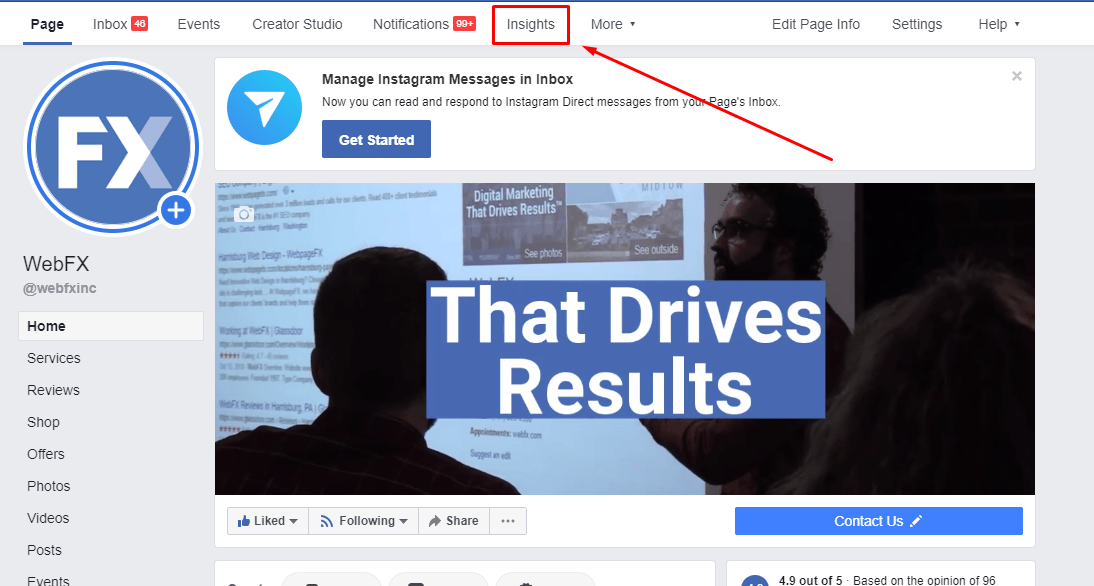 2. Select your Facebook analytics report time window
When you click into Facebook Insights, you'll see a variety of charts that create a summary of actions taken on your page. You can view these metrics based on "today," "yesterday," "last 7 days," or "last 28 days." Make your selection before creating your report.

Having trouble selecting a period of time? Here's a guide to help you choose:
| | |
| --- | --- |
| Choose today if… | You posted something specific and want to check analytics for it. |
| Choose yesterday if… | You posted something specific yesterday and want to check analytics for it. |
| Choose last 7 days of… | You tried a new posting style this week, or you just want a weekly report of important metrics. |
| Choose last 28 days if… | You want a monthly Facebook page analytics report to help you see campaign metrics from a birds-eye view. |
3. Create your Facebook page analytics report
It's time to create your report! To do so, simply click "Export Data" on your Insights page.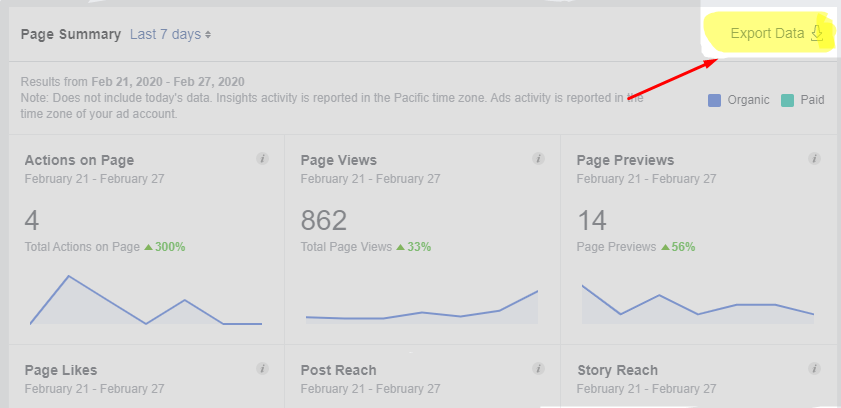 From there, Facebook will provide you with the following Facebook analytics report options:
The data type: page data, post data, or video data
File format
Date range
Layout
When you've selected the kind of Facebook analytics report you're interested in, click "Export Data," and your download will begin! You can download as an Excel sheet so that your data is organized in one place.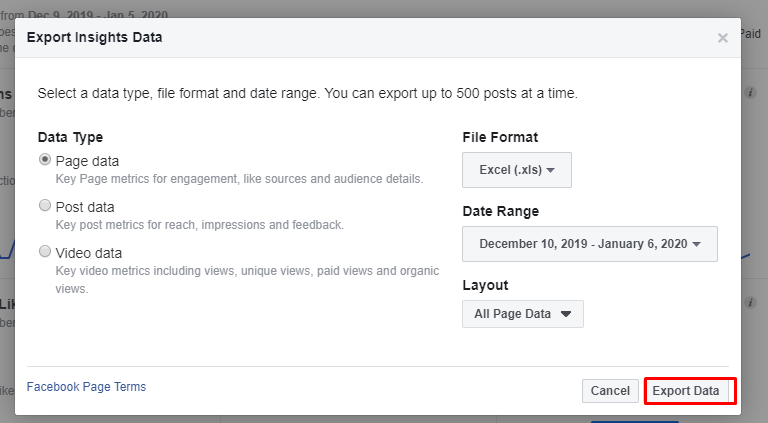 4. Interpret your data
Your analytics report for Facebook tells you a lot about your Facebook presence. Here are a few metrics that you can view with your basic report. All metrics are presented in daily, weekly, and 28-day formats. The metrics with an asterisk (*) are only presented in daily and weekly formats.
Stand-alone metrics:
Lifetime total likes (singular metric)
Daily new likes (singular metric)
Daily unlikes (singular metric)
Reach:
Total reach
Organic reach
Paid reach
Viral reach
Impressions:
Total impressions
Organic impressions
Paid impressions
Viral impressions
Page views:
Reach of posts:
Organic reach of posts
Paid reach of posts
Viral reach of posts
Impressions of posts:
Total impressions of posts
Organic impressions of posts
Paid impressions of posts
Viral impressions of posts
Consumers:
Total consumers
Page consumptions
Feedback:
Negative feedback
Negative feedback from users
Check-ins:
Total check-ins
Total check-ins using mobile devices
Video:
Total organic views
Total promoted views
Total organic 30-second views
Paid 30-second views
Total video views
Video repeats
Total unique video views
Total 30-second views
Auto-played 30-second views
Total clicked 30-second views
Total 30-second repeats
Total unique 30-second views
Misc.:
Total action count per page*
Total get direction click count per page*
Total phone calls click count per page*
Total website click count per page*
You can also see more metrics in the different sheets at the bottom of your Excel document. However, to get a well-rounded view, you can stick with the "key metrics" sheet.
It's great to have those other sheets, though, since they outline metrics like reach by city, reach by country, reach demographics, likes by language, and likes by gender.

Using Facebook Insights to analyze your presence
Now that you've seen a Facebook analytics report sample, it's time to run your own to analyze your Facebook presence!
After you've run your report, it can be overwhelming to see so many metrics in one place. That's why we've put together a chart to help you sift through key metrics and determine which ones will be the most beneficial to your business.
Here are a few scenarios and what metrics you should pay the most attention to for each:
| YOUR SITUATION | METRICS TO WATCH: |
| --- | --- |
| You're new to Facebook | Page engaged users, total reach, total impressions, reach of page posts, total consumers |
| You're trying something new | Total impressions of posts, total organic views (compare these metrics to a period of time before new strategy) |
| You want to know your audience | Reach by city, reach demographics, likes by language, likes by gender |
| You want to know how successful your videos are | Total video views, total clicked 30-second views, video repeats |
| You want to know how many users visit your location | Total check-ins |
| You want to know who doesn't like your page | Negative feedback |
| You want to know how many users take the next step via Facebook | Total phone calls click count per page, total website click count per page, total get directions click count per page |
Even though these scenarios provide you with some direction, you can likely benefit from just about every metric that Facebook Insights provides. Be sure to check out other metrics than the ones we have suggested for your scenario.
Do you need help determining what metrics are the most important to the success of your specific Facebook presence? WebFX can help! Give us a ring at 888-601-5359!
3 more free Facebook analytics tools to help you thrive
Are you looking for more Facebook analytics tools besides Facebook Insights?
We've got you covered there, too. We found three more free Facebook analytics tools to help you create your ideal analytics report for Facebook.
However, keep in mind that although we love these tools too, nothing compares to the seamlessly integrated and proprietary Facebook Insights tool. These tools are best used in conjunction with Facebook Insights to gain more data and create better campaigns.
1. Cyfe
Cyfe isn't just for Facebook — it can help you create a custom marketing dashboard that features only your most significant business metrics.
You can create your custom dashboard by selecting from a wide variety of widgets that give you insight into the social media metrics that you're most interested in.
Matter of fact, there are over 50 Facebook widgets available with Cyfe, and you can create the perfect dashboard that features metrics that you want to see.
How much does it cost? Cyfe is free, but to get all of the features, an account is $29 per month.
2. Agorapulse
Agorapulse features two free Facebook tools that help you understand things like content performance, timeline analytics, and reach of paid, organic, and viral content.
You can even use this tool to create quizzes for your timeline, and they also provide a Facebook ROI calculator!
The best part? It's free!
How much does it cost? The two Facebook tools that we mentioned are free, but if you're interested in the whole kit and kaboodle, it'll cost you $39 per month!
3. Quintly
Quintly proclaims that they can help you "drive strategic decisions by analyzing social media data." They provide users with hundreds of dashboards to help them understand the effectiveness and quality of their social presence and give them insights on how to improve.
This tool allows you to measure the impact of your current strategy, provides KPIs, and more.
How much does it cost? The Facebook analytics tool is free, but the full product suite is $100 per month.
BONUS READING: WHY WE THINK SIMON COWELL CRACKED THE CODE TO FACEBOOK MARKETING
WebFX can help you understand your Facebook page analytics reports
Are you worried about the success of your Facebook page? Do you think you could do better? Chances are, you can — and WebFX is here to help. We're a Meta Business Partner that has a whole team of social media specialists to help make your social presence amazing.
We're a full-service digital marketing agency, which means we provide services ranging from search engine optimization (SEO) and pay-per-click advertising (PPC) to geofencing and web design.
Social media marketing is just one of our specialties, and our social media specialists can help you:
Analyze your current Facebook presence
Teach you how to create Facebook analytics reports with Facebook Insights
Improve your Facebook presence based on your report
Help you create a well-rounded social media marketing campaign with multiple channels
Help you run Facebook Ads
And so much more
ORGANIC OR PAID FACEBOOK ADVERTISING? SEE WHAT THE EXPERTS SAY
If you want to make the most of your social presence, creating an analytics report for Facebook is a must. At WebFX, we know analyzing your social campaigns can be difficult, which is why we work with you to create efficient reports and suggestions based on your unique needs.
To learn more about our Facebook marketing services, feel free to contact us online or give us a call at 888-601-5359 to talk to a specialist!