12 minute read

Trevin serves as the VP of Marketing at WebFX. He has worked on over 450 marketing campaigns and has been building websites for over 25 years. His work has been featured by Search Engine Land, USA Today, Fast Company and Inc.
Social media marketing is a full-time job in agencies and companies across the country. It's one of the most convenient and affordable marketing channels available, and it has the potential to produce a huge ROI. There are a handful of marketing experts out there who use social media exceptionally well — especially Twitter. These are the marketing professionals who have worked hard to establish themselves as authorities, and through their hard work they've become industry icons.
And whether you're brand new to Internet marketing or you've been in it since the 90s, you've definitely read or watched something they've created. And you may have even found it through Twitter.
Rand Fishkin — Moz
Rand Fishkin is the strappy, stylish, and smiling face of Moz.
He co-founded the company and helped build it into the ubiquitous SEO powerhouse that it is today. He's also a major industry authority (and evangelist) for content marketing. Rand's social media presence is huge, and he has profiles on Twitter, LinkedIn, Google+, Facebook, and more.
And while he does have 266,000 followers on Twitter at the time of publication, that quantity isn't what makes him a great presence. It's their quality. In 2014, Rand conducted an experiment on Twitter to determine if query and CTR impacted ranks in SERPs — and if so, how much.
He tweeted this: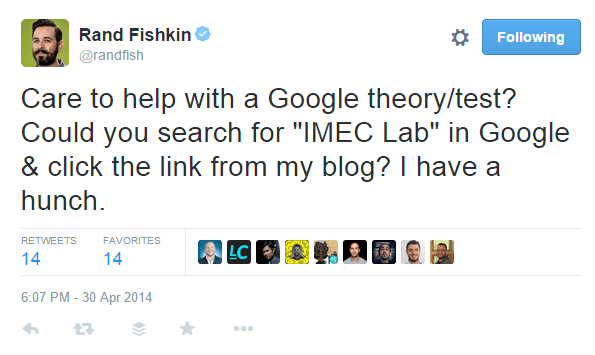 And his loyal band of followers listened. In three hours, his blog post went from #7 in North American, non-account Google SERPs to #1. Aside from what this says about SEO, the underlying message here is how much sway Rand has with his following. All he did was tweet — and he didn't include any hashtags or buzzwords for extra visibility. He asked, without even saying please, and somewhere around 175 to 250 people listened (according to his estimation).
Even disregarding the fact that only 0.1% of his followers actually did what he asked, it's still incredible to have the ears of 200-some people to have them act at a moment's notice. This wasn't a prolonged experiment either — it only lasted for three hours! That's a lot of people acting fast.
You can dissect his tweet a bit and say that it was in the wording — it's appealing to be a part of something for little or no effort. But the fact is that he got the data he needed because people just wanted to help him. That is some serious loyalty.
And as if that's not impressive enough, he did it again this past June.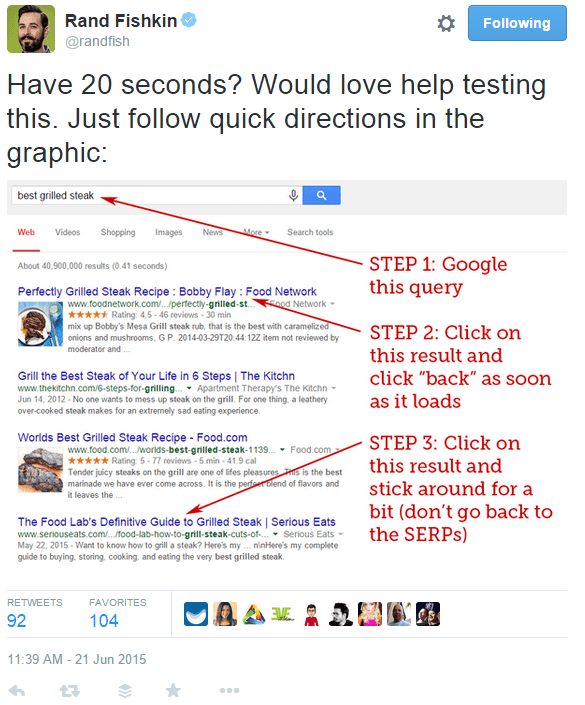 Aside from his experiments, one of Rand's biggest appeals in the social world is the fact that Moz is at the forefront of SEO news. Because of Rand's prominence at the helm of SEO, he's easily one of the best resources for business owners to use to stay on the cutting edge of their industry.
And while he mixes in some tweets about his personal life and a couple other retweets, the majority of his profile is focused on marketing. Still, all the other stuff helps show that he's not a guy who only promotes his work on Twitter — he's an actual person, and he's accessible. Rand also tweets several times each day, some of which are likely scheduled, but others that are definitely spur-the-moment.
Combined, that makes him an informative, helpful, fun, and interesting person to follow. Who wouldn't want that? What we can learn: You can inspire your followers to do some incredible things.
Neil Patel — KISSmetrics, Crazy Egg, QuickSprout
Neil Patel is an entrepreneur and marketing expert who, judging from his multiple companies and regular content output, doesn't sleep. He literally wrote a book on copywriting, among other topics, and he's become one of Internet marketing's most recognizable faces. He also writes for Moz, Forbes, HubSpot, and about a thousand other outlets, so the odds are really good that you've read something from him — even if you didn't know it.
Neil's social media expertise shows in obvious places, like his QuickSprout chapter on how to use social media to build a blog audience. But what makes him an outstanding Twitter force are the rhythm, patterns, and trends that he shows. The majority of Neil's Twitter feed is packed with links to his own work, which isn't all that different from any other marketer's Twitter.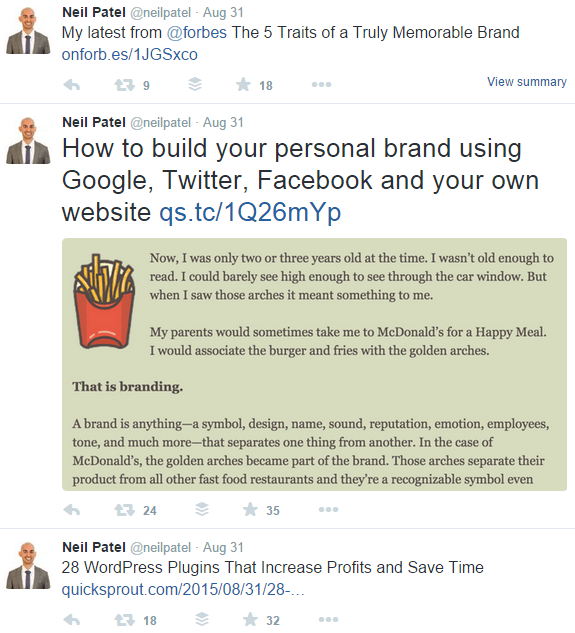 But while his own work makes up about 75% of his feed, Neil switches it up every once in a while with retweets, inspirational quotes, and photos.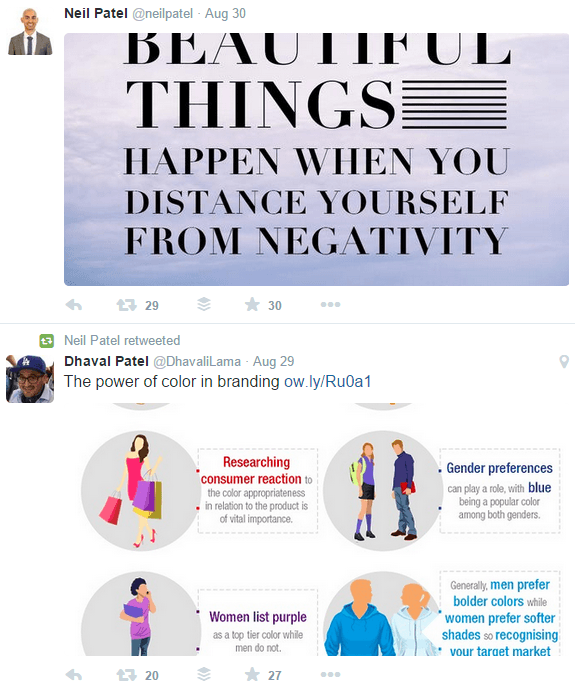 He also tweets multiple times every day, and his tweets provide value to people in some way. If you look through his whole feed, there's not an inch of wasted space — almost everything has a link, and the stuff that doesn't is strong enough to stand on its own.
The photos keep people engaged, the retweets tell them he's not just a promotional account, and the quotes give him a relatable, positive, and human appeal. All in all, he's doing it right. Like his writing style, Neil's social media presence is full of helpful information that's accessible to anyone.
And it shows — every one of his tweets has retweets and favorites, usually to the tune of a couple dozen each. If you're going to emulate someone on Twitter, make it him. What we can learn: Offer something to your followers with every single tweet, even if it's just a photo with a quote over it.
Danny Sullivan — SearchEnglineLand, MarketingLand
Danny Sullivan is the founder of two of the most influential marketing websites in the industry. He's often one of the first marketers to break news about Google, Bing, and search engine trends, and he's been included in other accounts of the most influential people on social media. Danny's main strength is that he proves he's an actual person.
He might tweet promotional material for his websites and what he writes, but he also throws in observations, thoughts, and other tidbits that make it clear he's not just a marketing robot or a stand-in — it's really him.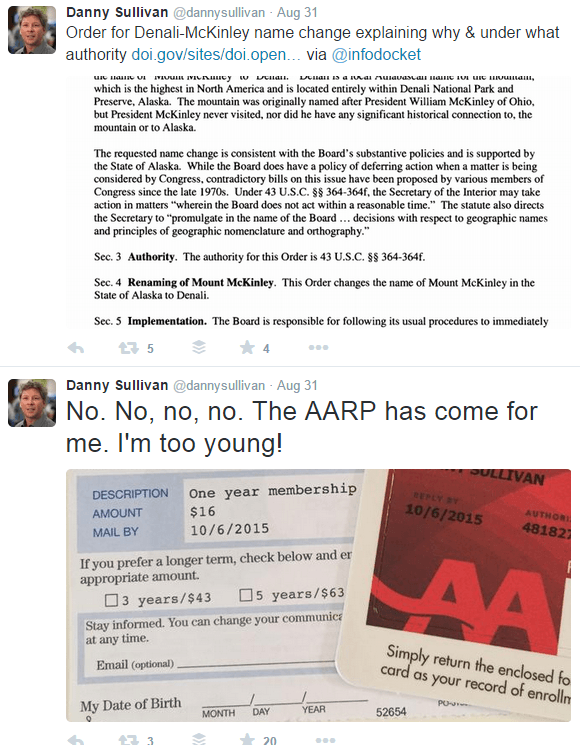 Beyond that, Danny's more personal tweets adhere to two guidelines that are a breath of fresh air on Twitter.
Don't tweet overly-personal information
Use proper spelling and grammar
This makes him appear more professional, even when he's talking about his fear of AARP. Most of his retweets even stick to those criteria. Danny is also one of the few marketing personalities who risks alienating members of his niche by expressing political and social opinion.
He also takes it a step further and tweets when he's… Inebriated? Is that the right word?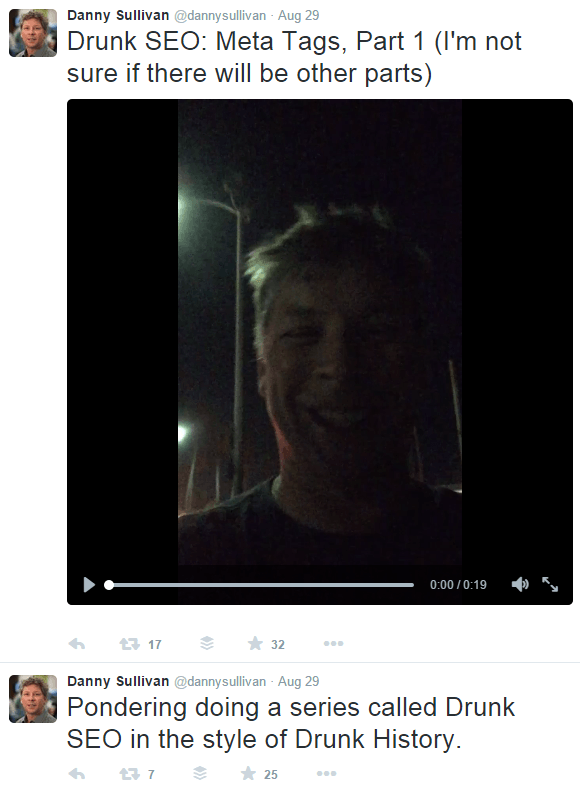 Overall, even though his methods might be unconventional, Danny's Twitter presence makes him come across as an interesting, professional, and fun person who might cross the line sometimes, but in an endearing way.
It's not easy to make that combination of traits work — but Danny finds a way. What we can learn: Have fun and push the envelope a little.
Ann Handley – Marketing Profs, Best-Selling Author
Ann Handley is a writing professional who has built her iconic status from showing others how to write well.
She runs Marketing Profs, and, as her Twitter bio aptly says, she's "waging war on mediocrity in content." Which sounds like a war of attrition, to be honest. Anyway, Ann's strengths revolve around the fact that she's an excellent writer, not necessarily because she writes a lot, but because she's one of the few people who just gets writing. Combined with the success of Marketing Profs, it makes sense that she has 302,000 followers.
Her Twitter feed is a healthy mix of original tweets, promotion, retweets, responses, and links. Like the other names on this list, she posts a lot of links — unlike the other names on this list, they're not always links to her content.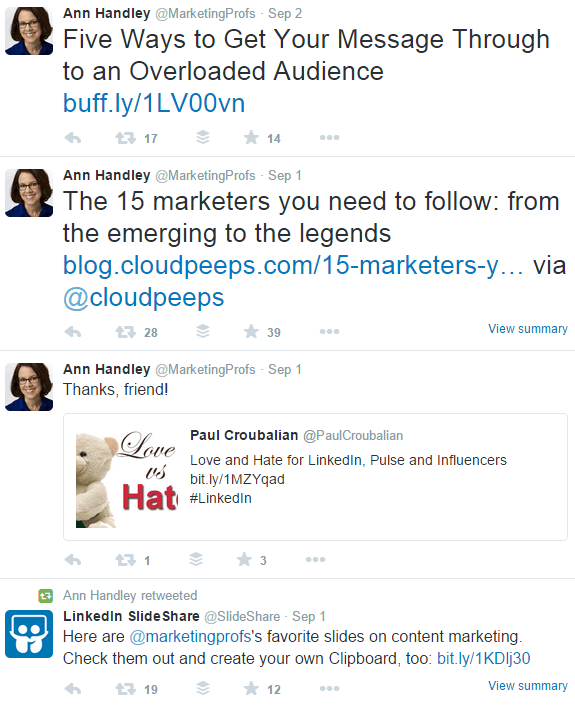 This makes Ann much more relatable on social media since she actually engages the people around her.
Even a simple "thanks" can work wonders when you want to make yourself more relatable — which she does. Plus, by endorsing helpful content from other people, Ann makes herself a better resource for her own followers. It's not always about what she or Marketing Profs produce — it's about giving value to the people who look to her as a major thought leader, even when it's not relevant to marketing.

She's also funny, which — let's be honest — makes her one of a select few in the industry.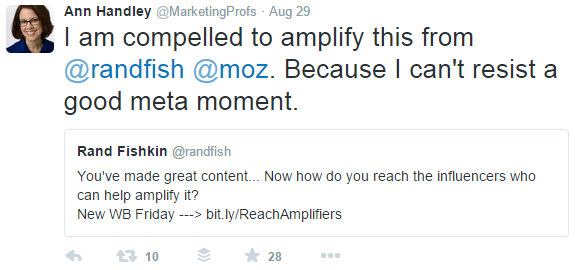 With so much to offer, especially a sense of humor, she'll probably cross the half-million mark sometime soon. What we can learn: Serve and engage your followers, even if there's no direct benefit to you.
Mari Smith — Mari Smith
Mari Smith is a self-made social media aficionado who has become one of the industry's most popular figures. She has 385,000 followers, and she primarily uses her social media presence to talk about social media. Mari is one of the best cases of reliable advice on the Internet.
If someone talks about getting a good social media presence and they actually have a good social media presence, they just proved themselves to be authoritative and trustworthy. That's exactly what Mari does, and now she enjoys a cycle of success. True to form, most of her tweets are about using social media.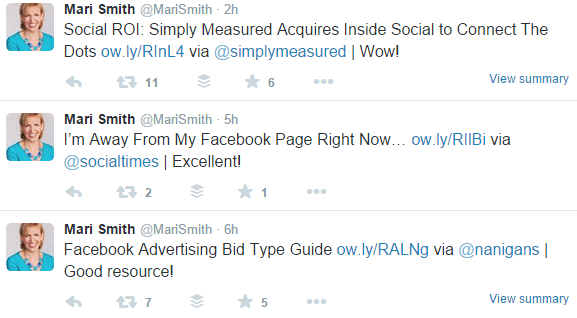 And to keep her account from looking like a bot, she throws in some fond wishes, personal thoughts, and links to other people's content to round out her profile.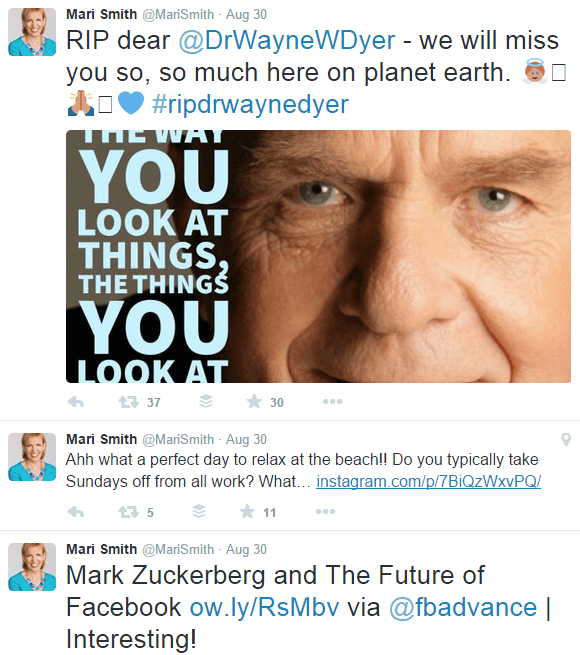 She tweets multiple times per day, beginning at the start of the work day (at least for East Coast time) and continuing throughout the day. She also tweets on weekends and holidays since social media never takes a break, but she doesn't appear to post at night, when most of her demographic is asleep.
That precise timing makes a lot of sense considering Mari is such a famous resource. Of all people, she's definitely used social media analytics services to discover the peak times she should tweet. And considering her most engaging tweets usually aren't related to her expertise…

… you can bet that she's working based on an established formula of success.
The only strange part of Mari's social media presence is that she doesn't use hashtags that often, and even when she does, they're almost always part of a retweet. Considering how calculated her Twitter account appears, it's not likely that her minimal hashtag use is a fluke — it has to be on purpose. There are about a billion articles and blogs out there that talk about the importance of hashtags, and a lot of them highlight how you can get better visibility and more followers, by extension.
While Mari's other social media accounts use hashtags (especially Facebook), there are some definite advantages to using them on Twitter. But while this might seem like a careful tactic from a social media expert, the answer to why Mari doesn't use hashtags is surprisingly simple.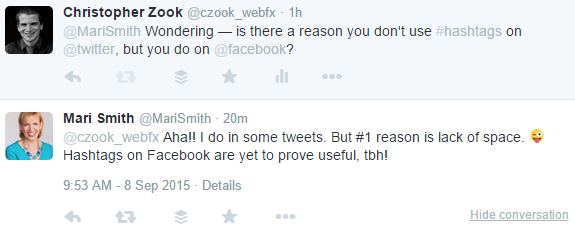 There's just not enough space.
What we can learn: Establish your expertise and be concise.
The takeaway
If you want to follow people who can show you how to make the most of your Twitter presence, these five figures are some of the best in the business. They're all established and intelligent users with their own personal styles.
And while you shouldn't copy their personalities tip-for-tap, you can use them as starting points as you grow your Twitter presence. Also, if you're looking to tweet more regularly, but you're constantly busy, check out Buffer. It's one of the best social media schedulers online, and I guarantee you that all of these Twitter influencers use it (or something like it) to keep their social media presence active.
Do you follow these Twitter influencers? Do you have your own patterns of success? Let me know in the comments!
Trevin serves as the VP of Marketing at WebFX. He has worked on over 450 marketing campaigns and has been building websites for over 25 years. His work has been featured by Search Engine Land, USA Today, Fast Company and Inc.

WebFX is a full-service marketing agency with 1000+ client reviews and a 4.9-star rating on Clutch! Find out how our expert team and revenue-accelerating tech can drive results for you! Learn more
Try our free Marketing Calculator
Craft a tailored online marketing strategy! Utilize our free Internet marketing calculator for a custom plan based on your location, reach, timeframe, and budget.
Plan Your Marketing Budget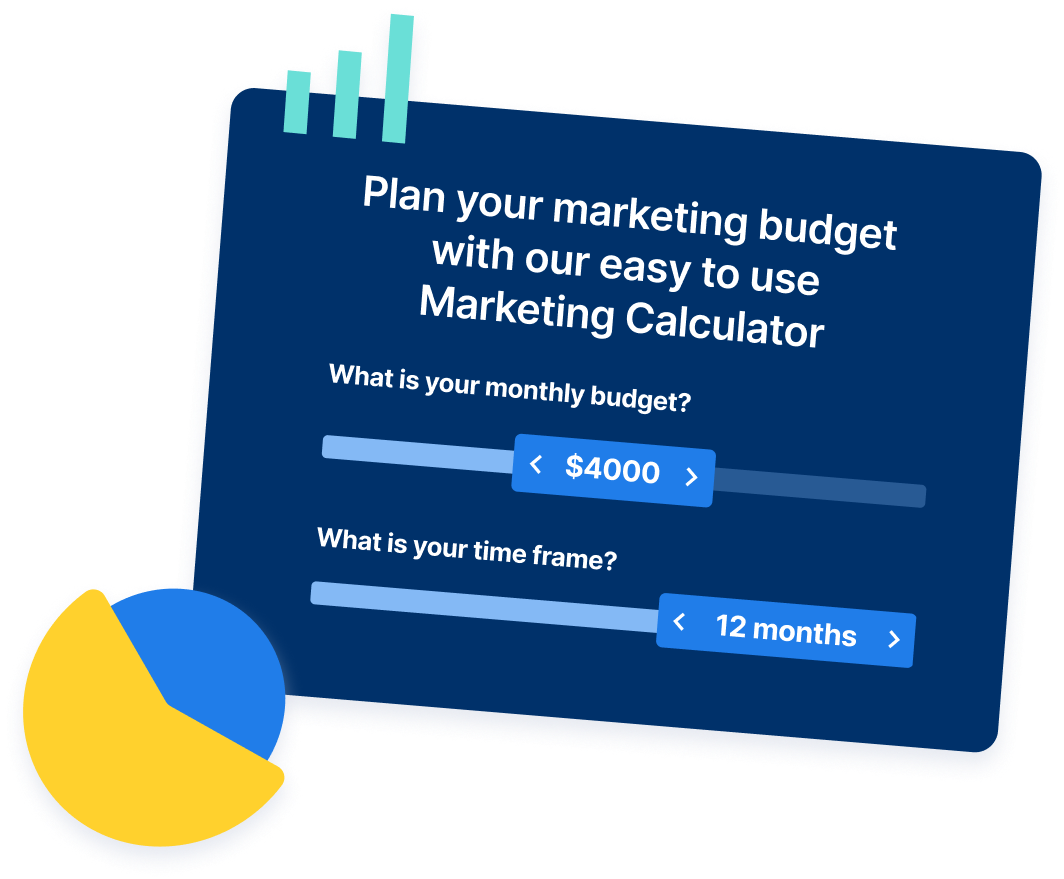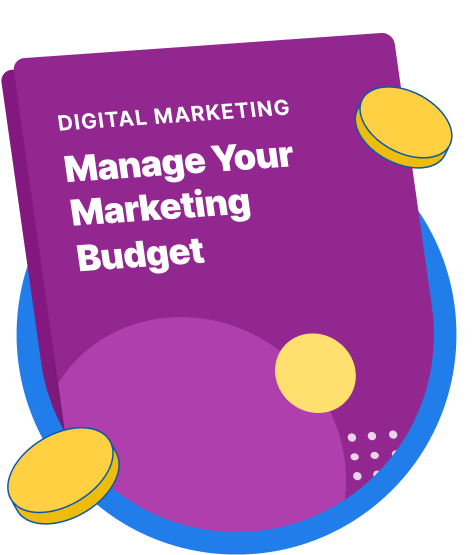 Maximize Your Marketing ROI
Claim your free eBook packed with proven strategies to boost your marketing efforts.
Get the Guide
Try our free Marketing Calculator
Craft a tailored online marketing strategy! Utilize our free Internet marketing calculator for a custom plan based on your location, reach, timeframe, and budget.
Plan Your Marketing Budget