What Is Social Media Marketing?
Social media marketing (SMM) is the use of social media platforms to promote a product, service, or brand. SMM includes developing a strategy, creating posts, monitoring mentions, responding to comments, and more. Keep reading to learn more about social media marketing's definition!
When you use social media marketing, whether on Facebook, Twitter, Instagram, LinkedIn, or another platform, you're engaging and interacting with your audience on multiple levels, building their brand awareness and interest to drive leads and sales.
This guide serves as your partner for getting started with social media and learning the basics of social media. Use it to learn how to bring social media and marketing together. Plus, get inspiration from real-life social media marketing campaigns.
Don't miss our Marketing Manager Insider emails!
Join 200,000 smart marketers and get the month's hottest marketing news and insights delivered straight to your inbox!
Enter your email below:
Inline Subscription Form - CTA 72
"*" indicates required fields
(Don't worry, we'll never share your information!)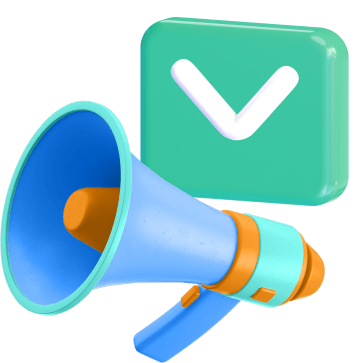 Social media marketing meaning
Social media marketing is a digital marketing strategy that uses social media to promote your business online. When you market your business with social media, you use different social media networks, like Facebook or Instagram, to connect, engage, and communicate with your target audience, as well as promote your products or services to drive brand awareness, website traffic, and sales.
Benefits of social media marketing
The benefits of social media marketing include:
Connect with users in real-time: With SMM, your business can connect with users in real-time via comments and private messages, which are great outlets for building brand awareness, increasing trust, and improving customer loyalty.
Access new marketing data: Social media networks also provide your business with additional marketing data, which you use to better understand your audience. Review your analytics to determine which topics resonate with users, when to post new content, and more.
Nurture the buying funnel: Another advantage of social media is it also provides another way for your business to nurture consumers or business buyers. Use posts, comments, ads, and more to move users from being aware of your brand to being ready to buy.
Growing your social presence with WebFX is a walk in the park.
"WebFX allows growing your social media platforms to be stress-free! They are knowledgeable and adapt to your company needs!"
Learn More About Our Social Media Services

5 components to successful social media marketing
Social media success doesn't happen overnight. It requires time and dedication, as well as some strategic know-how, to launch a successful marketing and advertising strategy for social media. That's why, before creating your social media plan, you want to learn its core components (or action steps).
Five critical components make up social media marketing:
1. Building a social media marketing strategy
A successful, long-term social media initiative depends on a strategy. Spontaneous posts are great, but you want a plan driving your overall routine decisions, like how often you post, what you post, and more.
Build the foundation of your social media marketing plan by answering these questions:
What do I want to accomplish with social media?
What platforms do I want to use?
What content do I want to create and share?
How much time do I want to spend on social media?
How much do I want to invest in this marketing channel (and advertising)?
How often should I post content?
How will I manage responding to comments and answering questions?
Using your answers, you can create an outline for your social media strategy.
For example, you may decide that you want to focus on Facebook and LinkedIn, based on your audience research, versus Instagram and Twitter. Or, that you want to invest in a tool for scheduling your social media posts, as well as responding to users.
While this step involves a lot of thinking, don't skip it. It's essential to your strategy's success.
2. Planning, creating, and posting social media content
Content powers your social media marketing. Whether you're sharing blog posts, launching ads, or posting videos, there are multiple types of social media content you can share. You need to provide your audience with content to interact with — that's how you engage your followers.
As a part of planning your strategy, answer the following questions:
What content does my target audience respond to on social media?
What content can my company create?
How much content do I want to post or share each month?
How much content can my company create each month?
When is the best time to share content with my audience?
Who will create the content?
Who will publish the content?
Who will monitor the content's comments, likes, and overall engagement?
Creating a hypothetical content calendar can help your business work through these questions. You can use the calendar to see how much content you need to produce, as well as outline what content would get posted when. A content calendar can also help you see the value in investing in a scheduling tool.
In addition to brainstorming a social media content calendar, you should think about ways to repurpose that content. If you're creating content for your blog to share on social media, for instance, think about optimizing that content for search engine optimization (SEO) to attract more traffic to your site.
Researching when you should post your content will also maximize the success of your social media marketing strategy. While you can do some initial research, you can also use data (after launching your content) to determine the best posting time for your business.
Learn More About Creating Content for Social Media
3. Listening, engaging, and responding to users
Social media marketing involves more than sharing — it also involves one-on-one interactions.
When you decide to invest in social media, you choose to interact with your target audience in a new way. From public comments to private messages, social networks offer you a whole new channel (and toolset) for communicating with your market.
A couple of questions you'll want to answer before you get started include the following:
Who will monitor social media comments, messages, and brand mentions?
Who will respond to comments, messages, and questions from users?
How will our company respond to and engage with users?
When will our company monitor social media?
What tools, if any, we will use for social media monitoring?
Listening, engaging, and responding to users is one of the most critical parts of social media marketing.
Invest a significant amount of time in this step. For example, if you decide to create a guidebook for answering and responding to users, great! It'll become a beyond-useful reference for your team and help you make the most of every interaction.
While you don't have to use tools for social media, it's often recommended to invest in at least one — especially for social media listening and engagement. These tools can help you monitor activity across all your channels, as well as respond fast. They make your life easier and your strategy stronger.
A few examples of some go-to tools for social media listening and engagement include:
Many of these tools offer free trials, so experiment and see which one works best for your team.
Learn More About Engaging With Users on Social Media
4. Developing, launching, and managing social media ad campaigns
Even though they're optional, social media ad campaigns don't seem that way. That's because social media algorithms prioritize content from users versus businesses. Instead of seeing your company's post, a social media network like Facebook will give priority to a post from a user's friend.
That's why it's worth considering a social media ad campaign, which helps you:
Attract new followers
Create engagement on organic posts
Generate brand awareness
Remarket your business to interested users
And more
If you want to try advertising on social media, answer these questions first:
What do I want to accomplish with social media ads?
Who do I want to reach with social media ads?
How much do I want to spend on social ads each month?
What creatives (like ad copy or video) would I need?
How many ad campaigns do I want to run?
Who would manage the ad campaigns?
What kinds of ads (like text or video) do I want to run?
Where would I advertise — on all my social networks or some?
The advantage of advertising on social media, as well as other digital ad networks, is that you have complete control over your budget. You can spend any amount you like. Plus, you only pay when users take a specified action, like clicking on your ad.
Think about including social media advertising in your strategy, because it can help you succeed.
Learn More About Advertising on Social Media
5. Reviewing social media analytics and compiling actionable steps
Social media marketing offers your business a helpful amount of action data. Via your data (or analytics), you can gain insight into your audience. That insight can help you make informed changes to your approach, resulting in more brand awareness, website traffic, and sales.
Again, you'll want to answer a few questions before getting started:
What platforms will I use to compile, review, and analyze my data?
How often will I review my social media data?
What metrics will matter most to my goals and campaigns?
Free tools, like Google Analytics, can get you started.
Most social media platforms, like Twitter and Facebook, will also provide you with some initial data. Google Analytics works well because it can help you see the impact on social on your website, like by revealing the amount of traffic social brings to your site.
Learn More About Analyzing Your Social Data
3 social media marketing examples to follow
Many businesses use social media marketing in conjunction with other conversational marketing channels to develop an interactive, multichannel plan. Some campaigns, however, stand out in their own right, accomplishing the company's goals without the assistance of traditional marketing. Here are a few examples of successful social media marketing campaigns.
Lay's: Do Us a Flavor
One of the reasons social media is so popular is because it gives users a chance to join in the conversation. A good social marketing campaign should let them be active participants. That's exactly what Lay's did with its Do Us a Flavor campaign in which loyal customers submitted their ideas for a new potato chip flavor for a chance to win $1 million from Frito-Lay.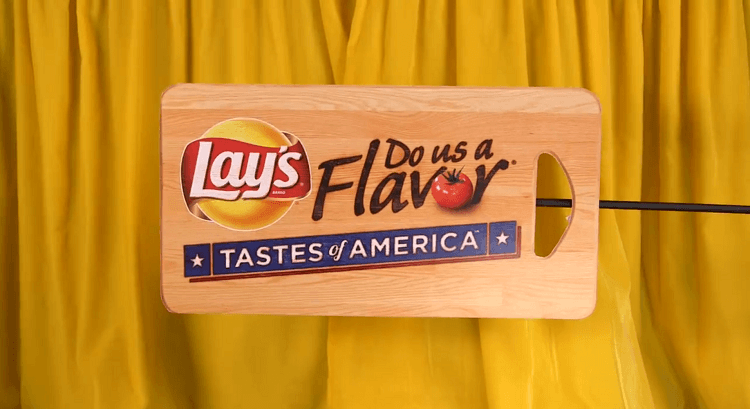 The company set up a dedicated website and then asked people to submit their ideas on Facebook and Twitter. Nearly 4 million people responded, and Lay's tested the most promising choices. After narrowing the field to three options, the company produced the finalists, sold them in retail outlets, and asked consumers to go back to social media to choose their favorites.
Sales of Lay's Potato Chips increased by 12 percent the first time the contest ran, but it generated so many mentions that Frito-Lay ran the contest again in 2014. That year, 14 million people submitted ideas and the Lays Facebook page generated 6 million likes.
Make-a-Wish Foundation: Batkid
For-profit companies aren't the only ones that can generate money from a great social media campaign. Make-a-Wish Foundation proved the power of social media in nonprofit marketing with one of its biggest gifts ever. In 2013, Miles Scott, a 5-year-old who had been battling cancer most of his life, wanted to be Batkid for a day. The foundation put together an event and sent an email a month beforehand to enlist a few volunteers to help out.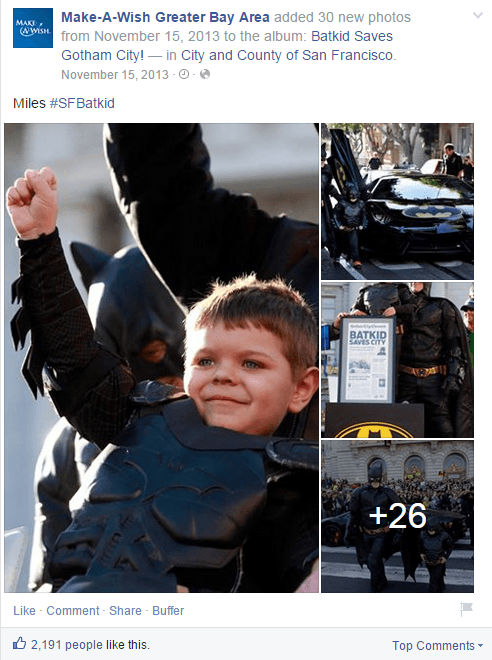 The story went viral thanks to supporters on Twitter and Instagram, and 12,000 people ended up contributing their time and talents. In fact, the story generated so much publicity that the entire city of San Francisco turned into Gotham City for a day. Although the campaign was meant to make one kid's dream come true, national interest in the story helped the Make-a-Wish Foundation increase donations by 26 percent.
Chevy: Purple Your Profile
Some social media marketing plans succeed because of buy-in from other businesses. Such was the case with Purple Your Profile, a joint project by Chevy and the American Cancer Society that was created to raise more money for cancer research.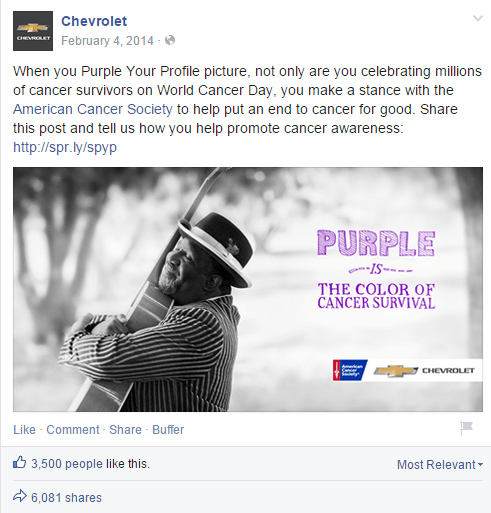 The campaign actually began on TV with a Super Bowl ad, but it quickly migrated to social media. Viewers of the ad were asked to color their profile pictures purple to show they supported the fight against cancer. For every purple profile picture, General Motors donated $1 to cancer research.
By the end of the campaign, 1.3 million Facebook users and 700,000 Twitter users responded, helping to generate more than $2 million in donations to the American Cancer Society. Meanwhile, Chevy got 5x the number of likes on Facebook, and the story appeared 45 million times in news feeds.
How is social media marketing different from traditional marketing?
Social media marketing requires the same basic element as any other channel: the right message sent to the right person at the right time. What differentiates it from other channels is the level of power consumers have over your message.
In most marketing channels, you control the communication. You decide when and how to reach out, and consumers have the choice of responding or not. Those parameters don't exist on social media. Consumers are going to talk about your business (and your competitors) whether you want them to or not.

In other marketing scenarios, this would likely motivate you to ramp up your campaigns and send out even more promotions. However, social media audiences aren't sharing ads—they're sharing content that interests them, regardless of where it comes from. The way to get into their conversations isn't to talk more loudly about your products and services, but rather to talk about the things that interest them.
That doesn't mean you have to abandon your goals of spreading the word about your business and increasing revenue. It just means you have to take a different approach towards meeting those goals.
How is social media marketing related to search engine optimization?
Social media marketing relates to search engine optimization, also called SEO, by influencing search results. While Google does not use social media as a direct reference for its rankings, social media indirectly affects Google's rankings.
People use social media in a lot of different ways, including to share content.
When people share content, like an infographic, it sometimes goes viral. People move from not only sharing the content on social media but also websites. A news site, for instance, links to the infographic and the site hosting that infographic.
That link serves as a trust signal to search engines like Google. Since links play a significant part in how Google ranks websites in search results, that link can help improve the rankings of the website hosting the infographic.
In this all-too-common scenario, social influences search, which is why it's a component of SEO.
Get professional help with social media marketing
Social media is just one element of an overall digital marketing strategy, but it can be one of the most effective if you use it well.
Still wondering, "What is social media marketing?" Check out any of the additional resources we've linked to on this page.
If you want to start using social media to grow your business, or improve upon your current profiles and strategy, contact us! Our dedicated team of social media experts is more than happy to help you reach and engage with potential customers.