Based on the constant battle to prove the value of social media and that "useful" trusting fan-base, I went on a mission to discover once and for all if spending time and money in social media actually pays off. Based on data from several A/B tests, experiments and campaigns, here's a look at the the impact social media has on ROI and a few winning strategies:
Planning Social Media Posts
The first step in any social campaign is creating a plan. You can get active on any social media network instantly, but when you pause for a moment and plan out your posts the results are significantly more promising. For one client project, we moved random, "whenever I feel like it" posts to an actual editorial strategy.
Website interaction not only increased but we saw increased interaction specifically around the times when we posted on Facebook and Twitter. The posting time in this screen capture was 4pm on Monday: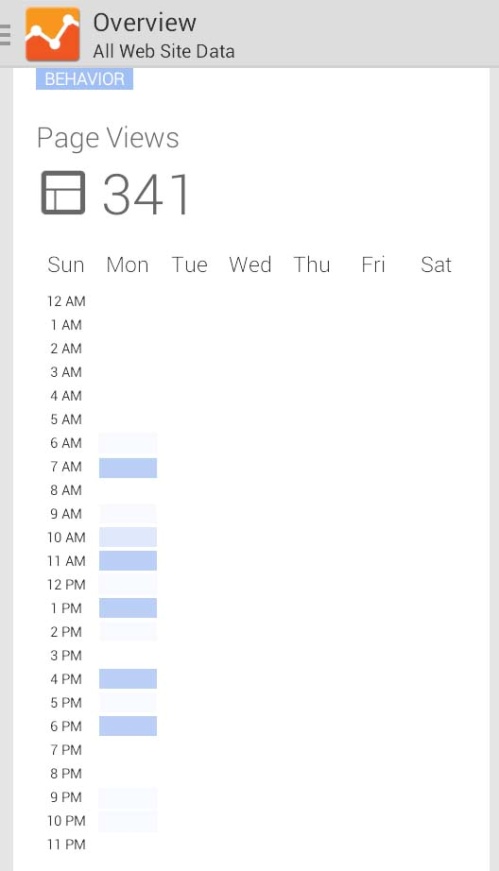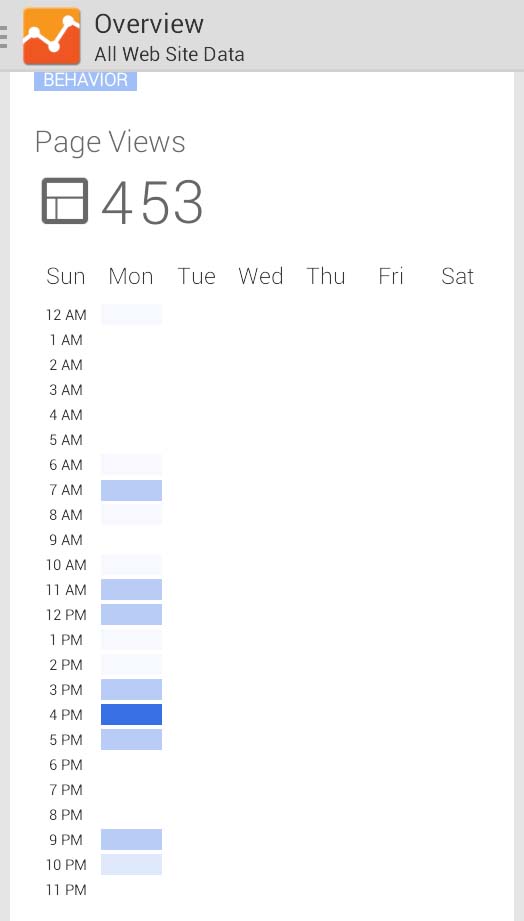 These results remained true even when the post itself did not include a link back to the client's specific website. Why?
When something is out of sight, it really is out of mind. Using consistent and engaging posts to keep your brand in the news feeds of your fans will keep your site in sight and in the forefront of their minds.
Hashtags for Higher Interactions
Once you've scheduled when you want to show up in your fans' feeds, you have to consider ways to make the posts stand out from the rest of the noise that is common on any popular social network. The idea we tested comes from successful A/B tests in Adwords modified to work for social media.
To make ads in Google search results stand out, one method is to use different symbols. This goes beyond your exclamation point to include the ellipsis (…), hashtags and numbers (#1), registered trademarks (®), and so on. Hashtags are already recognized in social media and work perfectly for our purpose.
Over three months we posted a weekly recurring "feature" post (same subject, different content; such as "Motivational Monday" or "Trivia Tuesday") every other week with a hashtag and without a hashtag.
Those without a hashtag were retweeted 12% of the time while those with hashtags were retweeted 37% of the time. To further investigate this correlation, we reviewed similar experiment results from others in the marketing profession to find additional support for this premise: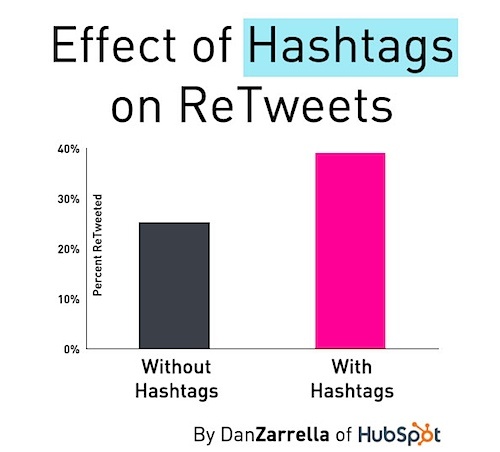 *image via http://marketingprofs.com
Taking the Relationship to the Next Level
Now that you're getting more fans and increasing their interaction with your brand on social networks and your site by scheduling noticeable posts, how do you know that you can turn those "Likers" into buyers? If you're using the right methods on the right networks, these social increases will result in increases to revenue as well.
Other than the increased traffic and increased Likes, comments, posts, tweets, retweets, and repins, our test business also began seeing increased sales. With more traffic coming to the site, this was not a surprise. The surprising part was when we began seeing customer answers on the "How did you hear about us?" portion of the checkout form and cross-checking to see how many people from our customer database were also fans on Facebook, Pinterest, and/or Twitter.
In this instance, 5 out of 10 social media fans were also customers who either made an online or in store purchase. This is a common trend across different industries. The Harvard Business Review we found that other businesses were also seeing that 4 out of 10 Facebook fans were customers and 43% of Pinterest pinners purchased products as well: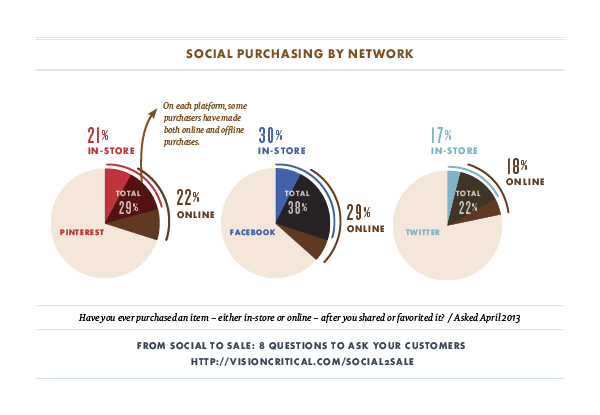 *image via
Social Love
While you might not be able to buy love, you can make plans and use strategic content to increase the numbers of those who love your brand.
Once your brand has created that bond with a consumer who goes from potential-purchaser to brand-fan, you have secured their trust. Lack of brand trust is a common obstacle stopping online shoppers from actually making a purchase, but the time you spend improving your social media presence and fans' experience dramatically increases your brand's trust level with future customers. Beyond trust, pure love or social preference can elevate your brand above a competitor.
If you have the Pinterest board that shows future customers a new take on your product with positive comments from those who tried it, your brand is going to be the one that sees the final sale of that item. These social interactions make your brand and product more than that… you get to become a friend, and the friend that shoppers want to take home. Overall, from watching more people come to your site to knowing those tweets, pins and other shares can end up as conversions, the efforts you spend on your social media won't be in vain!
WebFX Careers
Join our mission to provide industry-leading digital marketing services to businesses around the globe - all while building your personal knowledge and growing as an individual.