Is your business looking for ways to earn more revenue from selling on Amazon? Amazon Custom offers your company the chance to create and sell personalized products, from clothing to furniture to jewelry. While Amazon Custom operates as its own storefront, shoppers can find your custom products on Amazon too.
Keep reading to learn more about Amazon Custom, and get answers to questions like:
If you're looking for help getting started with Amazon Custom, from creating your storefront to optimizing your product listings, WebFX can help. Just in the past five years, for example, we've helped our clients manage more than 12.9 million transactions. Learn more about how we can help by contacting us online or calling us at 888-601-5359 today!
We don't want to tell you about the work we do, we want to SHOW you.
View Our Portfolio

We've built over
Websites
in a variety of industries.
What is Amazon Custom?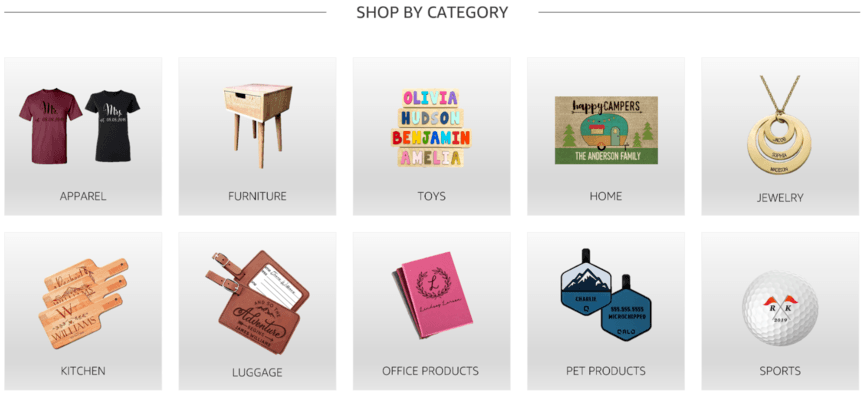 Amazon Custom is a storefront on Amazon that offers customizable products from Professional Sellers.
Shoppers can customize products on Amazon Custom with text, images, logos, or any other options provided by the seller.
How much does Amazon Custom cost?
Amazon Custom is free.

Amazon does note, however, that as Amazon Custom gains new features, you may incur charges for select tools. Right now, though, Amazon Custom offers your business a free program for generating sales from customizable products.
Who can sell on Amazon Custom?
If you want to sell on Amazon Custom, you must have a Professional Sellers account, which requires a monthly subscription of $39.99. This requirement does not apply to businesses in the Amazon Handmade program, which is a separate standalone program for artisans selling on Amazon.
What types of Amazon Custom products can you sell?
You can sell a variety of products on Amazon Custom. The only products ineligible for Amazon Custom are:
Media
Personal computers
Laptops
Computer towers
Tablets
Video consoles
When selling custom products on Amazon, though, you must have authorization to sell in your product's category. If you aren't approved to sell furniture, for instance, you can't sell a customizable coffee table on Amazon Custom.
What kinds of customizations can you offer for Amazon Custom products?
With Amazon Custom, your business can offer the following customization options:
Text: Print, engrave, embroider, and paint personalized text onto a product. This customization option requires you to set specific font and font color options for shoppers. You can also go beyond printing, engraving, embroidering, and painting if you use another application method.
Image: Allow shoppers to customize your product with a picture. You can combine this customization option with the text option, too, letting shoppers upload a photo and provide text to go with it.
Product: Let shoppers build their product, like an end table, using dropdown menus with designated options. For this customization option, you can set different prices for different options, like having a higher rate for a more expensive type of wood.
Your business can use any (or all) of these customization options through your Amazon storefront.
How to create a listing for Amazon Custom
Start selling custom products on Amazon by following these steps for how to create a listing for Amazon Custom:
1. Register for Amazon Custom
Start by registering for Amazon Custom. It's a quick process, as Amazon reviews your application instantly. If you get approved, Amazon will send you an email that includes a link for getting started on Amazon Custom.
Remember, you'll need to have a Professional Seller account to apply for Amazon Custom.
2. Create a new product in Amazon Seller Central
Once you become an Amazon Custom member, follow these steps:
Log in to Amazon Seller Central
Click "Inventory" from the main menu
Select "Add a Product" from the dropdown menu
Click "I'm adding a product not sold on Amazon"
Next, you'll want to classify your product by choosing an appropriate category. It's vital that you pick an accurate and relevant category for your Amazon Custom product. Shoppers use product categories to narrow their choices.
If your product doesn't have the right classification, it'll get filtered out in search results.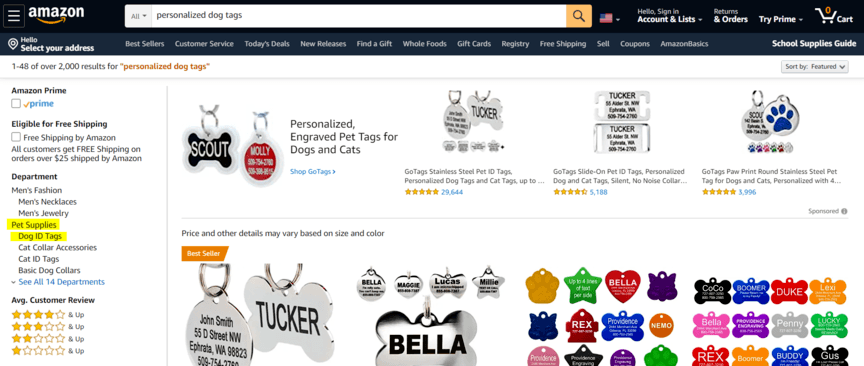 Once you finish classifying your product, you'll complete the following sections:

Product Section
Form Fields
Vital Info
Product Name (Required)
Manufacturer Brand Name Product ID (Required)
Variations
Complete this field if offering a product in different sizes or colors. This form field is separate from product customizations.
Offer
Seller SKU Condition (Required)
Your price (Required) Fulfillment Channel
Images
TIFF, JPEG, GIF, or PNG image
Description
Key Product Features
Product Description
Keywords
Search Terms
Target Audience
Subject Matter
Other Attributes
Intended Use
More Details*
*Fields dependent on product category
After you complete the above form fields, click "Save and finish."
3. Add your custom product's customization information
With your product created, you can move on to adding its customization information. Just go to the "Manage Inventory" dashboard, which you can access by:
Choosing "Inventory" from the main menu
Clicking "Manage Inventory" from the dropdown menu
Once you arrive in the "Manage Inventory" dashboard, find your custom product. In most cases, your custom product will appear at the top of your inventory list. If not, you can search for your product using its title, product ID, or another search term.
After you find your product, click its dropdown menu and select "Add/Edit Customization Information." Then, complete the following form fields:

| Form Field | Details |
| --- | --- |
| Surface Name(s) | Enter the name for your product's surfaces, which users can customize. You can have up to five surfaces. |
| Preview Image | Upload an image of your product surface, which will display when customizing your item. For example, the front of a shirt. |
| Type of customization | Select the type of customization you're offering, like text, image, or product, and the number of customizations, like two text customizations. |
| Customization Details | Supply information related to the customization, like the customization area's size and the number of characters allowed for a text customization. |
| Miscellaneous | Your customization type may include other form fields. Text customizations, for example, will specify available fonts and font colors. |
Once you finish, click "Save & Finish."
4. View your custom product on Amazon
Next, go ahead and view your custom product's listing on Amazon. You can see your product's listing via the "Manage Custom Product Listing" dashboard. From the "Manage Inventory" dashboard, click "Custom Products," which you'll find below the main menu.
Then, choose your product from the inventory list. On your product listing, you can view details like:
Product description
Product images
Product title
And more
While you want to review those elements, you also want to check out your product customization options. Click "Customize Now," which you'll find on the right-hand side of your listing — the usual spot for the "Add to Cart" button.

The pop-up will show your customization surfaces.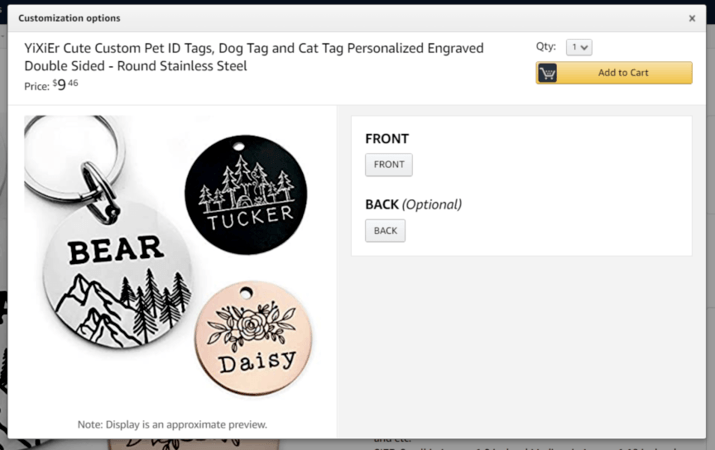 In this example, the seller offers two customization surfaces: The front and back of the dog tag. Click and work through your customization surfaces. Ensure your options match what you provide.
If you offer text customization, for instance, and notice a font listed that you don't use, make a note to update that option.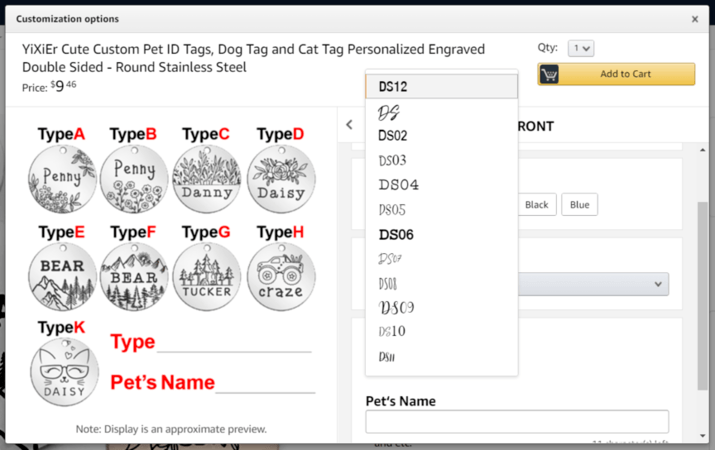 Essentially, you want to test your Amazon Custom products. Testing them now will prevent issues later like if someone orders a dog tag in a color your business doesn't offer.
If you can, ask everyone in your department or company to take 15 minutes and work through your custom products. Once you finish testing your products and making updates, you can start selling.
Learn More About Selling Custom Products on Amazon
The Seller's Guide to Amazon Listing Optimization
7 Tips for Optimizing Your Amazon Product Pages
5 Best Practices for Amazon Product Titles
FAQs about selling custom products on Amazon
Browse our Amazon Custom FAQ to learn more about selling custom products on Amazon:
How long does it take to join Amazon Custom?
In most cases, your Amazon Custom application will get reviewed instantly. That means whether Amazon denies or approves your application, you'll find out right away.
If Amazon approves your request, you can expect an approval email within an hour. That email will contain a link for getting started with selling custom products on Amazon.
Can you bulk upload products to Amazon Custom?
Yes, at least for some products. For products with one text customization surface (that allows up to five lines of text), your business can bulk upload its products.
If your Amazon Custom products use image or product customization, though, you'll need to upload each product manually.
How many customization types can you offer on a single product?
You can offer all the customization types — text, image, and product — together on a single product. When it comes to the number of customizations that you can apply to a product, that number is 100. For custom products, Amazon offers five surfaces — or five locations where shoppers can apply customizations. Each surface can accept up to 10 customizations. That means a shopper could (but most likely won't) request 100 customizations across a single product.
Does Fulfillment by Amazon (FBA) fulfill Amazon Custom orders?
No.
Since Amazon Custom focuses on creating one-of-a-kind products, you cannot use FBA to fulfill Amazon Custom orders. Instead, your business will need to process, package, and ship each order, as well as handle any customer support issues.
Can you advertise Amazon Custom products on Amazon?
Yes! You can use Sponsored Products for advertising your Amazon Custom products.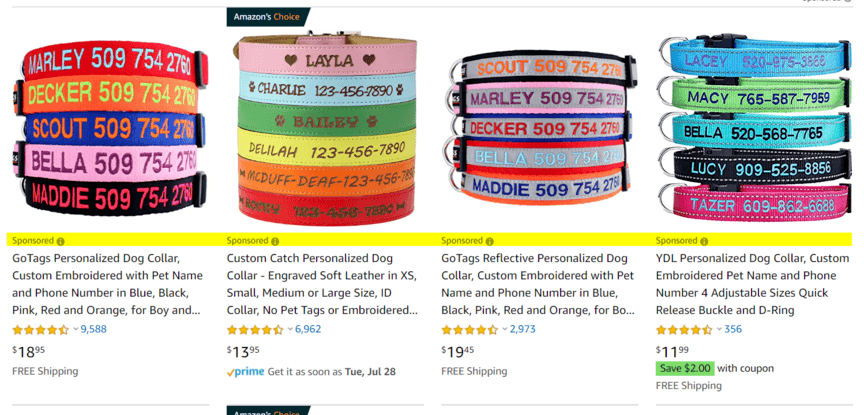 These ads appear in Amazon search results. With Sponsored Products, you target search terms relevant to your product. In most cases, your search terms will include phrases like "personalized" or "customized" because those terms indicate that someone wants a customizable versus one-size-fits-all product.
Use a tool like Sonar or Keyword Tool to research potential search terms.

These keyword research tools will help you find high-volume search terms, which means you'll reach more people with your ads. Reach more people, and you increase your chances of earning a sale from your ad.
BONUS READING: Your Go-To Amazon Keyword Research Tool: KeywordsFX
Earn more orders with Amazon Custom
Selling personalized products on Amazon Custom allows your business to capture more revenue. Whether your company sells furniture, clothing, pet supplies, or another product, you can match the needs of shoppers worldwide.
If you're looking for help getting started with Amazon Custom — or Amazon in general — WebFX is an experienced digital marketing agency, bringing more than 25 years of experience to the ecommerce market. Just in the past five years, for example, we've helped our clients earn over $3 billion in revenue, as well as manage more than 12.9 million transactions. That's why we're the trusted choice for small-to-midsized businesses worldwide.
Learn more about our services for Amazon by contacting us online or calling us at 888-601-5359 today!
The first step to increasing your SMB's Amazon sales is getting a FREE proposal.
One of our experts will be in touch within 24 hours!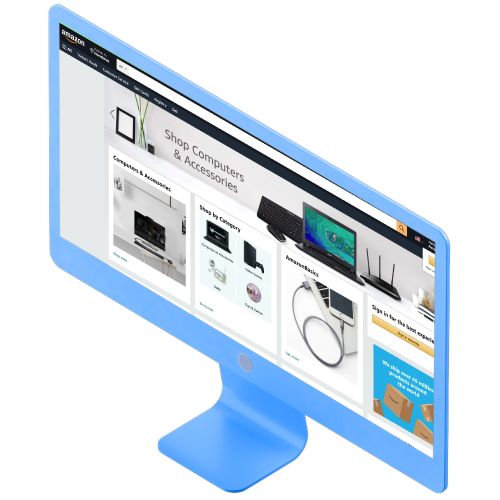 How is your website's SEO?
Use our free tool to get your score calculated in under 60 seconds.
Get posts by email
Join 200,000 marketing managers and subscribe to Revenue Weekly!
"*" indicates required fields
WebFX Careers
Join our mission to provide industry-leading digital marketing services to businesses around the globe - all while building your personal knowledge and growing as an individual.