Looking for fresh ideas for your marketing campaign? You've come to the right place! We've got a list of 12 marketing campaign ideas that will help your business grow online.
Keep reading to find out some good marketing ideas to help you increase traffic, leads, and sales!
1. Take a humanistic approach with your marketing
First on our list of good marketing ideas is to take a humanistic approach to your marketing. Your audience is tired of interacting with stiff corporations that have no personality to them. They want to connect with brands that feel like real people.
Taking a humanistic approach enables you to make your audience feel connected with a real person. It allows you to inject personality into your brand and give it life. Wendy's is a prime example of taking a humanistic approach with their marketing.
From their famous roasts to funny comments, this brand has a ton of personality in its posts.

Target stays personable with their audience by hopping on social media trends with their content.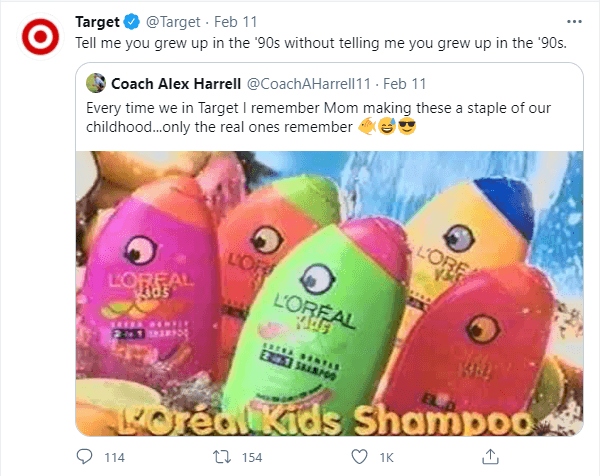 They also share content that's relatable to their audience, making it feel like their followers are interacting with a person rather than a brand.

By taking a humanistic approach to your marketing, you help your audience connect with your business better. It's a great way to build relationships with your audience, which can turn into sales later.
Related: Small Business Advertising Ideas
2. Create more long-form content
Next on our list of effective marketing ideas is creating long-form content. Content creation has long been a marketing trend for companies that want to grow online. It's one of the most valuable mediums for attracting qualified traffic and keeping them engaged on your site.
Long-form content enables you to provide your audience with all the information they need in one place. It allows you to answer their queries more in-depth. There are numerous types of long-form content, including:
Creating long-form content enables you to deliver more information your audience wants, which keeps them engaged on your site longer. As a result, it can help you boost your ranking in search results and drive more credible traffic to your site.
3. Invest in user-generated content
One of the items that tops our list of good marketing ideas is user-generated content. User-generated content is content your audience posts about your business on their social profiles. This content is a great way to showcase real customers using your products.
People rely on others' experiences to determine if they should buy a product or use a service. In fact, 92% of users trust recommendations over a brand — user-generated content is valuable for helping you build trust with your brand based on others' experiences. You can accumulate user-generated content by utilizing hashtags.
Hashtags enable you to have an entire feed of content from people who use your products or services. You can pick some of your favorite posts and contact the user to ask if you can share them on your profile. Then, when your followers see this content, they can get a first-hand look at someone's experience with your brand.
Target is a prime example of using user-generated content. This company consistently shares posts of people using or buying their products to entice others to buy them.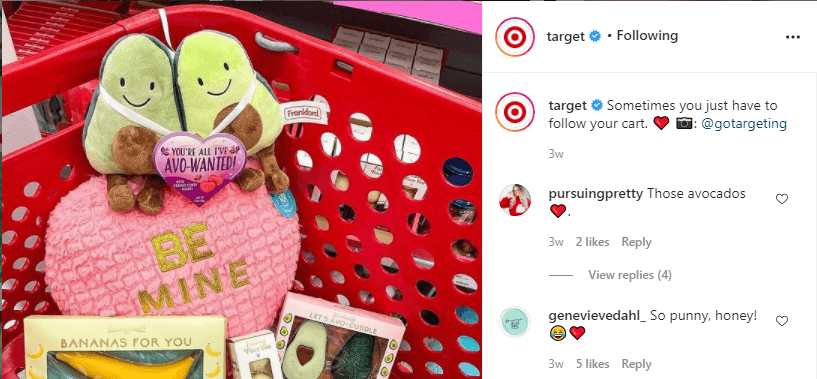 4. Use omnichannel marketing
Next on our list of good marketing ideas is omnichannel marketing. Omnichannel marketing involves using multiple platforms to connect with your audience and create different touchpoints. This strategy involves connecting all your marketing channels to create a seamless conversion process for your audience.
Omnichannel marketing requires you to take an audience-first approach to create a seamless experience down the marketing funnel. You can use multiple strategies in your omnichannel marketing efforts, including:
You'll use these strategies to create a streamlined process from brand awareness to conversion.
Bonus Read: Omnichannel vs. Multichannel Marketing
5. Use Shoppable posts on Instagram
This next idea is one of the most effective marketing ideas for your business if you sell products. Shoppable Instagram posts are a new way for shoppers to see products they love in your content and buy them.
Shoppable Instagram posts enable you to take a regular content photo and include a link to your product in the image. That way, if people see something they like in your photo and want to buy it, they can tap on the image and click the respective link to the product.
A great example of Shoppable Instagram posts comes from Lush. You can see the links to each product when you tap on the image.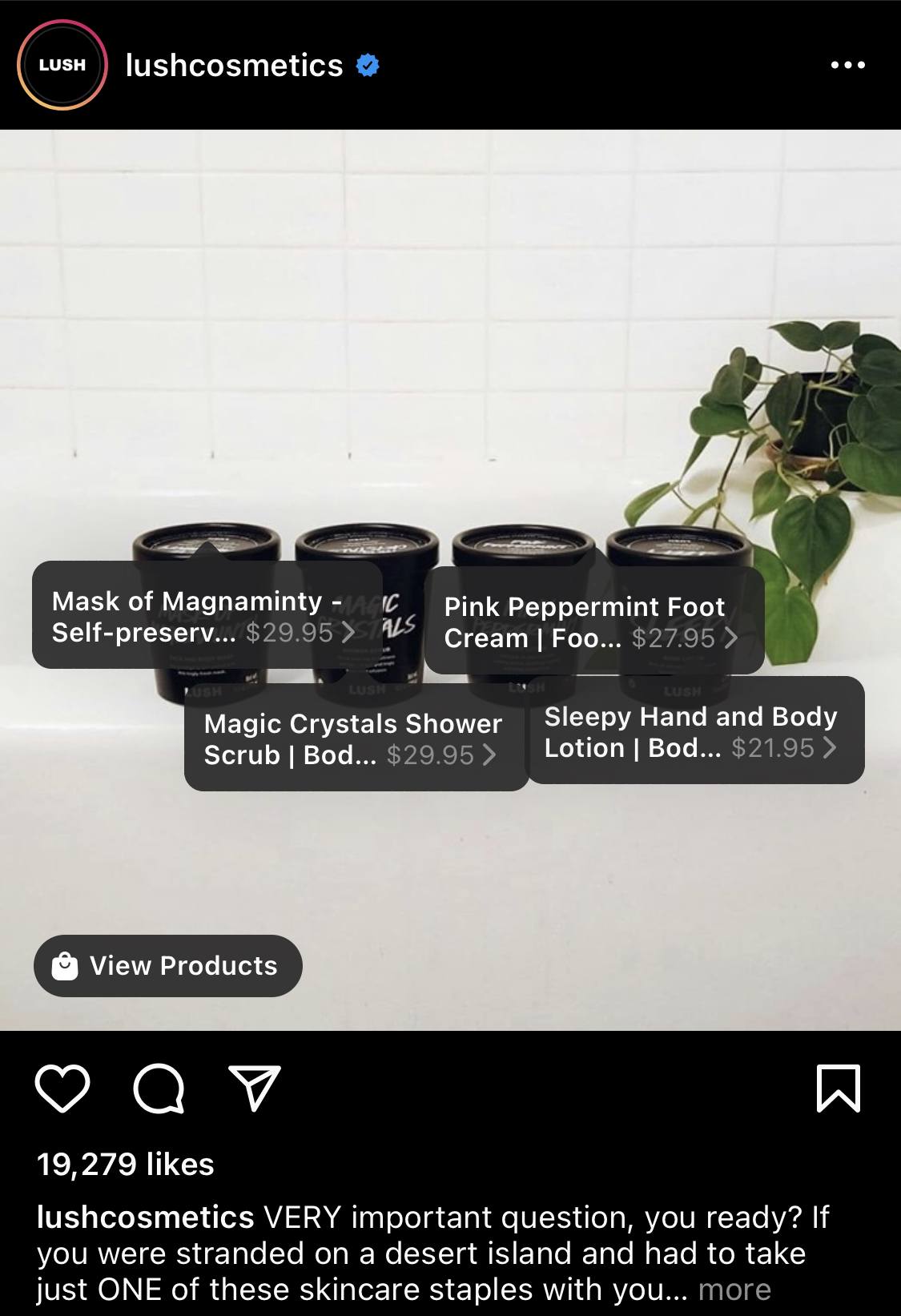 If there are a bunch of links in one post, it can be hard to read — that's where the "View Products" button in the corner comes in handy.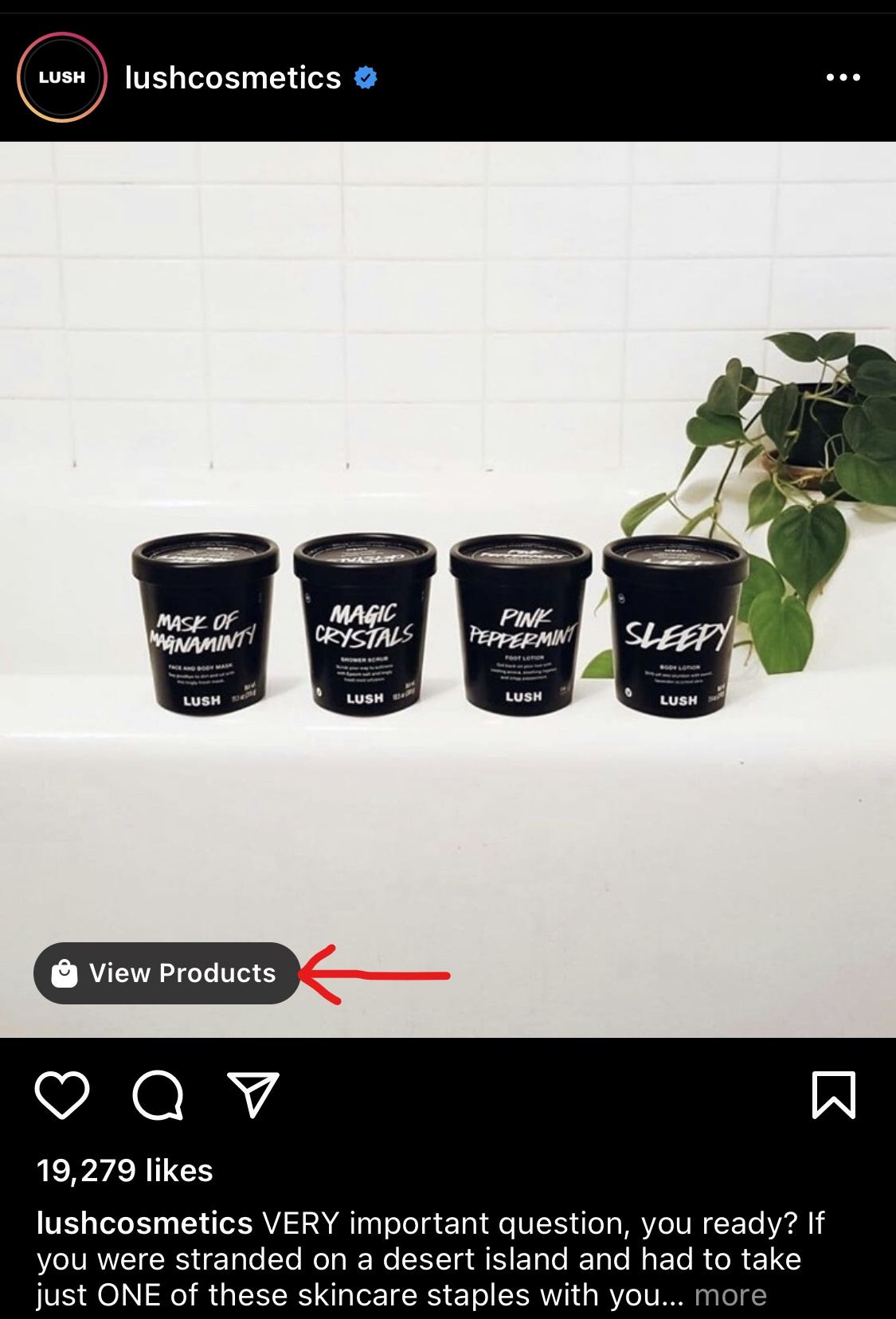 When you click that button, it pulls up a grid of the products featured in the image. It makes it easy for you to get a closer look and click on the one of interest.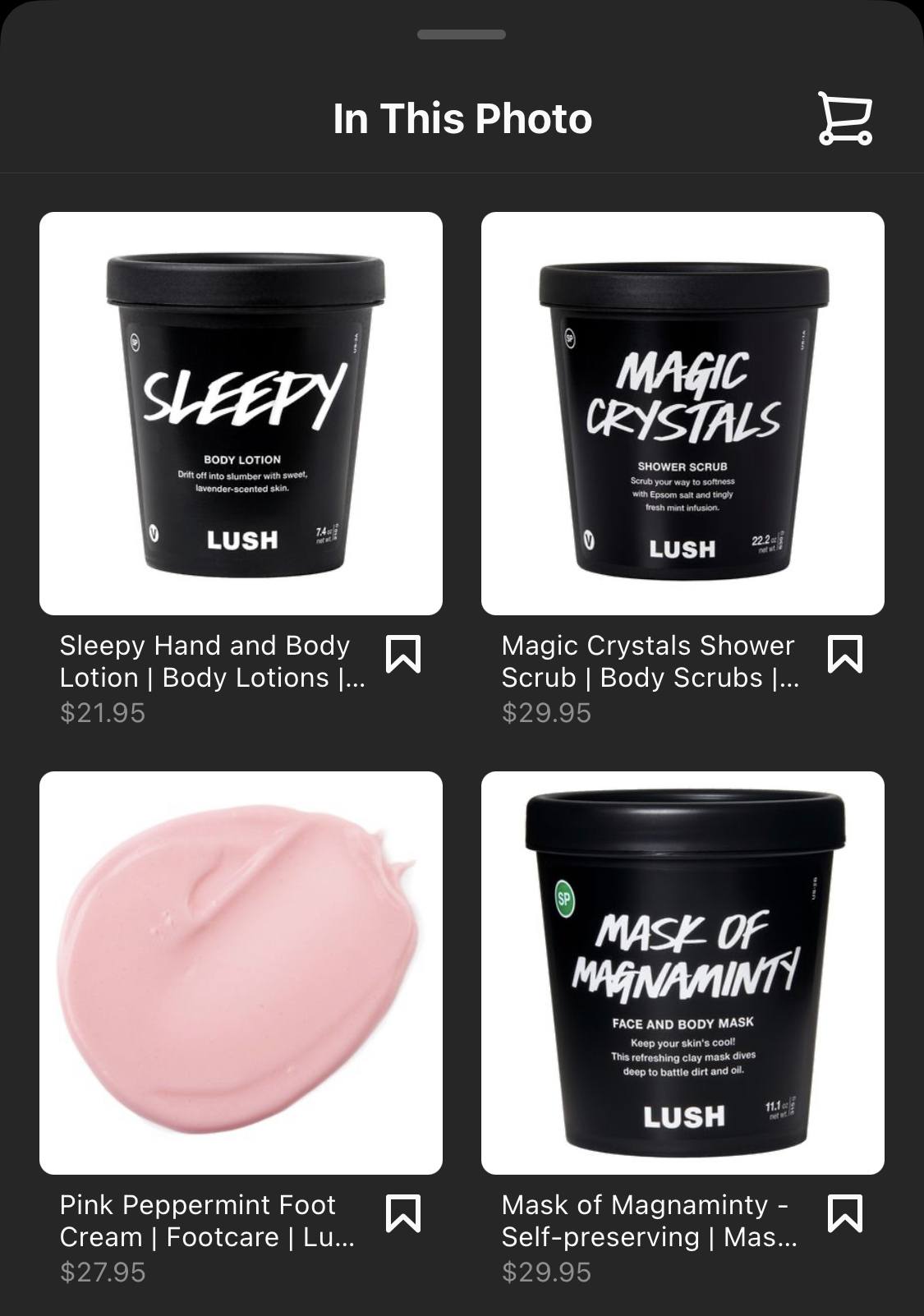 6. Claim your Google Business Profile listing
Another item on our list of marketing campaign ideas is to claim your Google Business Profile listing. If you haven't done this task yet, you're missing a prime opportunity to drive local traffic for your business. Your Google Business Profile listing appears in search results when people conduct local searches.
You'll typically see it in a feature called the local SEO 3-pack.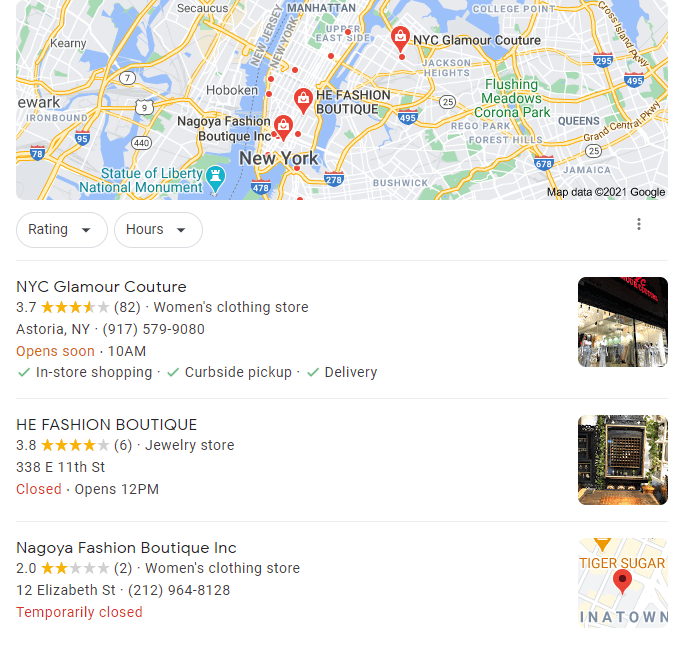 To appear in this listing, start by claiming your GBP listing. Once you claim your listing, you'll want to verify your:
Name
Address
Phone number
You can further optimize your local listing by adding your:
Hours of operation
A short blurb about your business
Your business category
Photos
By filling out your listing completely, you'll have a better chance of appearing in the local 3-pack and driving more local traffic to your business.
7. Use video
One of the most effective marketing ideas is video. People love consuming video content — the average U.S. adult spends five hours each day watching videos.
This medium is an excellent way for you to connect with your audience and help them learn about your business. You can create numerous types of videos, including:
Informational videos
How-to videos
Interviews with staff
Tours of your business
Product reviews or highlights
There are many possibilities available to your business when you use video marketing. When you create videos for your business, make sure you use high-quality footage and audio, so viewers can see and hear clearly. Additionally, be mindful of how long your videos are.
You may need to do some testing to find the right length for your videos to keep your audience engaged with your content. Once you create your video, make sure you share it on other platforms. Whether you post it on social media or share it in your email newsletter, you want as many people as possible to engage with it.
8. Start using the Stories feature on social media
Next on our list of digital marketing ideas is to use the Stories feature on social media. Platforms like Facebook, Instagram, and Snapchat have a Stories feature that enables followers to see posts for a limited time — in this case, posts disappear after 24 hours.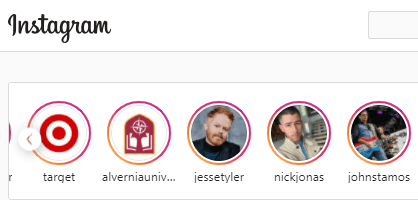 This social media feature is a great way to create FOMO or fear of missing out.
Users feel compelled to click on your story and see what's there so they don't miss out on anything. Stories is an excellent place for you to host flash sales and deals. Since the stories disappear after 24 hours, you don't have to worry about taking the post down after the sale passes.
These flash sales can be a great way to boost not only engagement on your social profiles but also increase sales for your business.
9. Utilize chatbots
Another item to add to your list of good marketing ideas is chatbots. Chatbots are an extremely effective way to quickly answer your audience's questions and provide them with a more personalized experience. You get dozens of the same questions every day.
Whether it's about shipping prices or hours of operation, you spend a lot of time answering these fundamental questions. With chatbots, though, you can spend your time answering more in-depth questions. For example, with Facebook chatbots, you can create automated responses that enable your audience to get answers and return to shopping with your business.
You can also create a personalized experience for your audience by giving them options and enabling them to choose the best option for them, like Lego's chatbot does.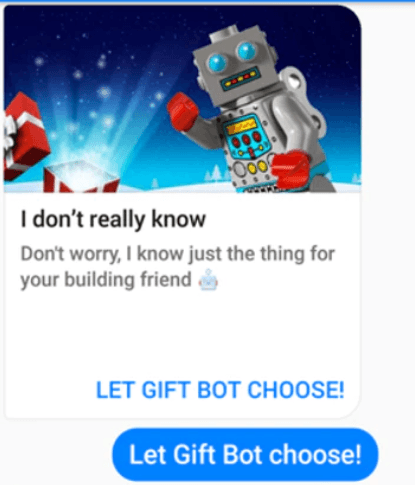 You can also add some personality to your chatbot, as Lego does with their chatbot Ralph, to help create a more enriching experience.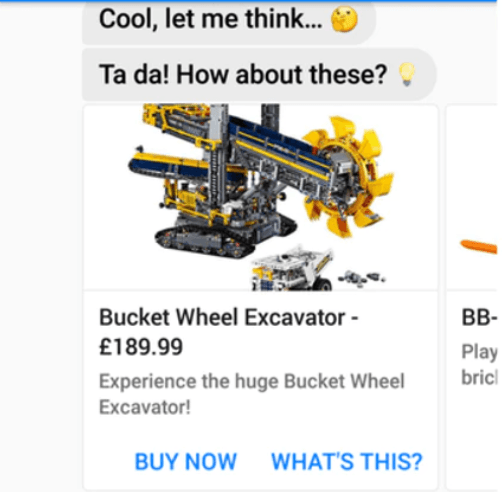 10. Use programmatic advertising
One of the most effective marketing ideas is programmatic advertising. Programmatic advertising involves using artificial intelligence to automate the bidding process for PPC ads. This strategy is beneficial to businesses looking to target a more specific audience.
Since your bidding strategy is more precise, it leads to higher conversions and lower customer acquisition costs (or patient acquisition costs, if you're in healthcare). Since your bid is automated, it's an efficient and fast way to bid for ad space. Using programmatic advertising, you can help optimize your bid amounts and get your ads in front of more qualified leads for your business.
11. Personalize your marketing efforts
Next on our list of marketing campaign ideas is personalization. With so many companies vying for your audience's attention, they're not going to pay attention to generic marketing messages. They want marketing geared towards their interests, and you can deliver that with personalization.
A great place to implement personalization is with your email marketing strategy. You can segment your audience and send them emails based on their interests. For example, if you own a coffee shop, you might segment your coffee lovers from your tea lovers to deliver emails that appeal to their interests.
You can also personalize emails by adding the subscriber's name as Starbucks did in this email.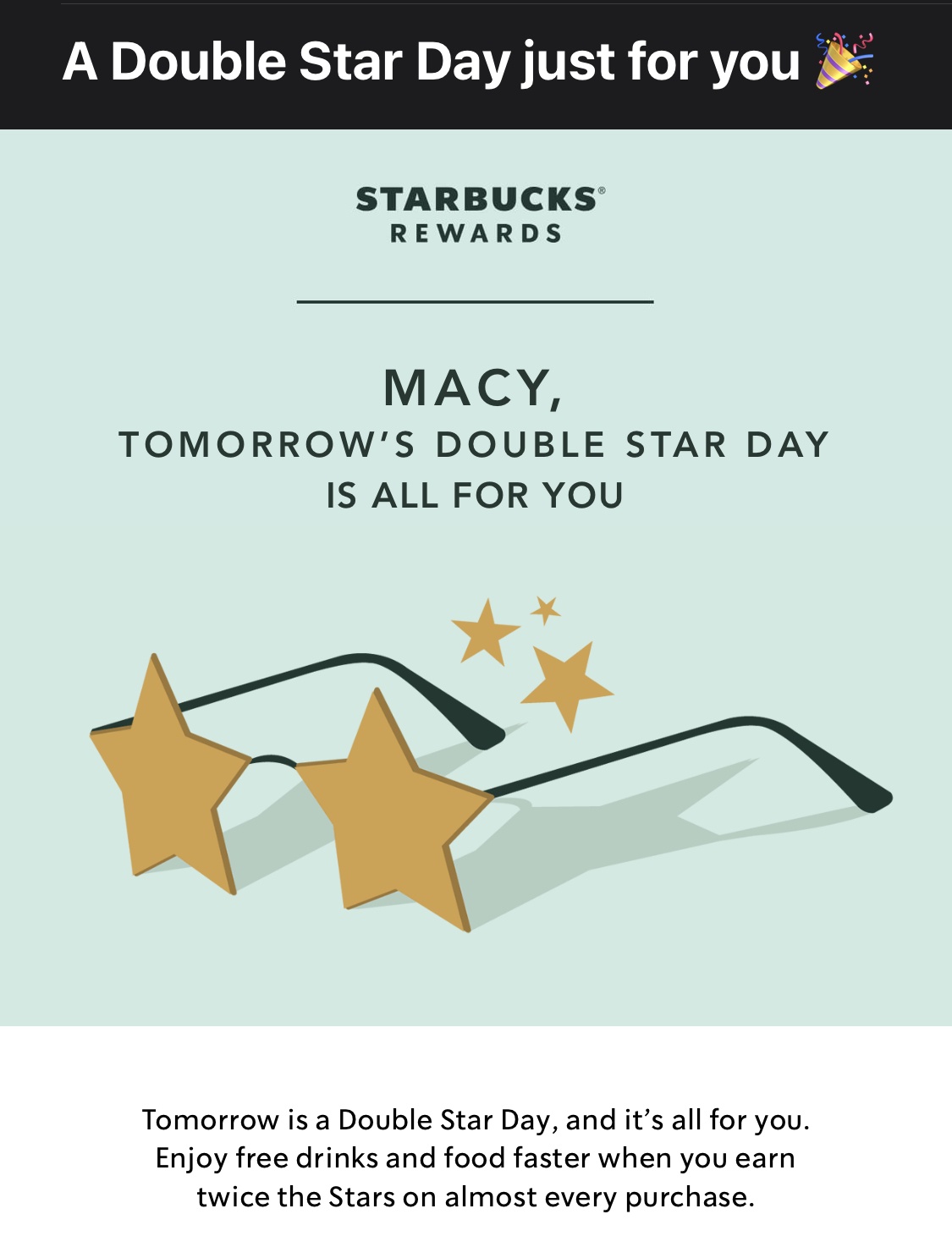 12. Create interactive content
To round out this list of marketing campaign ideas, let's look at creating interactive content. While content marketing efforts like blogging and video marketing are valuable, interactive content is just as valuable to your page. Interactive content encourages your audience to engage on your page and interact with your content.
Some examples of this content include:
Quizzes
Polls
360-degree photos or videos
Pricing calculators
Dollar Shave Club is a prime example of creating interactive content. They use interactive content to help their audience find the right shaving products for their needs.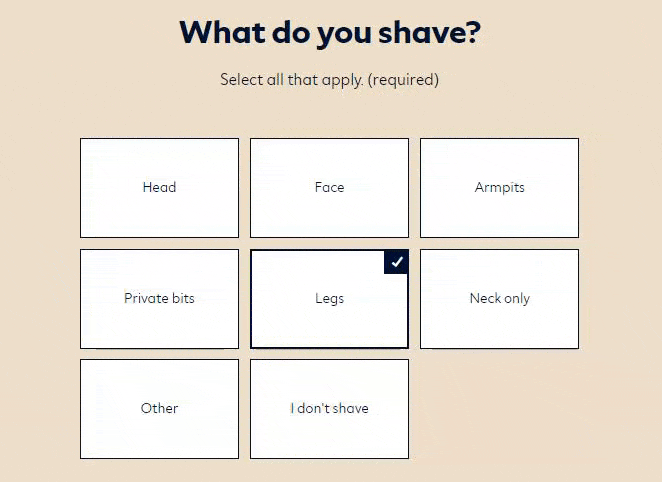 Start implementing these marketing campaign ideas today
With this list of digital marketing ideas, you're ready to ramp up your marketing efforts!
If you're feeling overwhelmed by this list, WebFX can lend a hand. As a full-service digital marketing company, we can help you launch any campaign. From social media marketing to content creation, we can do it all.
Our digital marketing services will help you drive results for your business. In the past five years, we've driven over $3 billion in sales and over 7.8 million leads for our clients — we're not stopping there. To learn more about our client-focused approach, contact us online or call us today at 888-601-5359 to speak with a strategist!
WebFX Careers
Join our mission to provide industry-leading digital marketing services to businesses around the globe - all while building your personal knowledge and growing as an individual.