Imagine: A user finds your brand through a paid ad on social media. They're intrigued by your product, so they go to your profile and follow you. Later, they search for your product on Google and visit your website. They browse a bit, then decide they want to visit your in-person location.
It's increasingly common for your customers to interact with you on multiple channels and devices. To keep them returning to your company, you need to provide them with an exceptional, unified experience no matter where or how they interact with you.
Enter: an omnichannel marketing platform.
Omnichannel marketing is communicating your brand's value on all platforms and devices in a unified manner. It centers on the consistency and continuity of a customer's experience.
With the many digital platforms customers can reach you on, omnichannel marketing is becoming more critical for all businesses to employ, but the process can be complex. Fortunately, an omnichannel marketing platform can help.
Keep reading to learn:
And if you want more digital marketing advice, subscribe to Revenue Weekly! You'll receive industry-leading tips delivered straight to your inbox!
What is an omnichannel platform?
An omnichannel platform is a tool that helps you unify your marketing channels to simplify the omnichannel marketing approach. Some platforms feature automation, making the process even easier.
Omnichannel marketing software helps you do the following:
Given the complexity of omnichannel marketing, the right tools can make a massive difference in your strategy.
Benefits of an omnichannel marketing platform
Now that you know the answer to "what is an omnichannel platform," you might want to learn more about why you should use one.
An omnichannel marketing platform will help you improve your omnichannel marketing strategy — while saving valuable time and resources. As a result, you'll increase your return on investment (ROI) and reap the benefits of this marketing without dedicating time you don't have to unify your channels.
A few key benefits you'll reap from an omnichannel marketing platform include:
Bonus Read: Omnichannel vs. Multichannel Marketing
6 omnichannel marketing software options
Are you ready to take advantage of these considerable benefits? Check out these omnichannel marketing software platforms you can add to your martech stack to become an omnichannel pro.
1. MarketingCloudFX
MarketingCloudFX is an omnichannel marketing automation platform that helps you understand your data across digital marketing channels to make more actionable decisions. Our proprietary software includes automation and a customer data platform to elevate your omnichannel marketing approach.
When you employ MarketingCloudFX, you empower your marketing team to unify your website, emails, and calls with one integrated platform.
By capturing customer data from past interactions with you, MarketingCloudFX provides a more robust look at your leads and existing customers. You can use this information to automate the lead-nurturing process, including segmenting your email list to send more personalized communications.
Want to understand your leads' journeys through multiple channels as they interact with you? Our lead-management feature has you covered! You'll see your leads' omnichannel digital journeys to better understand how your marketing channels work together.
The platform even serves as a customer relationship management (CRM) system, allowing you to center your customers and better understand your marketing performance.
Meet MarketingCloudFX:
One platform tracking countless metrics and driving stellar results.
Learn More About Our Proprietary Software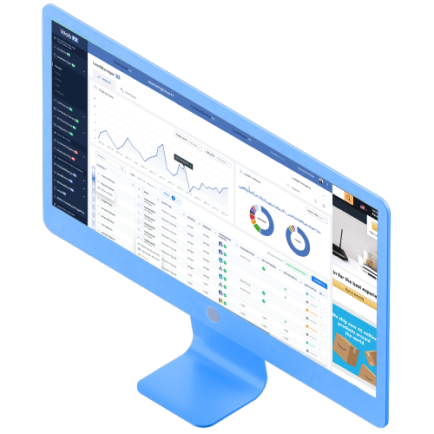 2. Shopify

Shopify is a popular ecommerce solution, but did you know it provides robust omnichannel ecommerce capabilities?
When you set up your business on Shopify Plus, you can create a seamless online shopping experience on all devices and unify the online and in-store experience. For example, Shopify provides buy online, pick up in store options and online returns.
Shopify also helps create a more unified communications experience with automated email campaigns.
3. Freshchat

Unified customer support is one of the most critical elements of an omnichannel marketing strategy. To delight your customers, you need to provide support wherever they are, and their experience should remain equally positive regardless of the platform or device.
An omnichannel marketing platform like Freshchat helps you achieve that by syncing your customer contact points from multiple platforms into one inbox.
With Freshchat, customers can reach out to you from places like your app, website, Facebook Messenger, and more, and you'll receive all the messages in the same place. You can even elevate the customer support process by deploying chatbots across platforms as needed.
4. Gladly

Another omnichannel customer service platform to consider is Gladly, which also unifies your customer contact channels under one platform. Gladly stands out, though, in the way it creates a customer profile to help you provide more personalized service no matter which platform they use to contact you.
With Gladly, you can unify customer messages through email, text, website chat, in-app chat, and social media.
5. Hootsuite

Besides your website, your social media profiles are one of your customers' most prevalent touchpoints with your brand. As a result, you need to keep your messaging consistent across all your social platforms. Using a social media scheduling tool like Hootsuite can help you achieve that.
With Hootsuite, you can manage your posts across social platforms and even unify your comments and mentions to keep up with customer service on all your profiles.
6. Sendinblue

Sendinblue is an omnichannel marketing automation platform that allows you to communicate with your customers through email, text, website chat, and more. The platform also allows you to create landing pages and Facebook ads.
By unifying these channels in one platform, you can keep your messaging more consistent, improving your customers' omnichannel experience.
Meet WebFX:
Your world-class, tech-enabled marketing agency with over 1.6 million hours of combined expertise.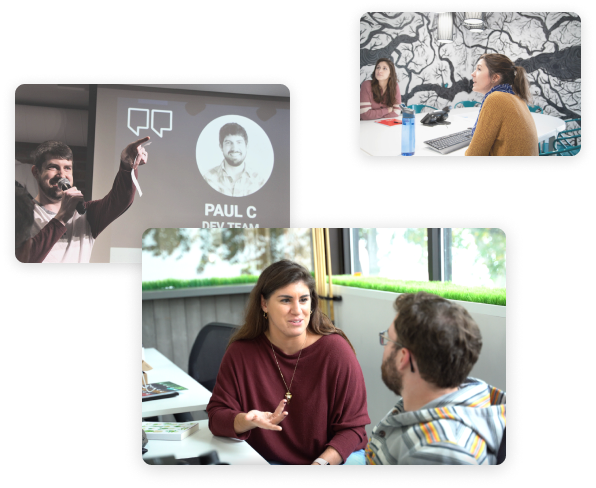 Grow your ROI with our omnichannel marketing approach
While an omnichannel marketing platform saves you time and resources as you leverage your omnichannel strategy, you still might have a large martech stack to juggle. Take the complexity out of omnichannel by partnering with a full-service digital marketing agency like WebFX.
Our team of 500+ digital marketing experts will provide a customized, unified digital marketing strategy across all channels, including:
Plus, you'll receive access to our proprietary omnichannel marketing platform, MarketingCloudFX, when you partner with us for any digital strategy. At WebFX, we make it easy for you to create a seamless customer experience across all touchpoints, helping you nurture your leads down the sales funnel and gain a higher ROI.
Ready to elevate your omnichannel marketing approach? Call us at 888-601-5359 or contact us online to speak with a strategist today!
WebFX Careers
Join our mission to provide industry-leading digital marketing services to businesses around the globe - all while building your personal knowledge and growing as an individual.