1-3 CRM User Seats
Lead Source and Website Visit Tracking
Marketing Call Tracking Data Import
Lead Action and Followup Dashboard
Lead Scoring and Qualification Tools
Email and SMS Lead Routing
Up to 4 CRM User Seats
Lead Source and Website Visit Tracking
Marketing Call Tracking Data Import
Lead Action and Followup Dashboard
Lead Scoring and Qualification Tools
Email and SMS Lead Routing
Up to 5 CRM User Seats ($25 for each additional user)
Lead Source and Website Visit Tracking
Marketing Call Tracking Data Import
Lead Action and Followup Dashboard
Lead Scoring and Qualification Tools
Email and SMS Lead Routing
What is CRMROI and why do I need it?
As marketing pioneer John Wanamaker famously said, "Half the money I spend on advertising is wasted; the trouble is, I don't know which half."
Without a CRM, it's hard to evaluate the results of your marketing efforts. Fortunately, CRMROI can help you track return on investment (ROI) and allocate funds to channels that drive the most sales and revenue.
CRMROI combines proprietary marketing data with lead management best practices to make it easier for you to tie your sales and marketing data together.
CRMROI flawlessly integrates with MarketingCloudFX — our proprietary ROI tracking platform — and allows you to:
Automatically track the ROI of your marketing budget
Track the entire lifecycle of your leads from their first website visit or brand interaction to purchase
Manage your sales pipeline
Close more deals
And more!
Want to speak directly with a CRM expert to learn more? Give us a call at:
Financial Planner | Financial Consulting Firm
Our WebFX marketer has personally undertaken to learn our business and our goals and it shows in the quality of service they provide to us. Each member of the team that we have had interaction with has been eager to help make our website, and consequentially our business, the best it can be. WebFX is truly an extension of our team, providing expertise in areas where we do not specialize.
CRMROI Services
Pricing: How much does CRMROI cost?
FEATURES
SILVER
GOLD
PLATINUM
ENTERPRISE
CRM User Seats
1 to 3
Up to 4
Up to 5; then $25 for each additional user
Up to 5; then $25 for each additional user
Lead Source and Website Visit Tracking
Marketing Call Tracking Data Import
CompanyTrackerFX Automated Company Visitor Insights
Pipeline Tracking and Custom Sales Stages
Lead Action and Followup Dashboard
Email Communication Sync into CRM through BCC
Lead activity and history timeline
Company Directory
Customer Contact Directory
Sales Pipeline and Revenue Forecasting Tools
Lead Scoring and Qualification Tools
Marketing Channel-Specific Reporting for Closed Leads
Integration of CRM Into Website Forms
Email and SMS Lead Routing
Sales Team Onboarding Session (optional)
$950 (optional)
$950 (optional)
$950 (optional)
Custom
Ability to ask CRMROI support questions and open support tickets
CRMs setup for each distributor or channel-partner
Monthly Investment
$75 (Free for WebFX clients)
$100
$125
$2500 a month and a per distributor/channel-partner monthly investment
Need more information? Call Us:

888-601-5359

GET STARTED
GET STARTED
GET STARTED
GET STARTED
Need more information? Call Us: 888-601-5359
GET A QUOTE
CRMROI Onboarding Plan
Pricing: CRMROI Onboarding
Demo Training with Sales Team Leadership
2 Hours
Dedicated CRMROI Support Specialist for 3 Months Post-Launch
Delivery of Template for CRM Migration Data
Review of CRM Migration Data Import
Review + Configuration of CRMROI Sales Stages
Daily Sales Activity Dashboard Training
Email Communication Sync into CRM through BCC
Marketing + Sales Data Review
One Time Investment
$950
Need more information? Call Us:

888-601-5359

GET STARTED
Key CRMROI features
Want to learn more about what CRMROI can do for you? Take a look at these six CRMROI features:
1. Seamless lead management
CRMROI integrates directly with the forms on your website to save you time manually entering leads, and your sales team can get leads faster with email and text message notifications.
2. Marketing and sales data
Every lead contains a full timeline of our proprietary marketing data including website session history, lead source, visit duration, and call recording and transcription data. Closed leads will tell your marketing team which channels are driving sales.

3. Notes
Every call, email, and activity can be tracked to specific leads, so you can remember key details that help you build relationships and earn more sales.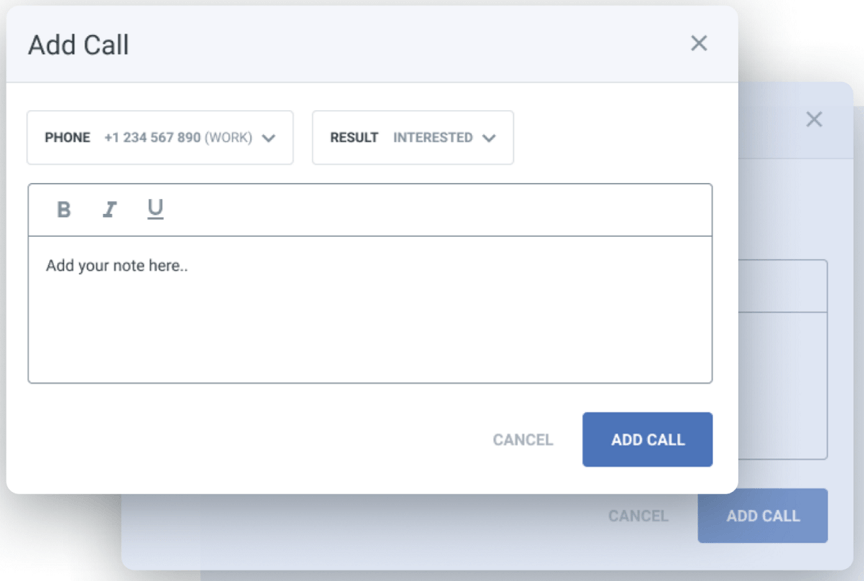 4. CRM dashboard
Set custom follow ups and action items for every opportunity, and use our CRM dashboard to plan your sales day. Set custom due dates and assign to your sales reps.
5. Contact management
At last, you can delete your contact spreadsheet and manage all of your sales contacts in a single thread.
6. Simple pipeline management
Drag and drop your leads through every stage in your sales process with our simple pipeline management tool.
In addition, CRMROI lets you maximize MarketingCloudFX features like ReviewBoostFX, LeadNurtureFX, and advanced audience targeting.
Who should use CRMROI?
CRMROI is the perfect solution if you:
Have a sales team of seven people or less
Do not need advanced lead routing
Don't currently use a CRM
Do not need sales forecasting and projections
Get started with CRMROI!
There are hundreds of CRMs in the marketplace — how do you pick the best one for your business?
We've done the vetting for you and built a CRM specifically for SMBs. Want to learn more about how CRMROI can drive results for your business?
Contact WebFX or give us a call at 888-601-5359 to speak directly with an expert!
For verified ratings of our marketing services, please view our:
WebFX Agency Rating:
4.9
out of
5
with
130
ratings
Related Services & Resources