Did you know that 59% of people say that emails influence their purchasing decisions? If you want to earn more conversions for your business, you need to have an email marketing campaign in place. And speaking of email marketing, a crucial part is email sequencing, which helps you engage prospects more effectively and drive them towards conversion.
But what is email sequencing? On this page, we'll answer your burning questions about email sequencing, including:
Keep reading to learn more!
What is an email sequence?
An email sequence is a series of emails sent to a prospect or customer based on specific actions they take or timeframes — these emails are triggered automatically by email software. These sequences help companies automate their email process and make it easy to engage and nurture leads.
How do email sequences work?
Email sequences operate on one of the following:
Time delay: When you use the time delay sequence, you send emails based on a specific time that passes. Some standard periods are right after opt-in, a particular set of days after purchase, or an anniversary.
Trigger-based: With the trigger-based setup, you send emails based on actions your audience does. Some actions include not logging in to an account, clicking on an email link, or signing up for an event.
Why use email sequences?
Now that we answered, "What is email sequencing," the next question is, "why should I use email sequencing?" Email sequencing is valuable to your business because it helps you keep people engaged with your brand. When you send a sequence of emails, you create a logical progression of interaction that ultimately guides your audience to where you want them to go. This sequencing also makes it easy for you to target people who haven't interacted with your business in a while or recently abandoned their cart. Not only does it help you keep people engaged, but it helps save you time with composing emails.
You don't have to create an email every time someone completes a specific action or a particular period passes. You can set it up to automatically occur, which saves you time while also keeping your subscribers engaged.
7 types of email sequences you can set up
Now that you know what email sequences are and why you should use them, you're ready to set them up. But before we dive into how to do email sequences, you must know the different types of email sequences you can set up for your business.
Here are seven email sequences your business can use:
Welcome email sequence
Purpose: Introduce prospects to your company

Action type: Trigger-based One of the best email marketing sequences for engaging prospects is the welcome email sequence.
This option is fundamental to your business because it sets the impression and tone for your business. The welcome email sequence enables you to say hello to new subscribers and introduce them to your company. Imagine if you walked into a restaurant, and the hostess didn't greet or welcome you.
The hostess takes you to a table and hands you a menu without saying a word. For most patrons, this interaction would leave a negative impression because they weren't welcomed to the restaurant or acknowledged as customers. By greeting patrons and acknowledging their presence, the hostess can set a positive first impression of the restaurant.
The same train of thought goes for your business — if you don't greet subscribers when they join your list, you risk setting a negative first impression with them. Setting up a welcome email sequence ensures that you greet every new subscriber on your list. It also provides you with an opportunity to share subscriber expectations, including how often you'll send messages and what your messages might say (promotional, informational).
If you have an opt-in bonus, like a coupon code, you'll want to include that as part of your welcome sequence too. Here's a great example of a welcome email from the Golden State Warriors.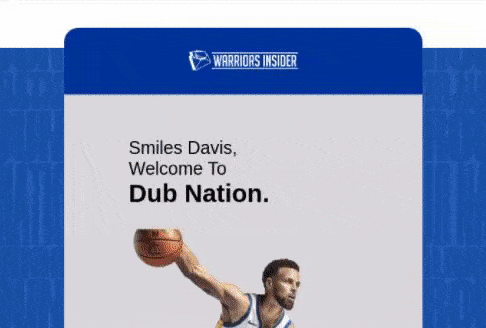 As soon as the subscriber opens the email, they're greeted by the company.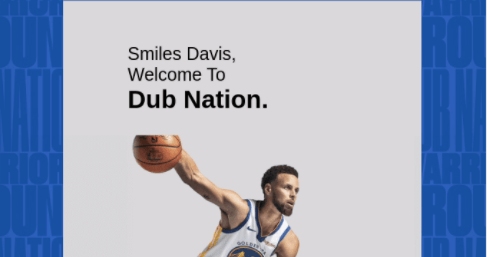 The next part of the email describes what the subscriber can expect by being on the email list.
Lastly, the email includes the exclusive offer for joining the Golder State Warrior's email list.
Engagement email sequence
Purpose: Build deeper relationships

Action type: Trigger-based or time delay Next on our list of types of email marketing sequences is the engagement sequence.
Your business will want to use this option if you're looking to build stronger relationships with your prospects. When you use engagement email sequences, you aim to get your subscribers to take smaller actions that lead to more significant conversions.
This stage often involves using personalized email content to get prospects to continue engaging with your business. You can use this type of email sequence in two scenarios:
You want to guide users towards taking a more significant conversion-focused action: With this scenario, you focus on getting prospects to take steps towards your ultimate goal. So, for example, you may ask a subscriber to preview and review your fall collection before you release it in hopes that they ultimately buy from the collection.
You want to keep users using your service: Another scenario where you might use engagement email sequences is when people subscribe to a service you offer, and you want to keep them subscribed. You can engage them by highlighting new features or making personalized recommendations.
Netflix is an excellent example of this engagement sequence. They offer personalized recommendations based on shows people watched to help keep them engaged and subscribed to their service.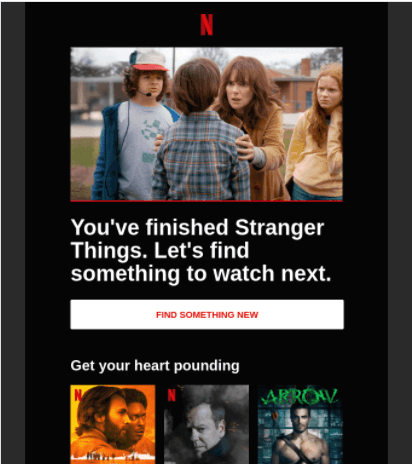 Abandon cart recovery sequence
Purpose: Recover potential lost sales

Action type: Trigger-based One of the most well-known email sequences is the abandon cart recovery sequence.
If you're an ecommerce company, you often have shoppers that add products to their cart but never checkout.
They may get distracted or feel unsure about whether they want to buy. This action results in an abandoned cart. But just because a shopper leaves their cart doesn't mean you can't get them to return and complete the purchase.
That's where the abandon cart recovery sequence can help. You can set up your sequence to trigger whenever people abandon items in their cart and don't return for them after a defined amount of time. You can see a great example of an email from an abandoned cart sequence from Peel in the picture below.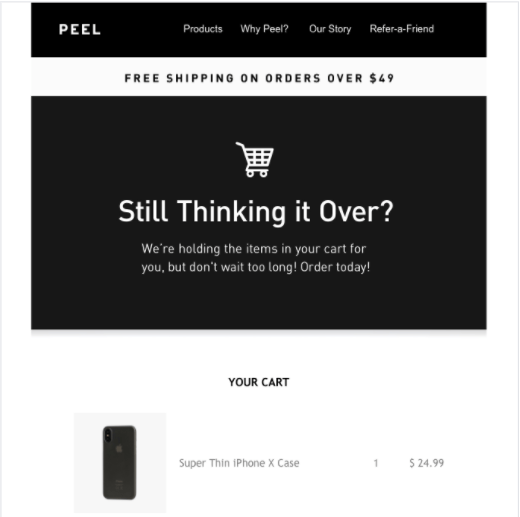 If you run an ecommerce business, this email sequence is fundamental to preventing you from missing out on crucial sales.
Conversion email sequence
Purpose: Get prospects to convert

Action type: Time delay As the name implies, this email sequence focuses on getting prospects to convert. Your conversion can come in numerous forms, including:
Booking an appointment
Scheduling a demo
Purchasing a product
Signing up for an event
These conversion emails often provide users with the last bit of information or persuasion they need to convert. Many ecommerce companies may share a coupon code or contact prospects when an item they liked went down in price, as Columbia did.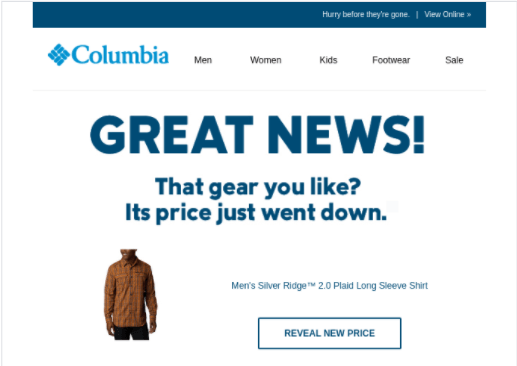 Follow-up email sequence
Purpose: Re-engage subscribers after completing a specific action

Action type: Time delay Next on our list of types of email marketing sequences is the follow-up email sequence.

This sequence occurs after people made a purchase, used your services, or attended an event. Your follow-up email sequence can have numerous purposes, including:
Earning reviews on a product
Attending a future event
Referring friends/family to your business
Recommending additional related products
Updating on loyalty program standings
In this example from Target, they follow up with a customer by asking them to review the product they purchased.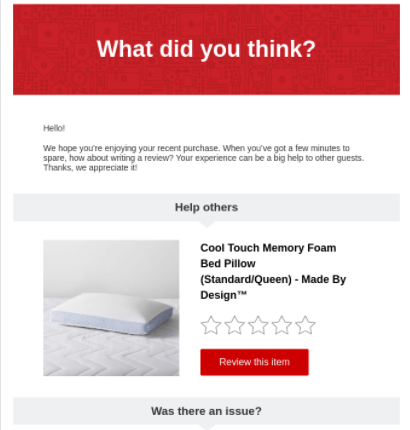 In another example, Dunkin' updates their customers on the progress of their loyalty points to encourage more purchases soon.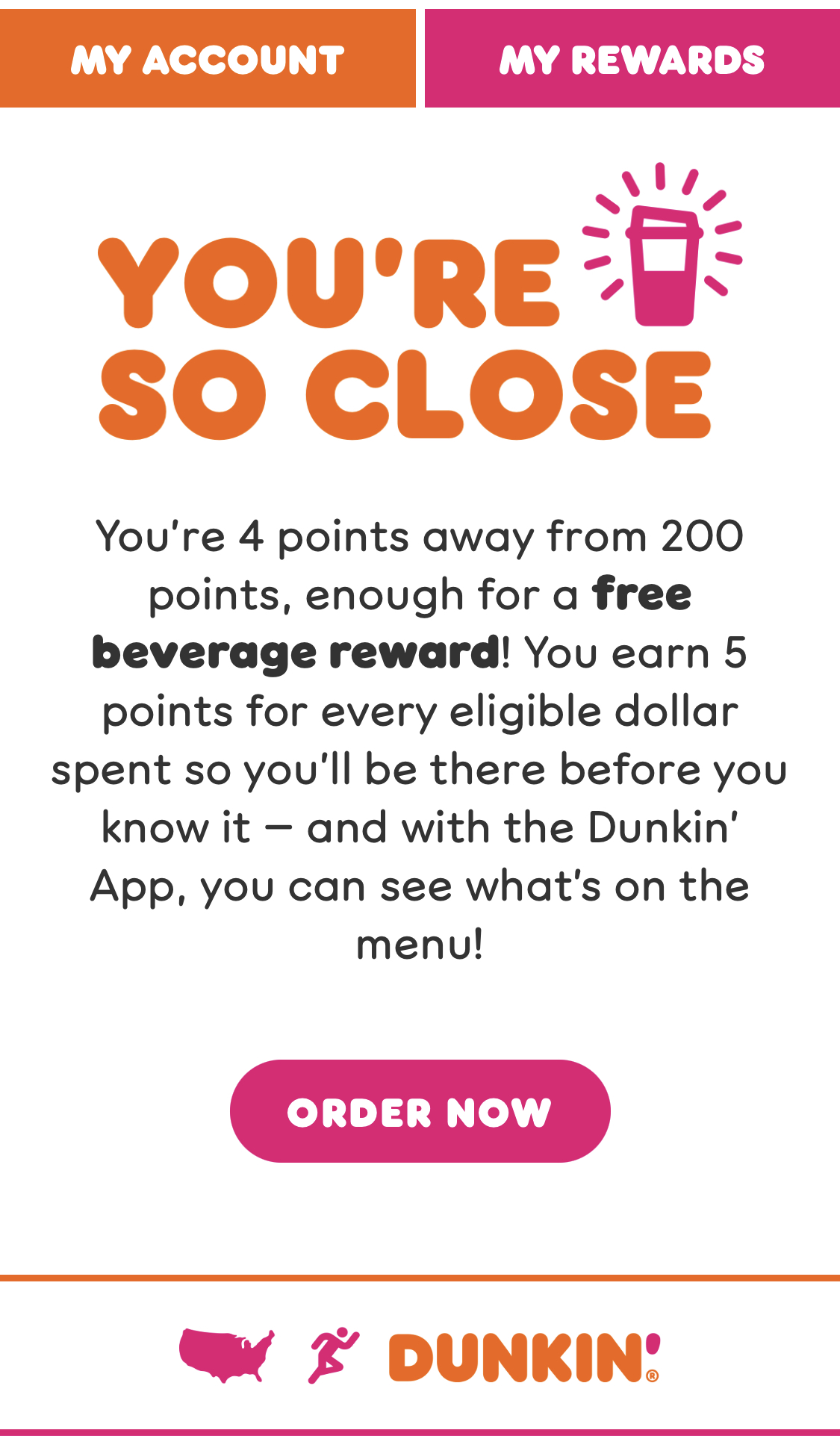 Onboarding sequence
Purpose: Provide helpful information post-conversion

Action type: Trigger-based or time delay One of the most beneficial types of email marketing sequences is the onboarding sequence.
This option enables you to provide your audience with additional information after purchasing a product to help them better understand their purchase.
There's nothing more frustrating for your customers than buying your product and having trouble using it. To prevent this frustration, you can use email sequencing to send onboarding emails that provide helpful information about using your product. Software companies heavily use this strategy, but nearly any type of company can use them.
For example, if you install a new HVAC system for a customer, you can create an onboarding sequence set up to send them an email about how to maintain their system for longevity. In this email example from Allergy Buyers Club, they sent an onboarding email that explained how to set up and use the air purifier they sold to a customer.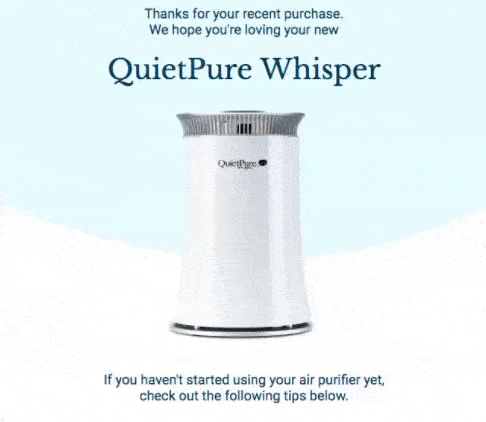 Renewal sequence
Purpose: Renew interest in email communications

Action type: Time delay The last type of email marketing sequencing we'll look at is the renewal sequence.
You want to use this sequence when you have subscribers that become disengaged with your emails, despite your efforts to send engagement emails.
People can disengage with your emails for numerous reasons. They may be overwhelmed with all the messages in their inbox, or they may have lost interest in your business. The renewal sequence is a last-ditch effort to bring people back to engage with your emails and business.
This email sequence can be one email or a series of emails. You can offer a reward for continued engagement or offer to optimize the subscribers' email preferences only to get the most relevant information. In this example from Animoto, they offer to update the subscribers' email preferences to receive the emails they want at the right frequency.
This sequence is one of the best types of email marketing sequences because it can help you scrub your subscriber list, so you're only sending emails to interested prospects. If you're sending your emails through a program that charges per message sent, removing uninterested prospects can help you save money.
How to do email sequences
After answering the questions "what is an email sequence" and "what types of sequences can I create," the next question is typically "How do I set up an email marketing sequence?" So, how do you set one up? Truthfully, there's no direct answer to this question because it depends upon the software you use.
You may have to look through your email software or contact your provider to determine how you can set up a sequence in your program. Regardless of the program your use, you always need to identify which sequence you want to use and whether it uses a trigger-based or time delay action type. Software like EmailMarketingFX can help you craft email sequences, from welcome emails to follow-up sequences.
Additionally, this software is excellent for creating, sending, and tracking your emails all in one place. Contact us online to learn more about this software!
We foster and form long-term partnerships so that your business has long-term results.
Over 90% of WebFX clients continue partnering with us into year 2 of their campaign.
Hear from Our Happy Customers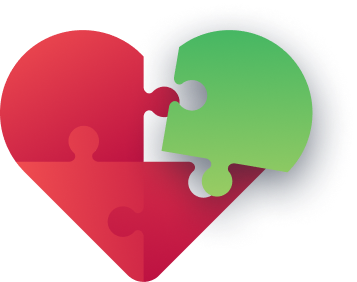 What is an email sequence?
Your secret weapon to increasing sales
Now that you know what they are and how to do email sequences, you're ready to get started, and WebFX is prepared to help. We have a team of over 500 market experts ready to help you create email sequences that drive more revenue for your business. We have experience driving results for our clients.
In the past five years, we've driven over $3 billion in revenue and over 7.8 million leads for our clients. Not to mention, our software email marketing software, EmailMarketingFX, can help you create, send, and manage email campaigns with ease. Want to start boosting revenue through email sequencing?
Contact us online or call us today at 888-601-5359 to speak with a strategist about our email marketing services!
How is your website's SEO?
Use our free tool to get your score calculated in under 60 seconds.
Get posts by email
Join 200,000 marketing managers and subscribe to Revenue Weekly!
"*" indicates required fields
WebFX Careers
Join our mission to provide industry-leading digital marketing services to businesses around the globe - all while building your personal knowledge and growing as an individual.