How to Develop an Effective Sales Funnel
Some transactions are easy — the customer picks the product and pays for it.
Others require more time and consideration. Homes, cars, enterprise solutions and other items are simply too expensive to purchase spontaneously.
Potential buyers need to go through a long process of research, conversation, and negotiation before they buy from any of your direct or channel sales. The process is more commonly known among marketers as the "sales funnel."
At each stage of a sales funnel, you're focused on turning qualified traffic into paying customers. The only way this can happen, though, is when you focus on converting your most qualified leads. This filters out people who aren't serious about coming customers while catering to your target audience.
Call 888-601-5359 to speak with a strategist about your company's sales funnel, or keep reading for a few steps you can take to improve it.
1. Create a path from lead to customer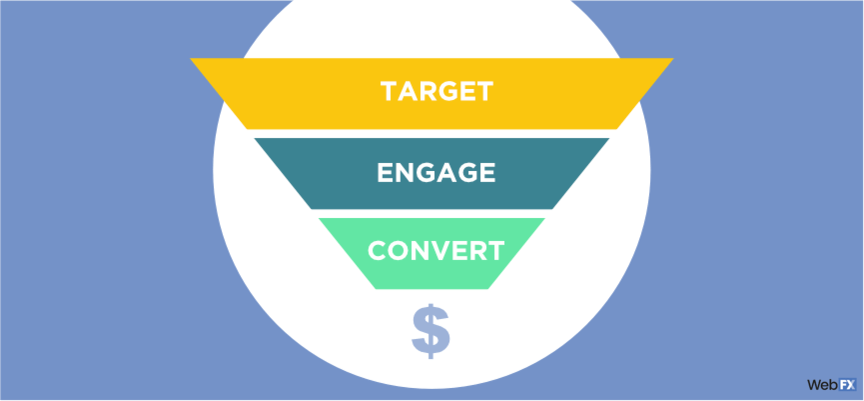 A sales funnel has a lot of steps that turn site visitors into paying customers.
You can find numerous examples of a sales funnel on the web, but every business has to develop their own to reach their sales goals. They're meant to give you an idea of what the sales process looks like — and then let you create a funnel best suited for your company.
Lay out your sales funnel and note how many steps it takes to successfully get a customer through. What milestone does a prospect have to reach to get to the next stage?
If you're having trouble creating the funnel, look at your past transactions and analytics. How many times did someone come back to your site before finally converting? What made some customers respond and other move away?
These questions can help you narrow down the best ways to approach your customer acquisition in the future.
Related: What Is a Sales Pipeline and Why Do You Need It To Drive Revenue?
2. Define your target audience
Unfortunately, not everyone needs your products or services, but there are probably enough people who do, so you can grow your business. That target audience should be the focus of your sales funnel.
If you cater to a B2B audience, focus on firmographics like industries, company size, company revenue, and similar data.
If you're targeting consumers, look at demographics like age, gender, income, and more.
No matter what approach you take, gather as much information as you can. Then, determine your ideal customer audience.
During your research, you may find several different audiences at once. In that case, determine which one is most valuable to your business's success and target the other as a secondary source of revenue.
3. Understand customer buying processes
As you narrow your customer audiences, it's important that you understand how those people shop. If you don't, it'll be harder for you to connect with your target demographics. And if you do, you can more easily move potential customers through the sales funnel, since you know what they want at every step of the buying process.
To learn about customer buying processes, keep an eye on your analytics data. You can track who comes to your site, how many times they access your site, and how long it takes them to finally make a purchase. With enough data, you can determine the average length of a customer's process.
On top of that, analytics data will show you what pages someone accessed. That means you can follow their train of thought as they first find your site, jump to other pages, and finally convert.
If you find a certain "genre" of pages (like pricing or advice pages) gets a lot of customer attention, you can consider adding to that genre later to streamline your sales funnel.
You can also ask your customers directly how they learned about your company and what made them buy. That may seem strange or unprofessional, but it gives you more insight into customer thinking, so you can get more customers in the future.
4. Develop a plan for each stage of the funnel
Even after you understand your customers' buying process, you still have one last step to complete your sales funnel.
Detail a specific strategy for each stage of the funnel, so you can be sure you're effectively targeting your customer base. The top of your sales funnel should be focused on attracting lots of visitors to your site, and the following stages should focus on narrowing those visitors to the people who actually want your services.
In addition, you need to think about how someone will go from one stage to the next. What does he or she have to say or do to move forward? Is there anything that would disqualify a lead from the next stage?
Be specific with your criteria. Otherwise, you could end up spending a lot of time and money on prospects that aren't in your target audience.
Related: Learn How to Create an Amazon Sales Funnel
WebFX knows how to move customers through the sales funnel
Here at WebFX, we've helped businesses move customers through the sales funnel with only their websites. We know exactly what kind of marketing gets results for businesses like yours, and that's why our clients enjoy such incredible success with online marketing. If you're ready to grow your company, we'll do the same for you, too!
Contact us today to create a seamless sales funnel strategy for your business!