Does your construction company want to earn more leads and revenue? Search engine optimization (SEO) plans from WebFX can help!
When people in your area search for construction companies, you want your business to appear at the top of the results, and SEO can help you get there.
On this page, we'll explore some top benefits of SEO for the construction industry and offer 5 SEO tips you can implement today. You'll discover why SEO for construction companies is a must.
If you'd like to speak with one of our Internet marketing experts directly, you can reach us at 888-601-5359.
What is SEO?
SEO refers to a number of strategies that help your website rank higher in search results for keywords and phrases related to your business.
For example, you can include keywords in strategic places on your website like your title tags, page headings, and site content. You can also publish custom content on your site to address topics that interest potential customers. And you can streamline your site's navigation to make it easier for visitors to find the information they need and contact you.
All of these things, and more, can boost your rankings in search engine results and make it easier for more people to find and learn about your construction company.

Hear What It's Like to Work With WebFX!

"We were looking for a forward-thinking but down to earth SEO company to partner with. Not only were we looking to build a long term business relationship but we needed them to understand our needs as a small company. And WebFX met all of that criteria. Our experience has been unparalleled; from the sales team who made the drive to our office to meet us in person to our Internet Marketer who has been an absolute joy to work with. They are completely transparent about their services and they take the time to explain everything which not only sets them apart from every other SEO company we have worked with but we also feel like we're taking something away from our interactions with the staff at WebFX. We are exited to see where this year will take us knowing that we have such a great support system with their company."
Home Contractor
Top 3 benefits of SEO for construction
Let's take a look at the top three benefits of SEO for construction companies.
1. Higher rankings
One of the top benefits of SEO is that it boosts your rankings in search results for keywords and phrases related to your construction company.
This is extremely important since pages that rank in the top three spots receive more than 50% of clicks! Sites that show up higher in search results also appear more credible.
So if you want to boost your rankings and help position your construction company as a leader in your field, SEO is a great option.
2. Increased awareness
Did you know that more than 7 million people search for construction and contracting services each month? With construction marketing statistics like that, an SEO strategy can help your business appear in those critical search results.
When your site appears higher in search results, more people will have a chance to find your company, learn more about what you offer, and contact you to ultimately become a customer.
If people like what they see, they will also be more likely to recommend your business to friends and family members who may need your services. This word of mouth advertising is extremely beneficial since people tend to trust recommendations from real people over brand advertisements. In fact, 80% of Americans seek recommendations when making purchases.
3. More qualified traffic
SEO also ensures that the traffic to your site is more qualified— people who are likely to become clients.
Since SEO helps you reach people who are already searching online for your services, visitors who click on your site will be more likely to convert and become customers. This will help you avoid wasting money trying to reach people who aren't interested or don't need construction services.
If you want to attract more qualified visitors to your site, boost sales, and earn more revenue, SEO can help.
Independent research from Clutch has named WebFX the
top SEO company

in the United States.

Clutch has personally interviewed more than 250 WebFX clients to discuss their experience partnering with us.

Read More Clutch Reviews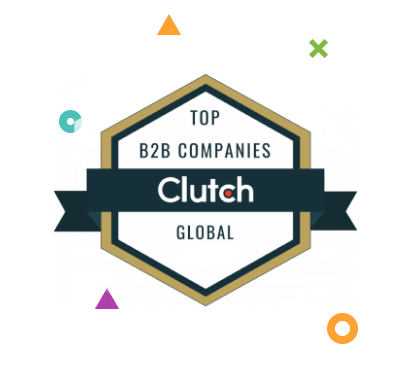 5 SEO tips for construction
Next, let's take a look at five SEO tips your construction company can use today.
1. Start with keyword research
Successful SEO campaigns begin with keyword research.
Keyword research tools like KeywordsFX, Keyword Tool, and Answer the Public are great because they are based on actual search data. And they can help you uncover keywords and phrases people search online to find your construction company.
Then, you can incorporate those keywords on your site and create custom content to address topics that potential customers want to learn about.
This can help to boost your rankings in search results and give your construction company a leg up against competitors.
2. Create custom content
After you create a list of keywords that may interest potential customers, you can begin creating custom content to address those terms.
Creating and publishing unique, helpful content will keep your site fresh. And it will position your company as a leader in your field.
If your site doesn't have a blog, you might consider adding one and keeping it updated with industry news, helpful information, and the latest company news.
In addition to articles and blog posts, you can incorporate visual content, such as images and videos, to give people an inside look at your company. This is a great way to engage site visitors and keep them on your site for longer periods of time.
3. Streamline your site's navigation
It's also important to streamline your site's navigation to make it as easy as possible for visitors to find the information they need.
Be sure that your navigation is descriptive and concise. Link to key pages from your homepage, and include a link for people to easily contact you.
Effective navigation can keep people on your site for longer periods of time, and it can ultimately encourage them to contact you to find out more information and become a customer.
4. Optimize for local search
When people in your area search for top construction companies, you want your site to appear at the top of the results.
Local SEO can help send more local traffic to your site and encourage people in your area to choose your construction company.
One of the easiest ways to optimize your site for local search is by adding location keywords in your page titles, headings, and site content. You can also register your business on Google Maps, and you can claim your free local listings on sites like Google Business Profile, Bing, and Yelp.
Optimizing your site for local search can help more people find your construction business and ultimately contact you to become a client.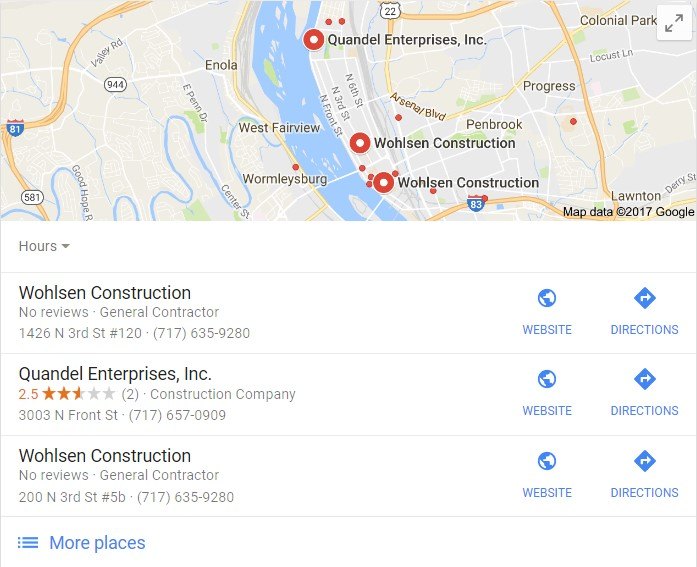 5. Optimize for mobile
Today, nearly 60% of searches take place on mobile devices. This means that if your site isn't optimized for mobile search, you could be missing out on valuable traffic and leads.
Mobile optimization ensures that your website will look and perform great across a number of devices, including smartphones and tablets. And it can prevent visitors from becoming frustrated when they can't find the information they need.
Need help optimizing your site for mobile? Don't worry! WebFX offers responsive web design services to help you reach more customers and close more sales.
Our digital marketing campaigns impact the metrics that improve your bottom line.
See More Results

WebFX has driven the following results for clients:

$3 billion
In client revenue

7.8 million
Leads for our clients

5.2 million
Client phone calls
WebFX is a top SEO company
WebFX is an award-winning SEO agency.
We offer a number of custom SEO plans, so you can review your options and choose a plan that's right for your construction company.
Our team of experts constantly works to stay on top of the latest SEO news, so we can optimize your site quickly and with fewer resources. When you choose WebFX as your SEO partner, you can rest assured that we'll do everything in our power to earn you the best possible ROI.
We also have lots of experience working with the construction industry.
Not sure if SEO is right for you?
If you aren't convinced that SEO is right for your construction company, don't worry.
SEO is a low-risk investment, and it has the potential to yield an impressive ROI for your construction company.
What are you waiting for?
Launch a custom construction SEO plan today
Ready to create a custom SEO strategy to reach more customers and earn more revenue online?
Check out our SEO plans and pricing, and contact us today to speak with a strategist.
We're excited to hear from you!
Earn a 20% greater ROI with WebFX