Can you do SEO yourself? Yes! In fact, most search engine optimization (SEO) experts got their start with do-it-yourself (DIY) SEO. And with some time, a few free SEO tools, and this guide on how to do SEO yourself, you too can become an SEO expert.
Keep reading to learn how to do SEO on your own! If you're looking to get started faster, enter your website's URL here, and you'll receive an instant SEO audit with recommendations (and explanations) on how to improve your site's SEO.
Looking for an all-in-one SEO audit tool? You've found it.
SEO Checker provides data on key metrics to give you:
Complete SEO score

Content Grade

Site Speed Analysis

and more.
How to do SEO yourself
Check out these eight steps to learn how to do SEO yourself:
1. Set up analytics
Rankings. Traffic. Conversions.
You need analytics tools to measure all these SEO metrics, which is why DIY SEO starts with setting up your analytics platforms. Even if your business already has website analytics platforms like Google Analytics set up, you'll want to double-check the setup before getting started with SEO.
For the best results, start with these platforms:
With Google Analytics 4, you'll get access to the following:
Pageviews
Conversions
Engagement metrics, like bounce rate
Website events, like scroll percentage
And more
With Google Search Console, you'll get access to the following:
Your average position in search results
Your impressions and click-through rate for queries
Your indexing status
Your Core Web Vitals performance
And more
With Google Tag Manager, you'll get access to the following:
Event tracking
Analytics tracking
And more
Review each platform's installation guides to get your site set up:
If your website already has these platforms set up, review the setups.
For example, use Google Tag Manager's preview mode to confirm your Google Analytics: GA4 Configuration tag fires — this tag is critical because it powers your Google Analytics 4 account! You'll also want to check Google Search Console for any errors, especially those related to indexing.
The next step in our do-it-yourself SEO checklist will also help you catch issues, so keep reading!
2. Complete an SEO audit
Next, use a free SEO tool like Screaming Frog to audit your website's SEO and find the following:
On-page SEO issues, like missing title tags
Technical SEO issues, like canonicalized URLs
Branding issues, like outdated brand mentions
Use Screaming Frog's installation guide to run your first site crawl. Once your crawl finishes — which can take anywhere from a few minutes to a few hours depending on your crawl settings — you can review your audit.

Since you're doing SEO yourself, you'll need to pick and choose which SEO issues get your attention.
The following questions can help you prioritize:
Is the issue preventing the site or URL(s) from appearing in search results?
Is the issue sitewide or affecting a large number of URLs?
Is the issue affecting a bottom-of-the-funnel (BOFU) URL?
How much time will the issue require to fix?
Who is needed to fix the issue?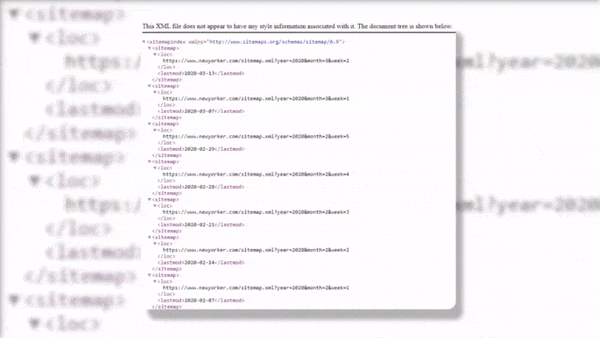 As an example, say you have the following SEO issues:
A new folder on the site is blocked from indexing
A few URLs have title tags over 60 characters
A 404 error is appearing for one of your best-selling products
Based on the earlier questions, you can prioritize the issues as follows:
A 404 error is appearing for one of your best-selling products: One of your pipelines for driving revenue is shut off. Fixing the 404 error will allow you to re-open the pipeline and resume product sales.
A new folder on the site is blocked from indexing: Since this issue affects multiple URLs, you'll want to prioritize updating your robots.txt file. Once your update goes live, search engines can start crawling and indexing that folder's content.
A few URLs have title tags over 60 characters: While important, this update will likely have a lower impact than the changes above. Decreasing your title tag length (in this instance) could help click-through rate (CTR).
How many issues your audit uncovers will depend on your site. The good news is you don't have to fix all your SEO issues at once to improve your SEO. Instead, prioritize the most impactful fixes and work leftover issues into the upcoming months.
For the best results, audit your site at least once every three months.
If you want to learn more about how to do DIY SEO audits, check out these related resources:
3. Research keywords
Keywords are your gateway to reaching users via search engines.
You can get started with keyword research by using these best practices to guide your research:
Focus on long-tail keywords: At three to four words, long-tail keywords bring more qualified traffic to your site. While long-tail keywords get fewer searches, they're less competitive, making them easier to rank than short-tail keywords.
Target relevant keywords: Just because you can rank for a keyword doesn't mean you should target it. If you want to drive impactful results from SEO, like a new sale, focus your efforts on keywords relevant to your audience and business's offerings.
Get keywords that convert: You'll also want to focus on a keyword's intent. A keyword can reveal someone's preferred price range for a product or service, like "cheap plastic cups" or "gourmet coffee." Use this information to target keywords that will convert for your business.
Use keywords in key places: Whenever you write content for your site, whether on your blog or on your homepage, you should use keywords naturally throughout that content. This best practice also includes any title tags or meta descriptions you create.
If you want to learn more about the basics of keyword research, check out these resources:
Now that you know keyword research best practices, let's explore how to DIY SEO keyword research.
Researching keywords isn't as hard as it may seem! There are a lot of SEO software options out there that offer keyword suggestions for your content and information about how hard it is to rank for those keywords.
A few tools that can help you get started with keyword research include:
Sales team, which can share common questions and concerns from leads.
Customer support team, which can share common client questions and issues.
Competitor sites, which can highlight relevant topics to discuss.
Google Search, which showcases related searches to a topic.
Google Keywords Planner, which provides search volume data.
KeywordsFX, which generates hundreds of potential keyword variations.
FAQ Fox, which compiles online threads related to your keyword or topic.
Let's say your business is an automotive shop. From speaking with your co-workers, you know flat tires drive new sales and lead to long-term clients. So, you investigate flat tires as a potential content topic and start with "fix flat tires."
First, you search "fix flat tire" on Google Search. Here is what you see:

You notice a few things:
The suggested searches relate to fixing a flat tire yourself temporarily
The suggested searches relate to getting a professional to fix the tire
The suggested searches include a branded element with Fix-a-Flat, Pep Boys, and Canadian Tire
If you view the search results, you see the following: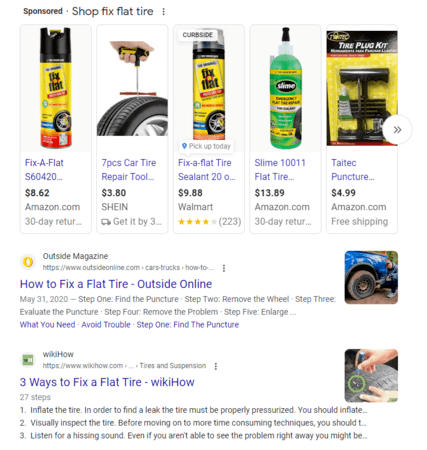 Here, Google provides transactional and informational results, listing products and guides for fixing tires. You also see some bigger sites in the results.
Based on this information, you have some concerns about the keyword, like:
It's too transactional, with a focus on buying ecommerce products vs. in-person services
It's too competitive, with well-known businesses ranking in the top spot
It's too localized, with a user's location influencing the search results
With Google Keyword Planner, you can confirm your suspicions:

The keyword receives up to 10,000 searches per month and boasts a "High" rating for competition.
So, what do you do? You use a free keyword research tool, KeywordsFX, to find longer-tail keywords: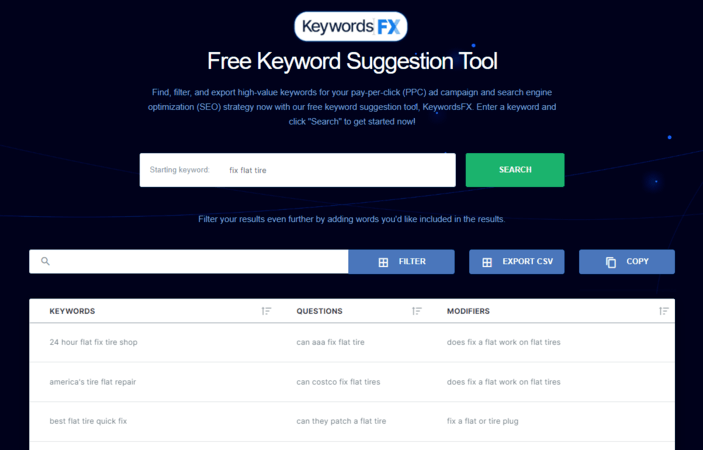 From KeywordsFX's results, you can see the "Modifiers" column offers new potential options, like:
"fix a flat or tire plug"
"fix flat tire at home"
If you want to proceed with any of these keywords, you can:
Return to Google Search to evaluate the search
Check the keywords' search volume and ad popularity with Google Keyword Planner
Once you find a keyword that fits your business well, you can use FAQ Fox for content research.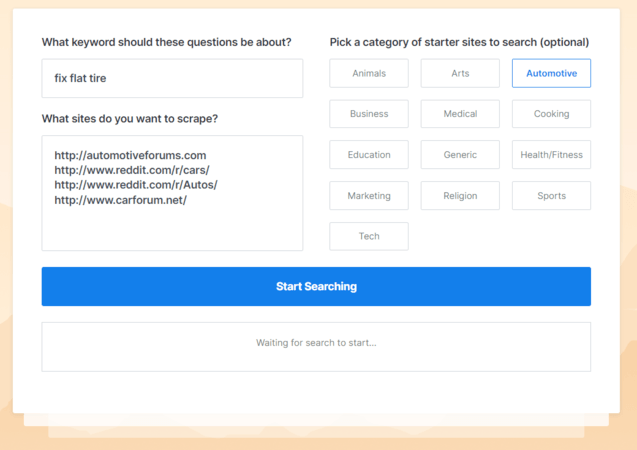 FAQ Fox works by compiling online threads relevant to your content topic. You can use these threads to:
Research user expectations for this search
Compile common phrases people use to describe the problem
Gather potential solutions to include in your content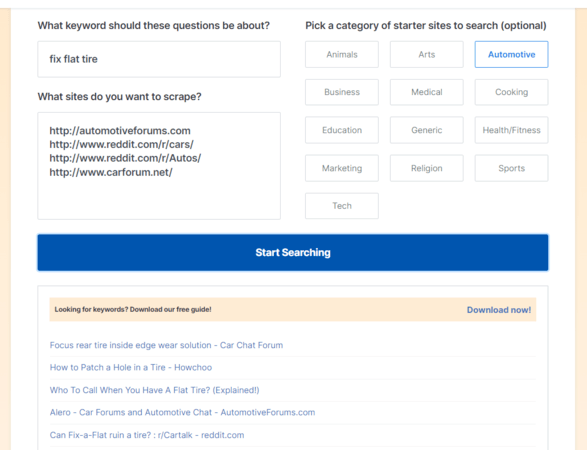 When it comes to keyword research, you'll want to have one core keyword and three to five related keywords. These keywords will feature in key places throughout your content, like your title tag, paragraphs, and headings.
Keep reading to learn how to optimize your content with your researched keywords!
4. Optimize website content
If your website is a rocket, your website content is its fuel.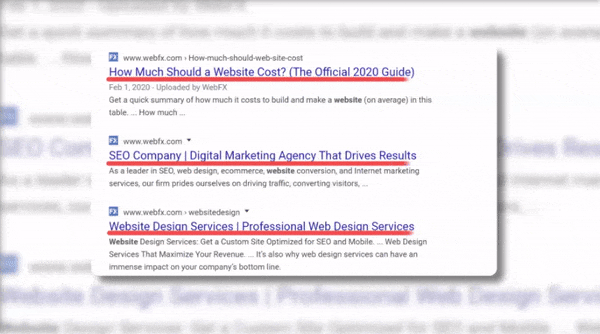 Fueling your website for higher rankings, traffic, and revenue numbers starts with these best practices:
Prioritize users: Search engines like Google want to deliver relevant, easy-to-use content. Commit to creating a website that's easy to use, read, and understand. For example, use headings, lists, and images to make content skimmable when writing content.
Incorporate keywords: One of the most common mistakes with DIY SEO is keyword stuffing. Focus on incorporating keywords naturally in your content — forcing a keyword will affect the user experience and appear spammy.
Use multimedia: Who gets excited about reading a wall of text? No one. So, invest the time to create multimedia for your content, whether it's screenshots, custom graphics, or video filmed on your smartphone.
Establish a style guide: A style guide provides quick answers to common questions, like "What's our preferred case for title tags?" or "Should all headings include the target keyword?" If you already have a style guide, work with its point of contact to add SEO guidelines.
Some common DIY SEO action items for optimizing website content include:
With these best practices, you can bring structure (and success) to doing SEO on your own.
5. Improve internal linking
Internal links are like the roadways throughout a city — they help people (and Google) explore your site.
No matter the site size, do-it-yourself search engine optimization should include internal linking. When you invest the time in internal linking, you help Google crawl your site and understand your content, which can lead to higher rankings in search engine results pages (SERPs).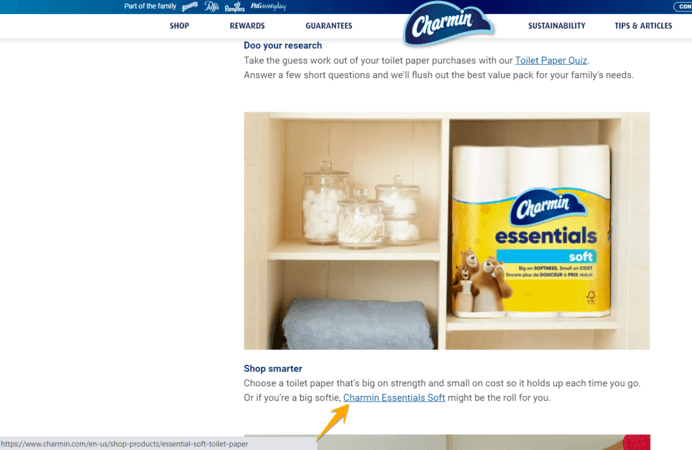 Some additional benefits of internal links include:
Improving time on site by providing users with other relevant information to explore
Helping users continue their buyer journey by sharing timely information
Offering search engine crawlers a direct route to content deeper in your site architecture
Passing authority from one URL to another, which can contribute to higher rankings
You can get started with internal linking by following these best practices:
Use descriptive anchor text, like "greenhouse tips" for linking to a URL about greenhouse tips
Ensure every URL has three to five internal backlinks
Use the navigation and footer to link to URLs targeting competitive keywords
When you audit your site's SEO (see step two in this DIY SEO guide), you can use Screaming Frog to view the following:
Number of internal backlinks
Internal backlink anchor text
Internal backlink location, like the footer or navigation
And more

If you'd like to learn more about how to do internal linking yourself, check out these resources:
6. Attract backlinks
The next piece of the DIY SEO puzzle is getting people to link to your content. Links from reputable sites make your site look wonderful to search engines, giving you a much needed boost in the rankings. But earning links isn't easy.
That's why many DIY SEOs buy links, but I'll just say this now. Don't. Buy. Links.
Purchasing links will get you penalized in the SERPs, as demonstrated by Google's SpamBrain update, basically negating any of the hard work you've put into your site's SEO. Getting people to link to your site requires time and dedication.
Here are some tips for how to attract backlinks to your website:
Make great content that people want to share: If you write educational blog posts or make some really cool videos, you're on the right path. If you need content ideas that people want, take some time to scour the internet.
Look up trending topics on Google Trends: Read some of your competitors' content, if they have any, see what people are talking about on social media and in forums like Quoraand Reddit, and try our content idea generator, FAQ Fox.
Promote content on social media: Promoting your content on social media is also a good start. The more people are exposed to your site, the greater your chance of getting them to link to it.
Conduct email outreach: Look up professionals in your industry. Maybe a trade publication would benefit from an article you wrote, or a blogger might share your infographic in their related content.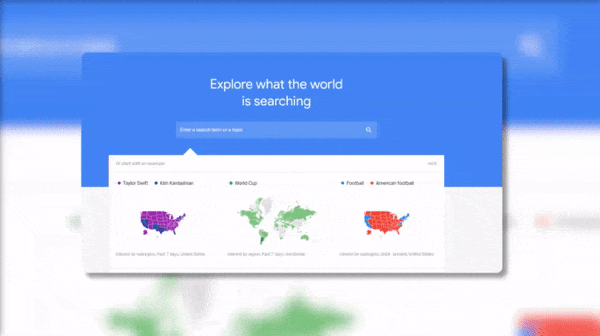 If you'd like to learn more about this element of off-page SEO, check out these resources:
7. Track SEO rankings, conversions, and more
When it comes to how to do SEO on your own, it's more than optimizing your website — it's also tracking your performance. How do you know if what you're doing is working and if it's contributing to your organization's bigger objectives?
A website analytics platform like GA4 can help you answer this question because it'll track the following:
Organic visits
Organic conversions
Similarly, Google Search Console will help you track the following:
Organic search result rankings
Organic search result impressions
Organic search result clicks
What if you're looking for more, though?
For example, if you're a lead-based business, how do you know if a website conversion became a sale? For that, you'll need a platform that can sync your marketing data (like a GA4 conversion) with your sales data (like a CRM lead status update).
The good news is these platforms already exist! One example is MarketingCloudFX.
With a platform like MarketingCloudFX, you can:
Attribute SEO-driven conversions to sales
Re-purpose organic traffic for email marketing and pay-per-click (PPC) campaigns
Get a customer relationship management (CRM) software, Nutshell, for free
Determine which SEO content has delivered the highest return on investment (ROI)
And more
For small-to-midsized businesses (SMBs), MarketingCloudFX is a fantastic fit. In comparison, larger companies will benefit from a marketing automation platform like Marketo, and startups will benefit from growing their traffic (and business) first.
If you'd like to learn more about tracking SEO's bottom-line performance, check out these resources:
8. Continue learning SEO
Can you do SEO yourself? Yes — but you need to commit to ongoing learning.
Search engine optimization is evolving, with search results and search algorithms changing every year. While some changes are more subtle, others have a massive impact, like Google's Medic Update on the health care sector.
That's why it's critical to continue growing your SEO knowledge. Some great resources include:
If you're wondering, yes, WebFX also has some SEO resources our clients' love, including:
And that's how to do your own search engine optimization. Now, you're ready to take on the SERPs!
FAQs about DIY SEO
If you're looking to learn more about DIY SEO, check out our FAQs:
What is SEO?
SEO in digital marketing stands for search engine optimization. Search engine optimization is the practice of optimizing your website to appear in relevant search results, like on Google or Bing. When you do SEO yourself, you use multiple skills, like research, writing, coding, and even collaboration.
If you want to learn more about the basics of SEO, check out our SEO playlist on our YouTube channel.
What are the types of SEO?
There are three core types of SEO:
On-page SEO: On-page SEOinvolves elements on your site you control, like the title tag and meta description that show up in the search results and the text and multimedia content throughout your site.
Off-page SEO: Off-page SEO involves your website's reputation on the web. Attracting backlinks from other reputable sites (especially reputable sites in your industry) signals to search engines that people trust your website, which can improve your rankings in search results.
Technical SEO: Technical SEO involves elements on your site you control, but that might require collaboration with your development team. Common technical SEO elements include page speed, XML sitemaps, a robots.txt file, and structured data.
Besides these three types of SEO, there are a few specialized SEO types:
Local SEO: Local SEO focuses on your presence in localized search results, like "pizza near me." If you do SEO yourself, you'll concentrate on claiming and optimizing local listings, like Google Business Profile and Bing Local, and creating localized content for your site.
Ecommerce SEO: Ecommerce SEO focuses on your product listings, helping them reach (and convert) more shoppers online. Some ecommerce SEO tactics include optimizing site architecture, eliminating duplicate content, and improving product multimedia.
Voice SEO: Voice SEO focuses on attracting more voice search traffic to your site. If you optimize your site for voice searches, you'll often optimize existing content to better answer questions concisely.
What are the best SEO tools for beginners?
The best SEO tools for beginners are often free and include:
When it comes to do-it-yourself SEO, these tools provide the SEO toolkit you need to succeed.
Is it difficult to do SEO on your own?
How difficult SEO is to do on your own depends on multiple factors, including:
Your website's size
Your website's existing SEO
Your SEO experience
Your SEO budget
Your available time for SEO
And more
If you have a large website and multiple responsibilities, SEO can become difficult to do on your own — not because you don't have the skills, but because you don't have the time to optimize, maintain, and grow your site.
In comparison, if you have a small website and an SEO-focused role, SEO can become easy to do on your own because you have the time and skills to optimize your site's off-page, on-page, and technical search engine optimization.
When should I hire someone vs. do SEO on my own?
You should consider hiring someone vs. doing SEO on your own when:
You're failing to achieve results
You're struggling to find the time for SEO
You're setting competitive SEO goals
If you decide to hire someone, SEO services typically start at $1500 (or more) per month.
Is it worth paying for SEO?
For many businesses, it's worth paying for SEO because SEO services:
Help your website grow its rankings, traffic, and conversions
Give your business a dedicated SEO expert — without the in-house costs
Let your company adopt and implement the latest SEO strategies
Allow your business to focus on other areas of marketing in-house
And more
If you decide to pay for SEO instead of doing SEO yourself, use these tips to find the perfect provider:
Determine your budget
Draft your goals and expectations
Research your candidates' plans, past work, and ratings
Learn more about outsourcing SEO by checking out our guide on how to hire SEO experts!
How long does DIY SEO take?
When it comes to day-to-day tasks, these are some estimates for DIY SEO projects:
SEO audit: Four hours
Keyword research: Two hours
New content: Six hours
Link building: Four hours
If you're just getting started with doing SEO on your own, you'll likely require more time to complete SEO tasks. That's okay! As you get more experience, you'll complete these SEO projects faster for your site.
When will I see results from DIY search engine optimization?
Whether you pay for SEO or embrace DIY SEO, results from search engine optimization will take several months. Expect to invest in SEO for six months (or more) before seeing your rankings, traffic, and conversions increase.
How can I learn SEO?
Ongoing learning is DIY SEO's best friend. Below, you'll find resources for learning more about SEO:
Get started with DIY SEO (or get some help!)
Now that you know how to do SEO yourself, you're ready to become an SEO expert!
If DIY SEO isn't doable, though, WebFX can help! With our do-it-for-me SEO solutions, you'll receive everything you need to capture more rankings, traffic, and revenue from the web. Contact us online (or call us at 888-601-5359) for an SEO proposal that includes pricing, strategy, and flight plan!
How is your website's SEO?
Use our free tool to get your score calculated in under 60 seconds.
WebFX Careers
Join our mission to provide industry-leading digital marketing services to businesses around the globe - all while building your personal knowledge and growing as an individual.