It's the question many people ask – can you do SEO yourself?
Well, I've got some good news! You can absolutely do SEO yourself or DIY SEO (Do It Yourself SEO). With some research and lots of practice, anyone can learn how to do SEO for their business.
A quick way to get started with SEO is to enter your URL here and then focus your SEO efforts on the recommended action items. But before you skip hiring one of the best SEO companies, it's important to understand some fundamentals, like…what is SEO?
What is SEO?
So, what is SEO in digital marketing? Don't worry, this will be brief. SEO stands for search engine optimization.
Think of it as taking a bunch of different actions on and off of your site that will help it show up in search engines.
These actions can be simple things like researching and incorporating keywords into your content or more complicated things that require a little more technical knowledge, like creating an XML sitemap, so search engines know which pages you want in the search results.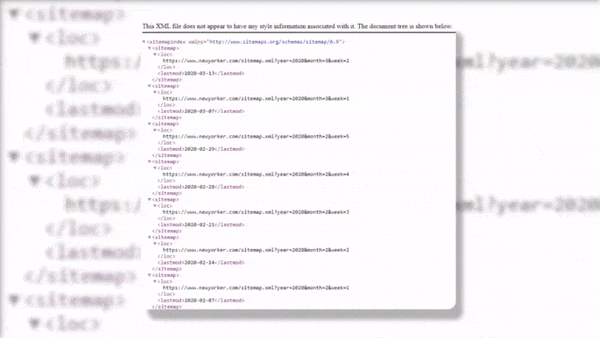 I'll go over some of the most critical parts of SEO in this video, but if you want to learn more, check out our SEO playlist on our YouTube channel.
Looking for an all-in-one SEO audit tool? You've found it.
SEO Checker provides data on key metrics to give you:
Complete SEO score

Content Grade

Site Speed Analysis

and more.
Consider your approach to DIY SEO
The easiest way to keep track of your efforts when you're still getting the SEO fundamentals under your belt is to take it step-by-step.
You might even want to write a checklist, so you know you're not missing anything. We have one on our website if you'd like to use that as a starting point!
Before you actually do anything, start with an audit of your site. We have a handy-dandy SEO checker on our site that can do the trick! This will help you understand what you've been doing right, and what you need to focus on when making changes.
Now, how to do SEO yourself? First, you'll have to consider some key elements.
5 key elements to do it yourself SEO
There are different areas of SEO you should know about. To keep it simple, I'll go over some on-page and off-page SEO basics in this do it yourself SEO guide.
1. On-page
On-page SEO involves elements on your site you can control, like the title tag and meta description that show up in the search results and the text and multimedia content throughout your site.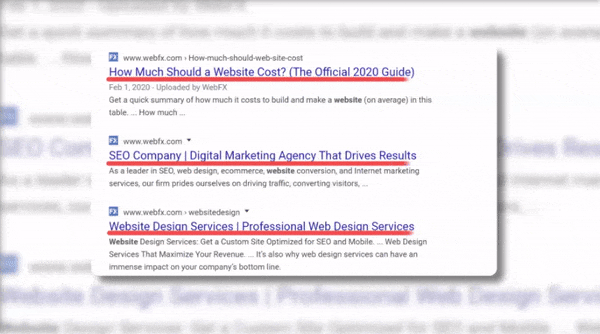 2. Keywords
Keywords are important! Whenever you write content for your site, whether it's on your blog or on your homepage, you should be using keywords naturally throughout that content. This also includes any title tags or meta descriptions you create.
Keywords help tell search engines what your page is about. Say you run a luxury spa, and you have a blog on your site where you discuss different treatments, products, and common questions.
If you're writing a piece about how often people should get facials, and you want to show up in the search results for that topic, you should use "how often you should get facials" and any related keywords throughout the content and in any major headings where it fits naturally.
Researching keywords isn't as hard as it may seem! There are a lot of SEO software options out there that offer keyword suggestions for your content and information about how hard it is to rank for those keywords.
You can even look at related keyword searches on Google, or pay attention to what Google suggests as you type. Pretty nifty, huh?
3. Off-page
The next piece of the puzzle is getting people to link to your content. Links from reputable sites…other than your own…make your site look wonderful to search engines, giving you a much-needed boost in the rankings.
But earning links isn't easy.
I'll just say this now. Don't. Buy. Links.
That'll get you penalized in the SERPs, basically negating any of the hard work you've put into your site's SEO. Getting people to link to your site requires time and dedication.
First, you need to make great content that people will want to share. If you write educational blog posts or make some really cool videos, you're on the right path. If you're in need of content ideas that people want, take some time to scour the internet.
Look up trending topics on Google Trends.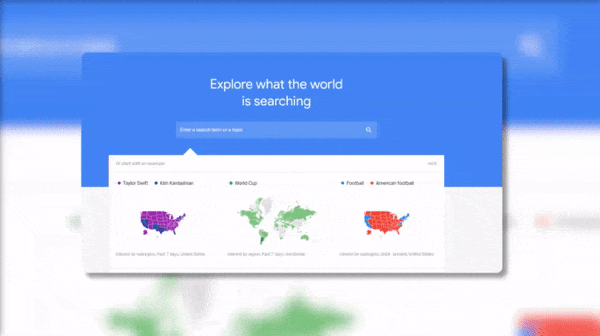 Read some of your competitors' content if they have any, see what people are talking about on social media and in forums like Quora and Reddit, and try our content idea generator, FAQFox.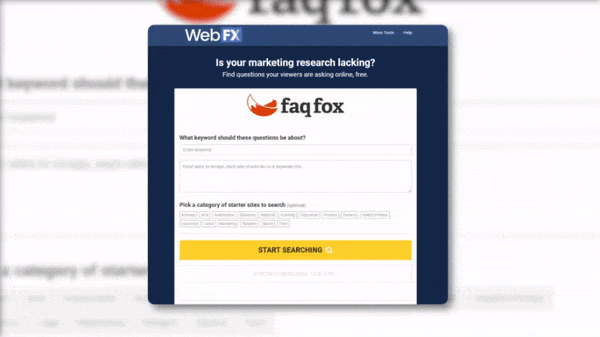 Promoting your content on social media is also a good start. The more people are exposed to your site, the greater chance you have of getting them to link to it.
Earning links for your site also includes email outreach. Look up professionals in your industry. Maybe there's a trade publication that would benefit from an article you wrote, or a blogger who might share your infographic in their related content.
Google it! That's the best way to discover places to get links.
Related Resource: Beginner's Guide to Link Building for SEO
4. Local SEO
And don't forget about local SEO.
If you have a physical location for your business or want people in your service area to find you, you'll definitely want to use local SEO, so people from immediate surroundings can find you when they're looking for something you offer. If you've ever searched for something like "restaurants near me," then you've certainly seen the results of other businesses' local efforts.
The box you see with all the business information is called the local SEO 3-pack.
When you click on the results, you see even more business information, as well as other businesses that match your search.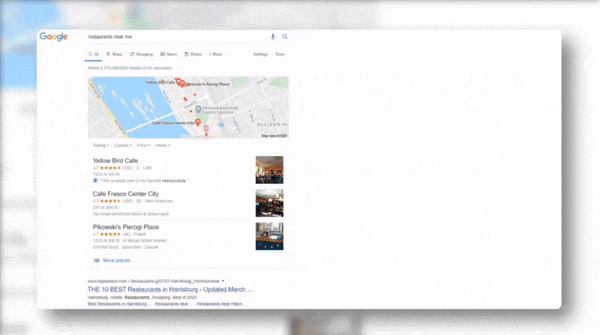 To get started with local SEO, you'll want to create a Google My Business profile for your business and keep it updated with your contact information, hours, location, and anything else people need to know.
Taking this first step can make a big difference in your business's local presence.
5. Technical SEO
Another aspect is technical SEO. This entails responsive web design, internal links, site security, duplicate content, and a whole other host of issues — which is why it's useful to have an SEO web design company on your side.
Is it difficult to do SEO yourself?
I'm not gonna lie… DIY SEO optimization it can be difficult.
That's why if you want to do DIY SEO optimization, you will find this free SEO checklist guide very useful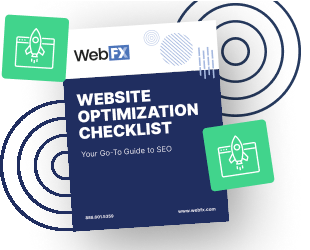 With an optimized website, you'll experience more traffic, leads, and conversions — so what are you waiting for?! Check out our
FREE
website optimization checklist today!
Show Me the Guide
As a summary to this do it yourself SEO guide, keep in mind the following:
Website structure
Titles
Keywords
Images alt descriptions
Backlinks
Metatags
Content
Social media
Website sitemap
Great tools for DIY SEO
Some effective tools you can use if you do SEO yourself are:
If you don't have a ton of technical SEO or SEO expertise, I'd recommend you partner with some experts to dive into the technical SEO of your site. Things could get pretty ugly if they're done wrong. Even the tactics I talked about earlier can be time-consuming, especially as your business grows. If you're trying to balance SEO with running a business, it's easy to get overwhelmed.
Not ready for DIY SEO?
We have a huge team of experts ready to help with your site's SEO if you decide not to do it yourself! Just give us a call at 888-601-5359. Thanks for watching!
WebFX Careers
Join our mission to provide industry-leading digital marketing services to businesses around the globe - all while building your personal knowledge and growing as an individual.