Need more clients for your hardscaping company? 97% of prospective clients are actively searching Google for information about hardscaping. It's also possible that some people will use Google Maps to look for local hardscaping businesses.
That's where search engine optimization (SEO) comes into play. Using SEO for hardscaping, you can position your company as the first one they reach out to and, hopefully, hire.
But how do you optimize your hardscaping website to rank higher in search engine results and attract more customers?
In this article, we will discuss the knowledge you need to increase your hardscaping company's online visibility and bring in a constant stream of prospects. Here's a brief outline of what we'll cover:
Want to elevate your visibility on search engines? WebFX's cutting-edge SEO services for hardscaping businesses will help you hit your marketing benchmarks, keep tabs on your performance, and increase your return on investment (ROI).
Contact us online to chat with a strategist about how we can help your company win the hardscaping industry.
Don't miss our Marketing Manager Insider emails!
Join 200,000 smart marketers and get the month's hottest marketing news and insights delivered straight to your inbox!
Enter your email below:
Inline Subscription Form – CTA 72
"*" indicates required fields
(Don't worry, we'll never share your information!)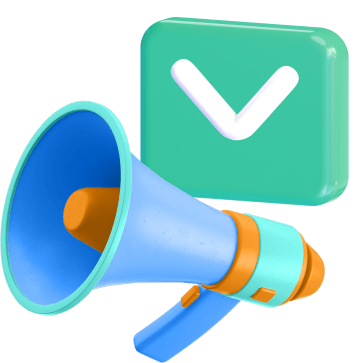 What is SEO for hardscaping?
SEO for hardscaping is the process of improving a hardscaping business website's organic ranking in search results in response to user queries. It's an excellent strategy for reaching people looking for your hardscaping services online.
Why leverage SEO for hardscaping companies?
Optimizing your website for search engines is one of the best ways to get your business in front of people looking for your hardscaping services.
For example, say a customer is looking online to remove the white coating from their pavers. As a hardscaping business owner, your goal should be to have your company rank higher than the competition in search engine rankings, like the companies in the screenshot below.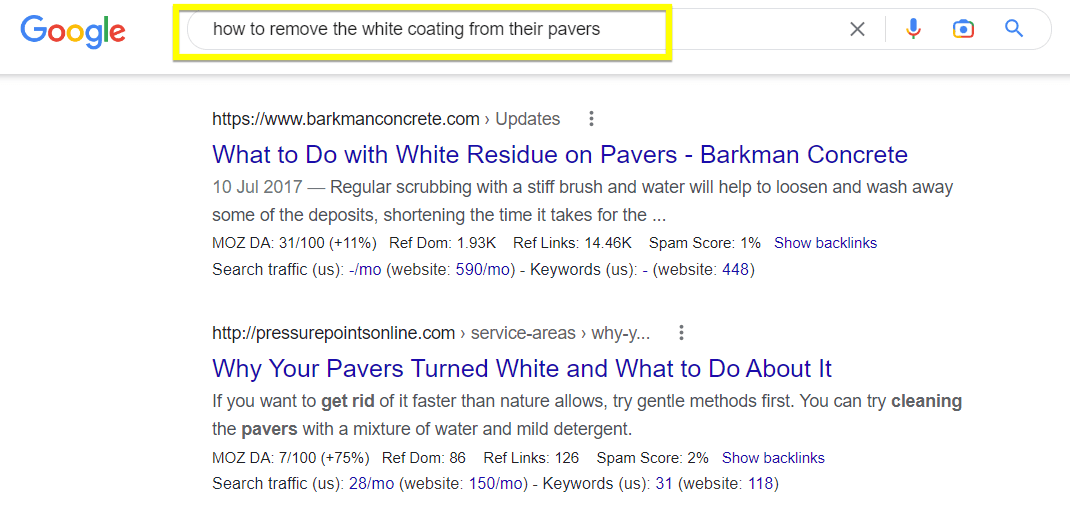 SEO can promote your company's reputation as a leader in the hardscaping market and attract more clients. Your prospective clients' confidence in your company will increase if they are convinced of its reliability.
Independent research from Clutch has named WebFX the
top SEO company

in the United States.

Clutch has personally interviewed more than 250 WebFX clients to discuss their experience partnering with us.

Read More Clutch Reviews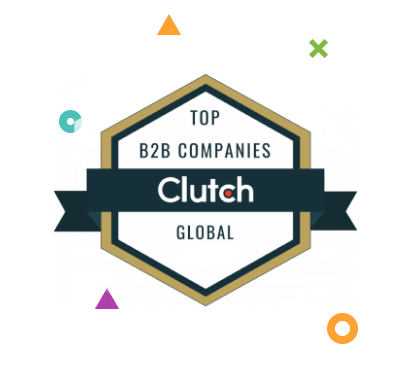 5 SEO strategies for hardscaping
Here are five SEO strategies for hardscaping to get you started:
1. Build a credible online presence with a professional website
Your website is the greatest digital marketing tool for your hardscaping services. Since most of your business comes from residential, commercial, or industrial clients, a well-designed website can help you stand out from the competition and generate revenue.
Your website addresses rising local problems like chipped or discolored pavers, cracked concrete walkways, and moss or weeds growing in paver joints. You can also provide more details about the hardscaping services you offer.
With this approach, clients will regard you as a leader in the landscaping and hardscaping industries, giving you a better opportunity to win over new customers and grow your business.
We'll help you create a website that stands out.
"WebFX has been instrumental in helping us develop a new website, allowing us to be a leader in our industry."
Learn More About Our Web Design Services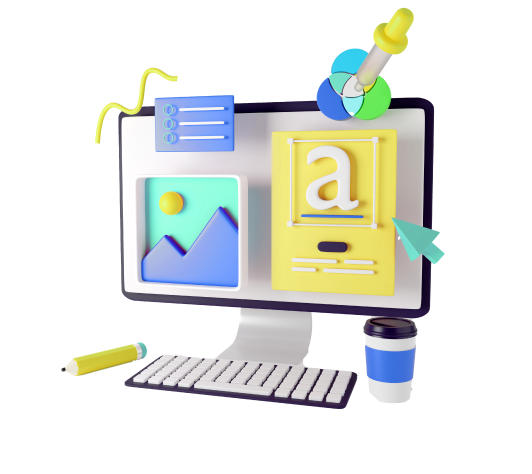 2. Create content that resonates with your target audience
Creating and publishing original content is one of the most effective SEO strategies hardscaping businesses can implement to gain exposure and connect with prospects. Content's purpose is to generate website traffic, drive revenue, and spark visitors' interest.
For example, if you specialize in patio backyard getaways for residential clients, you could publish an article detailing ideas for turning a backyard into a relaxing retreat. You could also offer advice on how to make the most of the smallest patio area.
You can improve your content's search engine rankings by tailoring it to specific keyword searches. For instance, you could use keywords like "how to transform a backyard into a relaxing retreat" in the example article about patio backyard getaways.
3. Conduct keyword research to improve your targeting
If you want your site to perform well for queries relevant to hardscaping, you need to familiarize yourself with the common ways people conduct such searches.
To target your audience better, you should perform keyword research to see what prospective clients are putting into search engines to find companies like yours.
The best approach is to zero in on long-tail keywords to further increase your content targeting's efficacy. This set of keywords is designed to attract people actively looking for a hardscaping service, increasing the likelihood that they will become paying customers.
KeywordsFX is one of the best keyword research tools to discover the most sought-after search terms, phrases, and questions related to hardscaping.
In addition, optimizing your site for search engines requires naturally incorporating your target keywords into the page's heading, title tag, meta description, and text. This action may raise your site's profile in the relevant SERPs.
Use our proprietary keyword research tool,
KeywordsFX

, to help you find high-quality keywords for content and PPC campaigns. Identify Top Keywords for Free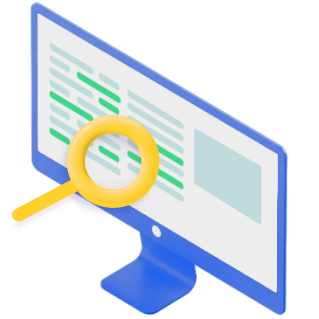 4. Build your site's trustworthiness through incoming links
Building links involves requesting endorsements from other websites that might benefit from linking to yours. To Google, a link from another reputable website is like a vote of confidence, which might boost your site's quality score.
When you provide in-depth solutions to people's issues about landscaping and hardscaping and make that content compelling and shareable, you strengthen your site's authority and link profile. You can also share the news about your hardscaping successes through media releases and directory entries.
Following breakthroughs in hardscaping and preparing to make improvements when applicable is essential to the ongoing expansion of the link-building network.
Bonus Read: Social Media Marketing for Hardscaping
5. Optimize your page loading time for better user satisfaction
Your website's load time is a direct factor in how well it ranks on Google. When you minimize the time it takes for pages to load, you make it easier for users to instantly obtain the information they're looking for, which is a key factor in retaining visitors.
PageSpeed Insights is a free service from Google that will tell you how long your website will load when you enter its URL. The results will tell you your site speed in real time and where you can make modifications to boost speed.
Looking for an all-in-one SEO audit tool? You've found it.
SEO Checker provides data on key metrics to give you:
Complete SEO score

Content Grade

Site Speed Analysis

and more.
Get custom SEO services for hardscaping companies
At WebFX, we specialize in helping hardscaping businesses like yours increase their online visibility. Our professional team has extensive field knowledge and can help you refine your online marketing strategy to reach your target audience better.
With our SEO services, we have helped our clients gain over 7.8 million leads, and that number is only expected to grow. We provide full in-house SEO services for hardscaping companies, including a dedicated staff of creatives, website designers, and strategists.
Still got questions? Contact us online or call 888-601-5359 to discuss developing your custom revenue-generating SEO approach with a strategist.
Increase your leads, sales, and revenue with digital marketing