4 Most Important Local SEO Ranking Factors
As a local business, reaching new customers in your area is essential for success. You may have previously relied on traditional methods like radio and newspaper ads or word of mouth to draw in business. But today, digital marketing is the best way to market your business.
There are many channels available, and selecting the ones that make the most sense for your needs and goals takes time and research.
As a local business, however, one of your best options is search engine optimization, or SEO — and more specifically, local SEO. On this page, we'll discuss what SEO is, the local ranking factors that influence your spot in rankings, and how you can improve your online visibility to reach more of the users searching for your products in your area.
Local SEO Ranking Factors
Call us today at 888-601-5359 to speak with a strategist or keep reading to learn more about local SEO ranking factors (and how to optimize for them).
Is Your Local SEO Working? Check Your Local SEO for Free!
1. Google Business Profile
Google Business Profile is a huge part of local SEO. Many people will find your business for the first time because of your GBP listing and decide whether to become a customer.
Optimize for this local SEO factor by claiming your listing. An owner-verified listing is one of the factors that will help improve your GBP ranking. You want to claim ownership of your GBP listing so you can include all the information potential customers need.
You can claim your listing by searching for it on Google Business Profile. You can find your business listed on the page and claim it. If you don't see your business listed, you can make your own listing.
Once you've claimed your listing, you can add photos. Photos capture the attention of people who are seeking out a business like yours. This will make them more likely to click your listing and learn more, and can give them a better sense of whether they want to become a customer.
You can also boost your GBP profile by earning customer reviews. Reviews build trust in your business. When other customers have a good experience at your business and share it, it gives others the confidence in what you have to offer.
When a business has many good reviews, Google recognizes it and boosts that ranking higher. This enables you to gain more new customers for your business.
When customers visit your business, you can encourage them to leave reviews. Don't outright incentivize them to leave positive reviews, but ask that they leave their opinion of your business on the listing.
How to optimize your Google Business Profile listing for local SEO
After you claim your listing, you can improve its visibility by adding as much information as possible to it.
Your listing should include your address, contact information, and hours of operation. When people conduct local searches, many of them are looking for this information. If potential customers can't find it, they'll seek out another business.
You can also categorize your business with a few different types of tags you can add to it. For restaurants, for example, you can add information about the price range, atmosphere, and special events.
This information is important to visitors because it helps them make a decision. The more information they have, the more confident they'll be that your business is what they're looking for.
Depending on your industry, you can also post pictures of meals, jobs you've completed, or photos of your staff at work. These can boost your listing's effectiveness because they help searchers see your product and get a feel for your brand.
By building up your Google Business Profile listing, you will be able to boost your ranking and reach more local customers.
2. Keywords
Keywords are another important local search ranking factor.
If you are trying to rank for a particular keyword, you need to show search engines that your site is a relevant result for it. This requires including that keyword on the page you want to rank.
Search engines use crawlers to analyze each of your pages and determine what they're about. Keywords are an essential part of this because they determine which searches your pages have the chance to rank for.
How to select keywords for local SEO
Your organic listing is triggered by keywords. People type in specific keywords that draw up results that utilize those keywords. This is an important first step to utilizing SEO.
When you are picking your keywords, you want to focus on long tail keywords. These are keywords that contain three or more words in them. For a local business, it would be "plumbers in Harrisburg PA" or "veterinarians in Harrisburg PA."
You want to use long tail keywords over short tail keywords. Short tail keywords only contain one or two words. These can be keywords such as "plumbers" or "veterinarians."
Short tail keywords are not as valuable as long tail keywords because they do not draw in qualified leads for your business. These terms are generic and do not specify a user's intent.
There is a ton of competition for short tail keywords because many bigger businesses utilize them. It is better to stick to long tail keywords because they cost less and drive in more qualified traffic.
In order to select your keywords, you'll need to conduct some keyword research. This will help you decide on your keywords. Once you have your keywords, you'll begin optimizing your site to start improving your ranking.
How to incorporate keywords for local SEO
Once you've selected keywords, you'll need to incorporate them in relevant places on your site. You can use them in your title tags, meta descriptions, headings, and body copy.
That being said, be careful not to overuse your keywords. Using keywords excessively with the goal of boosting your rankings is known as keyword stuffing, and can result in a Google penalty, which will ultimately harm your ability to rank in search results.
Make sure that as you incorporate keywords, you only do so where they make sense naturally, and don't disrupt your visitors' reading or site experience.
P.S. Want to check your local rankings on Google? Use a free Google position check tool!
3. Links
Links play an important role in boosting your website's rankings in organic search results, which makes them another local SEO ranking factor.
When another site links to yours, it drives traffic and signals to search engines that the site trusts you.
The quality of these links has a huge impact on your rankings. When high quality sites link to yours, this tells search engines that your site is also trustworthy and reputable. This boost in credibility helps improve your rankings.
It also helps to obtain links from relevant publications in your industry. This increases your authority in your particular industry and builds your credibility. When you are viewed as an authority, more people trust your business and the quality of your work.
Although they have less of an impact, outbound links can also influence your rankings. These are the links on your pages that direct users to other websites.
When you link to credible external sites, you help users find additional information that's relevant to their interests. Beyond that, you show search engines that you are providing solid information to support your site's content. This shows that you're a reputable source of information, and can boost your rankings in search results.
How to build links for local SEO
The best way to build links is to create content. Your content can be anything from blog posts to videos to infographics.
When you create content, blogs, news sites, and other business sites can link to it as a source for their readers.
You'll need to reach out to industry editors, bloggers, and other sites to get them to check out your content. You can reach out to them through email and let them know that you have some content you think would benefit their readers.
As you create your link building strategy, you can use backlink trackers to figure out who is linking to your website. This is a great way for you to build a relationship with other businesses.
If these businesses mention your name, but don't link back to your site, you can reach out to them and ask them to link to your site. You can do this through Google Alerts, which tracks mentions of your business. This enables you to find those mentions and get them linked back to your site.
4. User experience
The way users interact with your site can affect your rankings. Their behavior sends signals to Google that indicate whether or not your site is helpful for visitors.
While all these local seo factors don't directly impact your ranking, they do focus on a positive user experience. You want to provide users with a positive experience to ensure that they spend more time on your page. When users spend more time on your page, it can lead to positive outcomes.
Click-through rate
One behavior Google analyzes is you click through rate (CTR). This is the rate in which people click on the link to your website compared to the number of people who had the chance to click on your result.
The click through rate for the first three results are higher than any other position. This is due to the fact that many people click on the first few results because they are perceived as the most relatable to a user's search inquiry.
You want to have a high click through rate because it indicates that people are interested in your business and find your website to be helpful. This improves your ranking and enables you to reach more people.
Pages per session
One behavior that is important to your ranking is the pages per session. This is the number of pages a person visits before leaving your site.
It is better to have your visitors going to multiple pages, rather than just one or two. This keeps them on your website longer. A longer retention time boosts your ranking.
Bounce rate
There is one negative behavior that you'll need to be aware of is bounce rate. Bounce rate is the percentage of people that end up on your landing page and immediately return to the search results.
People will return to the search results for numerous reasons. They may not find the information they need or the page may load too slowly. It is important that you keep people on your page so you can decrease your bounce rate.
Organized navigation
When someone arrives on your site, they should know how to find the information they want. You don't want users to struggle to find information. If they can't find it easily, they will leave your site and pick your competition.
The best way to ensure that users can find information is to create a simple to use navigation. You'll want to have broad headings that encompass numerous ideas. As long as your navigation is organized, users won't have a problem finding the information they need.
Calls-to-action (CTAs)
The best way to encourage a positive user experience is to give your visitors a sense of direction. You can do this by creating a call to action (CTA).
Many companies forego writing strong calls to action. This is an important part for guiding your visitors to the next step.
By including CTAs, you'll increase the amount of pages people visit, encourage them to take action (download, sign up). These behaviors will increase your ranking because people will spend more time on your site.
Page speed
One way you can do this is by increasing your page speed. Users don't like to wait for slow loading pages. If your page takes too long to load, users will return to the search results and select another business.
This increases your bounce rate. In order to avoid increasing your bounce rate, you can use Google Pagespeed Insights to check out how your site is performing and where you can make improvements.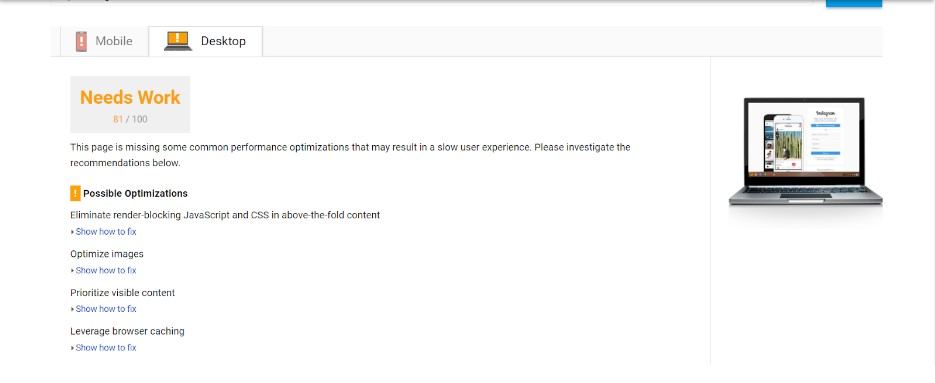 Responsive design
You'll also want to make sure your website is mobile friendly. A great way to do this is to use responsive design. Responsive design ensures that your website adapts to whatever device your users are using.
As a local business, many people will conduct searches on their cell phone to find places near them. It is important that your website is adapted for mobile phones so that users can find information about your business quickly.
You can also improve the user experience by creating a sleek and modern design and utilizing simple navigation. This will keep people interested in your page. It will also make it easy for them to find the information they need.
By making improvements on your site, you'll provide users with a positive experience. This will keep them interested in your business and help them remain on your site. You will be able to increase your SEO ranking by increasing the user experience on your website.
As you optimize your site to rank in local searches, it is important to know which factors will affect your rankings and how customers reach you. There are many local ranking factors consider, but the ones above are some of the most important to focus on as you build and grow your digital presence.
Get the most value from local SEO by focusing on appearing in the standard organic search results, as well as working on your Google Business Profile listing.
What is SEO?
You've probably heard the term SEO, but creating an effective strategy requires a strong understanding of what it is.
To put it simply, SEO is the process of boosting your website's rankings in organic search results for keywords related to your business. When users conduct a search, search engines like Google give them a list of pages that are relevant to the keywords they use.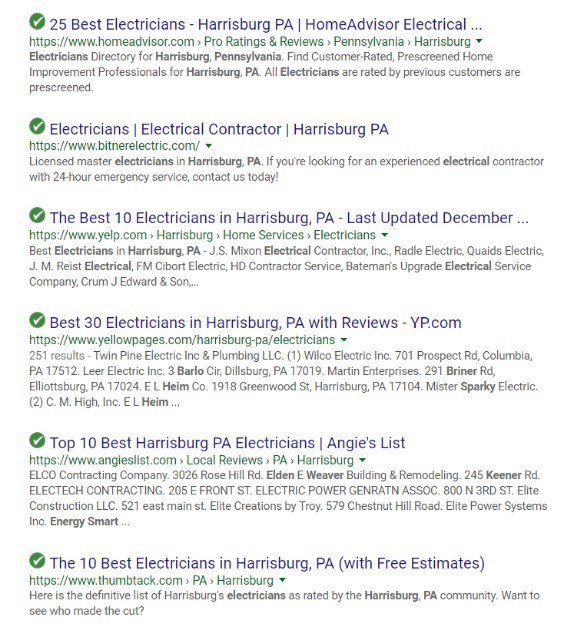 Considering that 93 percent of all online experiences begin with a search engine, it is important that your business shows up when users search for keywords that describe your products or services. If someone is looking for a business like yours, you don't want to miss out on the opportunity to reach them just because your site isn't optimized for search.
Ideally, you'll rank on the first page of results for your keywords. It is important to be on the first page because 75 percent of people don't ever click through the second — so even if you're only a result or two away from page one, you'll miss out on potential customers.
What is local SEO?
As a local business, you'll want to focus your SEO efforts on reaching searchers in your area. This is a common goal for small businesses, which is why local SEO is often categorized as its own strategy.
As the name implies, local SEO utilizes many of the aspects of regular SEO, but is focused on targeting users in a specific city or region. Your local online marketing efforts are designed to reach those customers and bring them either onto your site or into your store.
Local SEO is a little different because it also requires using Google Business Profile. Google Business Profile is a feature of Google search that lists local businesses on a map, based on a user's search.

Many of these searches include a city name, or the phrase "near me." These users are looking for businesses near their geographical location. When users conduct searches using "near me" or "in (location)", this triggers the Google Business Profile listings.
All of the other elements of SEO are still relevant local search ranking factors, so if you already have an optimization strategy in place, you're well on your way to achieving strong rankings for searches in your area.
WebFX is an experienced local SEO agency
SEO takes time and effort — but when you partner with WebFX, you can be sure that you're getting the best results for your business.
We're a full-service digital marketing agency with years of experience creating local SEO strategies for our clients. Our team of 500+ digital marketing experts knows what it takes to succeed online.
We know every business is unique, so we'll take the time to get to know your brand and products. We'll create a local SEO strategy that's tailored to your needs and goals and keep the focus on driving results that matter.
Why not partner with a company that strives to bring you success? To date, we've driven over $3 billion in sales and over 7.8 million leads for our clients. We focus on bringing our clients success so they can make the most of their investment.
Our clients love the work we do, too. In fact, we have over 1020 client testimonials you can check out to see what it's like to work with a top digital marketing company like WebFX!
Don't forget, even if you already have a local SEO campaign, or want to handle it on your own, we offer client-managed local SEO services just for you!
Ready to improve your local SEO?
If you're ready to start creating your local SEO plan, contact us online or call us today at 888-601-5359 to speak with a strategist. We look forward to hearing from you!
Earn a 20% greater ROI with WebFX