When you own a local business, you need to take every opportunity possible to market your business to local customers. You want to attract new customers to your restaurant, so your business can grow.
One of the best lead generation methods for local businesses is search engine optimization (SEO). SEO is the process of boosting your website's ranking in the search results through optimization of your site. This method enables more customers to find your restaurant online.
As a local business, you'll want to focus on local SEO. This is a branch of SEO that is designed to help local businesses maximize the opportunity to reach local customers. Local SEO is a great method for your restaurant because it focuses on businesses that only operate locally in an area.
So, how can you maximize your chances of growing your business and reaching new leads with local SEO?
On this page, we'll provide tips for helping your restaurant make the most of using local SEO. If you need help constructing your local SEO plan, call us today at 888-601-5359 to speak with a strategist.
1. Claim your Google Business Profile listing
A unique part of local SEO is your Google Business Profile listing. When people use Google to search for your restaurant or restaurants like yours, your Google Business Profile listing will appear in results.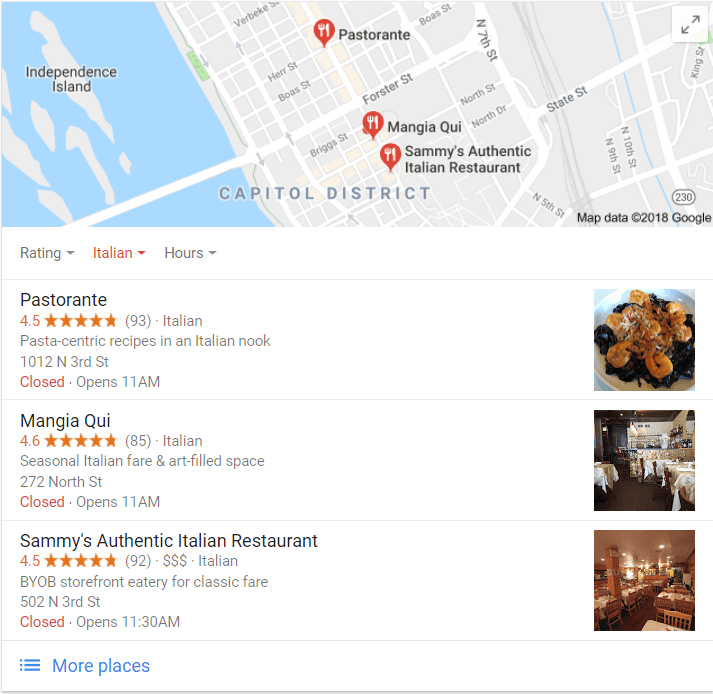 Your listing is an important part of your business because it is the way customers find your business first. Many customers are using phrases such as "near me" or "in Harrisburg, PA" to generate results that feature local businesses. You want your listing to appear at the top of search results so customers can find and contact your restaurant.
This listing is even more vital on mobile. Many people will conduct searches on their mobile phone to find a local business. They want to find answers quickly, so they rely on these Google Business Profile listings to find the business that suits their needs.
It is essential that you put in time to make your Google Business Profile listing stand out from the competition.
The first step is to claim your listing. You can do this by searching for your business on the Google Business Profile site. Once you claim your listing, you can begin adding information to it.
There are a few vital pieces of information you'll want to add about your restaurant. You want to include basic information like your address, contact information, and hours of operation. These are important pieces of information that people need to know when they are searching for the right restaurant.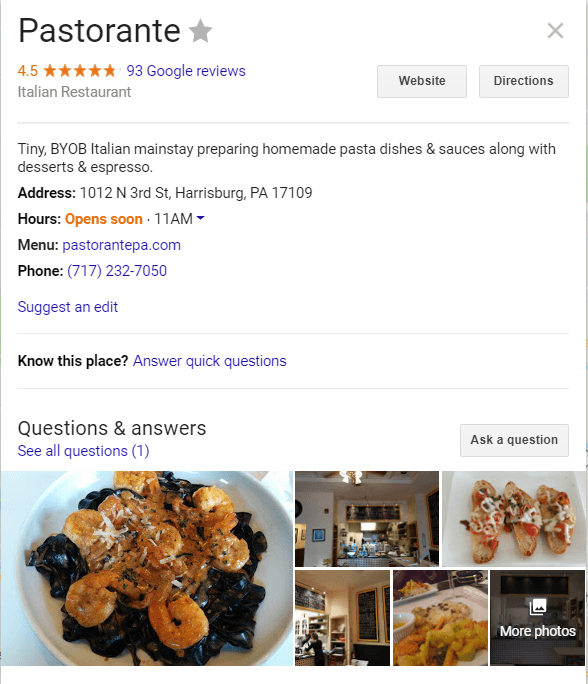 Once you have the basic information, you can add a short description about the type of food you serve, the atmosphere, and more. If people are searching for a specific type of restaurant, you want to include a description that shows them that you fit what they are seeking. You'll also want to include a link to your website and your menu.
There are other elements you can add to your listing to make it stand out. You can add pictures of your food, people in your restaurant, or your staff. It will give people a sense of the type of restaurant you run.
One of the most critical features of your My Business listing is the reviews. When people visit your restaurant, they can leave a review on your listing and talk about their experience. Many first-time customers will look at these reviews to see if they should visit your restaurant.
This is an opportunity for you to connect with your customers. Your Google Business Profile listing enables you to reply to comments. You can thank people for their kind comments and address any concerns from people who leave negative comments.
Your Google Business listing is an important part of local SEO. In many cases, it is the first time people will find your business. You want to make a good first impression.
By putting in the effort to completely fill out your listing, you will stand out amongst the competition. This will enable you to reach more customers and attract more of them to your local restaurant.

Hear What It's Like to Work With WebFX!

"I work with a couple other companies across our portfolio and I certainly have the best working relationship and success with WebFX. I appreciate the collaboration, patience and always prompt response with our last minute requests. The WebFX team always presents "guinea pig" ideas that we can test on the properties, some of which come from completely different types of establishments. I truly appreciate the ability to pivot and think outside of the box, especially during these most challenging year!"
Restaurant
2. Integrate keywords on your pages
An indispensable part of SEO is keywords integration. This is no different with local SEO.
You want your website to appear in search results when people search keywords related to your restaurant. These are words that users type in to find businesses that fit their needs. So, if a user wanted Italian food, they would search "Italian restaurants near Harrisburg, PA."
Keywords are an important part of your local SEO plan. You need to choose keywords that you think users will use to find your site. This will require you to do some keyword research.
There are many local keywords you can focus on to help people find your restaurant. What are some keywords that are industry-specific that users might search to find your restaurant?
Think of some of the basic words that are associate with your restaurant, such as food or cuisine. When you have those basic keywords, think about how you can expand them to phrases users might use to find your business. If you were focusing on food, you might think of keywords that are associate with food but more specific (i.e. restaurants with fettuccine Alfredo or restaurants with BYOB)
When you are choosing keywords, you want to stick to long tail keywords. These are keywords that contain three or more words, such as "Mexican restaurants in Harrisburg, PA." Long tail keywords drive in more qualified leads for your business.
These are better than short tail keywords. Short tail keywords only contain one or two words, such as "Mexican restaurants." These are generic terms that don't identify what a user wants to see in the results.
Once you select your keywords, you'll want to integrate them into your site. When Google crawls through your site, they look for keywords to understand your page. You can use these keywords in the titles, headings, meta descriptions, and body copy of your pages.
As you integrate keywords into your page, be sure to avoid keyword stuffing. This is an overuse of keywords that harms your ranking. You should only use keywords where they fit and flow naturally.
By integrating keywords on to your pages, your site will be able to rank better in the search results and generate more valuables leads for your business.
3. Publish content
One of the best ways to increase your rankings in the search results is through content creation. Content is the process of sharing information that users find valuable. This is often created in the form of blogs, videos, infographics, or downloadable content.
Content creation is a great way to drive in new leads for your local restaurant. This is an opportunity for you to attract people to your business by sharing helpful content.
There are many types of content you can share as a restaurant owner. You can create how-to videos or blogs on how to make certain dishes, how to cut and prep food properly, or best practices for cooking. Content marketing offers many opportunities for your restaurant to share valuable information with potential leads.
When people check out your content, they may try out your cooking tips and recipes. They may not visit your restaurant right away, but they will remember it. When it comes time that they want to eat at a restaurant like yours, they will pick your place of business over the competition.
As you create and share content, ensure that you are using keywords that local customers will use to find your information. This will help direct more local customers to your blogs. You can focus on keywords that your audience uses to locate your business and use those within your content.
Content is a powerful tool for local businesses. It generates 3x more leads than traditional marketing. Instead of relying on traditional methods to bring in new customers, you can use content marketing to drive in far more leads for your local restaurant.
Time to Level Up Your Sales
Our long list of services helps you grow every aspect of your business with marketing strategies that are proven to increase bottom-line metrics like revenue and conversions.
In the past 5 years, we've managed more than 12.9 MILLION transactions across our client base.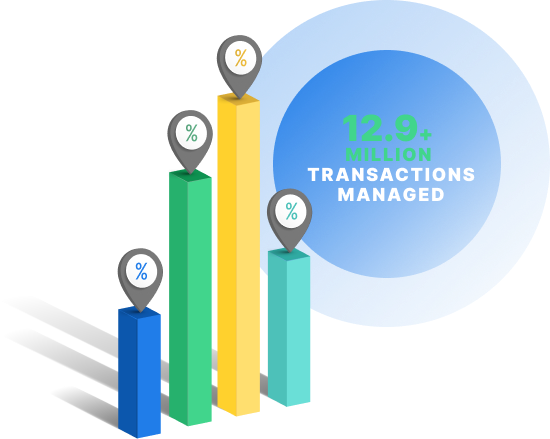 Let WebFX serve you a great local SEO plan for your restaurant
As a restaurant owner, you need to focus on serving your guests great food. Let us focus on serving you a great Local SEO plan. As a full-service digital marketing company, we know what it takes to help your local business thrive.
We have a team of 500+ experts that are dedicated to your campaign. Our award-winning team has years of experience creating local SEO plans for businesses. We take the time to get to know your business, so we can create a unique plan that fits your needs.
Our team knows how to drive results. To date, we've driven over $3 billion in revenue and over 7.8 million leads for our clients. We focus on bringing results for our clients first.
Want to know what it's like to work with WebFX? Ask our clients! We have over 1020 client testimonials from a variety of industries. Check them out to see what it's like to work with a top local SEO company like WebFX!
Get started with restaurant local SEO today
If you're ready to start gaining new leads for your local restaurant, contact us online or call us today at 888-601-5359 to speak with a strategist.
Earn a 20% greater ROI with WebFX