Did you know that 80% of local searches convert? When users conduct local searches, they're typically ready to find a business that fits their needs and convert almost immediately. But if you don't have a local search engine optimization (SEO) plan in place, you'll miss out on these valuable leads for your business.
Figuring out how to implement a successful local SEO strategy can be difficult, and you may not know how to do it properly. That's why we've compiled a list of ways to optimize for local SEO that include local SEO examples to show you how it's done.
P.S. If you want to get the latest tips and tricks on marketing that can help you market your local business better, subscribe to Revenue Weekly!
BONUS READING: Why SEOs Need to Be Genies in a World of Masters
1. Claim your Google Business Profile listing
The first step in local SEO optimization is to claim your Google Business Profile listing. Your Google Business Profile listing is a section of information about your business that appears when someone conducts an "in [city]" or "near me" search. It appears at the top of the search results in a box known as the local SEO 3-pack.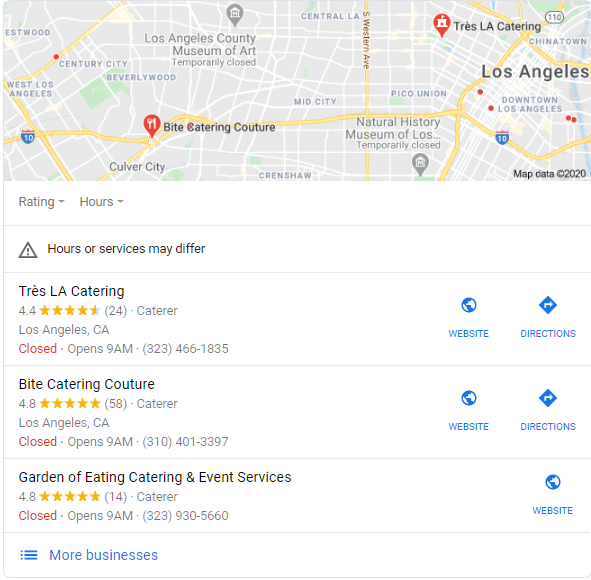 First, you need to go to the Google Business Profile page and claim your listing. After you've claimed your listing, you'll want to start filling out your profile. Completing your profile will require you to fill out important information, like your:
Company name
Address
Phone number
Once you verify this information, you can add additional items to your listing. You'll want to add information like:
Hours of operation
A link to your website
A link to your menu if you serve food
Photos of your location, products, services, and staff
Business description
Google My Business listings with photos get 42% more requests for directions and 35% more clicks to their website. Filling out your profile completely will help your leads feel more informed about your business, so they'll be more likely to choose you. Here's a local SEO example that showcases how your Google My Business profile should look once it's claimed.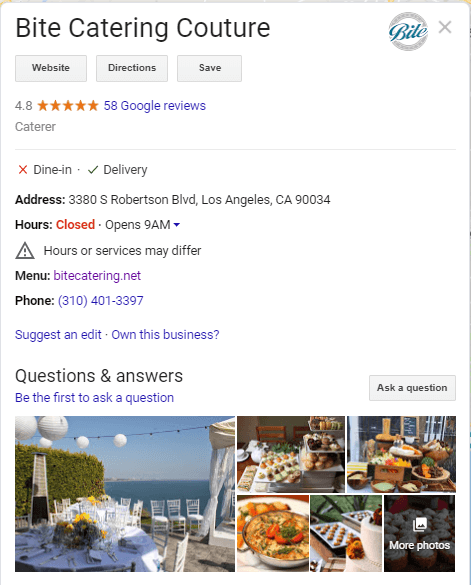 In this example from Bite Catering, you can see they've filled out their profile completely. They added all the vital information to their listing and have an abundance of photos that show off the foods they cater. You can use this local SEO example as inspiration when optimizing your Google Business Profile listing.
2. Optimize for relevant keywords on your site
The next step in local SEO optimization for businesses is optimizing for relevant keywords. If you want to appear in related search results, you need to integrate relevant keywords on your page. This step is crucial since your keywords trigger results.
You'll want your business to appear in relevant search results when your target audience searches for terms related to your business. To rank in local searches, you'll want to focus on local keywords. Focus on long-tail keywords, which contain three or more words.
These keywords will help you reach people most interested in your local business because they're specific, which means the searcher is more likely to be interested in your business if they're searching those terms. When you choose local keywords, you can focus on keywords that include a geographic location to specifically target potential customers in your community. Keywords like "plumber in Los Angeles" or "Los Angeles plumber" can help reach people who want to find a local professional or business.
Once you've selected your keywords, you'll want to integrate them into your site. Some great places to integrate keywords include your:
Integrating your keywords into these areas allow your business to rank in local search results. Let's look at a local SEO example that shows how you can find keywords and integrate them properly into your site. With this example from Mike Diamond Services, you can see that they integrate the local keyword "Plumber Los Angeles" into their title tag.

When you visit their site, you see they feature local keywords like "plumber in Los Angeles" and "Los Angeles plumber" on their page. They also mention serving Los Angeles in their body text.


This example shows how to do local SEO when you're integrating keywords.
3. Make sure your page is mobile-friendly
To make your site local SEO-friendly, your site must work great on mobile. At least 30% of all mobile searches are related to a location or finding local businesses. You must make sure your page looks good on mobile, so people have a positive experience on your site.
Additionally, since Google moved to mobile-first indexing, your mobile site plays a fundamental role in your local search rankings. To see if your site is mobile-friendly, you can use Google's Mobile-Friendly Test Tool. If your page is mobile-friendly, you'll get the green light at the end of your test.
For pages that aren't mobile-friendly, Google will tell you what you need to fix on your site.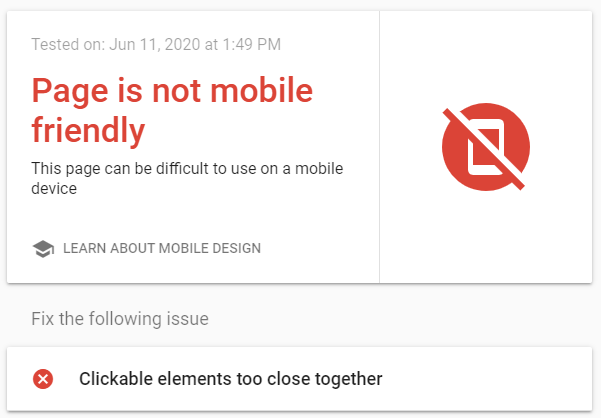 If your site isn't mobile-friendly, the best thing you can do is integrate responsive design into your site. Responsive design ensures that your site adapts to whatever device a user uses.
It will help your site adjust to mobile screens, so users have a flawless browsing experience. Now, let's look at one of the local SEO examples that shows how a mobile-friendly site should look. In this example from I Do Photography, a local Los Angeles wedding photographer, you can see that their site is mobile-friendly when you run it through the test.

If you look at their site on mobile, you can see that the site adjusts beautifully — allowing users to browse their services effortlessly on any device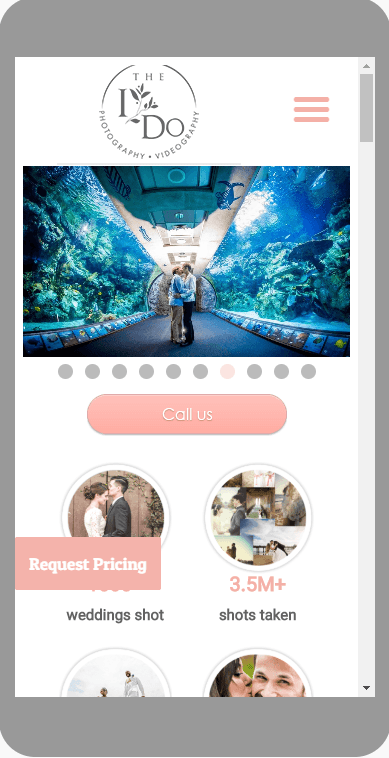 4. Make sure your local listings are consistent
As you learn how to do local SEO, don't forget about the importance of making sure your local listings are consistent across the board. If you don't have an accurate listing across different channels, you risk getting your Google Business Profile listing suspended. Google expects that your business's name, address, and phone number are consistent on their listing, as well as other platforms like Yelp, Yellow Pages, and more.
A suspended Google My Business listing hurts your local marketing efforts and prevents your listing from appearing in local search results. You can use software, like LocalFX, to help you sync your listings across hundreds of directories to ensure you're giving consistent information. As for examples of consistent local SEO listings, we turn to The Udder Bar, a local ice cream shop in Allentown, Pennsylvania.
When you visit their website, you'll see their address information at the bottom.

Then, if you check their Google Business Profile listing, you'll see the information is the same — and it also matches their Yelp listing.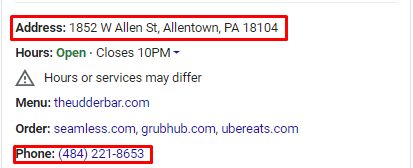 5. Earn and respond to reviews
A critical component of local SEO is reviews. While reviews don't have a direct impact on your ranking, they do impact whether someone chooses your local business. In fact, 80% of people say that online reviews have changed their minds about a purchase.
Online reviews can potentially make or break a person's decision to choose your business, so it's crucial that you keep tabs on your online reviews to ensure that you're engaging with customers and solving issues that arise. You're going to get positive and negative reviews, and it's good to have both on your profile. Users might grow suspicious about profiles that have all 5-star reviews because they wonder about the authenticity of those reviews.
Your audience expects to see negative reviews, so don't worry if you get a few bad ones. The important part is that you address the bad reviews and try to solve any problems. It's extremely important on review platforms since these reviews are public.
Other potential customers want to know that you care about fixing customer issues — so you should always reply kindly. If the issue escalates, feel free to suggest that the customer contacts you via direct message. Of all the examples of local SEO that focuses on review management, we'll focus on The Cinestory.
The owners of Cinestory, a videography company in Los Angeles, California, take the time to respond to reviews, and thank people for leaving them. This practice encourages people to leave reviews in the future and helps new customers feel confident in choosing their business.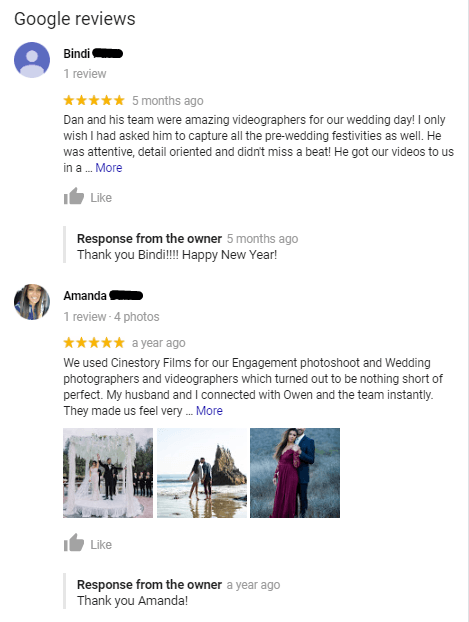 Get started with local SEO today
Now that you've seen some local SEO examples and know-how to get started with doing local SEO, you may feel overwhelmed by everything you need to do.
That's where local marketing experts, like WebFX, can help. As a full-service digital marketing company, we offer everything you need to boost your local presence. We can help you optimize your local listings to attract more qualified leads.
In the past five years, we've driven over $3 billion in sales and over 7.8 million leads for our clients. We can help you drive the results you want. Ready to get started with local SEO?
Contact us online or call us today at 888-601-5359 to speak with a strategist about our local SEO plans!
How is your website's SEO?
Use our free tool to get your score calculated in under 60 seconds.
WebFX Careers
Join our mission to provide industry-leading digital marketing services to businesses around the globe - all while building your personal knowledge and growing as an individual.