Looking for an easier way to manage the content on your website? A content management system (CMS) may be what you need.
But first… what is a content management system or what is a CMS?
Put simply, a content management system is a tool that allows individuals to build websites without needing to hand-code in HTML. It's what more than half of websites used to manage their site's content. But how would you define a CMS in more specific terms, and what does a CMS do?
And how do you choose the best CMS for your website? That's what you'll find out in this blog post. WebFX is a leading Internet marketing company that offers a variety of services, including CMS development and integration.
To learn more about how our team of more than 500 digital marketing experts can help you grow your business, contact us today.
Time to Level Up Your Sales
Our long list of services helps you grow every aspect of your business with marketing strategies that are proven to increase bottom-line metrics like revenue and conversions.
In the past 5 years, we've managed more than 12.9 MILLION transactions across our client base.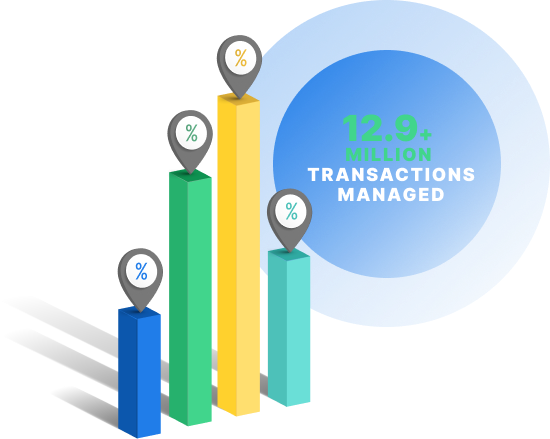 What is a CMS or content management system?
So, how do we define a content management system? Basically, a content management system, or CMS, is a software application used for creating, editing, and publishing digital content, such as blog posts and web pages. With a CMS, you can publish content to your website, even if you have minimal knowledge of coding and web development.
How does a CMS system work?
What is a CMS comprised of?
CMSs consist of two main parts:
A content management application (CMA): The CMA is the part of the CMS that you interact with and use to manage the content on your website.
A content delivery application (CDA): The CDA takes care of the backend processes, including storing your content and making it available to users. You don't typically need to interact with the CDA.
CMSs have an interface that looks similar to a typical word processor, in which you can create your content. You can also upload multimedia content, such as images and videos, to this interface from your media library. Here's a look at the interface you use for creating a blog post on WordPress: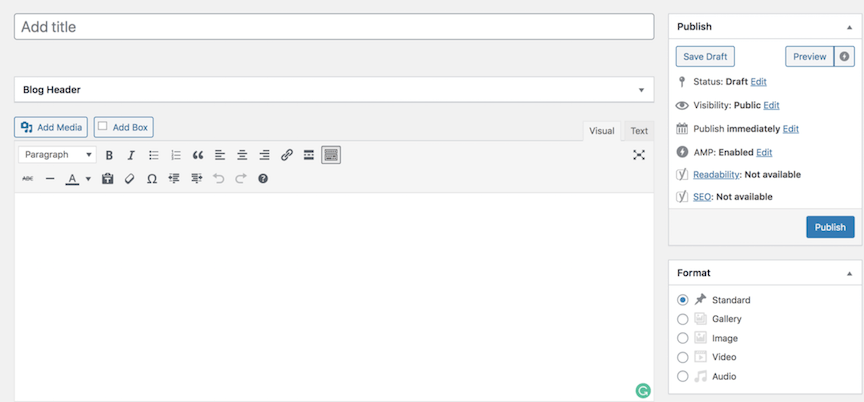 There's also such a thing as a headless CMS, which is a CMS that can detach the front-end — or "head" from the back-end.
That means you can easily switch between different front-end systems without having to change much in the back-end.
Benefits of using a content management system
Without a CMS, you need to create hypertext markup language (HTML) files and upload them to a server. You also need to upload multimedia files to your server. With a CMS, however, you create content within the interface, and the CMS system takes care of the rest for you.
Many CMSs come with numerous templates, themes, and plugins you can use to make creating your website even easier. Instead of creating your content from scratch, you can put your website or blog together using various pre-made components. Many CMSs are free and open-source, but you can also opt for paid platforms or features to get more functionality.
What are some common CMS features?
Features vary between CMSs, but the main features you'll find in most systems include:
Publishing functionality: CMSs allow you to easily create and publish content, often using templates and various other tools.
Format management: CMSs convert content into the proper formats, such as HTML, for web publishing.
Indexing, search, and retrieval: CMSs index your content and provide features that enable users to search within your website.
Revision capabilities: CMSs allow you to edit and update content after publication. They typically track changes as well.
Some other common features include:
Administration panels
Tiered permissions
Various templates, extensions, and tools
Search engine optimization (SEO) features
Social media integration
Analytics
Online help and community support
What are the best content management systems?
Now the question "What is a CMS or what is a content management system" is answered, you have plenty of options to choose from when it comes to CMSs. Here are some of the most popular CMS platforms:
1. WordPress
More than a third of all websites use WordPress, making it the most popular CMS by far. It is free and open-source and has lots of customizable themes and plugins. You can host your site with WordPress or another hosting provider, or host it yourself.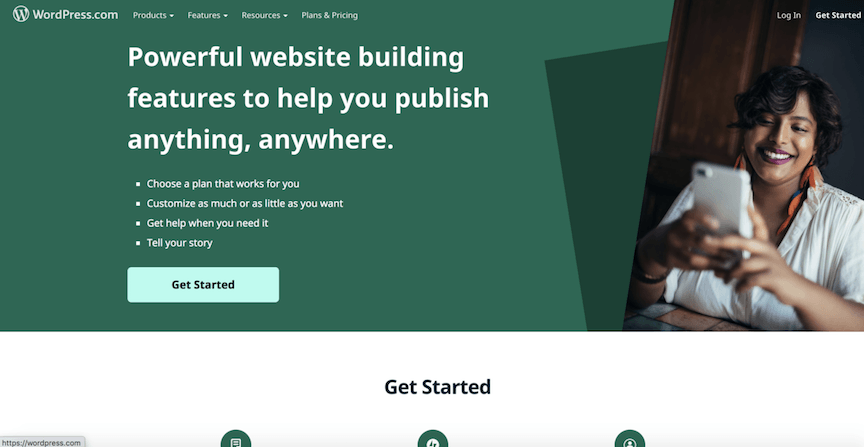 2. Joomla
Joomla is another free, open-source content management system that comes with various extensions and themes. It offers lots of flexibility, but it's a little more complex than some other CMSs. Having some development knowledge can help you make the most of it.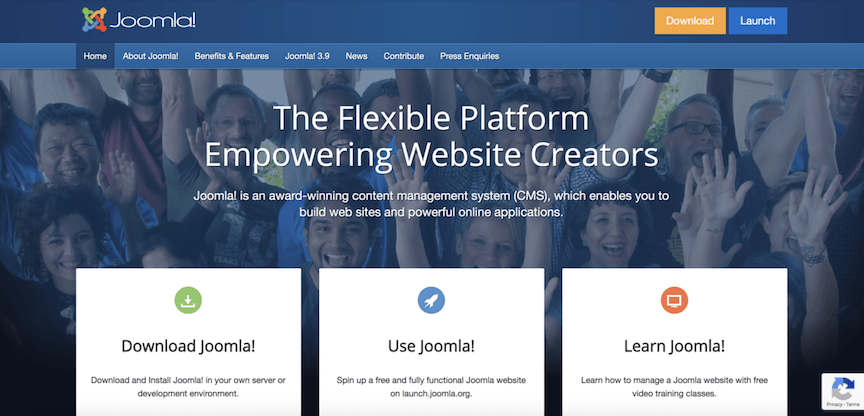 3. Drupal
Another well-known free, open-source CMS is Drupal. It's a bit less user-friendly than some other CMS platforms, but is better able to handle large, complex sites. It's highly flexible and various modules are available for adding features.
4. BigCommerce
BigCommerce is a fully hosted ecommerce CMS, meaning the company hosts your site for you. You can also use BigCommerce with WordPress. While extremely user-friendly, BigCommerce is less flexible than some other ecommerce content management systems.
5. Magento
Magento is an ecommerce CMS from Adobe. This highly customizable platform is ideal for a large, complex site, but is less user-friendly than many other CMSs. You can choose between the free version and the fully hosted version.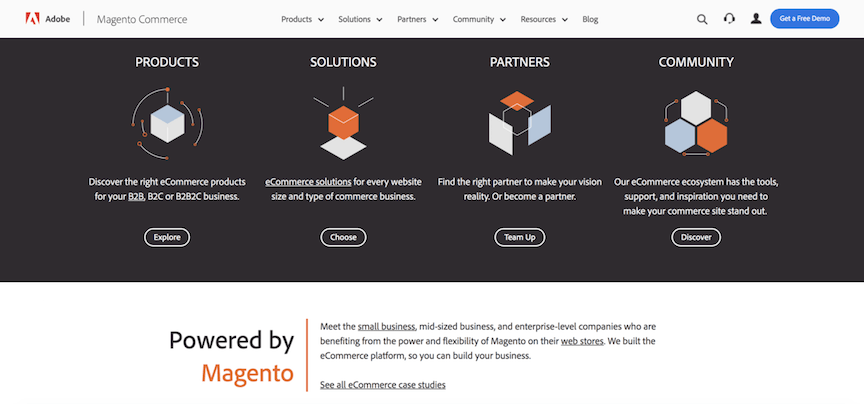 6. Wix
Wix is a user-friendly CMS that offers both a free and paid version, as well as numerous apps for adding functionality to your website. It uses a drag-and-drop functionality and comes with lots of templates. Flexibility is limited, however.
Once you choose a template for your site, you can't change it.
How to choose the best content management system for your needs
So, how do you choose the best CMS for your website? Start by defining your goals for your website and listing the features you need. Then, consider which CMSs offer those features and can help you meet your goals.
First, you'll want to consider factors that impact building your CMS, such as:
Ease of use: Look for a CMS that offers a user-friendly interface that will let you easily set up the features you need. Consider how long it will take you to learn to use the CMS.
Customization: To what extent does a given CMS let you customize your site? Some require you to use templates as-is, while others offer more customization capabilities. Keep in mind that higher levels of customization require more work on your end — and sometimes less user-friendliness.
Versatility: Make sure the CMS will work for the type of site you want to create. Can you use the CMS for any kind of website or is focused on a particular type, like blogging or ecommerce? If you need to expand your website in the future, you want to ensure your CMS has those capabilities.
Plugins, extensions, and modules: Plugins, extensions, and modules allow you to easily add features to your site, such as SEO, authentication, and ecommerce features. Think about what features you need and which add-ons are available for each CMS.
Cost: The cost of a CMS solution varies, but make sure the one you choose fits within your budget without skimping on quality or features. To estimate the cost of your CMS project, use our project quote calculator.
Next, you'll want to look at the more technical aspects of the CMS. Some factors to consider include:
Performance: Choose a CMS that is sufficiently fast and reliable. The host you choose and the plugins you use also influence your site's performance.
Security: Adequate security is crucial. Choose a CMS that offers security features, either through the CMS itself or through high-quality plugins.
Support: Consider the documentation, customer support, and community support available to help you make the most of your CMS.
Compliance with web standards: Choose a CMS that was developed using web standards guidelines and best practices, such as using the latest version of HTML, and emphasizes their importance.
CMS development services from WebFX
CMSs are the easiest way to manage your website's content. They help you create, update, manage, and publish content in an efficient, user-friendly way. If you want to get the most out of your CMS, consider working with WebFX.
We can develop a custom CMS tailored to your needs or assist with integrating a CMS platform into your website. We also specialize in ensuring your CMS is search engine-friendly, which increases your website's visibility. As a full-service digital marketing agency, we also offer a range of other services to help you grow your online presence.
To get an instant estimate of the cost of your CMS project, try our project quote calculator tool. Give us a call at 888-601-5359 or contact us to learn more about our CMS development services.
How is your website's SEO?
Use our free tool to get your score calculated in under 60 seconds.
Get posts by email
Join 200,000 marketing managers and subscribe to Revenue Weekly!
"*" indicates required fields
WebFX Careers
Join our mission to provide industry-leading digital marketing services to businesses around the globe - all while building your personal knowledge and growing as an individual.