Did you know that, globally, about 30,000 websites get hacked every day? That's why, in the 21st century, having a secure website is more critical than ever. Securing your site helps ensure you keep customers' data safe as they input it while also building trust with these shoppers.
So, how do you secure your site?
With an SSL certificate, of course!
On this page, we'll answer your questions about these certificates, like:
Keep reading to get all the answers to your SSL questions!
SSL certificate definition: What is an SSL certificate?
An SSL certificate, also known as a Secure Sockets Layer (SSL) certificate, contains small data files that encrypt any data passed between a web server and a browser. This encryption ensures everything passed between the server and browser remains private and protected against hackers.
What are the types of SSL certificates?
Now that we covered the SSL certificate definition, let's move on to the different types of SSL certificates you can obtain. There are six main types of SSL certificates:
1. Extended Validation (EV) SSL certificate
The EV SSL certificate is the most advanced and most expensive SSL certificate you can get. This certificate encrypts extremely personal information, like payment information. It's highly recommended for any ecommerce business.
2. Organization Validated (OV) SSL certificate
This certificate is an option for businesses that want to have a relatively secure site but can't afford the expense of the EV certificate. This certificate will validate that your site is authentic and provide some level of security for visitors.
3. Domain validation (DV) SSL certificate
This certificate offers the lowest level of data encryption. It's the quickest validation you can get, but it doesn't provide the level of protection that the other certificates offer.
4. Wildcard SSL certificate
Wildcard SSL enables you to secure a base domain and unlimited subdomains. This option is good if you have multiple subdomains you need to secure.
5. Multi-domain SSL certificate
With this certificate, you can get site security for multiple domains or subdomains. This option is excellent if you have numerous unique domain names and don't want to pay for an individual certificate for each website.
6. Unified Communications Certificate
This SSL certificate enables you to secure multiple hostnames under one certificate.
How to get an SSL certificate
Now that you know the purpose of an SSL certificate, it's time to obtain one! Here are the steps to follow for getting an SSL certificate
1. Determine which certificate suits your needs best
If you want to know how to get an SSL certificate, start by determining which certificate suits your business's needs best. Since there are six options, you'll want to choose the one that provides you with the level of security you need.
2. Make sure your information is correct
To get a valid SSL certificate, you need to make sure all your company information is right. This information includes your site name, company name, and address.
3. Choose your Certificate Authority (CA)
To get your SSL certificate, you need to choose a Certificate Authority (CA). Some well-known CAs include:
Comodo SSL
GeoTrust
GlobalSign
RapidSSL
4. Create a Certificate Signing Request (CSR)
Once you find the provider you want to use, you will generate a Certificate Signing Request (CSR) on your server. If you're using a hosting company, you can get help with this step from the company.
5. Wait for validation
Once you submit your CSR to your CA, you will have to wait for the CA to validate your domain and company details.
6. Install your certificate
Once validated, you can install the certificate on your site. You may need to coordinate with your web developer to help you install the certificate. You'll want to work with your web developer to set up a redirect from the old version of your site, with the HTTP, to your new site with the HTTPS.
Why do I need an SSL certificate?
Now that you have an answer to "What is an SSL certificate?" and know the different types of certificates, you may now be asking, "Why do I need an SSL certificate?" What's the benefit of having these certificates anyway?
There are three big reasons you'll want to get an SSL certificate for your website:
1. You want to obtain data from your audience
If you're looking to collect data from your audience, you need to secure your site with an SSL certificate. Visitors are willing to share personal information with your business, but they don't want to put it at risk of hackers getting ahold of it. So, if you want to obtain data about your audience and know who's visiting your site, you must get an SSL certificate.
It will encourage more people to share their information with you because they know it's protected.
2. You want people to feel safe buying from you
The purpose of an SSL certificate is to make people feel safe on your site. And when you're an ecommerce store, providing a secure shopping experience is critical. People will not give their personal payment information to a website that doesn't encrypt the data.
Shoppers don't want to put their money at risk to shop on unsecured sites. So, if you don't have an SSL certificate, you're missing out on sales for your business.
3. You want to convey trustworthiness to your audience
Still asking, "Why do I need an SSL certificate?" Well, the answer is simple: It builds trust. One of the biggest reasons to get an SSL certificate is that it builds trust with people who visit your site. When people browse your products or services and see you have a secure site, they trust your business.
They know you'll keep their information safe, which helps build confidence in your company, too. As a result, they're more likely to trust your business and ultimately choose you when they're ready to convert.
FAQ on SSL certificates
We've answered questions like "What is an SSL certificate?" and "Why do I need an SSL certificate," but you may still have some questions. Well, we've got answers!
Check out this handy FAQ to get answers to some of your lingering questions:
How long do SSL certificates last?
SSL certificates typically last one to two years.
At most, an SSL certificate can last up to 27 months (two years, plus three months). Certificates don't last longer than that to ensure they're up to date and have the correct information. Once you certificate expires, you'll need to renew it or choose another top SSL certificate provider.
Does SSL benefit search engine optimization (SEO)?
Yes!
Having an SSL certificate is a great benefit to search engine optimization (SEO)! Google takes having an SSL certificate into account when ranking your site. With having an SSL certificate, you can outrank sites that don't have an SSL certificate.
So, it's a benefit to your business to have one to help you rank better in search results.
How can I tell if my SSL certificate is active?
If you get an SSL certificate and want to know if it's active, you can check by visiting your site on a web browser. When you see your website, there should be a closed padlock in the URL bar and "HTTPS" in your business's URL instead of HTTP.

Then, when you click on the padlock, you can see that the certificate is valid and active.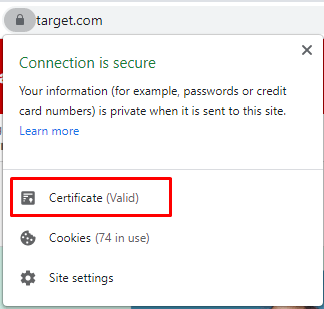 Do I have to revalidate my information when renewing my SSL?
Yes, every time you get a new SSL, you need to revalidate your information. A lot of companies can change hands, change names, or something similar.
In those cases, your information may change and needs updated on your SSL certificate.
Our digital marketing campaigns impact the metrics that improve your bottom line.
See More Results

WebFX has driven the following results for clients:

$3 billion
In client revenue

7.8 million
Leads for our clients

5.2 million
Client phone calls
Need help obtaining your SSL certificate?
Obtaining and installing an SSL certificate is key to helping you deliver a secure experience for your audience. But if you aren't sure where to get one or how to set it up, our team at WebFX can help. We can help you secure and maintain your site.
We have a team of over 500 marketing and web development experts ready to help. With our website maintenance services, we can help you maintain the security of your site. With over 25 years of experience, you can feel confident in our expertise.
Ready to secure your site? Contact us online or call us today at 888-601-5359 to speak with a strategist!
WebFX Careers
Join our mission to provide industry-leading digital marketing services to businesses around the globe - all while building your personal knowledge and growing as an individual.