7 Takeaways from Creative Snapchat Campaigns
6 minute read
Emily is WebFX's Content Delivery Lead. She holds an M.S. in digital marketing and leads the FX content team, along with strategy, implementation, and evaluation for WebFX's key revenue channels. Her work has been featured by Social Media Today, Campaign Monitor, Reader's Digest, Yahoo, and more. In her free time, she enjoys hiking, road trips, and exploring new cities. Follow her on Twitter @emcarter16 or connect on LinkedIn. @emcarter16
Snapchat has officially overtaken Twitter in daily usage with 150 million people logging into the platform each day. It also has a relatively young user base, and 71% of Snapchat users in the U.S. are between the ages of 18 and 34. This means your grandma probably isn't going to view your Snapchat story. But for companies whose target audience falls within this age range, Snapchat is quickly becoming a key component of their digital marketing strategies. In this post, we'll take a look at some takeaways from 7 creative Snapchat campaigns that you can use to enhance up your digital strategy.
Let's get started!
1. Netflix: Gilmore Girls
In October 2016, Netflix took over 200 coffee shops to recreate Luke's café from the hit television show Gilmore Girls. Each café served free coffee to excited customers in Luke's cups to promote the four-part Gilmore Girls revival on the video-streaming service. Netflix printed snapcodes, the Snapchat version of QR codes, on 10,000 Luke's cups.
Fans could then take pictures of the decals and apply a sponsored filter to their posts. The Netflix branded filter included an image of a toaster and a sign from Luke's, and it was viewed over 880,000 times. Takeaway: Even if you're working with a smaller budget, custom Snapchat geofilters are a great way to promote events for your business.
I even went to two Halloween parties this year that had awesome geofilters! You can create your design, select a time and location, and submit your filter for review within one business day.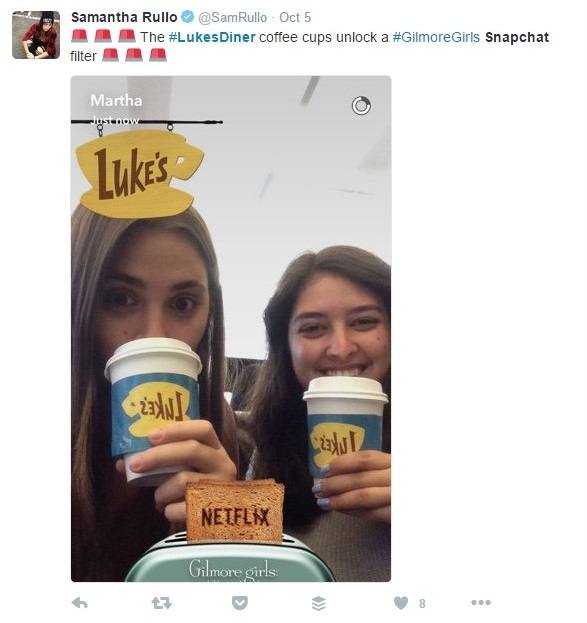 2. Warby Parker: Desk Job
American eyewear company Warby Parker launched the creative Snapchat series, "Desk Job." In this series, the company highlights employees, who take the audience through their 5 desk essentials— interesting items they keep on their desks to increase productivity and fun at the office. I didn't even know that a desktop ping pong net was a thing, but now I want one! Actually, my desk buddy wants to get rid of our desks and just sit at either end of a ping pong table.
Sounds like a plan to me. Warby Parker also uses Snapchat to showcase products and even give users a chance to tune in and hear from the company's co-founder. The company also does a great job of promoting their stories on their other social media profiles.
Takeaway: Don't be afraid to get creative on Snapchat. People love feeling like they are getting an inside look at your company, and a weekly series gives followers something to look forward to. You can also personalize your brand on Snapchat and feature your snaps on social media sites like Twitter.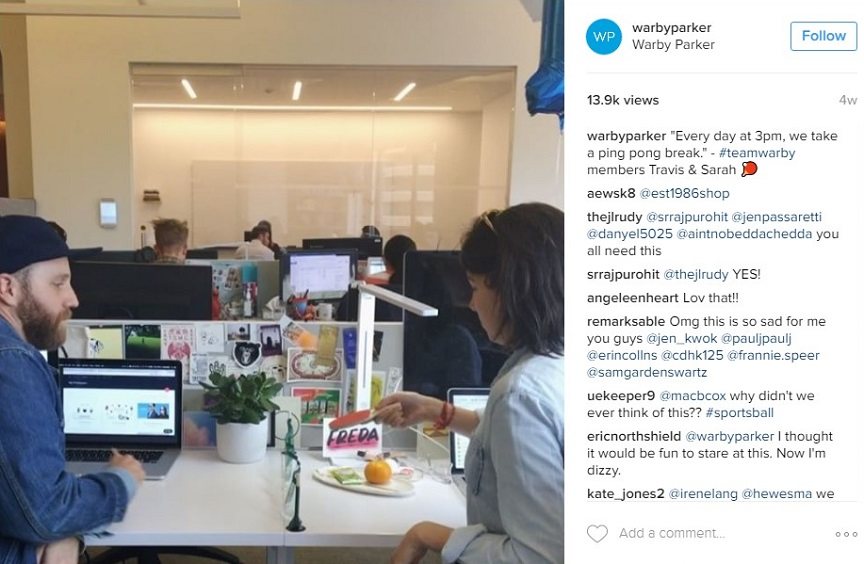 3. Taco Bell: Cinco de Mayo Snapchat Lens
Taco Bell spiced up its Snapchat strategy with a festive Cinco de Mayo Snapchat lens that created quite the stir. Let's be honest. Who doesn't want to see what their head looks like as a giant taco?
Although it was only active for one day, the lens was viewed 224 million times, making it the most successful campaign in the app's history. Takeaway: Taco Bell's Snapchat lens featured subtle branding, while still making Snapchat users the stars of the show. This is a great way to connect people with your brand and showcase your company's personality.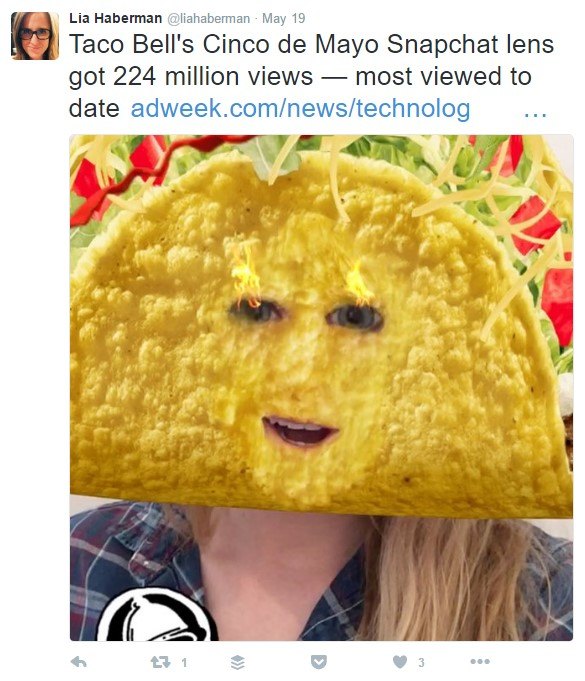 4. Sour Patch Kids: Logan Paul
Snapchat is popular with younger generations, so it makes perfect sense for Sour Patch Kids to reach candy-loving teens on the platform. Sour Patch Kids partnered with Vine Star Logan Paul to increase its Snapchat following. Logan created a five-day series of Snapchat stories based on the theme "sour then sweet," which featured him getting into mischief with a life-size Sour Patch Kid.
The campaign resulted in 120,000 new Snapchat followers, more than 26,000 screenshots, and more than 6.8 million Snapchat impressions. Takeaway: Incorporating influencer marketing into your Snapchat strategy is a great way to increase brand exposure and get people excited about your company. Plus, partnering with a celebrity or notable figure increases trust among potential customers.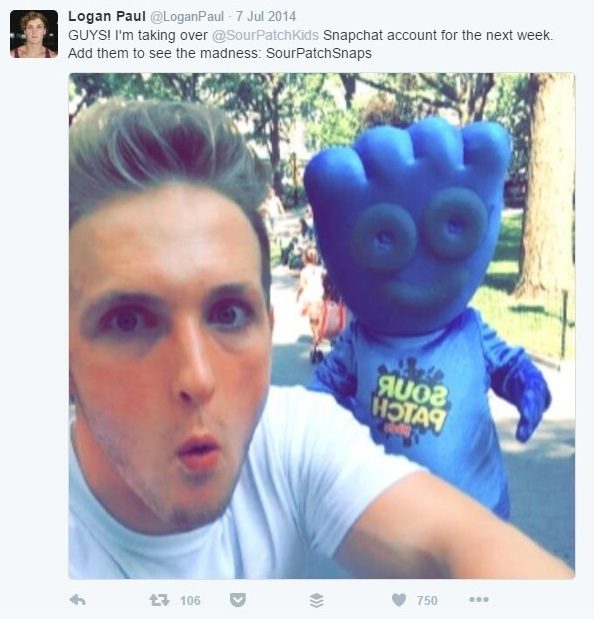 5. MTV: VMAs Live Story
During the 2015 VMAs, MTV hosted a live story on snapchat. Anyone in the area could post pictures and videos to that Live Story, and celebrities and audience members shared hilarious behind-the scenes footage. About 10 million people tuned in to watch the VMAs on TV, and 12 million people viewed the story on Snapchat.
Takeaway: Snapchat is a great way to give fans a behind-the-scenes look at your company. While you may not have celebrities posting to your Snapchat story, you can highlight employees, your CEO, and even office events to give viewers an inside look at your company culture.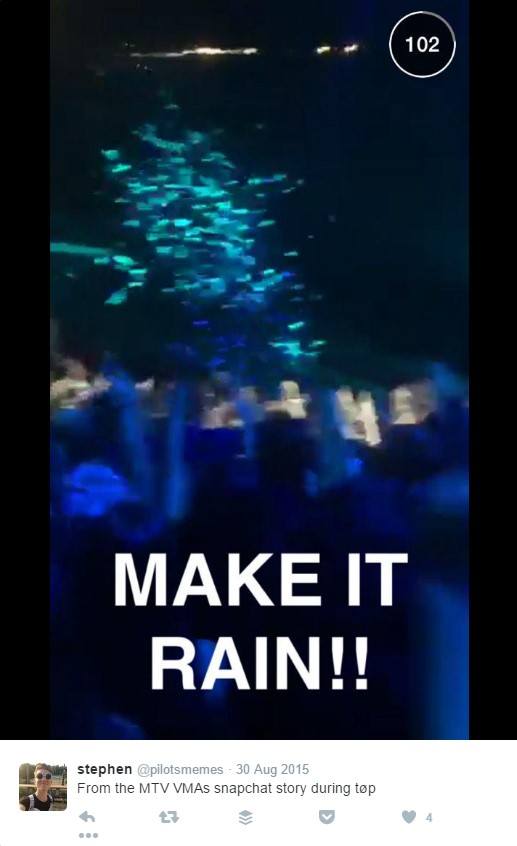 6. Major League Soccer: Player Takeovers
Major League Soccer dedicated an entire week to player takeovers on Snapchat. Each day, a new soccer star took over the MLS Snapchat account, and they promoted it on their own accounts leading up to their takeover. This gave fans an inside look at the everyday activities of players and resulted in some hilarious content. Takeaway: Snapchat takeovers are a fun way to engage and grow your audience.
You can partner with celebrities, social media influencers, or leaders in your industry, as they give followers a unique glimpse into your industry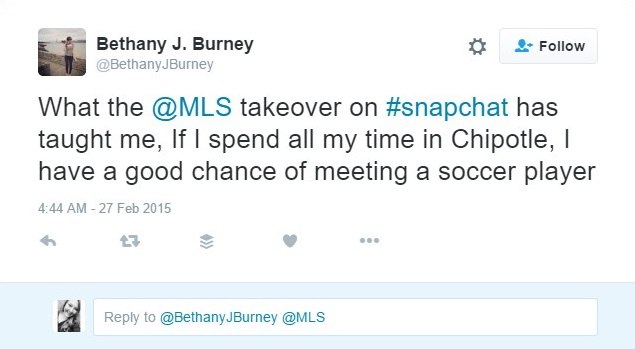 7. iHeartRadio: Festival Buzz
Leading up to its music festival in Las Vegas, iHeartRadio hired Ryan Seacrest to announce the lineup on Snapchat. To build additional buzz, iHeartRadio also used the Snapchat Discover feature. During the festival, iHeartRadio earned 340 million Snapchat impressions in two days as fans flocked to Vegas to bask in the tunes of Kanye West, Demi Lovato, Kenny Chesney, The Weeknd, and more.
Takeaway: Ryan Seacrest might not be able to announce your event, but Snapchat is still a great way to promote events for your business. Giving viewers mini previews of what they can expect at the event can build excitement and encourage them to spread the word.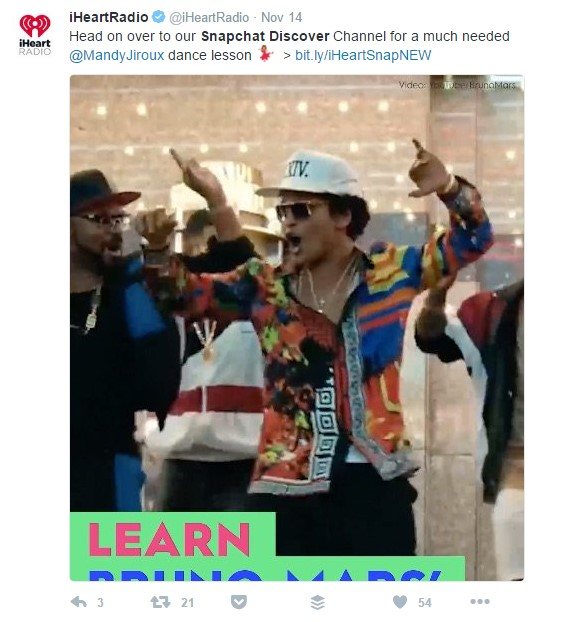 Do you use Snapchat for marketing?
Is Snapchat part of your company's digital strategy?
Do you have a favorite brand on Snapchat? Let us know in the comments below! And subscribe to Marketing Manager Insider for more insights, strategies, and tips delivered straight to your inbox.
Emily is WebFX's

Content Delivery Lead

. She holds an M.S. in digital marketing and leads the FX content team, along with strategy, implementation, and evaluation for WebFX's key revenue channels. Her work has been featured by Social Media Today, Campaign Monitor, Reader's Digest, Yahoo, and more. In her free time, she enjoys hiking, road trips, and exploring new cities. Follow her on Twitter

@emcarter16

or

connect on LinkedIn

.

@emcarter16

WebFX is a full-service marketing agency with 1000+ client reviews and a 4.9-star rating on Clutch! Find out how our expert team and revenue-accelerating tech can drive results for you! Learn more
Twitter and Facebook Status Generator
Finding engaging social media content for your business can be difficult. Use our tool to quickly find ideas and post directly to your page.
Give Me an Idea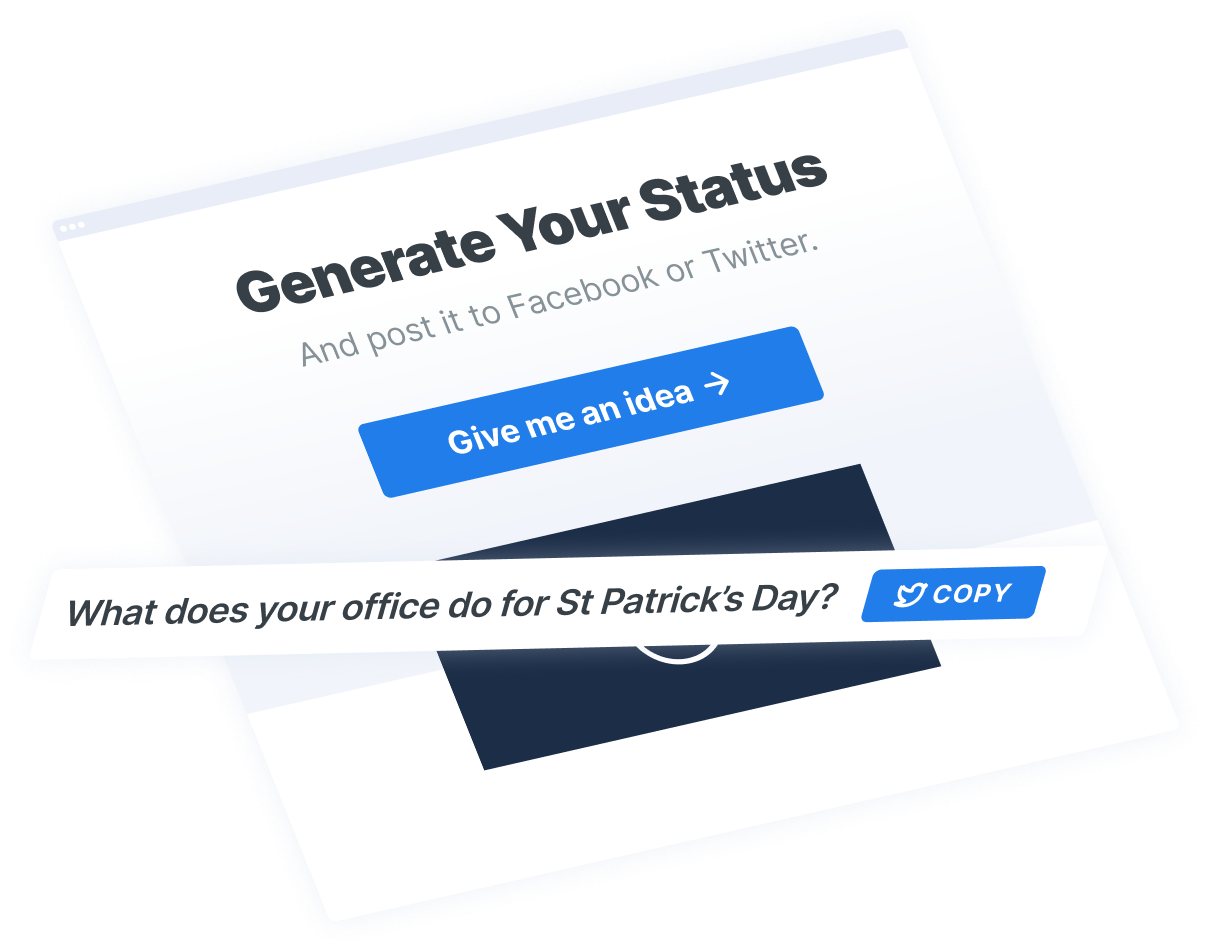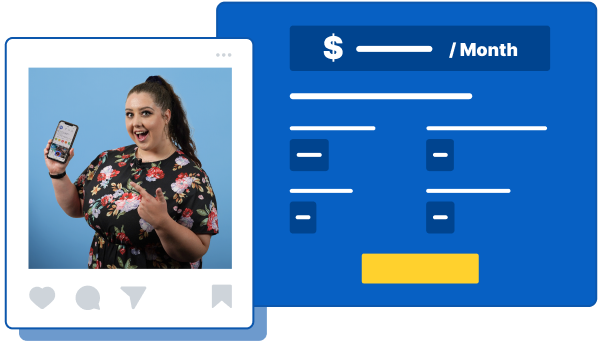 Twitter and Facebook Status Generator
Finding engaging social media content for your business can be difficult. Use our tool to quickly find ideas and post directly to your page.
Give Me an Idea