Social Media

How to Generate More Leads With Facebook Autoplay Video Ads
How to Generate More Leads With Facebook Autoplay Video Ads
10 minute read
Sarah Berry is a Google Analytics-certified Web Marketing Consultant at WebFX. She's written over 400 articles on digital marketing, covering topics like SEO, CRO, and Amazon. When she isn't polishing her Time Magazine Person of the Year Award, she's spending time with her flock of ducks.
With more than two billion users, Facebook offers unparalleled access to the world's shoppers — including businesses. While you can reach your audience through the platform's ad services, which include video ads, it's critical that you create compelling content that makes your target audience act. For many businesses, that means encouraging users to like or follow your page, join your email newsletter, or visit your website — steps that can turn a high-value audience member into a hot lead for you and your team.
The question for many companies, however, is how do you do that with video ads on Facebook?
74% of people use social media when making a purchasing decision.
Make their decision easy with a stellar social media presence. See how your brand can level up by requesting a no-obligation proposal today.
One of our experts will be in touch within 24 hours!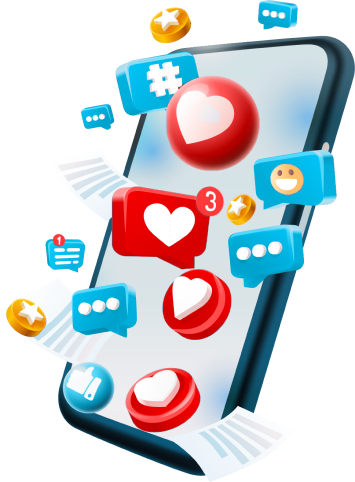 What are Facebook autoplay video ads?
If you're familiar with video ads on Facebook, they're identical to autoplay video ads. When you create a video ad or video content, it'll automatically play for users when they scroll through their News Feed. It's worth noting that users can disable the autoplay feature in their account settings — some may take this step to avoid extra data usage on their mobile phone.
If they do, they'll still see your video ad, but will have to click the play button if they want to watch it. That's why you want a must-click thumbnail and introduction for your ads, which we'll talk about later.
Why use autoplay video ads for lead generation?
With users free to disable the autoplay feature of video ads on Facebook, it's normal to question the use of video ads in your lead generation campaign. Wouldn't an image-based advertisement, such as a carousel ad, work better?
Not necessarily. People love video content. In fact, when it comes to video on Facebook and Instagram, users look five times longer at video content than static content, which can include images or text.
They're also ten times more likely to interact with video than text. Whether you're looking to earn leads, likes, followers, or comments, you want that interaction from users. This factor is even more critical when you consider lead generation as video ads on Facebook can include a built-in lead generation form.
Look at the massive catalog of case studies Facebook has on lead generation and you can see that video advertisements work for companies of all sizes, industries, and target audiences. Take Chatbooks, for example. They're a smaller company that creates and prints photobooks through a mobile app.
For their advertising strategy on Facebook, they opted to create a video ad that targeted mothers. The day their campaign launched, their new customers increased seven times over. Overall, their daily average for new customers increased three times.
When you look at the success of Chatbooks, as well as several other companies in different markets, you can see the value of autoplay video ads. They're a smart choice when it comes to generating new and valuable leads via Facebook.
7 ways to generate more leads with Facebook video ads
Now that we know the value of Facebook video ads, let's look at seven ways to earn more leads with them:
1. Include a lead gen form
If you want to boost your lead generation efforts on Facebook, it's critical that you include a lead generation form, which you can add-on to your ad. They not only make it easy for users to act on your calls-to-action (CTAs) but also seamless for users to provide their information. With a lead generation form on Facebook, you can encourage users to take several actions, including:
Schedule an appointment
Request a quote
Sign-up for a newsletter
Receive an exclusive product deal or offer
The best part is that Facebook will fill out these forms for users. It'll pull their account information, such as their name, email address, phone number, job title, and more. You can also include up to 15 questions exclusive to your business, such as a multiple-choice question about which product a user wants to learn more about.
The types of questions you can have on your lead generation form include:
Multiple choice: Provide users with a series of choices.
Store locator: Let users search for a store near them.
Short answer: Have users provide a quick response to an open-ended question.
Conditional: Let users answer a series of multiple-choice questions that adapt to user responses.
Appointment scheduling: Offer users a quick way to book an appointment with you.
If you're creating customized questions on your lead generation form, keep them brief and to-the-point. By asking for too much information, you can make the process inconvenient and turn-off users, which can cause a drop-off in leads.
2. Mix up the video format
Facebook offers a variety of video ad types, including:
GIFs: A bite-sized video that lasts only a few seconds.
Vertical video: A vertical video — versus landscape — that can tell stories.
Carousel: A series of separate or related videos in a single ad that users can scroll through.
Canvas: A video that users can open for a full-screen experience.
Collection: A video ad that features a grid with product images and links.
Live: A video that serves as a commercial for live events.
360: A video that lets users watch a video from different perspectives and angles.
In-stream: A video that appears while users watch other video content.
For your marketing campaign, you want to take advantage of these formats — especially if you're targeting every level of your buying funnel. By using different video ad types in your campaign, you can also see what formats draw the most leads from your target audience. If you're targeting audiences exploring or researching products, for example, you may create carousel ads that highlight your kitchen cabinetry products.
But, for users ready to buy, you may use a live video ad that plays during an industry-related event live stream, such as a trade show for home cabinetry.
3. Limit ads to 15 seconds
For the best results, keep the runtime of your Facebook video ads to 15 seconds or less. That may seem like it's not enough time to promote your product, but it's what users demand when it comes to their time. In fact, 47 percent of your ad's value comes from the first three seconds.
Look at this video advertisement from Baked NYC, a bakery and café in New York.

In three seconds, you know that they're accepting pie pre-orders for Thanksgiving, from pumpkin to pecan. The Baked NYC team accomplishes this feat by including a GIF of pies, as well as to-the-point text that's easy for users to follow.
It worked too, as pie sales increased by 40 percent! Keep in mind the approach of Baked NYC when it comes to decreasing your ad's time. Aim for a simple, concise approach to your ads.
It'll help you generate interest from your target audience and earn those valuable leads.
4. Add subtitles and text
When it comes to video advertisements on Facebook, it's essential that you design for sound off. The reason is that users can mute your video — some may even have their sound off too. That's why you want to include subtitles, as well as text in your videos.
By adding text and subtitles, you're engaging users and providing them with content. They can also follow-along with your ad's message, whether it's about the benefits of your products or the charitable work of your team. For example, look at this stop-motion video ad from America's Test Kitchen.

The media company, which tests and produces content about kitchen products, includes text in their ad. With zero sound, users know that the company's offering a foolproof recipe for crafting the perfect fried egg — all they have to do is sign-up. This approach worked well for America's Test Kitchen.
Their leads increased by 45 percent, plus their cost-per-lead decreased by more than 30 percent. That let the company maximize their return on investment (ROI). If you're new to adding text and subtitles to videos, Facebook recommends several apps that can give your video ads a professional look, including Quik.
Should you partner with a marketing agency, they'll likely take care of this step for you.
5. Use automatic bidding
While manual bids are an option for your autoplay video ads on Facebook, automatic bids offer a competitive choice when you're looking to maximize your lead generation efforts. When you choose automatic bidding, Facebook modifies your bid to generate as many leads as possible for you. Before you use automatic bidding, Facebook recommends reviewing your capabilities, as automatic bidding can generate a substantial amount of leads in a short amount of time.
That can overwhelm your staff and lead to delays in serving those potential clients. Now, if you're looking to increase your email subscribers, you probably don't have to worry as much about this factor. You should, however, make sure you have an appropriate program or application to track your email marketing campaign's analytics — one example is EmailMarketingFX.
If your advertising strategy aims to generate phone calls, quote requests, store visits, and other actions that require your team's time, however, Facebook recommends that you start with a lower daily budget. That way, you keep your leads manageable. Should you use manual bidding, though?
If you know the monetary value of a lead, manual bidding is an option worth considering. In most cases, however, companies will start with automatic bidding because it provides valuable data that you can use to refine a lead's value.
6. Create mobile-friendly ads

With more than 75 percent of Americans owning a smartphone, you can expect they're using them to access Facebook. That's why you want to create mobile-friendly video ads, which means they'll have a ratio of 9:16 or 16:9 — essentially, users can view them in landscape or portrait mode on their devices. Plus, you can optimize the space you occupy on their device.
A mobile-friendly, vertical video ad will take up more space on the screen than a desktop-friendly, horizon video ad. That gives you a better chance to capture the attention of users. A great example of the difference that a mobile-friendly video ad makes comes from Finish, a dishwashing brand.
The team at Finish wanted to re-use one of its television advertisements for Facebook.

The team started by trimming the 30-second ad down to 15 seconds. They also linked the unrelated stories into a single story, plus mentioned the company earlier.
In response, three-second views increased by more than 65 percent and 10-second views jumped by more than 135 percent.
7. Install Facebook Pixel
It's critical to understand where your leads come from, which is why Facebook Pixel is a must-have tool. What is Facebook Pixel? It's a code you add to your website to track events or actions, such as a lead resulting from your efforts on Facebook.
Facebook Pixel is also useful for building your audience, as well as improving your ads. Depending on your role, you may make and install the code on your website. Or, a member of your team that manages your site will handle the process.
If you do install the code, Facebook offers an extension for Chrome, called Facebook Pixel Helper, to troubleshoot any issues. To track and view data from Facebook Pixel, log in to Facebook Ads Manager.
Not happy with your social media engagement?
We've got just the blog post for you.
Read the Blog Post & Watch the Video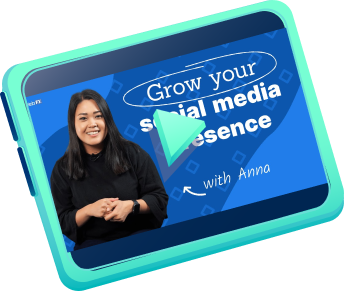 Discover more ways to optimize your Facebook ads
Want to learn more about boosting your advertising strategy on Facebook? Join more than 60,000 other marketers and business owners by signing up for our newsletter at the top and get tips and strategies to help your campaign succeed!
Sarah Berry is a Google Analytics-certified

Web Marketing Consultant at WebFX

. She's written over 400 articles on digital marketing, covering topics like SEO, CRO, and Amazon. When she isn't polishing her Time Magazine Person of the Year Award, she's spending time with her flock of ducks.

WebFX is a full-service marketing agency with 1000+ client reviews and a 4.9-star rating on Clutch! Find out how our expert team and revenue-accelerating tech can drive results for you! Learn more
Twitter and Facebook Status Generator
Finding engaging social media content for your business can be difficult. Use our tool to quickly find ideas and post directly to your page.
Give Me an Idea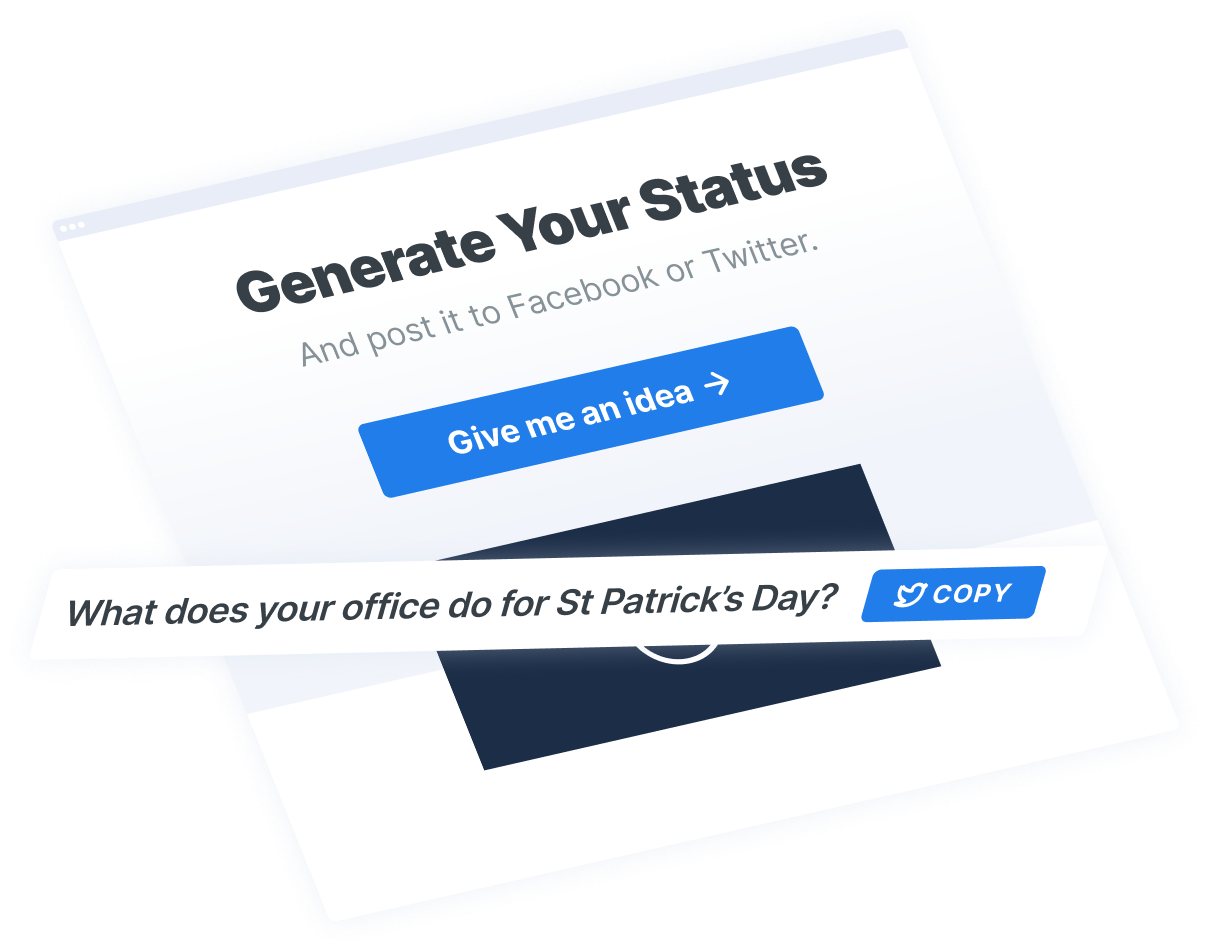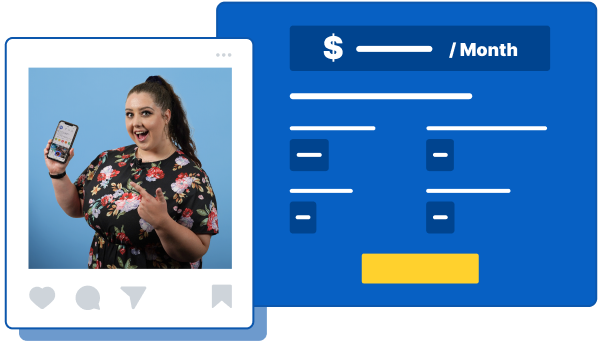 Twitter and Facebook Status Generator
Finding engaging social media content for your business can be difficult. Use our tool to quickly find ideas and post directly to your page.
Give Me an Idea