Social Media

The Witty, The Funny, and The Inspirational: 250+ Engaging Instagram Caption Ideas to Use in 2023
The Witty, The Funny, and The Inspirational: 250+ Engaging Instagram Caption Ideas to Use in 2023
May 31, 2023
15 minute read

Savannah is a content marketer with editorial experience spanning several businesses. Specializing in social media and marketing trends, she loves talking about the latest developments in online marketing. When she's not writing, Savannah loves traveling, hoarding books and coffee mugs, and adoring her cat. Please don't ask her about famous true crime cases, or else she'll tell you all about her theories and get absolutely no work done.
A picture is worth a thousand words, but what about its caption? While Instagram may be geared toward eye-catching photos and videos, the right caption for your post can improve user engagement and entice more people to follow your brand.
Today we're stepping into the shoes of influencers and giving you the inside scoop on the 250+ best Instagram caption ideas to engage your audience in 2023.
Looking to step up more than just your Instagram caption ideas? WebFX is a full-service social media marketing agency with experts specializing in all your favorite platforms. From Instagram to TikTok, we've got your back.
Contact us online or give us a call at 888-601-5359 today to learn more about our social media marketing services.
Not happy with your social media engagement?
We've got just the blog post for you.
Read the Blog Post & Watch the Video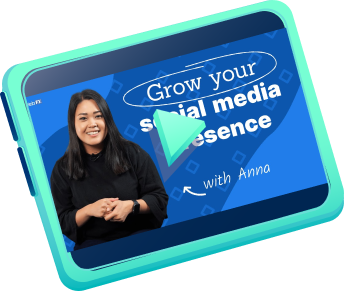 What is an Instagram caption?
First things first — let's talk about what Instagram captions are and why they're important enough to warrant a 250+ item list.
Instagram captions accompany posts, sitting underneath photo, video, and ad content. They serve as a written explanation or description of the photo or video to provide addition context to users.
With emojis, hashtags, tags, and up to 2200 characters, you have sufficient space to add to your post. Whether you use the caption to be inspirational, funny, or informative, Instagram captions are a great way to add more value to your post and encourage more user engagement.
Check out some of the best Instagram caption ideas to spice up your posts in 2023:
Instagram captions for businesses
Make your posts unique with these Instagram caption ideas for businesses. From service and product announcements to event recaps, we've gathered some caption ideas that can help you enhance your Instagram posts.
Big things are coming… Stay tuned for a major [Product/Service] announcement!

You + [Company] = the perfect pair. Join us today!

Recently, some of our amazing team members took a trip to [Location, Event, Etc.]. Swipe to see how it went!

It's [Holiday] here at [Company]! Swipe to see how our team members celebrated.

Hey, [City]! We're here at [Event] — stop on by at Booth [#] and say hello!

We're thrilled to welcome [Client] to our [Location] office!

Never forget your roots — [Company]'s humble beginnings started right here.

Tired of [Pain Point]? Good news: you're not alone. Join the [#] clients who teamed up with [Company] overcome [Pain Point] and to soar to new heights.

Is it Friday yet? Swipe to see how some of our team members are fighting the Monday blues today.

Want to join a team of enthusiastic and creative people? Hit the link and check out [Company's] open positions!
Instagram captions about teamwork and employee appreciation
Your employees are important to the success of your business. Show appreciation for them with these Instagram caption ideas centered around teamwork and employee appreciation.
"No individual can win a game by himself." —Pele

Our team takes the cake.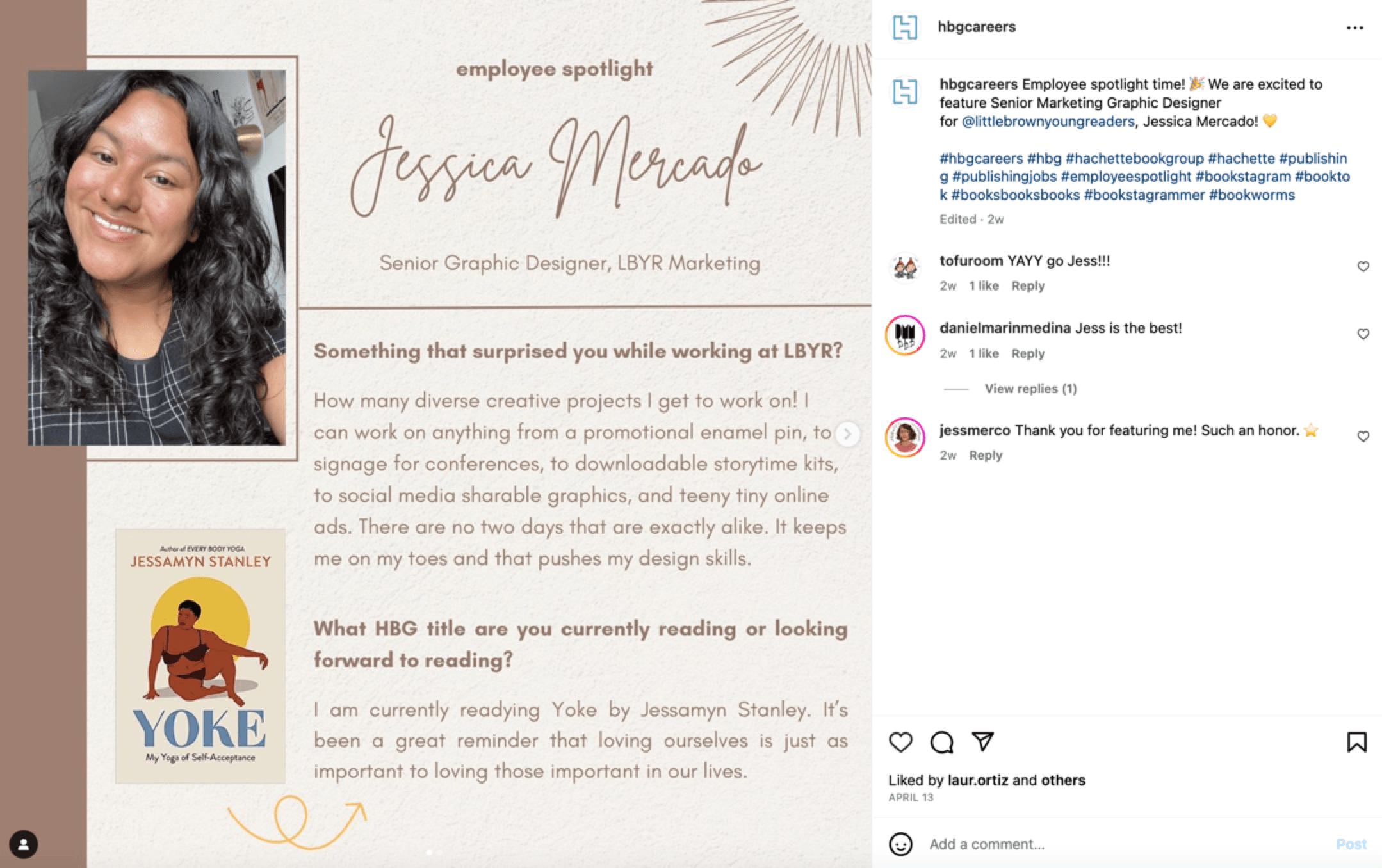 Meet [Employee Name], our [Employee Role]. [Employee] helps us [Role Tasks] so we can consistently deliver exceptional [Products or Services] to our customers. Thank you for everything you do, [Employee]!

"Teamwork is the secret that makes common people achieve uncommon results." —Ifeanyi Enoch Onuoha

We're excited to welcome our newest team member, [Employee Name] to the [Company Name] family! [Employee Name] will be helping us [Job Function]. Drop a comment to give [Employee Name] a warm [Company Name] welcome!

"Great things in business are never done by one person; they're done by a team of people." —Steve Jobs

At [Company Name], we take pride in investing in the well-being of our employees. This [Specific Day/Event/Occasion], we wanted to show our appreciation for them by giving them [Gift/Reward].
Inspirational Instagram captions
When your own words fail you, those of influential figures can help. Inspire your audience with these inspirational Instagram caption ideas based on quotes and song lyrics.
Quote captions
"The way to get started is to quit talking and begin doing." —

Walt Disney

"You will face many defeats in life, but never let yourself be defeated." —

Maya Angelou

"Life is trying things to see if they work." —

Ray Bradbury

"If you look really closely, most overnight successes took a long time." —

Steve Jobs

"What would life be if we had no courage to attempt anything?" —

Vincent van Gogh

"'You miss 100% of the shots you don't take.' -Wayne Gretzky" —

Michael Scott

"You are never too old to set another goal or to dream a new dream." —

C.S. Lewis

"In a gentle way, you can shake the world." —

Gandhi

"All we have to decide is what to do with the time that is given to us." —

J.R.R. Tolkien

"The real test is not whether you avoid this failure, because you won't. It's whether you let it harden or shame you into inaction, or whether you learn from it; whether you choose to persevere." —

Barack Obama

"You know you are on the road to success if you would do your job and not be paid for it." —

Oprah Winfrey
Song lyric captions
"I'm on the pursuit of happiness and I know everything that shines ain't always gonna be gold, hey, I'll be fine once I get it, yeah, I'll be good." —

Kid Cudi

, "Pursuit of Happiness (Nightmare)"

"You may say I'm a dreamer, but I'm not the only one." —

John Lennon

, "Imagine"

"I could build a castle out of all the bricks they threw at me." —Taylor Swift, "New Romantics"

"Is this the real life? Is this just fantasy?" —

Queen

, "Bohemian Rhapsody"

"These are the days we'll never forget." —

Avicii

, "The Days"

"But time makes you bolder, even children get older, and I'm getting older too." —Fleetwood Mac, "Landslide"

"We ain't picture perfect but we're worth the picture still." —J. Cole, "Crooked Smile"

"Oh, let the sun beat down upon my face and stars fill my dream. I'm a traveler of both time and space to be where I have been." —

Led Zeppelin

, "Kashmir"

"No matter where life takes me, find me with a smile." — Mac Miller, "Best Day Ever"

"He pulled the mirrors off his Cadillac, yeah, 'cause he doesn't like it looking like he looks back." —

Tame Impala

, "Elephant"

"We gon' be alright." —

Kendrick Lamar

, "Alright"

"Sing with me, sing for the years, sing for the laughter, sing for the tears." —

Aerosmith

, "Dream On"
Seasonal Instagram caption ideas
No matter the season, we've got you covered. Check some seasonal Instagram caption ideas that are sure to entertain your followers all year round.
Spring captions
Spring is in the air.

Spring into new beginnings.

What in carnation?!

Spring has sprung!

"Here comes the sun…"

—The Beatles

Don't forget to stop and smell the roses.

Goodbye freezing weather, hello allergies.

April showers bring May flowers.

"Spring is the time of plans and projects."

—Leo Tolstoy,

Anna Karenina
Summer captions
Life's a beach.

Fun in the sun.

Too busy soaking up the sun. Please leave a message after the beep.

Busy getting some vitamin sea.

Take that summer vacation, you've earned it.

Paradise = found

Seas the day.

Suns out, buns out.

Catching rays.
Fall captions
Fall into autumn.

Pumpkin spice or bust.

Falling for you.

Happy fall, y'all!

Channel the flannel.

Sweater weather.

Cutes pumpkin in the patch.

May all the leaves you step on be crunchy.

This weather is unbeLEAFable!
Winter captions
The cold never bothered us anyway.

'Tis the season to be freezin'.

License to chill.

Cold hands, warm heart.

Walking in a winter wonderland.

Ice, ice, baby!

Giving winter the cold shoulder.

Make like a snowflake and be unique.
Holiday Instagram captions
'Tis the season for holiday-centric Instagram captions! No matter the holiday you're celebrating, we've got Instagram caption ideas to help make your Instagram post even more festive.
New Year's Eve + Day
New year, same mess.

Cheers to [year].

Here's to 12 new chapters.

Save water, drink champagne.

Can't wait to set a resolution that we'll forget in a month.

We were going to quit our bad habits for the new year but then we remembered no one likes quitters.

Cue the "See you next year!" jokes.

"Too much of anything is bad, but too much champagne is just right." —

F. Scott Fitzgerald

May all your troubles last as long as your resolutions.
Valentine's Day
If we were on a sinking ship, we'd share our door with you.

Cupid called, he says you've stolen our hearts.

You know what this sweater is made of? Boyfriend/girlfriend material.

"If you can't love yourself, how the hell are you gonna love anyone else?" —

RuPaul

You must be glue, because we're sticking with you.

Happy Singles Awareness Day!

A friendly reminder that all candy will be 50% off tomorrow. You're welcome.

At least our [Pets] love us.
St. Patrick's Day
Have a sham-rockin' St. Patrick's Day!

We're going brogue.

A pitcher is worth a thousand words.

Kiss me, I'm Irish!

Seeing green.

Keep the pints coming.

Cutest clover in the patch.

Irish St. Patrick's Day was every day.
Easter
Hoppy Easter!

There's no bunny like you.

Oh, for Peeps sake.

Our Easter eggs were to dye for.

Have an EGGcellent Easter!

Today's the day you can put all your eggs in one basket.

Spending Easter with my/our favorite peeps.

I like my eggs dyed.
4th of July
Party like it's 1776.

It smells like freedom in here.

Est. 1776

Red, white, and brews.

Sipping on liber-tea.

"So, you're telling me it wasn't a real tea party they threw in Boston?"

Staying fly on the 4

th

of July.

"History began on July 4

th

, 1776. Everything before that was a mistake." —

Ron Swanson
Halloween
Just here for the boos.

Time to get spooky.

It's spooky season.

Ghouls just wanna have fun.

No tricks, just treats.

You're just our (blood) type.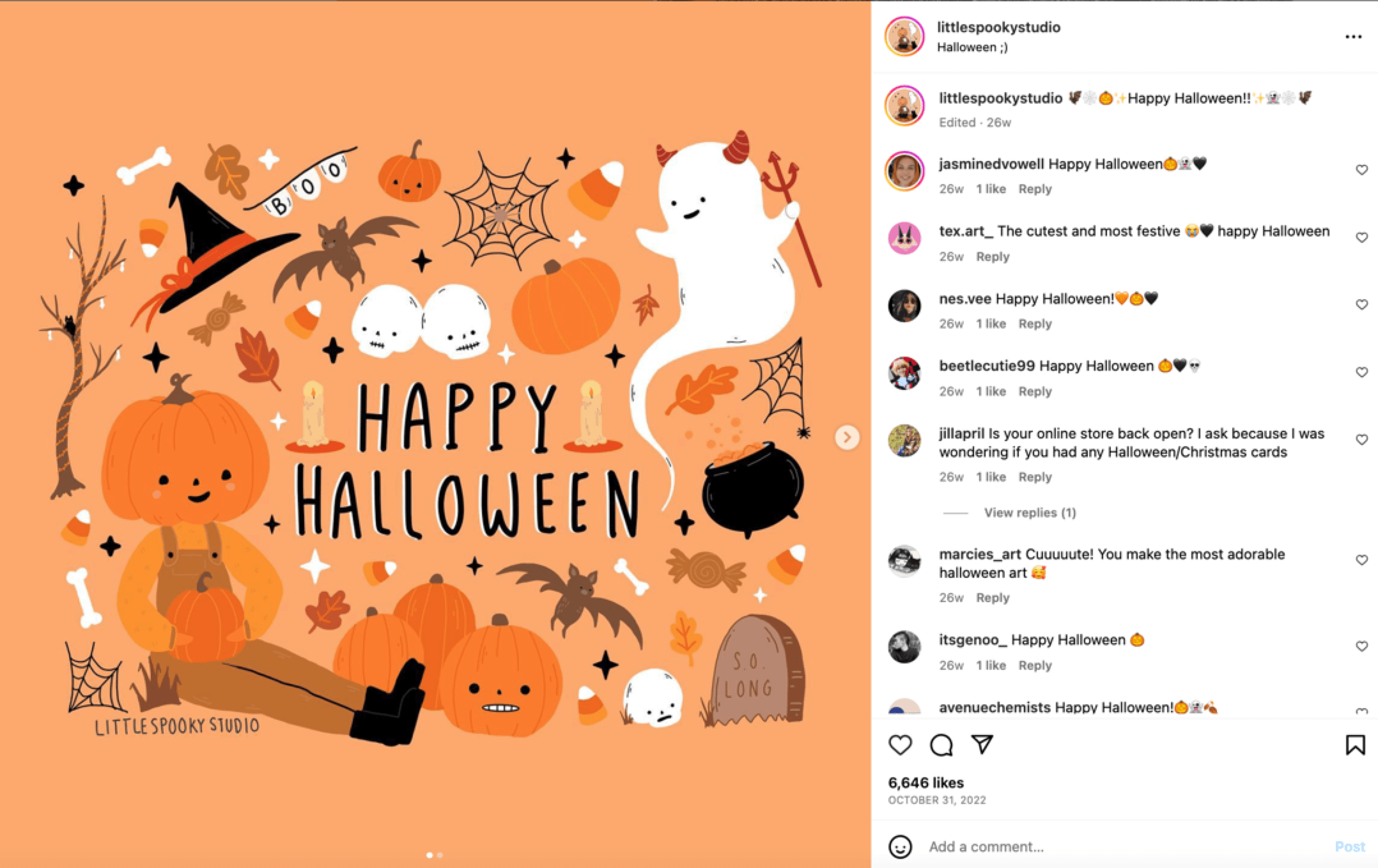 Witch, please.

You make us feel alive.

Mischief managed.

Creepin' it real.
Thanksgiving
Commencing post-Thanksgiving dinner nap in 3, 2, 1.

Let the annual cranberry sauce debate begin.

Attitude of gratitude.

Grateful.

To-do list: Eat. Drink. Nap.

Time to break out the stretchy pants.

Gobble 'til you wobble.

May your heart be as full as your stomach this Thanksgiving.
Hanukkah
Deck the halls with matzo balls.

We love this season a latke.

We can't speak for your Hanukkah, but ours is lit.

Challah at ya girl/boy.

Oy to the world.

Dreidel, dreidel, driedel.

May your holidays be as bright as a fully lit menorah.
Christmas
Oh deer, it's almost Christmas!

'Tis the season to be merry.

Snow place like home for the holidays.

Jingle bell rockin'.

Merry Christmas, ya filthy animal.

The best way to spread Christmas cheer is singing loud for all to hear.

We're on the Naughty/Nice list.

Have yourself a merry little Christmas.

Sleigh all day.
Witty Instagram captions
Show off your cleverness with some witty Instagram captions that are sure to leave a lasting-impression on your followers.
It's not easy being cheesy.

The risk we took was calculated, but boy, are we bad at math.

Work smarter, not harder.

Ice cream is cheaper than therapy.

It's not a phase, mom. It's who we are.

Hey MTV, welcome to our crib.

Hey Alexa, play [Song] by [Artist].

One does not simply write a clever Instagram caption.

Life is short and so is this caption.

We like our coffee like our souls: black.

Follow your heart but take your brain with you.

We're not lazy, we're on energy-saving mode.

We now understand why cicadas wake up and immediately scream.

They call us ranch 'cuz we be dressin'.

Maybe she's born with it. Maybe it's the Clarendon filter.

If we were funny, we'd have a better caption.

Don't quit your daydream.

Enough about us, let's talk about you. What do you think of us?

*Slams laptop shut until Monday*
One-word Instagram captions
Sometimes one word can say it all. Here are some ideas for your next one-word Instagram caption.
Amazing

Beautiful

Blessings

Epic

Explore

Fearless

Feels

Fire

FriYAY

Growth

Midnights

Moments

Mood

Mornings

Peace

Progress

Saturdaze

Serving

TGIF

Thriving

Tired

Us

Vibes

Vibing

Wanderlust

XOXO

YES!

Yesterday
Short Instagram captions
Are you a person of very few words? With this list of short Instagram captions, you can keep that trend going on your next Instagram posts.
All the things.

Fighting the Sunday Scaries.

Sunday funday.

Finally Friday.

It's a vibe.

Days like these.

Me, myself, and I.

*Insert dad joke here*

Long time no selfie.

The camera eats first.

Guess where we are.

Like if you recognize this place.

More issues than Vogue.

Stress less and enjoy the best.

On our worst behavior.

Yes or no?

*Tries to think of a good caption*

In our ___ era.

It's a flex.

The future is bright.

Keep on thriving.
Funny Instagram captions
We all love a good joke or pun. Here are some funny Instagram caption ideas to give your audience a good laugh.
For legal reasons, this is not a joke.

It's Wednesday my dudes.

The mercury is in Gatorade, or whatever astrology girls say.

"Stay strong," I whispered to my WiFi connection.

Praying to the algorithm gods.

We did NOT wake up like this.

We came, we saw, we got anxious, and went home.

The bags under our eyes are designer.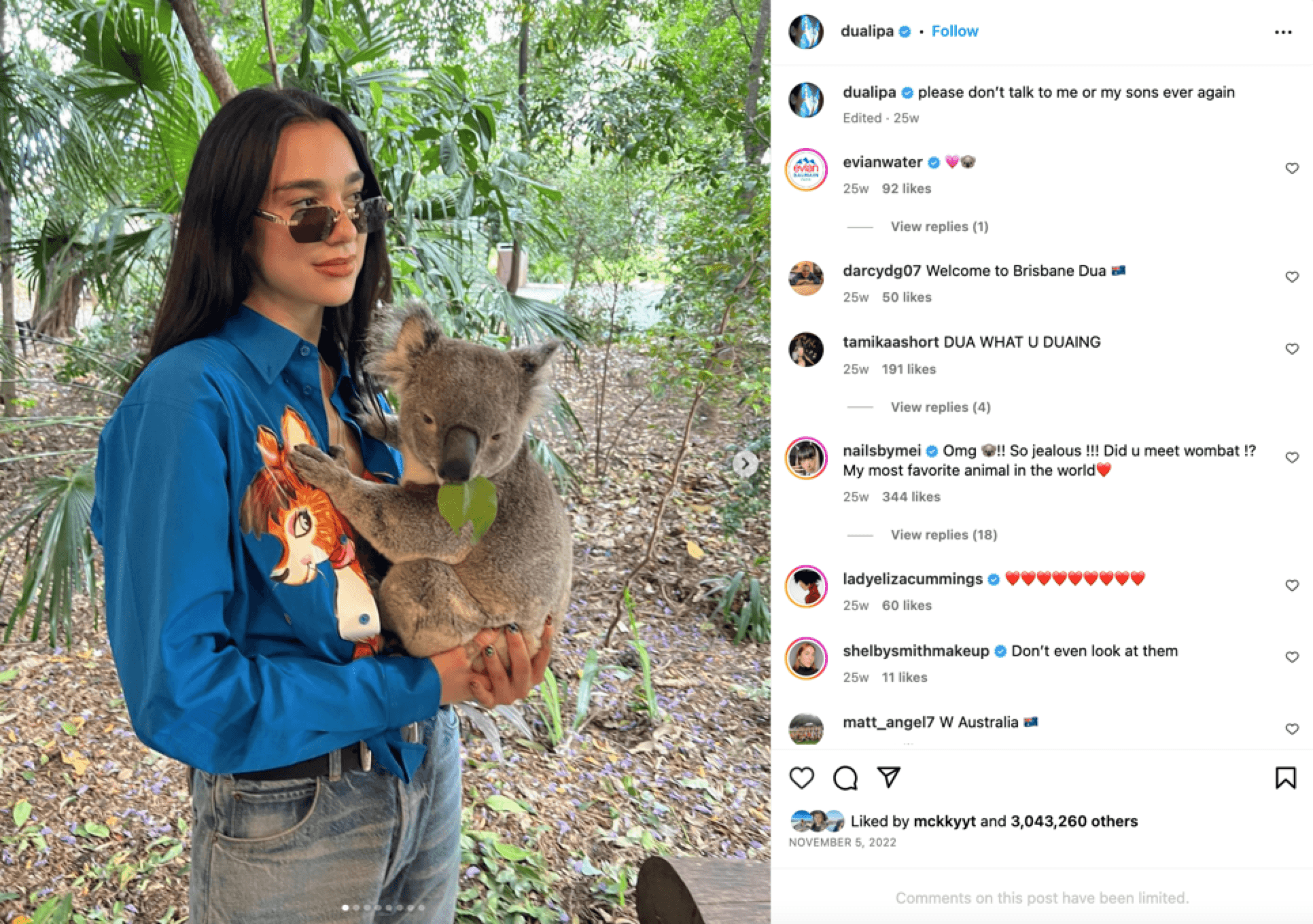 Don't talk to me or my son ever again.

Surviving purely out of spite.

We put the "pro" in procrastinate.

Can Bob the Builder fix our bad attitude?

Friday, our second favorite F word.

You can't live a full life on an empty stomach.

More espresso = less depresso.

Today I have decided to be a silly goose.
Clever Emoji Instagram captions
Sometimes there's no need for words. Instead, introduce some humor and lightness to your Instagram caption with Emojis.
🍩 stop believing.

🍷 about it.

🍟day.

Just 🐝 you.

Oh 🐳

Happy as a 🐚

Fun in the 🌞

Throwin' 😎

Unbe-🍃-able!
Vacation and travel Instagram captions
You've got tons of pictures from your most recent trip to post, and we've got the Instagram caption ideas to act as the cherry on top for your next post.
Catch flights, not feelings.

Out of office.

"It's dangerous business, Frodo, going out your door. You step onto the road, and if you don't keep your feet, there's no telling where you'll be swept off to." —

J.R.R. Tolkien

Keep calm and travel on.

Life is not meant to be in one place.

We follow our hearts… it usually leads us to the airport.

Hike more, worry less.

Traveling miles and making memories.

Life is short. Book that trip.

Explore. Discover. Repeat.

BBN. Be Back Never.
Additional tips for writing Instagram captions that engage users
We're not just going to leave you hanging with a bunch of Instagram caption ideas — keep reading to get some extra insight into how to write engaging Instagram captions.
Reflect your brand's voice
When writing Instagram captions, the best thing you can do is ensure you're capturing your brand's voice. The photos and videos you post will stick with users, but your captions will influence how they see that content and how they interact with it.
But don't let your brand voice restrict your Instagram captions either. Use your brand voice as helpful guideline when writing Instagram captions, but don't let it force you to use the same captions all the time.
Instagram is a creative platform that encourages outside-the-box ideas. Have fun with your captions!
When in doubt, keep it simple
One of the best words to describe Instagram is "casual." Instagram is a relaxed environment where you can have fun with your posts while still remaining professional. That's why, if you're ever stuck on a caption for a new post, there's nothing wrong with opting to keep it simple.
Whether it's one word or a simple sentence, sometimes having a simple caption with a post can do wonders.
Include a call to action (CTA)
A good caption gives users a reason to interact with your post. Including a CTA in your Instagram caption, whether it's subtle or obvious, pushes users to respond to your post with likes, comments, and valuable shares that help you expand your audience.
At the very least, a CTA can help make your post memorable for your followers, and that's what it's all about.
Growing your social presence with WebFX is a walk in the park.
"WebFX allows growing your social media platforms to be stress-free! They are knowledgeable and adapt to your company needs!"
Learn More About Our Social Media Services

Enhance your Instagram content strategy with WebFX
WebFX is home to some Instagram-obsessed social media marketers who are waiting to help you revamp your Instagram strategy. From engaging content to memorable Instagram captions, our Instagram marketing services have got you covered.
Learn more about how you can start working with WebFX for social media services today by giving us a call at 888-601-5359 or contacting us online.
Savannah is a content marketer with editorial experience spanning several businesses. Specializing in social media and marketing trends, she loves talking about the latest developments in online marketing. When she's not writing, Savannah loves traveling, hoarding books and coffee mugs, and adoring her cat. Please don't ask her about famous true crime cases, or else she'll tell you all about her theories and get absolutely no work done.

WebFX provides digital marketing solutions with expert marketers, designers, and developers to increase visibility, conversions, and revenue.

Learn more
Twitter and Facebook Status Generator
Finding engaging social media content for your business can be difficult. Use our tool to quickly find ideas and post directly to your page.
Give Me an Idea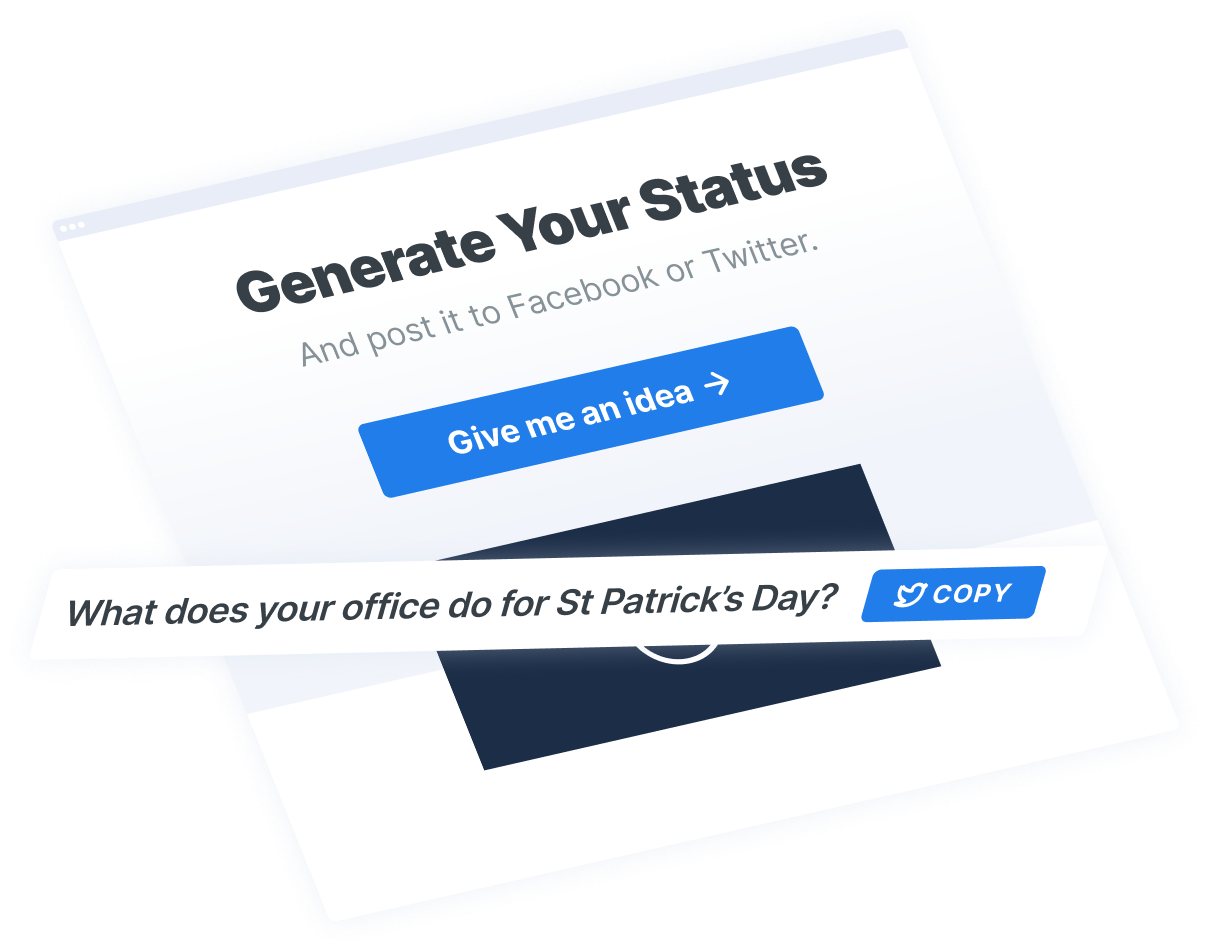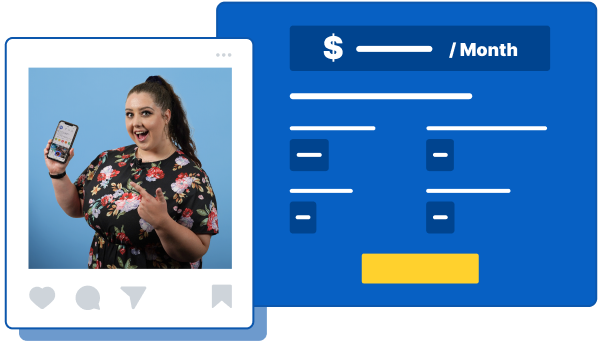 Twitter and Facebook Status Generator
Finding engaging social media content for your business can be difficult. Use our tool to quickly find ideas and post directly to your page.
Give Me an Idea