5 Ways Snapchat Drives Results for Businesses
10 minute read
Sarah Berry is a Google Analytics-certified Web Marketing Consultant at WebFX. She's written over 400 articles on digital marketing, covering topics like SEO, CRO, and Amazon. When she isn't polishing her Time Magazine Person of the Year Award, she's spending time with her flock of ducks.
Believe it or not, Snapchat is one of the top social media platforms for ecommerce. The platform has come a long way since its launch in 2012, and it's still pushing forward. With the launch of Snapchat ads, the platform is enticing businesses around the world — and for a good reason.
Discover why, as well as how to set up Snapchat for your business, in this post!
5 reasons to use Snapchat for business
Depending on your company's past marketing strategies, Snapchat may seem like an unusual choice — and it's not an uncommon thought as only one percent of marketers use Snapchat. That makes Snapchat for your business a unique advantage though. So, why should you use Snapchat for your company?
Here are five reasons to inspire you:
Access an active audience
Snapchat boasts more than 150 million users, which consists mostly of millennials and Generation Z — two generations that are growing in purchasing power. Many are daily users too, with 60 percent contributing content each day, like a picture or video. By learning how to use Snapchat for your business, you're building a bridge to reach today's consumers.
Connect with users one-on-one
Like many other social media platforms, like Facebook, Twitter, or Instagram, you can connect with users via text, photo, and video. Snapchat offers you the same opportunities, which you can use to connect with influencers who maintain an active following on the platform. That can lead to exposure for you, plus meaningful partnerships with influencers in your market.
Build brand awareness
Whether you're new to the marketplace or well-established, it's essential to capture younger audiences to continue thriving. Creating a business Snapchat will help you do just that. Via clever captions on your photos, as well as targeted videos, you can build awareness for your brand.
A well-executed campaign can also provide you with the opportunity to reach new audiences.
Improve audience attention
Compared to Facebook, Instagram, and YouTube, Snapchat delivers better engagement results. In comparison to Facebook, for example, Snapchat ads generate twice as much visual attention from users between the ages of 16 and 56. How does it compare to Instagram and YouTube, though? With Snapchat, the attention of audiences increased by 1.5 times compared to Instagram and 1.3 times compared to YouTube, which is an undeniable advantage for you.
Generate better results
By improving audience attention, Snapchat also doubles a viewer's intent to purchase, plus increases their emotional response to your advertisements. With that kind of action from such a wide-range of ages, it's hard to ignore Snapchat ads.
Types of Snapchat ads
If you're curious about Snapchat for your business, you have five types of ads to choose from: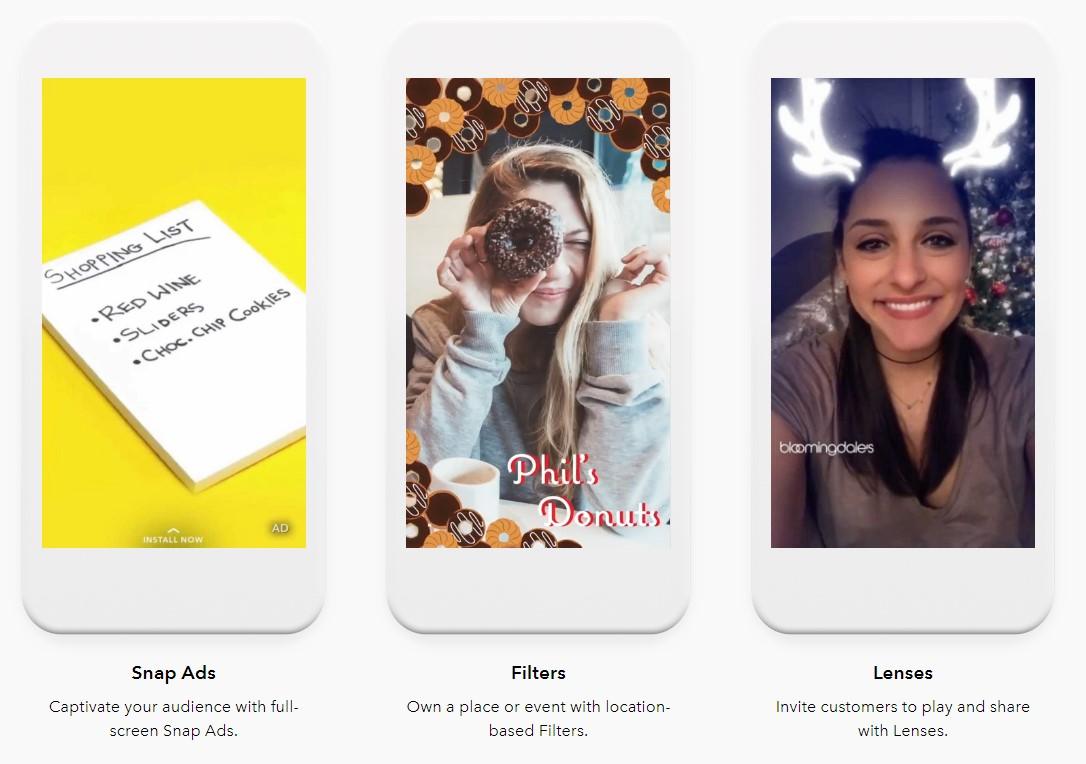 Snap ads
With Snap Ads, you can deliver 10-second video ads with a few optional features, including:
Web View: This attachment lets you send traffic to a pre-loaded website, plus makes use of Snapchat's auto-fill feature to save users time and increase conversions. So, if a user opts to give you their email, Snapchat will automatically submit the email linked to their account.
App Install: This feature works like web view. Instead of sending traffic to your website, though, it sends users to the appropriate store, like Google Play or App Store, to download your app. The best part is users stay within Snapchat, which leaves them happy.
Long-Form Video: This option provides users with a video trailer, such as for a movie or how-to guide. If viewers like what they see, they can click to watch the full video, driving views and engagement — and don't worry, video marketing is well worth your time and effort.
Filters
Snapchat Filters let you engage local users with three types of filters for their pictures and videos:
On-Demand Geofilters: A low-tier geofilter, this option lets you target small areas for a short time, such as a city block during a store opening.
Snap to Unlock: A mid-tier geofilter, this option lets you coordinate your print and digital marketing efforts by creating an exclusive filter that users scan off a print material, like a billboard.
Sponsored Geofilters: A high-tier geofilter, this one lets you target an entire country if you want, plus this type of Snapchat ad reaches 40 to 60 percent of users in the U.S.
The categorization of Snapchat Filters by low-, mid-, and high-tier stems from their prices, which coordinate to the area you're targeting. If you're targeting your country, for example, expect a higher ad cost than if you're targeting your zip code.
Lenses
Snapchat Lenses make use of the platform's signature feature to reach audiences. With this option, you can reach users across the world, as well as create innovative and interactive lenses that promote your brand and products.
Discover
Snapchat Discover is another, less promoted ad type that's also gaining traction. It appears at the top of Snapchat's "Stories" page. If users click on your ad, they can watch videos and view images.
The premium placement of Snapchat Discover ads often entices publications, like IGN.
Commercials
The latest Snapchat ad to become available are Commercials. A Snapchat Commercial coordinates with Snapchat Shows, playing after a three- to five-minute show — businesses like NBC already produce Snapchat Shows. Unlike other ads, users cannot skip Snapchat Commercials, which run for six seconds.
Snapchat ad pricing
For small businesses and corporate companies, the pricing for a Snapchat ad depends on the type of ad you choose, geographic area you target, and ad duration you select.
As a result, prices range from $5 to $700,000. To make it simple, here is a cost breakdown for Snapchat ads:
Snap Ads — At least $3,000 a month.
Filters — At least $90,000 for a nationwide geo-filter, but only $5 for local ones.
Lenses — At least $450,000 for Sunday through Thursday, followed by $500,000 for Fridays and Saturdays. A holiday or national event costs $700,000 for a day.
Snapchat Discover — At least $50,000 for a day.
Snapchat Commercials — At least several thousand dollars, though Snapchat has yet to release official pricing.
While Snapchat ads may boast quite the cost, the platform's invaluable to marketing.
How to set up Snapchat for a business
With a few steps, you can start using Snapchat for your company. Just follow these instructions:
Sign up for Snapchat
In the past, Snapchat would have you download their app and then create an account. Now, you can visit their website and create a business account online, which makes it seamless for you to add all your company information, including an approved form of payment. Snapchat accepts PayPal, as well as a credit card.
If you use a credit card, Snapchat does limit your spending to $15,000 per day — for PayPal, the daily limit is $2,500. Another payment option available is a line of credit, which is helpful if you're looking to spend more than those daily amounts. If you'd like to apply for a credit line, you'll complete a credit application in your account. Based on several factors, such as your expected monthly spend, Snapchat will approve or deny the request.
This option offers benefits if you're likely to exceed the daily spending limits. Note, you cannot purchase Snapchat Lenses, Discover, or Commercials with the above payment options.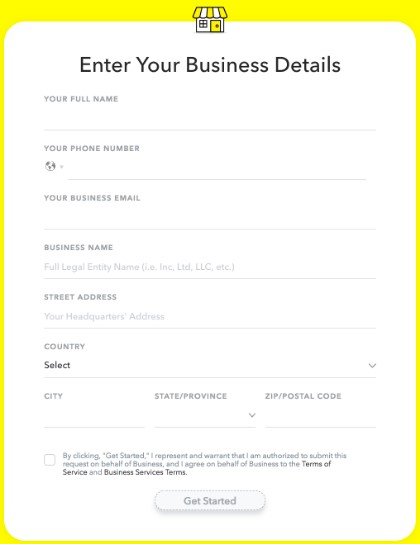 It's important to note that you cannot change your username after creating your account.
If someone already claimed your preferred username, you may have to get a bit creative in making an alternative one. After you create your account, make sure to download the Snapchat app on a secure mobile device. Login with your account information to ensure your credentials work and then you're ready to start advertising!
Access ads manager
Start advertising on Snapchat by visiting their Ad Platform, which features Ad Manager. Access the Ad Platform via Snapchat's website — login with your Snapchat credentials. The Ads Manager features all the tools you need to create, manage, and monitor an advertisement, including:

Create Ads: Use this tool to launch and create your creative campaigns.
Manage Ads: View the performance of your ongoing campaigns, plus edit them.
Advanced Ads: Use this tool for improved management of large-scale ad campaigns.
Snap Publisher: Create variations of your ads, plus convert horizontal videos to vertical ones.
Creative Library: Upload, design, and manage your filters, lenses, and more.
Audiences: Segment your target audience or create them from your existing customer lists.
If you need additional assistance, Snapchat offers a Help Center with easy-to-follow tutorials and guides.
Invite team members to ads manager
In most cases, your marketing strategy for Snapchat will include a team of members. If you're creating lenses, for instance, you'll need an experienced developer to create that. As the Organization Administrator in Ads Manager, you can add everyone on your team, plus assign roles and permissions.
A few roles available via Snapchat include:
Account Administrator
Campaign Manager
Data Manager
Data Analyst
Creative Manager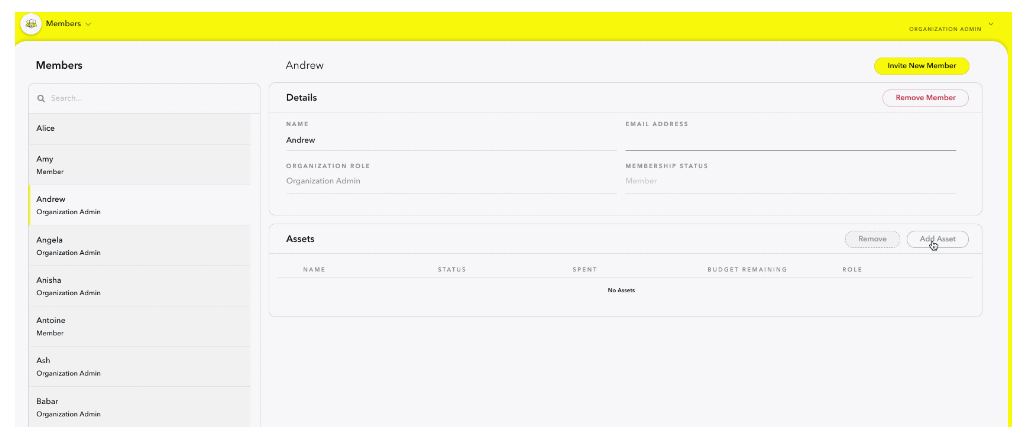 To add your teams, use the drop-down menu in the upper left and select "Members." From there, your Ads Manager dashboard lets you invite new members, modify existing members, and remove members. A convenient search feature is also available for large teams.
Create an ad
Now that your account and team are ready to go, you can start creating your first ad. In "Create Ads," you'll see two options — Advanced Create and Quick & Easy. If you're building a single ad, use Quick & Easy, but if you're creating a series of ads for a campaign, use Advanced Create.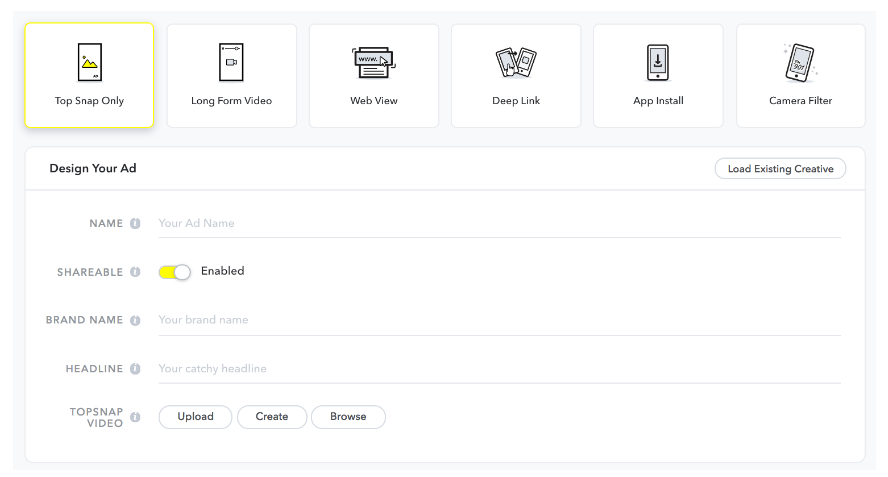 Since we're interested in a single ad, you'll want to select Quick & Easy and complete the following:
Select your ad type
Design your ad
Customize your location and demographics
Choose your ad duration and budget
Select your payment method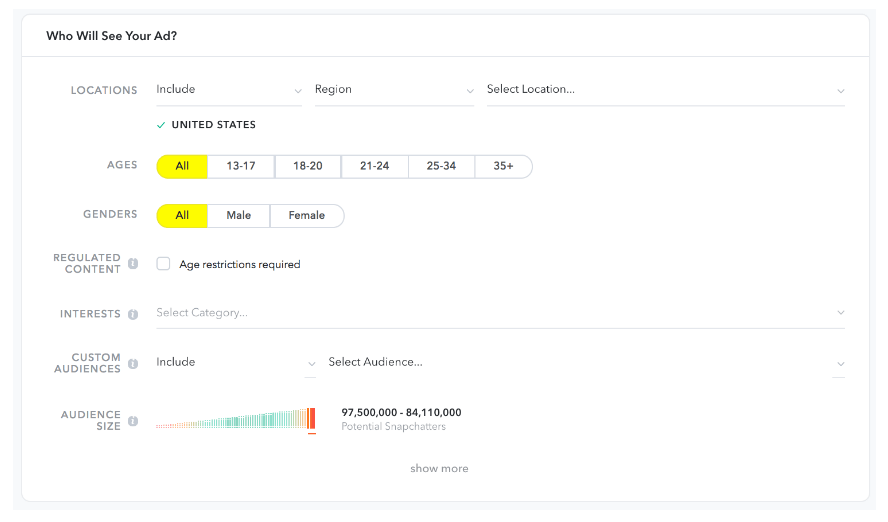 When you pay for your ad, you can also redeem any applicable Snapchat coupon codes.
Publish your ad
After you've reviewed your Snapchat ads, you can select, "Create My Ad" in Quick & Easy. Before it goes live, the Snapchat team will review the content, as well as ad parameters, before launching it to your designated audience.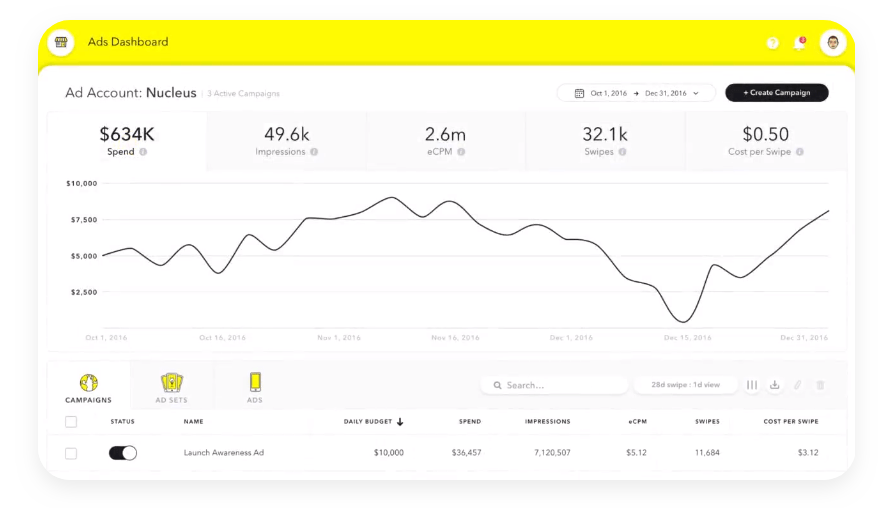 Later, see how your ad's performing by visiting Manage Ads in the Ad Platform.
Snapchat advertising examples
If your team's struggling to devise a creative campaign of Snapchat ads, there are plenty of companies to gain inspiration from, including Netflix, Taco Bell, and MTV.
Even if your company's focus is on a local, rather than a nationwide campaign, you can still create a compelling ad. A few additional examples of advertising success with Snapchat include:
Michael Kors: Increased its product awareness by 29 points.
Hopper: Decreased its consumer price index (CPI) by 50 percent.
Courtyard Marriot: Boosted hotel visitation intent by 14 percent.
Acorns: Earned more than 2.6 million views and an 8.5 percent conversion rate.
For a variety of industries, from financial to public service, Snapchat is a viable advertising option.
Get the inside scoop on how to use Snapchat for your business
Ready to learn more about how to use Snapchat for your business? Subscribe to Marketing Manager Insider for exclusive information on the best practices for Snapchat ads, as well as the latest examples!
Sarah Berry is a Google Analytics-certified

Web Marketing Consultant at WebFX

. She's written over 400 articles on digital marketing, covering topics like SEO, CRO, and Amazon. When she isn't polishing her Time Magazine Person of the Year Award, she's spending time with her flock of ducks.

WebFX provides digital marketing solutions with expert marketers, designers, and developers to increase visibility, conversions, and revenue.

Learn more
Twitter and Facebook Status Generator
Finding engaging social media content for your business can be difficult. Use our tool to quickly find ideas and post directly to your page.
Give Me an Idea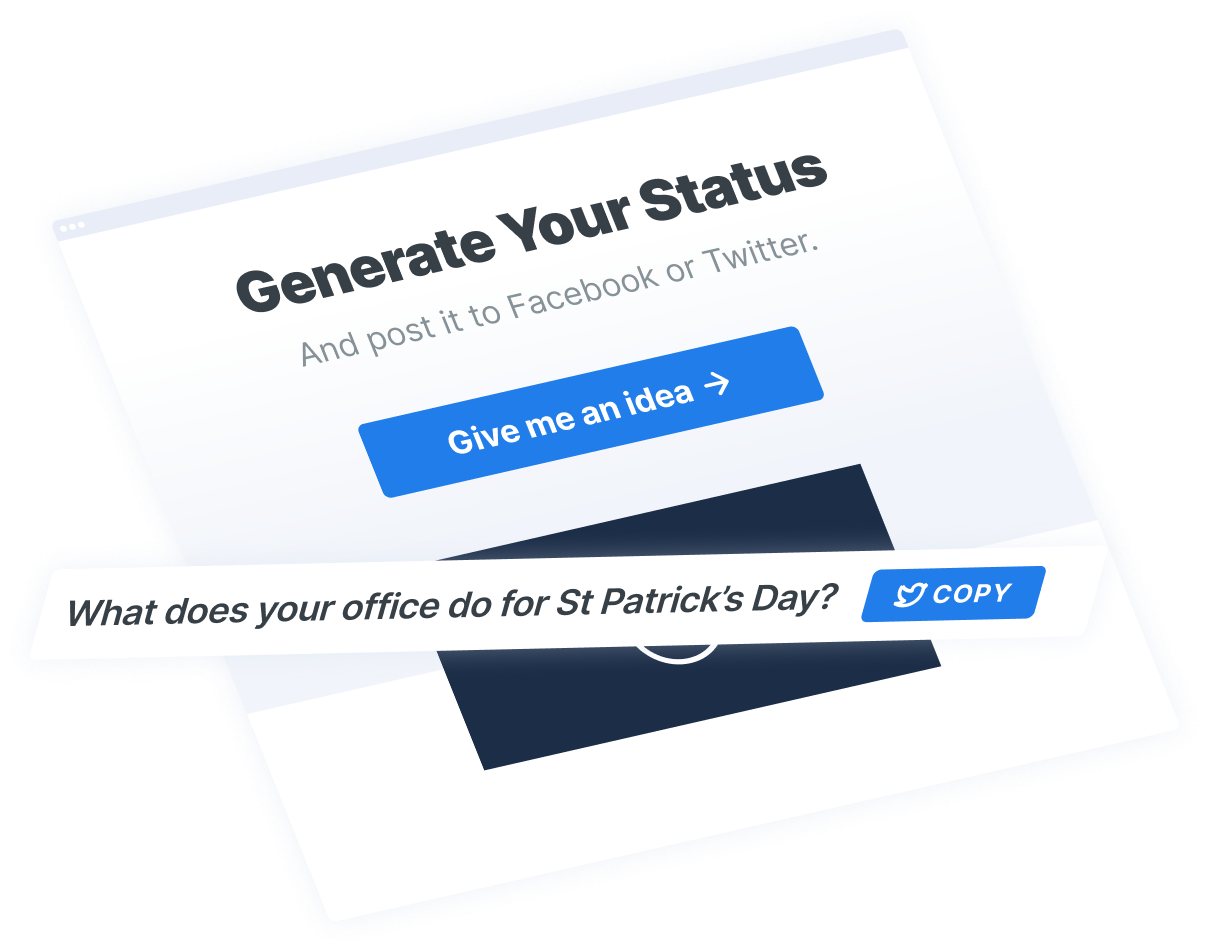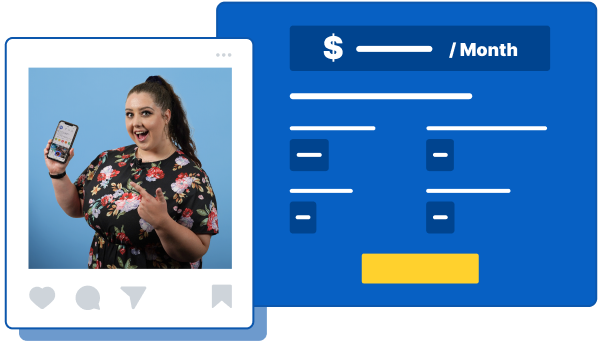 Twitter and Facebook Status Generator
Finding engaging social media content for your business can be difficult. Use our tool to quickly find ideas and post directly to your page.
Give Me an Idea