The latest versions of the five most major web browsers (Mozilla Firefox 3.5, Google Chrome 3.0, Microsoft Internet Explorer 8.0, Opera 10.0, and Apple Safari 4.0) went head to head under six performance indicators: JavaScript speed, average CPU usage under stress, DOM selection, CSS rendering speed, page load time, and browser cache performance. Each web browser was tested three times under an unprimed cache (except for the browser cache performance), and their average value reported in the results.
Click to enlarge: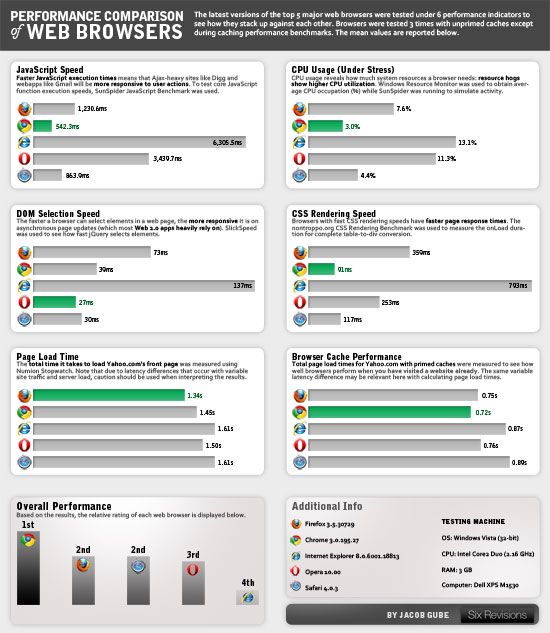 Download the Data
If you'd like to download the raw data, you can grab them as a CSV below.
Benchmarking Tools
SlickSpeed (jQuery values reported)
Numion stopwatch
Resource Monitor
Acknowledgement: Thanks to Sean Hurley of 96Robots for inspiring this study.
Related Content
Can You Be a Web Designer?
Real Advice
SEO is one of the most effective Internet marketing strategies you can adopt into your campaign, and WebFX is home to a whole team of SEO specialists. Check out some of the real advice we gave to auto parts retailers about SEO.