When you start building your digital marketing plan, you need to investigate various methods that can help your business grow. Finding the right marketing methods that will drive results for your floral business is important, and that's where pay-per-click (PPC) advertising can help.
PPC ads are paid advertisements that appear at the top of the search results. You create these ads through Google's program Google Ads. This program provides you with the opportunity to create customized ads to help you reach your audience in the best way possible.
If you want to invest in a method that is effective, PPC is a great option for helping your business draw in valuable leads. This digital marketing method offers numerous benefits for your floral business.
On this page, we'll discuss five benefits of PPC for your business. If you need help setting up your PPC campaign, call us today at 888-601-5359 or contact us online to speak with a strategist.
1. You only pay when people click on your ad
The most unique feature of PPC is that you only pay when people click on your ads. When you run an ad campaign, your ads will appear in front of people who fit your target market. If they conduct a search using the keywords attached to your ad, they will see the ad appear in the search results.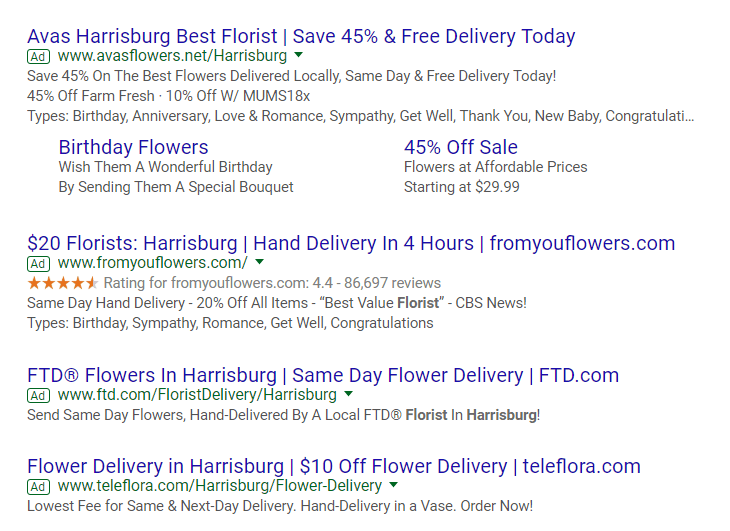 Not everyone who sees your ad will click on it, but what's great about PPC is that you don't pay for these impressions. This makes PPC a highly desirable marketing strategy because you only pay for leads that are interested in your floral business.
By using PPC, your money is going towards leads that are more likely to convert. This unique feature of PPC provides you with the opportunity to obtain more valuable leads for your business.
Our team at WebFX has more than 25 years of experience in lead generation and PPC advertising. Ask about our lead management system to help you track your newest potential customers to nurture your prospects towards conversion.

Hear What It's Like to Work With WebFX!

"WebFX did amazing work creating a new website for us on a tight schedule. They have taken the time to learn about our business and give us ideas of how to make our digital marketing better. We still have work to do with WebFX but overall very pleased."
Professional Service
2. You have control over your budget
PPC is very budget-friendly for businesses. You only pay when people click, and you determine how much your business pays when people click on your ad.
When you begin your ad campaign, you set a maximum bid, which is the amount you are willing to pay each time someone clicks on your ad. Your maximum bid is flexible and can be changed at any time. You can guarantee that you will never exceed that amount when someone clicks on your ad.
You also set the budget for your campaign when you use PPC. Whether you want to spend $100 or $1,000 to promote your business, you can set that amount. This makes it easy for you to run a campaign that works within your business's budget.
3. You have control over your campaign
If you want to have more control over the performance of your digital marketing campaign, PPC is a great option for your floral business.
Your business has control over your ad's appearance. Google Ads offers numerous ad extensions that you can include in your advertisement. You can add call extensions, multiple links, or additional text. Using these elements is a great way to create an ad that will capture your audience's attention.
You also control when your ad runs. PPC enables you to pick the day and time for your ad to run. This ensures that you can run your ad when your leads are most likely to be online and see it.
PPC lets you choose how long you want your ad to run. You can choose to run it for days, weeks, months, or until you reach the end of your budget. This makes marketing versatile for businesses like yours.
PPC gives you complete control over your ads and enables you to create a campaign that works best for your floral business. If you want additional details about setting up a results-driven PPC campaign, speak to one of our 500+ advertising experts to learn more.
4. You draw in more valuable leads
PPC is a great method for drawing in valuable leads. People who are the most interested in your business are more likely to click on your ads, which means that you are attracting people who are most likely to convert.
A big portion of drawing in valuable leads can be attributed to the use of long-tail keywords. Long-tail keywords contain three or more words and are very specific phrases.
When a user types in long tail keywords, they are looking for a business, product, or service. For a florist, a great long-tail keyword example could be "florists in Harrisburg, PA."
These keywords attract leads that are interested in your business. PPC leads are more likely to convert, too. In fact, PPC visitors are 50% more likely to convert than organic visitors.
In addition, since the keywords are more specific, fewer businesses are using them. This means that the cost-per-click is lower, which enables your floral business to stretch your budget and obtain more clicks.
5. You see immediate results
When you invest in digital marketing methods, you want to see immediate results. You want to know that your campaign is working. With PPC, you can see the results of your campaign from the minute it launches.
PPC enables you to track your campaign as it runs. You can see numerous analytics within Google Ads. Some of these analytics include impressions, clicks, and conversions.
Methods like search engine optimization (SEO) take time to produce results. It can leave you feeling anxious to know if your campaign is successful. With PPC, you can track your campaign live.
This is a great feature because it enables you to see where your campaign succeeds. You will see which elements work for your campaign and which ones need improvements. Using PPC allows you to create a better campaign and drive more positive results for your floral business.
Don't believe us? Check out our portfolio to see how quickly PPC results have been produced for our clients!
Our digital marketing campaigns impact the metrics that improve your bottom line.
See More Results

WebFX has driven the following results for clients:

$3 billion
In client revenue

7.8 million
Leads for our clients

5.2 million
Client phone calls
Let your PPC plan blossom with WebFX
PPC advertising is a great opportunity to help your floral business grow. You will obtain more qualified leads and earn more conversions by investing in PPC. At WebFX, we know how to deliver PPC campaigns that drive results.
We're a full-service digital marketing company with experience creating PPC plans that drive leads. We have a team of 500+ experts that are dedicated to bringing success to your campaign. Our award-winning team is Google Ads certified, so you can trust that we have the knowledge and expertise to help your campaign succeed.
If you're looking for results, we drive them. To date, we've driven over $3 billion in revenue and over 7.8 million leads for our clients. We focus on putting our clients' success first.
Our clients love the work we do, too. In fact, we have over 1020 client testimonials from a variety of industries. Check them out to see what it's like to partner with a top PPC company like WebFX!
Earn a 20% greater ROI with WebFX