Whether you're a brick-and-mortar store with an ecommerce site or an ecommerce site without a physical location, social media for retail is a critical component in today's market. Shoppers are becoming more detective-like, looking for a business that matches their expectations and standards.
That's why it's essential to develop a social media strategy for your retail business that gives shoppers the opportunity to find and shop with you.
With more than 25 years of experience — and a track record of increasing client revenue — WebFX can help you make that connection, driving traffic to your website or foot traffic to your location, with performance-driven social media strategies.
Ready to see how? Keep reading or contact us at 888-601-5359 to chat with a social media specialist.
Not happy with your social media engagement?
We've got just the blog post for you.
Read the Blog Post & Watch the Video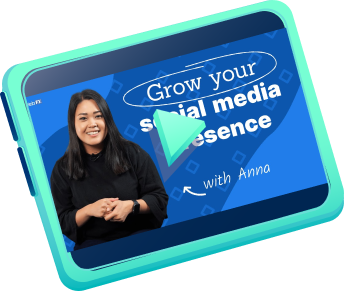 Why is social media important for retail?
A retail social media strategy is essential for increasing your in-store and online sales, building relationships with customers, establishing your brand, and improving your share of a customer's spending.
The benefits of social media for retail business compounds when you think about the number of users.
Today, 68 percent of U.S. adults use Facebook, with another 73 percent visiting YouTube. Social media sites like Instagram, Twitter, Pinterest, and Snapchat feature a rising number of new users each day.
Studies on retail social media trends also highlight how shoppers lean towards engaging and learning about a brand via their preferred media platform. Research by UPS, for instance, found that 34 percent of shoppers find that social media affects their purchase decisions.
If you look at the math behind those statistics, you have an opportunity to increase your gains. Say you reach 1,000 potential members of your target audience and 32 percent move to buy your product. That translates to 320 transactions, and possibly a loyal and repeat customer.

Hear What It's Like to Work With WebFX!

"Our WebFX team was on top of everything. Best part is our lead contact felt like she was part of our company. She learned everything about our business so quickly and was able to be very efficient with our brand. Reacting to what we needed or wanted to change, making us feel so comfortable the whole way!"
Retail
How does social media marketing drive sales for retail stores?
We understand why social media for retail is important, but how does it reach that ultimate benefit of driving sales and helping your company grow, as well as set new goals for growth and competitiveness?
In the realm of social media for retail stores, there are several factors at play, including:
Build your brand loyalty
Like all other consumers, you have your brand preferences and loyalties — and so does your target audience. In fact, your target audience may prefer one platform over another, which is something our social media specialists research and investigate in-depth to help you achieve your benchmarks.
Why does social media in the retail industry lead to boosts in brand loyalty? Many shoppers visit their preferred social media platform multiple times a day, and 53 percent of U.S. shoppers that follow brands are much more loyal to them.
It's the result of your company being present in their day-to-day, whether you're advertising a sale, highlighting new stock, sharing a new initiative, or sending well-wishes for a holiday. In each of those cases, you're also emphasizing your brand values.
Connect with advocates or influencers for your brand
Another set of motivators in a social media strategy for retail are influencers, which is a concept of influencer marketing. It's like word-of-mouth recommendations in an online format. Some well-known social media hubs for influencers include Instagram, Pinterest, and YouTube.
Audiences trust influencers and use their recommendations when looking into a new purchase, which is why they're extremely beneficial to you. After you identify your brand's influencers or our social media experts do, you can start the process of setting up a product test, store tour, or promotional post.
If you look at a real-life example of influencers, they can maximize your profits. Apple, for instance, saves almost $3 billion due to its network of brand advocates. In comparison, Samsung spends almost $4 billion to reach consumers.
Direct valuable traffic to your website
Whether you're working with a social media marketing company for your small business or growing enterprise, you want a return on your investment (ROI) — which is why we've developed the industry's number one ROI tracking technology, MarketingCloudFX and provided our clients complete access to it.
The idea behind retail social media marketing is that you funnel traffic to your website, providing your target audience a convenient way to reach a variety of pages, from your products to your blog to your sales.
The best part is that you're interacting with them on a platform that they visit daily, so you're maximizing their exposure to your brand, which is excellent if you're promoting an upcoming product or new store location.
Establish genuine relationships with customers
As social media continues to dominate the landscape, users rely on it for more than interacting and sharing life's events with friends and family. They also use it to communicate with businesses, such as to share a positive experience or highlight one that wasn't so great.
A review less than five stars may not be ideal, but a well-rounded social media strategy for retail lets you turn that negative into a positive. A recent study by J.D. Power, for example, discovered that customers experience a higher level of satisfaction when communicating via social media versus by phone.
That can lead to several returns, including increased sales, customer satisfaction, and brand reputation.
Gain valuable insights into customer preferences
As a top social media management company, we're focused on the results we drive for you, as well as the data behind it. That's why we believe — and know — that the analytics behind retail social media trends are valuable in driving those measurable sales.
Via Google Analytics, you can see what your target audience responds to, such as a product walkthrough or a how-to guide for setting up an item. If your retail social media marketing plan includes activity on multiple social media channels, you can also see which ones receive the most attention from viewers.
Measuring the metrics that affect your bottom line.
Are you interested in custom reporting that is specific to your unique business needs? Powered by MarketingCloudFX, WebFX creates custom reports based on the metrics that matter most to your company.
Leads

Transactions

Calls

Revenue
Learn More

How retailers use social media
Retailers use social media to guide prospects through the retail customer journey, which include five stages:
Awareness
Consideration
Purchase
Loyalty
Advocacy
And those steps are points that your dedicated social media specialist considers when evaluating your current social media presence, developing your personalized retail social media strategy, and evolving your plan in response to your growth and revenue, as well as personal input.
To see how retailers use social media in-depth, consider reviewing our portfolio, as well as hundreds of testimonials. A few examples from the retail industry that highlight the hands-on approach of our team include:
"In our short time working with WebFX, we've seen tremendous growth in our brand awareness on social media." — Stauffer's
"WebFX is the best SEO company that I have worked with the past six years. I have worked with several other SEO companies that just don't get the same results that they are able to" — APG Exhibits
Our team's unique approach is one of many reasons why we carry a Net Promoter Score (NPS) of almost 80. Fortune 500 companies, as well as WebFX, use an NPS on a scale of -100 to 100 to measure your happiness with us, as well as willingness to recommend.
Compared to other top social media management companies, our score is well above the rest.
How much does social media marketing cost?
Social media management pricing can vary depending on your company's individualized needs and goals. We publish our social media prices and provide you complete transparency, including access to our content editorial calendar for you and more.
And while it's free to set up profiles across many social networks, it's a time-consuming process to manage them in-house — or even with select social media strategy companies, which may require a significant portion of your time.
That's not the approach we take with social media marketing for retail stores. We optimize your time, learning about your company and your goals from the start so that we can develop, manage, and launch an awesome plan for you. It's a super-close collaboration, but with minimal effort on your part.
Plus, with MarketingCloudFX access, you can see the impact of our strategy in real-time and at any time.
Ready to create a social media plan for your retail store?
If you're curious about our social media marketing company's pricing, as well as tailored and personal approach to Facebook, Twitter, Pinterest, LinkedIn, and Instagram for retail businesses, feel free to contact our award-winning team today!
Earn a 20% greater ROI with WebFX