5 Steps to Find the Best SEO Agency for Your Business
Search engine optimization is currently one of the most popular marketing strategies in the world. With its low cost of entry, the huge potential for revenue growth, and the promise of long-term results, businesses from agriculture to accounting have embraced SEO as a staple of its company's future.
Some of these businesses have their own in-house marketing teams that only work on their company's marketing goals. But that costs a lot of money, and it can take a long time to go from the red to the black when you fully invest in your own SEO team.
WebFX has a whole team of SEO experts who are ready to help improve your company's website.
That's why many businesses choose to work with an SEO agency. Their services can still be expensive, but compared to getting an in-house team together, the price of an agency is a steal.
So that just leaves one question — how do you choose the best SEO company for your business? The answer is complicated. It'll vary from company to company, but generally, this is how you can find your ideal SEO partner.
If you'd like to speak with a specialist before watching the video, you can reach us at 888-601-5359.
Video: How to Pick Your SEO Agency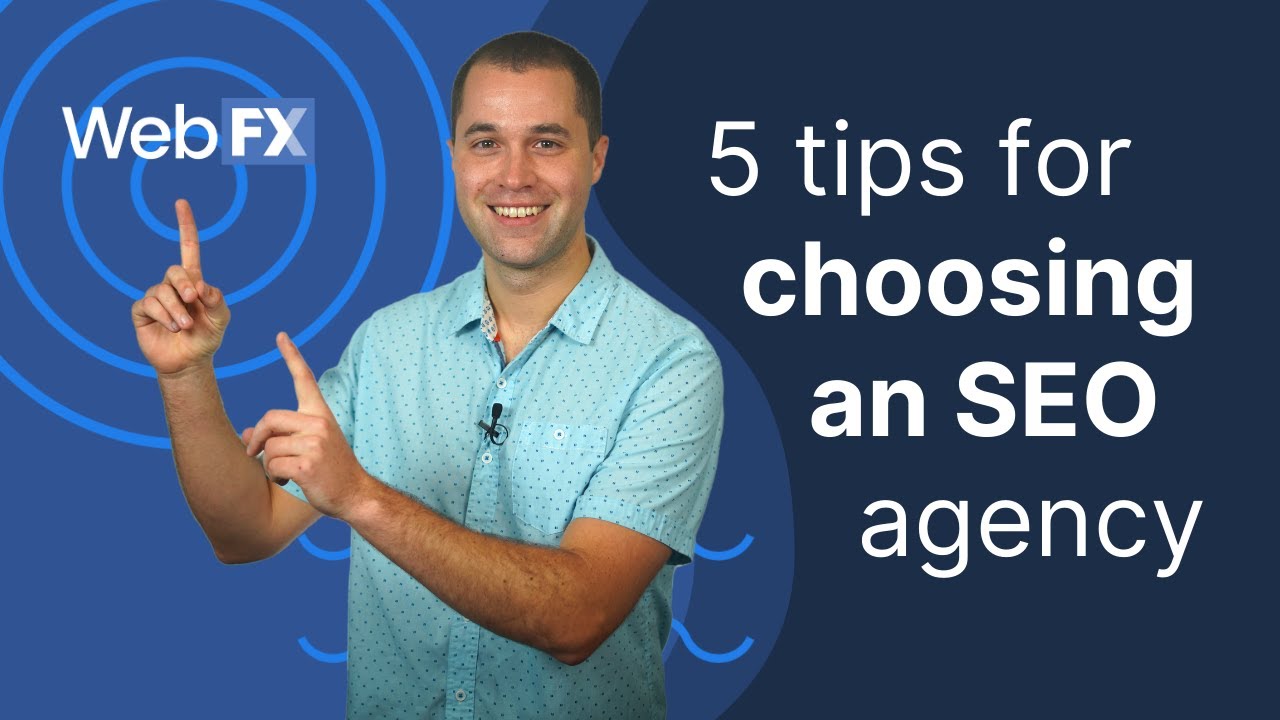 Every search for the perfect SEO agency starts with a seed list.
A seed list is a collection of agencies that are possible partners for your business.
Adding an agency to this list doesn't mean you have to go through the process of getting a quote from them — it's just an initial brainstorm to get the ball rolling.
Most companies do this by using one of two techniques — finding pre-made lists of agencies or creating their lists based on their own research.
Option 1. Looking for online lists
The Internet is packed with lists that all have their own opinions on the best SEO agency in the industry.
To find them, all you have to do is search for "best SEO agencies" in Google.
Option 2. Creating your own list
You don't have to start with someone else's list when you're looking for SEO agencies. Creating your own seed list means you're tracking down agencies that are hyper-specific to your business from the start, which means they're all going to be better candidates than a list from a third party.
To create your seed list, first decide what's most important to you in an agency. Do you want an SEO partner that's nearby? Or is it more important that you find one that's affordable? This will determine the keywords you use to find different agencies.
For example, if you want SEO agencies that are near you, you could search something like "SEO agencies in [your city]" to get started. If you wanted affordable SEO services, you could search that exact term and see what comes up.
Specialties like local SEO, technical SEO, small business SEO, and even niche SEO are all fair game when you're making your seed list. Just choose the qualities you know you'll need in a marketing partner and search based on those keywords. Then, write down somewhere between five and 15 agencies for your short list.
Now, you're ready for the next step!
Step 2: Look at each agency's website
Now that you have your short list, it's time to check out each agency's website.
You can look at a lot of different pages to evaluate whether an SEO agency is worth your time. But for the sake of time, you can usually learn everything you need to know from four main pages.
Important page 1. Homepage
An agency's homepage is important because it's the way the agency chooses to present itself to potential clients like you.
As a result, an agency's homepage should be the best-looking page on the site. You should be able to find navigation elements, the agency's name, and contact options almost at a glance. The page should also feature some kind of imagery to give you an idea about who works there. This shows you that the agency is excited to show itself off.
While that may sound egotistical, it's actually a good sign! Agencies that are excited to show their employees or facilities are proud of who they are. That pride translates into the quality of work they do for their clients. For you, that's a great sign!
If a homepage looks old, unmaintained, or just sloppy, you can scratch that agency off your list.
SEO is a big deal and it constantly changes. If an agency isn't good enough to keep its own website up to speed, you can bet they can't do it for you either.
Important page 2. About page
The About page may not sound like much at first, but it's another great way to see how the agency presents itself.
It's also a good indicator of the agency's overall success and work environment. An ideal About page shows unique images and videos of happy employees. Happy employees are important because that means they like their jobs.
Employees who like their jobs are going to work harder for you than employees who hate what they do. So when you spend on a marketing agency, engaged employees are going to get you more for your dollar. In general, happy employees create a smarter investment.
An About page should also have information about an agency's values. These values reflect their approach to their work, whether that includes data-driven results, in-depth analysis, regular reporting, collaboration, or other qualities.
If an agency has won awards, those should also be on the About page. Awards may not seem like they matter on the surface, but they reflect success, determination, and experience on the part of the agency.
That's because no matter what they did to earn an award, they beat other participants for it. That means they've been judged to be better than other agencies — maybe even hundreds! No matter how you spin it, that's a good sign.
Finally, it's always a good thing to see an agency talking about itself on its About page. The more an agency says, the less they have to hide. So if you find an agency that doesn't have an About page — or maybe they don't have much to say about themselves — it's probably best to scratch them off your list.
After all, if they can't tell you they're proud of their work, can you trust that you'll be happy with what they do for you?
Important page 3. Testimonial page
Testimonial pages are goldmines of information for how you can expect to be treated by an SEO agency.
Earning positive reviews is hard. Like the old saying goes:
"Do something well, and someone will tell 10 people. Do something poorly, and they'll tell 100."
So when an agency is able to get enough testimonials to fill out an entire page on their website, you know they've done some good work.
Beyond that, you know they've done a lot of work. That's because it takes a lot of time to get a good review from a client, especially a review that the client gave permission for them to post.
The best SEO agencies will have more than 100 testimonials from their time working in marketing. The absolute best will have even more. That number of positive reviews is a testimonial by itself that shows the worth, quality, and dedication of an agency.
If you find an agency with only 20 or 30 testimonials, however, that doesn't mean they're a bad agency. They may be new to the industry and still acquiring testimonials for their clients. But if you find an agency without any testimonials, that's cause for concern.
Most agencies should be able to get at least one testimonial from a client. If they can't, it's almost certainly because they haven't exceeded (or even met) their clients' expectations. With that in mind, testimonials count for a lot on an agency's website.
If you don't see the kind of endorsements you want from their past clients, scratch them off your short list!
Important page 4. Blog
The last page you want to check on an agency's site is their blog.
Blogs are critical to the success of a website in general.
In SEO, that goes double since agencies are constantly rushing to outdo each other with the latest data, trends, and information.
So if you find a blog that has a lot of recent posts about current topics — like SEO changes to expect this year or a report on a Google algorithm change — you can be sure that agency likes to stay up to date. But if a blog only has a few entries that were posted months apart from one another, you know they're not doing well with their own SEO strategy.
And if that's the case, can you really trust them with yours?
Step 3: Test the agency's SEO strength
Now that you've looked at an SEO agency's website, it's time to evaluate their strength.
You can do this with several online tools, some of which are completely free. Ahrefs and Moz's Open Site Explorer are great tools, though they only show limited results for free accounts.
If you don't want to shell out for those accounts, you can evaluate an SEO agency's online power simply by using Google.
Test 1: Brand Name Search
Start your evaluation by searching the company's brand name.
Each agency should rank first for their own name. If not, you can safely cross them off the list.
Test 2: Major Keyword Search
Major keywords are the search terms that are important to earning new customers for that SEO agency, like "SEO agency in [their city]." They should rank high for these keywords because without them, they wouldn't attract the attention of potential clients like you.
If an agency can't rank for major keywords, consider taking your business to someone else.
Major keywords are directly related to the agency's ability to earn new customers. If they're not ranking, they're not earning customers like they should!
Test 3: Minor Keyword Search
Minor keywords are search terms unrelated to an agency's primary audience. These keywords might be "marketing statistics" to find a blog about advertising data, or it could be something like "marketing infographic" to promote brand awareness.
They can rank high or low for these search terms because they don't directly impact the agency's bottom line.
An agency may choose to chase minor keywords for any number of reasons, but it's mostly done to attract traffic to the site.
That traffic brings in new visitors, who may then decide to regularly come back to the site and even become a paying customer one day. But in the meantime, the agency will just enjoy their organic rankings.
An SEO agency can use this to your advantage by targeting keywords that might promote your name online initially to help build the strength you need to pursue major keywords.
They may also do it to help you earn organic traffic. That has advantages for your brand, just like it has advantages for SEO agencies.
If an SEO agency doesn't come up for any minor keywords you see on its site, consider scratching them off your list.
They may be minor, but these keywords still matter to an overall SEO strategy.
Step 4: Make first contact with agencies
After you're done with their websites, it's time to contact your prospective agencies directly.
You can do this in a few ways.
All agencies should have a Contact page where you can email them directly to set up a time to talk.
All agencies should also have a phone number listed in the footer of their website or at least on their Contact page. You could also contact an agency through either of those methods and schedule an in-person meeting to talk about your goals.
All three of these methods have their own advantages.
Advantages of email contact
Good for: People crunched for time.
Email contact has a number of major advantages over other forms of contacting an SEO agency.
First, you have the advantage of time. That means you can take your time to plan out exactly what you want to say and how you want to say it. If you're someone who doesn't like to think on your feet, then that's the best advantage you could have!
With email, you get to write down your criteria, give them your email address, and wait for the agency's response.
The second advantage is time management. Email contact is the best form of contact for time management because you can take a few minutes to create an email, send it, and then get back to running your company. You don't have to block off a conference room and schedule a call — you just need five minutes at the start of your day, and you're good to go!
The third advantage is permanence. Whatever you write down and email to an agency, there's a record of it. So if you have a future dispute about something you want for your business, you can reference your original email in your support.
In reality, disputes rarely occur with reputable SEO agencies. But it still never hurts to have all your bases covered with print records. But even with those advantages, email isn't for everyone. If you'd rather talk to a person over the phone, you have some big ideas playing to your advantage too.
Advantages of phone call contact
Good for: People who like feeling more connected.
Calling an agency on the phone has its own set of advantages.
First, you're talking to a person. In most cases, agencies are small enough that you shouldn't have to "press 1" to speak to an actual representative. SEO agencies don't tend to be that big, and there's almost always at least one representative near the phone at any time.
Because you're talking to a person, you also have the advantage of speaking in real-time. That means the rep on the other end of the phone has to think on their feet, which means you can trust what they say more than something they could plan and revise (like an email). That off-the-cuff conversation is great for getting quick facts about an agency, their plans, and how they work with your ideas.
Last, speaking to a person establishes a relationship right off the bat.
You're not communicating through screens — you can clearly hear someone's voice, and they can clearly hear you.
There's the opportunity to learn new information, but there's also the opportunity to make a joke, learn about the representative themselves, and so much more.
You just can't get that over email.
On the other hand, phone calls require you to be on your game at all times when you're speaking. Some marketing managers and business owners even plan ahead of the phone call, which is smart, but it takes up more time than sending a simple email. But there's still one more contact method that has its own distinct set of advantages.
Advantages of an in-person meeting
Good for: People-persons.
To set up an in-person meeting, you'll have to email or call ahead. But some SEO agencies also allow drop-ins, provided there's a rep available to speak.
Regardless, once you have the meeting set up, you have several opportunities at your fingertips.
First, you're starting a face-to-face relationship with an agency representative. That goes a long way in the business world. Creating an in-person relationship lets you have a real conversation with someone, see their mannerisms, ask for clarifications, and eventually trust them.
Second, you can get a feel for how the agency operates when you're speaking in person. The representative that speaks to you got their job title because they're representing their agency. That makes them a sample of what you can expect from working with the agency itself.
If a rep is pushy, long-winded, or sales-obsessed, that'll come across in your conversation. And if they talk about that stuff a lot during your first meeting, you can bet it'll come up again if you choose to become a client.
On the other hand, if a rep is kind, considerate, and helpful, you can probably expect that more in the future as well.
Finally, an in-person meeting demonstrates politeness on the part of the agency. Generally, in-person meetings take a lot longer to coordinate and execute than emails or phone calls. So if an agency agrees to meet with you in person just to talk about the possibility of working together, you know they're willing to make time for you.
The rep who meets with you has set up talking points, booked a conference room, and took part of their day to exclusively meet with you. Often, these meetings run over their allotted time as well, meaning a rep may take even more time from their day just to make sure you're comfortable with the agency.
That's a great sign all around. When you find an agency that's willing to make time for you — even before you pay them anything — you know you've found a good marketing partner.
The only real downside to an in-person meeting is the practice required to make one successful.
Experienced negotiators and managers may have no problem at the table, even when it comes discussing contracts and pricing. But new hires or untested negotiators may have some trouble getting through the process. Still, you can solve these issues by sending your newer staff into the meeting with your experienced staff to help get their feet wet.
In fact, the agency may do the same with one of their new representatives, if they've recently hired.
Which contact method should you use?
Ultimately, the choice is up to you. Do what you think makes the most sense for your business.
If you're in the middle of a busy season, send an email.
If you want to have a quick chat and get some answers, make a phone call.
If you want to thoroughly evaluate an agency based on their representatives, schedule a meeting.
As with the last steps on this page, cross any agency off your list if they don't meet your standards. By this point, you should only have one or two agencies left to evaluate.
But regardless of which method you choose, you'll still have to meet with the agency in person — even if it's your second time.
Step 5: Meet with the agencies
Generally, you won't be ready to close on an SEO contract from your first conversation with an agency — even if you're meeting in person. That means you'll have to set up a follow-up meeting to get everything in order.
This meeting will almost always be in-person unless you're working with an SEO agency that's far away. Even so, some agencies will pay to have a representative fly out to your business just to meet for an afternoon. Regardless of how your second meeting takes place, it's your time to ask questions that'll determine whether you work with an agency.
We've listed the five most important questions you should ask any SEO agency below. We've also explained why you should ask them, what possible answers mean, and whether those answers are good or bad.
Question 1. How will you improve my site's rankings?
This is the most important question you can ask an SEO agency because you're asking them to describe their whole job.
Here's an example of a good answer:
"We'll focus on creating content that's intended to convert visitors into customers and optimizing it for search engines. We'll also work on creating link-worthy content to build up your site's reputation with search engines, which will help your site rank higher in general. Depending on the site's existing SEO power, Google penalties, and other factors, we could see results as early as four months or as long as a year."
Their answer doesn't have to be a 100% match, but it is the thoroughness of an answer you should expect. Representatives who know SEO well also know the major points that business owners most worry about.
In the example above, they hit the points of:
What the agency will do
How they'll do it
Why they'll do it
The impact of their work
How long it may take to work
Overall, it's a great answer.
Here's an example of a poor answer:
"We have a secret set of ranking strategies that no one else knows. We're able to get around Google's algorithm and make your company rank above any other in your industry. We guarantee you'll rank #1 for any keyword."
This answer is poor because it doesn't tell you much at all. In fact, it sounds pretty sketchy. Talking about "secret" strategies is a red flag for any SEO agency. All major best practices are published by SEO outlets like Moz or Backlinko.
In addition, "getting around Google's algorithm" is a kindly-worded way of saying an agency uses "black hat" tactics to rank their clients. Black hat tactics may work for the short-term, but Google always catches up with them and penalizes people who use them. For proof, you can check out this timeline of Google algorithm updates. And keep in mind that Google doesn't have to publish the updates they make. They make as many as two changes to their algorithm every day, so it's possible that an agency's "secret" black hat tactics could be obsolete within the hour.
Question 2. How will we stay in touch about updates?
This question establishes expectations for your future communication. The most common methods are emails and phone calls.
At WebFX, we mostly use emails that contain information about our specific representatives in each signature.
For this question, you can expect a good answer to sound like this:
"Here, we like to use email to stay in touch. It's a little easier for our marketers to keep in contact with all of our clients, and it lets us and the client keep a permanent record of questions, comments, and requests. We're flexible with phone calls and meetings though, so we can do that on occasion if you'd like."
This answer is good because:
It answers your question directly.
It tells you why they do what they do.
It gives you options to meet your needs.
Basically, you get everything you need to know about regular communication in one answer.
A poor answer sounds like this:
"We'll be in touch when something big happens. We don't like to contact you unless we've got some news."
This answer is poor because it takes accountability away from the agency. They have a lot of wiggle room with this answer, so if your site starts to lose ranking, you might not even know!
Only work with an agency that gives you a way to hold them accountable. That means they hold themselves accountable as well, which gets you better results.
Question 3. How and when do you report changes?
This question is important because it tells you how frequently you'll see data on your site's performance.

Most SEO agencies use Google Analytics as their main source of reports. Google Analytics has become the SEO standard in measuring performance, so you'll typically see graphs like the one above.
For this question, you'll hear good answers like:
"We use Google Analytics for all of our reporting. We send reports out monthly so you can keep a close eye on what's going on with your site. We'll also provide in-depth explanations of what each metric means, to give you an accurate idea of how your strategy is performing."
This answer is good because it:
Says what tool they use for reporting
How often they send reports
Why they send reports that often
Poor answers tend to sound something like:
"We'll have people check on your site every once in a while to make sure everything's working. Just let us know when you want to see something and we'll get back to you."
This answer doesn't answer much. Instead of telling you what to expect, it gives the agency a vague set of circumstances to follow that, again, gives them way too much wiggle room.
Only partner with an agency that has a reporting process in place. Otherwise, you're in a prime position to be ripped off.
Question 4. Do you use tools for your work?
In SEO, tools have earned a bad reputation. They're sometimes associated with black hat SEO, but that's not often the case.
Certainly, some tools — like content automators — are black hat. But other ones make SEO much easier and much more profitable.
A good answer to this question sounds like this:
"We use Ahrefs to look for links pointing back to your site and track keyword movements. We also use SEMrush to keep an eye on your competitors, Google Analytics to track your site's progress, and the Moz Toolbar to see your site's domain authority, which is a measure of your site's ability to rank in search engines."
This answer works because it:
Tells you the names of tools an agency uses
Tells you why they use those tools
Tells you what those tools do
That makes it easy for you to look at each tool by yourself, if you'd like. It's also nice to hear that an agency is up-to-date enough to be using modern SEO tools and spending the money on those tools for their clients' benefit.
A poor answer to this question sounds like:
"We don't use tools. We prefer to look at your site in search results according to the list of keywords you give us. We'll get you ranked for those and let you know how you look."
There are several problems with this answer.
First, every SEO should use tools.
Second, looking at rankings in keyword searches doesn't give you an accurate view of how a website actually ranks. Google's introduction of geography-focused results means search results are customized for every person in every area. You may rank well in your hometown, but you may not rank well for other cities in your region.
In addition, Google's rankings change every day. You could easily be #1 in search results for 12 hours and then fall to #18.
Tools like Ahrefs and SEMrush track ranking movements like that so you can get a clearer picture of what's going on with your site.
You can also compare those movements to major Google algorithm updates and discuss new marketing options with your SEO agency.
p.s. You can learn more about the Google Algorithm in our video on that topic.
That empowers you to rank well in the present and prepare for the future — all because your SEO agency uses the right third-party tools.
Question 5. How do you stay up-to-date with algorithm changes?
This question is important because it shows the work ethic and dedication of your SEO agency.
The number of different SEO news sites and blogs is staggering. Every SEO has a favorite, and it's possible you'll hear a different answer from every marketer in a room.
With that in mind, there's no excuse to fall behind SEO trends. It's true that SEO changes by the day, but with so many people reporting on it — not to mention Google press releases — it's never been easier to stay up-to-date.
A good answer to this question sounds like this:
"I really like Search Engine Land because they've got a great reputation and regularly publish news from industry experts. I also read Moz because their Whiteboard Friday segments are helpful, and sometimes I'll check out our own blog to see what our marketing team has been doing."
This answer works because it:
Gives you the names of information sources
Tells you why those sources are trustworthy
Reflects trust within the agency
The final part of this answer is always great to hear. Whenever someone says they trust their agency enough to use it as a source of news, you know you can probably trust them too. That's a great start to any relationship with an SEO provider.
On the flip side, a poor answer to this question sounds like:
"I don't keep up with news because every site out there is just in the business to earn ad dollars. Instead, I do what I know works. This stuff has gotten my clients ahead before, and it'll work for you."
This question is a problem for a few reasons.
First, the speaker is clearly too cocky and full of themselves to ever deliver quality results. This is the voice of someone whose ego is more important to them than their clients' success.
Second, those who don't keep up with SEO news will always fall behind. Like we said before, Google makes a change to its algorithm about once every 12 hours — sometimes more. They don't announce 90% or more of the updates they make, so the only way to know all of them is to test for them.
Can this one agency really have the manpower to test Google every 12 hours, record the newest ranking factors, and use those ranking factors to help their clients? Absolutely not.
That requires an unimaginable amount of time, money, and energy. If an agency did all of that, they wouldn't have the resources to actually help clients. With that in mind, you're ready to make a final decision on an SEO agency.
Move forward with the one that makes you feel most comfortable. SEO contracts can last more than a year, so it's critical that you work with someone you trust. When you do, you'll see much better results.
Our digital marketing campaigns impact the metrics that improve your bottom line.
See More Results

WebFX has driven the following results for clients:

$3 billion
In client revenue

7.8 million
Leads for our clients

5.2 million
Client phone calls
WebFX is a full-service SEO agency
At WebFX, we have a full team of SEO experts who are some of the best in the entire industry. With extensive knowledge of technical SEO, on-page SEO, off-page SEO, and Google algorithms, our team has earned outstanding results for clients year after year.
In fact, our SEO team has done such a great job that we retain 91% of our customers from year to year! (The industry average is about 50%.)
If you want an SEO agency that'll work for you, contact us today. We'll develop a unique SEO strategy for your business and make it fit your budget!