Selecting a full-service SEO agency is no easy task — choosing a good SEO company is even harder. It's tough to find a company you trust with something as valuable as your web presence, but, there are a lot of great firms out there! If you're now wondering how to choose an SEO company, don't worry.
We've done the research on how to choose the right SEO company. At Clutch, a platform for reviews of SEO and digital marketing services companies, we recently analyzed our review data to understand what methods companies use most frequently to find their SEO partners. Explore how businesses like yours choose SEO agencies, plus get advice for what to look for in an SEO company, below.
You can make the research and vetting process even easier by browsing our tips for how to find the best SEO company too!
*This post has been updated by the WebFX team since its original publishing.
RELATED: 9 Best SEO Companies in the World
How do companies choose an SEO company?
How do companies choose an SEO company? In our review interview and data collection process, one of the questions we ask is, "What was your selection process, and why did you select this company to work with?" While not highly scientific, we were able to categorize these qualitative responses into a few main buckets. (Note: Some respondents stated more than one reason.)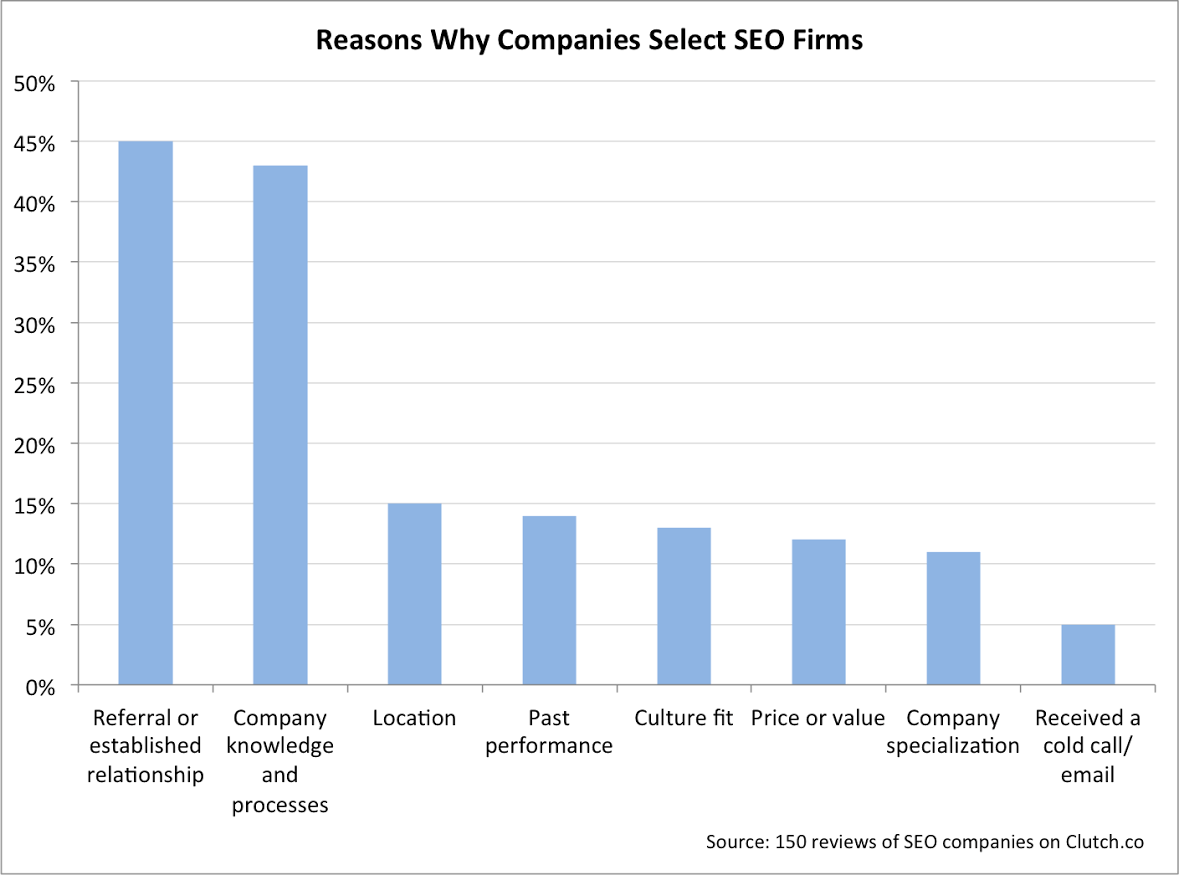 Factor 1

: Referrals and previously established relationships

Referrals and previously established relationships turned out to be a key reason, cited by 45% of reviewers.

This makes sense, as companies may not be experienced with SEO services, and they, therefore, rely on the experiences of friends and colleagues they trust.
Factor 2

: SEO company knowledge and processes

The second-largest factor in choosing an SEO company is company knowledge and processes. This includes customer service, thought leadership, staff experience, reporting, and transparency. These are all attributes that can help make a company successful for their clients, as they were mentioned by 43% of reviewers.
Factor 3

: Case studies, client references, and online reviews

Closely related to company knowledge and processes, past performance includes specific evidence, such as case studies, client references, and online reviews, all of which indicate previous success.

About 14% said this was a deciding factor in their decision.
Are businesses choosing SEO companies the right way?
In the process of digging into our reviews, we also noticed that 19% — almost one in five companies — had a negative experience with an SEO firm in the past before finding the right fit. This tells me a couple of things:
Great agencies still have work to do in educating potential clients on what a successful SEO strategy and partnership should look like.
Businesses need to take more time vetting their prospective partners along with many criteria to find the right fit.
To be more specific, the companies that select an SEO firm based primarily on factors such as location, price, or culture fit, as opposed to company knowledge and performance, are not doing enough homework before entering into a partnership.
Time to Level Up Your Sales
Our long list of services helps you grow every aspect of your business with marketing strategies that are proven to increase bottom-line metrics like revenue and conversions.
In the past 5 years, we've managed more than 12.9 MILLION transactions across our client base.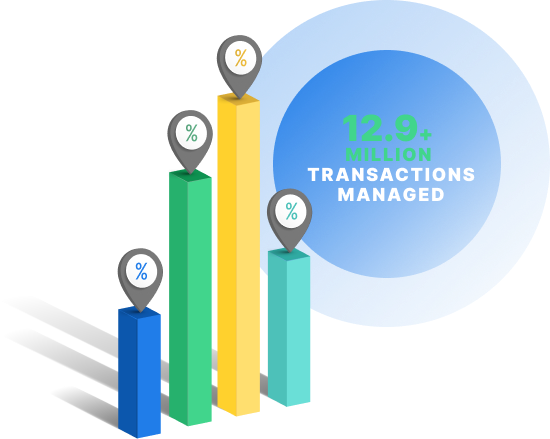 How to choose a good SEO company
When it comes to choosing an SEO company, you want to go about it in a smart and logical way. If you rush into the process, you'll probably sign with an agency that doesn't meet your expectations, which can lead to a frustrating experience that doesn't help you drive traffic, leads, or sales from search.
Learn how to choose an SEO company (and avoid the above scenario) with these three steps:
1. Look at the SEO agency's past performance
Performance matters for not only SEO agencies but also businesses like yours. People look at what your company's done to determine if you can deliver. You should do the same when choosing an SEO company.
Look at their past performance, whether through portfolio examples, case studies, industry awards, or client testimonials.
According to Trevin Shirey, an experienced SEO and Director of Business Development at WebFX:
"Past and proven performance is the most important factor, in my mind, when somebody is looking to find an SEO partner. Especially with the Internet nowadays, it's easy to say a lot of nice things about yourself or to look like a really reputable agency that knows what they're doing at a surface level, but SEO agencies that are truly successful are going to have a lot of specific, proven, and verifiable results available for potential clients."

"I always recommend that people ask for specific examples of past work, such as a website or a campaign…So, proven performance is number one on my list. Make sure that you have verifiable proof that the company knows what they're doing and that they're able to drive meaningful results for their clients."
With concrete proof of an SEO agency's performance, your business can go into a consultation or partnership with confidence.
You know that you're choosing a good SEO company for achieving your goals for growing your business.
2. Ask past or current clients about their experience
Next, you want to connect with past or current clients. Reading testimonials, as well as in-depth interviews, can help your company get insight into the client experience. You can learn about the agency's strengths and weaknesses, plus preview the strategy and reporting process.
As Shirey says: "Contact information for current clients is really big. Make sure that you call maybe three to five current clients of a particular SEO vendor to vet them. Ask them how they like working with that particular company.
Learn as much as you can about their SEO process, how the company is run, and their reporting. That way, you're getting a third-party view of your SEO vendor before you're jumping into a financial partnership with them." You can answer some common questions too, including:

How fast does the agency return calls or emails?
Do clients receive a dedicated point-of-contact or different ones?
How much time do clients have to set aside to review reports and strategy decisions?
All this information can help your company choose the best SEO agency for you. It can also make narrowing your list of options easier. You can focus your efforts and time on the SEO companies that check off every requirement on your list.
3. Meet the SEO company and ask questions
The final step in how to choose an SEO company revolves around meeting your potential agencies. Before you sign with an SEO agency, you want to meet them. Whether you meet in-person or virtually, like through a video conference, that face-to-face meeting can help your team determine if they are the right SEO company for you.
When you meet with your potential agencies, make sure to compile a list of questions.
According to Shirey:
"People sometimes apologize for asking us questions in the sales process, but I think that the more questions that you can ask about past performance, the clearer picture you're going to get about how skilled an SEO agency is and how well they're able to perform. A company that's well-rounded isn't going to have anything to hide, and they'll have a whole bunch of clients that are eager and willing to share their experience working with them."
A few examples of some questions to ask when choosing an SEO company include:
What experience do you have with our business's industry?
When should we expect to see results?
How much do your SEO services cost?
For the best meet-and-greet, brainstorm various questions with your team and company leaders. While your team may have questions about strategy and reporting, your decision-makers may have questions about pricing and return on investment (ROI).
3 big mistakes smart businesses make when choosing an SEO company
Everyone makes mistakes, and that includes the best businesses. That's why, before you start choosing an SEO company, you should review the common and big mistakes that organizations often make when finding an SEO agency.
These three mistakes include:
1. Choosing a "cheap" SEO agency
Price does matter when it comes to SEO services and agencies. You want to set a budget and find an SEO company within that budget. The mistake, however, is that many businesses set unrealistic budgets.
They see agencies offering SEO for $100 per month, for instance, and think that's a reasonable amount. The truth, however, is that the SEO companies promoting those ultra-low rates often underdeliver.

They underdeliver when it comes to your strategy, for example, using copy-and-paste approaches to deliver nonexistent returns.
Or, they fail to communicate with your team. Again, this lack of service results in terrible customer experience and return. With SEO, you get what you pay for, which is why you need a realistic budget.
Educate your company about SEO pricing. Then, you can set a feasible monthly budget for SEO services. For reference, businesses spend an average of $1500 to $5000 per month, though this number can fluctuate based on your strategy, company size, and more.

2. Browsing only local SEO companies
Getting to work with a local SEO agency is a bonus when choosing a good SEO company. When it comes to what to look for in an SEO company, however, the location of your agency shouldn't be your top factor. You want to prioritize experience, performance, and client experience over location because that will impact the quality of your service the most.
Limiting yourself to a small area can stop your business from achieving the kind of results you want. If your competitor, for example, partners with an experienced agency several states away and you settle with a local, but inexperienced agency, it can prevent your company and website from ranking at the top of valuable search results. That means less revenue, sales, and leads for you and more for your competitor.
Even if you choose an SEO company that isn't local, they will often try to bridge the gap. For example, they may travel on occasion to meet your team in person. Or, they may use video conferencing or phone calls to chat with your team in a more personable way.
3. Selecting a black-hat SEO agency
Your company (and its business leaders) want results. SEO doesn't deliver immediate results, though. In most cases, it requires three to six months to start providing a return.
This feature can lead to frustration, as well as smart companies falling for black-hat SEO strategies. Black-hat SEO describes unethical (and ineffective) long-term SEO tactics. While you can use black-hat approaches to rank in search results quickly, you will fall from page one fast.
Worse, Google may even ban your website from ever appearing in its search results again. That means people wouldn't be able to find your business's site via the world's biggest search engine. You don't want that, which is why you need to focus on established, white-hat SEO agencies.
These companies use best practices and ethical strategies that help your company rank in search results. In most cases, low-cost SEO services and black-hat SEO agencies go hand-in-hand.
5 bonus tips for how to find the best SEO company
In addition to the above how-to process, use these tips for how to find the best SEO company. These tips come from the key factors that we heard over and over again in our interviews with businesses already partnering with SEO agencies.
So, when you're wondering what to look for in an SEO company, look for the following:
Evidence of successful past performance
Strong transparency and reporting
Customer service and attention
Thought leadership and knowledge transfer
Customized, fair pricing
Specialization in the service you need
Make sure you also feel comfortable with the agency. You want to feel like you can ask questions, voice concerns, and more. If you don't, it can lead to problems with developing a long-term partnership, which is critical as SEO is a long-term, ongoing strategy.
Learn more about how to choose an SEO company
Do you want to get more tips about how to choose the right SEO company?
Join the WebFX Revenue Weekly newsletter to receive actionable tips, advice, and strategies in your inbox. It's free, it's helpful, and it'll make choosing an online marketing company that much easier.
How is your website's SEO?
Use our free tool to get your score calculated in under 60 seconds.
Get posts by email
Join 200,000 marketing managers and subscribe to Revenue Weekly!
"*" indicates required fields
WebFX Careers
Join our mission to provide industry-leading digital marketing services to businesses around the globe - all while building your personal knowledge and growing as an individual.