Selecting an SEO agency is no easy task. It's tough to find a company you trust with something as valuable as your web presence, but, there are a lot of great firms out there! So how do you find them?
At Clutch, a platform for reviews of SEO and digital marketing services companies, we recently analyzed our reviews data to understand what methods companies use most frequently to find their SEO partners. We also added our spin to the information in this video featuring our president, Bill Craig.
Overall findings
One of the questions we ask in our review interviews is, "What was your selection process, and why did you select this company to work with?"
While not highly scientific, we were able to categorize these qualitative responses into a few main buckets. (Note: Some respondents stated more than one reason.)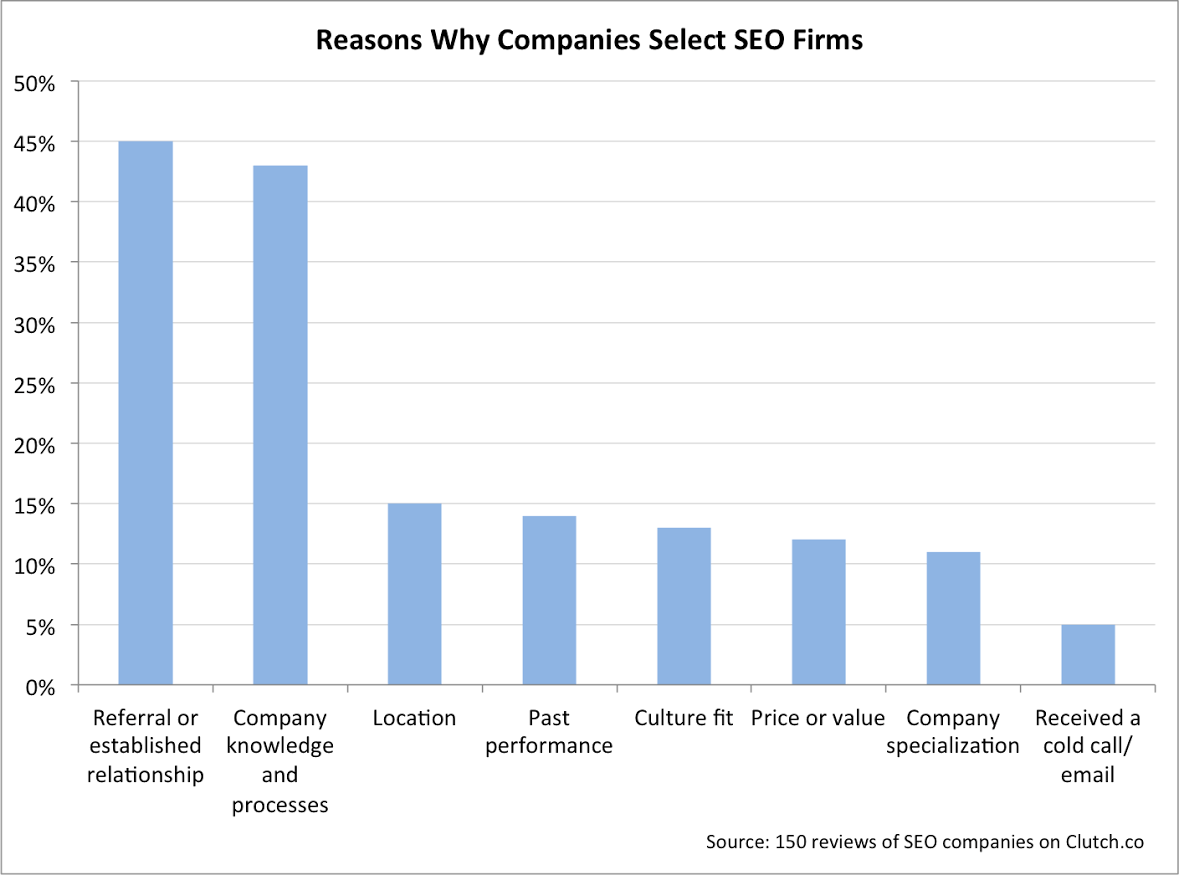 Referrals and previously established relationships turned out to be a key reason, cited by 45% of reviewers.  This makes sense, as companies may not be experienced with SEO services, and they therefore rely on the experiences of friends and colleagues they trust.
The second-largest factor in SEO company selection is company knowledge and processes. This includes customer service, thought leadership, staff experience, reporting and transparency. These are all attributes that can help make a company successful for their clients, they were mentioned by 43% of reviewers.
Closely related to company knowledge and processes, past performance includes specific evidence, such as case studies, client references, and online reviews, all of which indicate previous success. About 14% said this was a deciding factor in their decision.
Are businesses getting it right?
In the process of digging into our reviews, we also noticed that 19%—almost one in five companies—had a negative experience with an SEO firm in the past before finding the right fit.
This tells me a couple of things:
Great agencies still have work to do in educating potential clients on what a successful SEO strategy and partnership should look like.
Businesses need to take more time vetting their prospective partners along many criteria to find the right fit.
To be more specific, the companies that select an SEO firm based primarily on factors such as location, price, or culture fit, as opposed to company knowledge and performance, are not doing enough homework before entering into a partnership.
What should businesses look for in an SEO partner?
We took our findings and concerns to some SEO experts to get their perspectives on what factors business should evaluate in their search for the right fit.
Trevin Shirey, senior business development manager at WebFX, shared the following insight in his interview:
"Past and proven performance is the most important factor, in my mind, when somebody is looking to find an SEO partner. Especially with the Internet nowadays, it's easy to say a lot of nice things about yourself or to look like a really reputable agency that knows what they're doing at a surface level, but SEO agencies that are truly successful are going to have a lot of specific, proven, and verifiable results available for potential clients. I always recommend that people ask for specific examples of past work, such as a website or a campaign.
Contact information for current clients is really big. Make sure that you call maybe three to five current clients of a particular SEO vendor to vet them. Ask them how they like working with that particular company. Learn as much as you can about their SEO process, how the company is run, and their reporting. That way, you're getting a third-party view of your SEO vendor before you're jumping into a financial partnership with them.
People sometimes apologize for asking us questions in the sales process, but I think that the more questions that you can ask about past performance, the clearer picture you're going to get about how skilled an SEO agency is and how well they're able to perform. A company that's well-rounded isn't going to have anything to hide, and they'll have a whole bunch of clients that are eager and willing to share their experience working with them.
So, proven performance is number one on my list. Make sure that you have verifiable proof that the company knows what they're doing, and that they're able to drive meaningful results for their clients."
Other key factors
The key factors we heard over and over again in our interviews were:
Evidence of successful past performance
Strong transparency and reporting
Customer service and attention
Thought leadership and knowledge transfer
Customized, fair pricing
Specialization in the service you need
Based on our research, we came up with a helpful framework to select an SEO company.  We hope it will help some you compare your short list of firms along some important criteria and learn more about SEO along the way.
What do you think about our data? Did we miss any key factors to choosing an SEO firm? Let me know in the comments!