If you're going to spotlight a historic company with tons of great marketing to learn from, who better than Coca-Cola? This classic brand has been reminding us to "Drink Coca-Cola" since 1886 and now encourages millions around the world to "Open Happiness" every day. One thing that has remained constant throughout the history of Coke is the innovative marketing campaigns that have launched and re-launched the brand and its product to the world.
Coca-Cola advertising history is filled with famous marketing campaigns that rank among some of the most effective in the world. Here are just a few of my favorite Coca-Cola campaigns that both capture the essence of Coke's brand and provide great content marketing strategies for the rest of us to emulate.
1. The "Share A Coke" Campaign
Last June, Coke launched its "Share A Coke" campaign in the U.S., using 250 of the most common U.S. millennial names to market its product to individual consumers. The campaign seems to have been a huge success with U.S.
audiences, gaining significant traction in the short amount of time the ad has been running here. According to the Wall Street Journal, more than 125,000 social media posts referenced the "Share A Coke" campaign between June and July of 2014, and 12% of online conversations about Coca-Cola in that time can be attributed to the campaign. What's more, over 353,000 virtual bottles of coke have been shared via Coke's campaign-specific website.
We can also see the success of this campaign when we look at data for the Coca-Cola brand in Google Trends. After being launched in the U.S., the campaign earned an increasing amount of attention. The search term "share a coke" saw a significant increase in U.S.-based Google searches in the short, three-month time lapse from June to August.
Even more indicative of the campaign's success, though, is the fact that it has also seemed to spike Google searches for terms like "Coke" and "Coca-Cola" within the last three months – a strong sign of an effective advertising campaign. When we look at the other search terms people have used to search for the "Share A Coke" campaign, we can also see the campaign's impact through the sudden appearance of terms like "coke names" and "coke with names." This data tells us that people who have seen the campaign, but maybe don't know exactly what it is called, are actively seeking to learn more about the "Share A Coke" ads. Their willingness to seek out information about the campaign is a good indicator of their likelihood to interact with the brand in the future.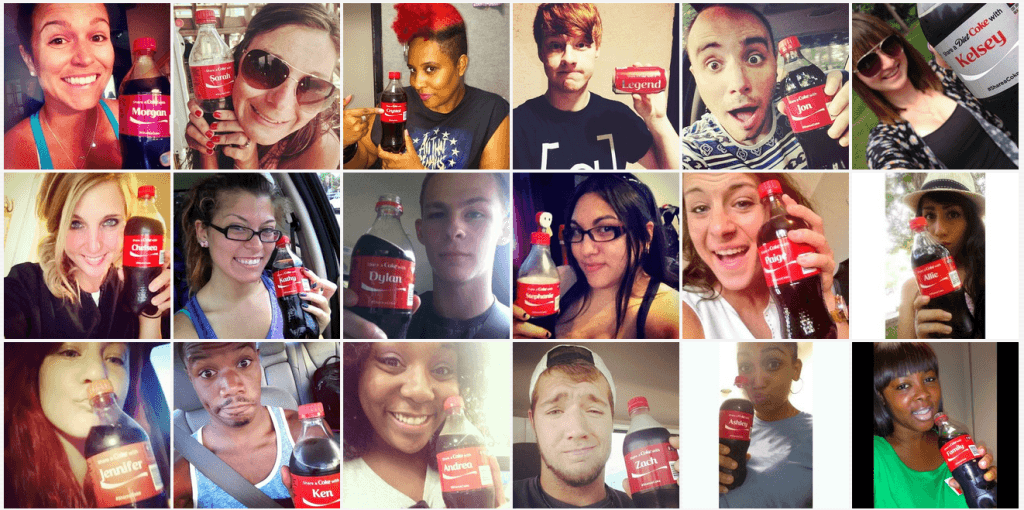 Sharing around the world
Of course, the "Share A Coke" campaign was not launched exclusively in the U.S. The campaign, one of the most famous ad campaigns in recent history, began in late 2011 in Australia and New Zealand, the success of which convinced the brand that the ad was worth replicating in other parts of the world. During the trial period in Australia, there was a 7% increase in consumption of Coca-Cola products by Australian young adults, and the ad campaign earned well over 18 million impressions via social media.
In terms of Facebook specifically, Coke's page earned 39% more followers and visitors to the page shot up by 870%. The "Share A Coke" campaign was expanded across 20 global markets, including those in the U.K., China, and Brazil.
What we can learn from this campaign:
One of the reasons this campaign was so successful is because it directly appeals to individual consumers.
What better way to grab someone's attention than by putting his or her name directly on your product? Of course, this isn't a realistic strategy – or even a good strategy – for many companies, but it's important that you always consider how your campaign will be perceived at the individual level. Another aspect of this ad that makes it so memorable and effective is its ability to adapt to narrative structures.
That is to say, this campaign offers endless possibilities for storytelling in its advertising. And since ads that tell some kind of story are likely to be more effective, that's a big plus for Coca-Cola. When designing your next ad campaign, think about the storytelling potential of the campaign early on.
2. The "Always Coca-Cola" Campaign
This is probably one of the most well-known marketing campaigns of all time. Responsible for the permanent branding of polar bears into Coke's company image, the "Always Coca-Cola" campaign began in 1993 when the company decided to experiment with a recent technological development: computer animation. Of the 27 commercials created for the "Always Coca-Cola" campaign, one in particular stood out: the "Northern Lights" commercial, which would go on to immortalize the heartwarming connection between Coca-Cola and polar bears.
What we can learn from this campaign: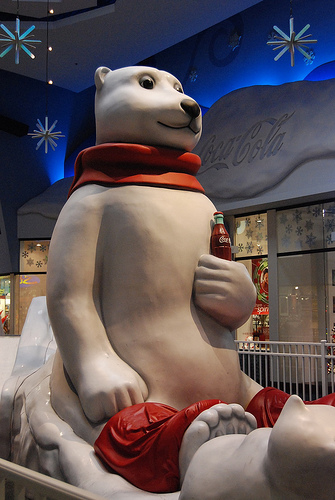 Above all else, I think this classic Coke campaign should remind all of us as marketers to always be willing to try new things. Would the "Northern Lights" commercial have made as big of an impact if Coke had avoided the hassles of using computer-animated images in favor of hand-drawn animation? I can't say.
But I do think that the company's decision to go with a new technology helped its campaign to reach new heights and make a more definitive impact on the people who saw it. Keep your eyes open for new opportunities to market your brand, even if it involves trying something much different from the norm.
3. "The World's Cup" Campaign
As an official sponsor of the 2014 FIFA World Cup in Brazil, Coca-Cola had a prime opportunity to market itself to the hundreds of millions of soccer and football fans who would follow the lead-up to the event. "The World's Cup" campaign was created to celebrate the unifying good that can come of many people's love for a single sport. Coke did an excellent job of tapping into a realistic and captivating story with this campaign, especially when compared to Pepsi's ad for the 2014 World Cup.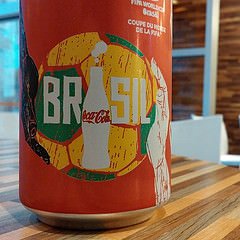 What I especially like about this campaign is that it isn't just a cool story. Coke actually brought more than 1 million fans from more than 90 countries to the World Cup. Anybody can make a heartwarming, fictional video (and even that much can be very difficult), but I think Coke's real power with this campaign lies in the brand's commitment to following through with it.
What we can learn from this campaign:
Don't just tell a story, be a story. If you want to create an inspirational ad campaign that truly moves people, you need to also find a way to make that story happen in real life. Get involved with your community or find ways to show how your clients give back to theirs.
Certainly, not all of us have the reach or budget that Coke is working with, but by learning from some really amazing marketing campaigns they've created, we can learn how to be even better marketers and advertisers than we are now. In fact, even Coke realizes the value of learning from others and being open to new ideas. On March 23, 2015, the brand asked 10 different agencies from around the world to pitch ideas for its next global campaign. Despite the fact that their current campaign, "Open Happiness," is still doing well, they are always looking to improve and drive growth.
This is undoubtedly a contributing factor to the company's many advertising successes, and is a great goal for any business. Although most companies do not have the budget or the reach to get ideas from 10 different agencies, most have the ability to ask at least 10 different employees. If your marketing efforts are usually confined to one department, consider getting some fresh perspectives on your company's image and strategy.
Not all of your employees will have the skills to fully develop and launch a campaign, but they certainly know what your company is like and what its values are. This could be as simple as asking one or two people for suggestions, or as complex as a company-wide contest for who can come up with the best new campaign idea. Either way, as these famous advertising campaigns have shown us, it can't hurt to get those who know your brand best involved in informing others about it.
If there are any remarkable Coke campaigns I've left out, or ones you've personally taken advertising lessons from, feel free to let me know in the comments! Photo credit: Nik Voon, hyku, jfingas, ShareACoke.com
WebFX Careers
Join our mission to provide industry-leading digital marketing services to businesses around the globe - all while building your personal knowledge and growing as an individual.