Grow Your Online Presence With a Top Social Media Marketing Company
Grow brand awareness, drive user engagement, and improve client satisfaction with social media marketing and advertising services from a top social media marketing company. With WebFX as your social media marketing agency, your business will receive a turn-key solution to building your online presence and using it to drive revenue. Browse our services now or keep reading to learn why 91% of our clients make us their long-term partner!
Get the social media services you need
At WebFX, our social media marketing company for small businesses and mid-sized organizations offers the following services:
Social media marketing
Gain followers, likes, and website traffic with our social media marketing services, which include profile optimization, boosted posts, and more. View plans and pricing now!
View Social Media Marketing Services
Social media advertising
Advertise on social media to build brand awareness, attract followers, and drive purchases. Our services include campaign development, optimization, and more. Browse our plans and prices now!
View Social Media Advertising Services
We also offer several other digital marketing services that you can use to expand your online presence, improve your lead generation, and increase your online sales:
If you have questions about our services, contact us online or call us at 888-601-5359!
What do our social media marketing agency's services include?
With our social media marketing agency's services, your business can expect the following:
Dedicated social media account manager
Custom social media strategy
Social media competitor analysis
Social media audit
Social media profile optimization
Monthly reporting and analysis
Original social media posts
Custom social media images
Boosted social media posts
Social media monitoring
And more
As your social media marketing firm, we provide your team with a turn-key solution to developing, growing, and managing your social media presence. Whether you're looking to expand on Facebook, Instagram, LinkedIn, Twitter, or Pinterest, our award-winning team can help.
How much do our social media marketing company's services cost?
Since our social media marketing company for small businesses is one of those social media companies that publishes our plans, prices, and deliverables online, it's easy for you to see how much our social media services cost. Just use the buttons below to view our plans or contact us online to request custom pricing.
View Pricing for Social Media Marketing
Ready to Grow? Get your FREE Quote Today!
We measure our success by how much we WOW our clients.
How our social media marketing company can help your business
As your social media marketing company, we can help your business make the most of social media.
Grow your online following
Marketing and advertising your company across social media platforms like Facebook and LinkedIn can help you establish an online following. Your following can include people familiar (and unfamiliar) with your business but interested in your business.
Turn followers into customers
Attracting followers to your social media profiles helps your company connect with qualified shoppers or business buyers. With our social media marketing management company, you can nurture those followers into customers through organic posts, remarketing ads, and more.
Engage customers in memorable ways
Social media allows your company to engage users, whether by responding to comments, re-sharing user content, or resolving customer issues. While some of these situations can seem challenging, they offer a massive opportunity to build customer loyalty and word-of-mouth recommendations.
Stand apart from competitors
While many businesses use social media, they don't always partner with a social media marketing company. Working with a professional agency (like WebFX) can help your business stay active on social media, as well as take advantage of all its benefits, from followers to sales.
Why hire our social media marketing agency for small businesses?
Businesses like yours choose WebFX as their social media marketing agency for a few reasons:
Dedicated account manager: No matter your service, we partner you with a dedicated social media account manager. They serve as your dedicated point-of-contact, providing you with a quick reference for asking questions, sharing resources, and more.
Regular reporting: Data matters. That's why our social media services all include routine reporting, generally monthly. These monthly reports help you see the impact of your marketing and advertising strategy on your company's bottom line.
Transparent prices: Our social media marketing firm values transparency. Whether you're looking at your service plans, prices, or reports, we provide you with the complete details. You don't have to worry about hidden fees with us.
Full platform coverage: Whether you're looking to use Pinterest, Facebook, Twitter, LinkedIn, or Instagram, we provide complete coverage, as well as specialists within each platform. With WebFX, you get all the services you need within one place, saving you time and headaches.
Consistent results: The success of your company and strategy depends on the results. In the long-term, you need leads and sales for your business, which is what our social media services deliver. Just in the past five years, we've helped our clients earn over $3 billion in revenue.
Satisfied clients: As your social media marketing company, we want your business to succeed — and it shows. We've helped our clients earn the leads and revenue necessary to expand their business and hire new team members, which is one reason our client retention rate is 91%.
Learn more about the advantages of working with our agency by browsing our client testimonials!
How to find the best social media marketing company

Got a list of social media marketing companies, but aren't sure which one is right for your business? The following questions and tips can help you shorten your list and find the best social media marketing firm.
1. Where are they located?
Distance isn't an issue for everyone, but if you'd rather meet in person to talk to your social media marketer before committing to them, you should consider distance.
Where are they located? Is the distance an easy drive, or would your consultant have to fly to you?
If meeting and consulting on the phone or via Skype isn't an issue, however, then you won't have to worry about distance.
2. Do they offer everything you're looking for?
The company you hire should offer everything you require from a social media marketing company, and you shouldn't settle.
For example, if you know that you definitely want to advertise your jewelry on Instagram, but one of the marketing companies you're considering only offers Facebook and Twitter advertising, don't settle.
Or if 24-hour customer service and monitoring is something you require from your social media marketer, you should be sure to do your research to make sure they offer that perk.
3. Are they within your budget?
Even though pricing information can be difficult to obtain from some agencies, it's a factor that you'll likely need to consider.
You should always start your search with a budget in mind. How much are you willing to pay monthly for a social media marketing company to advertise your brand on different platforms? Are you willing to pay extra for additional resources or perks?
You should have general answers to all of these questions before starting your search. Then, you can ask the agencies you're considering for quotes or estimates based on your needs.
After looking at a few different companies, you'll get a feel for a reasonable price in terms of what you're looking for and what's offered – and you may need to amend your budget accordingly.
In general, though, you should understand that if your budget is within reason, there is likely a company out there that can work with you to meet your goals.
4. Do they fit well with your company?
One benefit of meeting in person with the company you plan to hire is that you'll get a feel for how they operate and whether or not they're a good fit with your brand's personality.

If you visit their offices for a meeting, you'll also benefit from seeing the culture of their workplace and understanding how they work as a company.
If you meet with your consultant for the first time, and they understand your brand's voice and needs, they're likely a solid choice for your social media marketing. And if not, you may want to consider continuing your search.
5. Are they committed to meeting your goals?
The company you partner with should make your goals their goals – and they should also make that apparent to you.
A good social media marketing company will let you know right off the bat that they will work with you to meet the goals that you have in place.
They should be willing to put you first, and have a concrete strategy for reaching your goals.
This may sound like a lot of criteria, but once you hire the right social media marketing company for you, the time and effort it takes to find them will be entirely worth it.
What to expect from your social media marketing company
A social media marketing company does exactly what you'd expect – they help their clients reach new customers online using social media platforms. But there's much more to it than coming up with new posts for Facebook, Instagram, LinkedIn, Pinterest, and Twitter.
Though every company varies in terms of the services they offer, most take the same core steps to helping their clients.

Learn about your company
Before any social media marketing company can efficiently and successfully market your business, they'll want to get to know you.
With so many different businesses out there, not two are the same – and neither are the social media campaigns that are best suited to help them grow.
Social media marketing companies will work to understand everything about your business, including the products or services you offer, the audience you want to reach, your key demographics, and your short- and long-term goals for your business.
After understanding these things, the marketing company will be better equipped to help your business on all the right outlets with all the right strategies.
Help you make important decisions
Many social media marketing companies will offer in-person consultations throughout your campaign process, but especially at the beginning.
A dedicated social media specialist will help you understand what social media platforms are available, the advantages of each, and how each one could benefit your business.
And arguably even more important, they can also tell you what platforms probably won't work well for your business.
This information can help you make informed decisions and get the best possible results for your social media marketing budget.
Create content and run ads
Social media marketing companies will also create the content that will be shared on your chosen social media platforms, and run any paid ads that you request.
Some media marketing companies will even take care of creating new content for your site that will help drive social media followers to your website.
ORGANIC OR PAID SOCIAL MEDIA MARKETING? SEE WHAT
THE EXPERTS SAY
Then, they'll construct campaigns to attract attention to that content, get people talking, and ensure that users want to see more.
Paid ads are also an option in terms of how you can advertise on social media.
Though it costs nothing for you to post a status update on Facebook, paid ads can help and drive even more users to your website.
When you hire a social media marketing company, they'll explain to you the benefits of running ad campaigns on social media platforms like Facebook, Instagram, LinkedIn, Pinterest, and Twitter.

And although you'll pay a small amount, the ROI can be well worth it with an effective strategy.
Social media marketers will take care of running your paid ad accounts, including everything from creating the ad to creating the landing pages for those ads.
Monitor your results
One of the most important parts of running a social media marketing campaign is understanding how it's working and making adjustments if it's not performing to the highest standards.
Each marketing company has a slightly different way of analyzing and reporting on how their clients' social media campaigns are performing, but the best focus on real results like engagement and conversions. This allows them to see where their efforts have room for improvement, and adjust campaigns in order to achieve the best possible results.
Social media marketing company FAQs
What does a social media marketing company do?
Social media agencies help businesses achieve their marketing and business growth goals using social media. They may plan, create, and post organic social media posts, develop and implement social media advertising strategies, and more.
How much do social media marketing services cost?
Businesses typically spend $4000 to $7000 on social media management per month, which includes marketing and advertising services for several social networks and monthly ad spend. Costs depend on the number of platforms you use, the services you choose, the extent of your campaigns, and other factors.
How can working with a social media marketing company benefit your business?
Social media has a massive user base, and it's an excellent channel for increasing brand awareness, building relationships with leads and customers, and driving sales. Social media marketing companies have the expertise, knowledge, and resources to help businesses make the most of this online marketing channel. Because of this, companies typically get better results more quickly and cost-effectively when working with a reputable social media marketing agency.
WebFX is a partner businesses trust.
Hear from HydroWorx, who saw a 236% increase in organic sessions with WebFX services.
Watch the Video Testimonial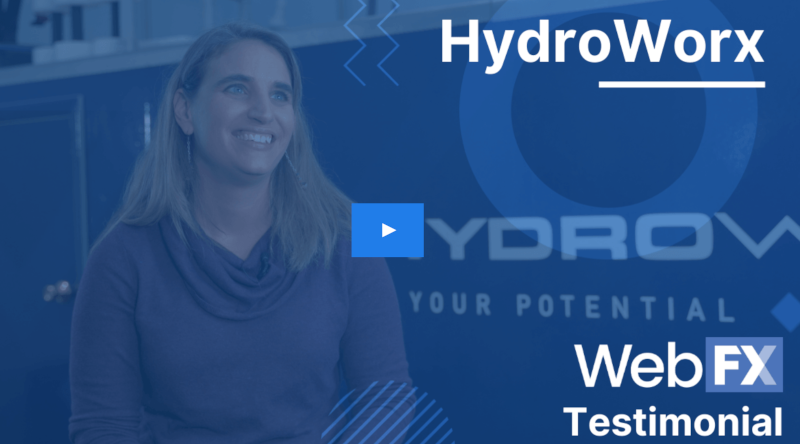 Partner with our social media marketing firm today!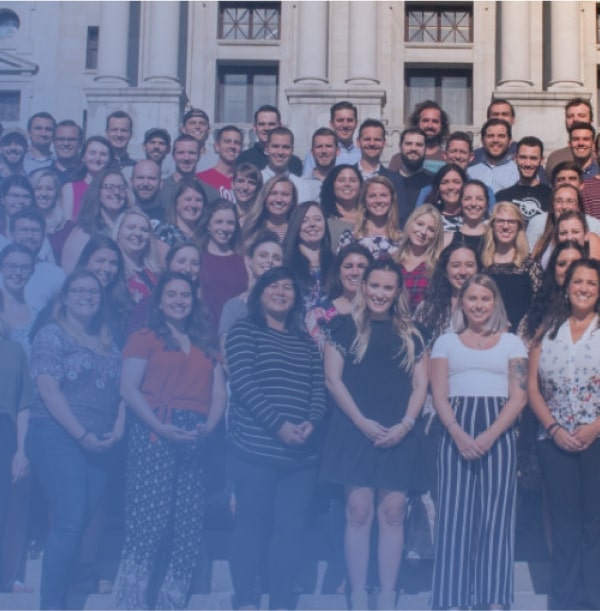 If you're ready to use social media marketing to reach your company's goals, WebFX can help. With a full team of social media specialists, our social media marketing firm can help you take full advantage of social media.
We'll make your goals our goals, and determine the best platforms and strategies for reaching them.
We'll also develop a custom strategy for increasing your brand awareness, overall website traffic, and conversions.
Contact us today to talk to a specialist and get a free quote for our social media marketing and social media advertising services!
Call 888-601-5359