Social Media Consultants: 8 Tips for Choosing the Best Company
Social platforms provide your business with the opportunity to build connections with your leads. Because of this, social media marketing is a great way to grow your business. If you don't have experience running social media campaigns, you might want to hire a social media consultant. These social media experts will help you create campaigns that drive results. So, how do you find the right social media consultant for your campaign?
On this page, we'll provide you with eight tips to help you find a social media consultant that works for your business. Keep reading to learn more and call us today at 888-601-5359 to speak with a strategist about your customized social media plan.
Clients can't get enough of our social media services.
"We have had so much success with WebFX, we have partnered with them on an additional website and project. We could not be happier or luckier to partner and work with WebFX."
— S.Clyde Weaver
See Case Study
136%
Increase In Gross Ecommerce Sales YOY
+10,000
Social Media Followers
1. Check out their social media accounts
If you're going to hire a social media consultant, you need to see if they actively use social media. It is important that you hire a social media consultant that practices what they preach.
You can't expect to see results with your campaign if a social media company isn't running campaigns for their own company. So, choose a consultant that has social media profiles and actively engages on them.
To do this, check out all their social media profiles. This includes Facebook, Twitter, Instagram, Pinterest, and LinkedIn. Look for flexibility in their social media presence to see if they can run campaigns on different platforms.
Take the time to check out their pages to analyze how they garner engagement. Look at their followers to see if they reply to comments or reviews on these social sites. If they do, that's a good indication of a social media consultant who values their clients and followers.
You should also examine their posts to tell how they encourage interaction on their social media pages. Are they posting content that is valuable to their audience? A great consultant will engage with their audience often with valuable posts.
As you check out their various profiles, make sure that they don't post any offensive content. You don't want to partner with a company that posts anything that people wouldn't like. Your page is an extended limb of your business, so you want to choose a social media consultant that creates professional and engaging posts.
2. Look at their portfolio
After more than 20 years in the business and $1 billion in sales generated for our clients, we know the importance of experience. That's why we recommend you look for a portfolio to gain insight into the work that social media consultants provide for their clients.
The first thing you want to look at is if they have experience with your industry. If so, you will see results they've achieved for other companies like yours. You will be more confident knowing that your social media consultant is knowledgeable about your industry.
You want to see numbers that indicate how that social media consultant improved their clients' campaign. There should be an increase in followers, conversions, engagement, or something similar. This will help you see if they are capable of driving results for their clients.
If they don't have experience with your industry, don't count them out. If you see a wide array of industries, it is a good indication that they are well-rounded and are willing to learn about new fields to help those businesses produce successful campaigns.
3. See if they are connected to influencers
Influencer marketing is a great strategy to use in conjunction with social media marketing.
Influencers are prominent people within your market that people follow and engage with on social media. These influencers provide their followers with a raw opinion and experience of products or services.
When you check out a social media consultant, see if they are connected to influencers. You'll want to look at the influencers they're connected to and if they have great relationships with those in your industry. This opens the potential for your business to connect with those influencers and gain more followers.
As you look at their profile, see who they follow and who follows them. This will help you see if they are connected to any important influencers in your industry. If they aren't, you can still see how many influencers they connect with, as it will give you a good indication of their ability to build relationships with influencers.
4. Look for client testimonials
At WebFX, our experience has led us to acquire 863+ client testimonials, which we've found to be an extremely helpful resource for prospective clients. Similarly, looking at a consultant's testimonials will help you in your search for the best consultant for your business.
It is important to see other clients' experience to discern if a company does good work for their clients. These testimonials help you understand how a social media consultant treats their clients.
If a company has dozens of client testimonials, it is a good indication that they do great work for their clients. Clients are happy to talk about their experience if it is positive and drove results for their business.
When checking out a social media marketing consultant, make sure you look at the client testimonials. This will give you insight into that consultant's company and how they work with and treat their clients.
5. Ask about their social media tools
Each company has their own way of doing things, including their methods for producing results. When you look at social media consultants, ask them about their social media tools. It is important to know how they plan to run and analyze your campaign.
Some companies have their own tracker tools. Other companies may use tracking tools that are already embedded into social media sites or tracking tools like Google Analytics. It is important to know which tracking tools they use for their clients' campaigns.
If you plan to have a more in-depth campaign, it is important that you can see numerous analytics. These may include conversions to track how well your campaign is performing.
Campaign tools are important to know because they tell you how detailed and thorough your consultant will make your campaign. For example, some tracking tools can be limiting and merely scratch the surface on analytics. They may only cover things like likes or follows.
When choosing a social media consultant, you want to make sure you choose a consultant that uses the right tools. The more tools your consultant possesses, the more potential your campaign will have.
6. Ask important questions
In addition to asking about their social media tools, it's important to ask other questions. You want to get to know these social media consultants so you know you are choosing the right consultant agency for your business.
For instance, ask them about their ideas for your campaign. They don't need to go into full details and give away their entirety strategy, but they should be able to give you a basic overview of how they would improve your campaign. You want to know that they have the same goals in mind as you do so you both achieve success at the end of your campaign.
You'll want to ask many questions surrounding your campaign and implementing strategies to improve your business. These are important aspects to your success and will help you grow your brand.
However, it is also important to ask about how they handle failure. Sometimes social media campaigns don't work out, such as driving negative results or creating backlash with your audience. Ask your social media consultant how they handle backlash and failed campaigns.
This is important information because you want to choose a social media consultant that will have your back if things go wrong. You should hire a consultant who knows how to spin things in a positive light and get your social media campaign back on track.
As you narrow your focus onto a few social media consultants, don't be afraid to ask them questions. They should be able to address your concerns and reassure you that they are a good fit for your business.
7. Check out their pricing
Your budget is a crucial part of your business's strategy for social media marketing. You need to find a company that fits in your budget, which can frequently be a challenge.
Many social media consultants hide their prices. They do this for strategic reasons, but it can create a frustrating experience for your business. We have seen the cost of not offering transparent pricing, which is why we offer it to businesses interested in partnering with our team.
We encourage you to find a consultant that offers this kind of pricing, as well. This way, you will know what to expect when you hire a social media expert to handle your budget for you.
As you research each company, look for a pricing page to see if they list their cost. If they do list the prices, you'll get insight as to whether you can afford that social media consultant. In the case of no prices, you'll have to contact them directly and wait to hear back.
Choose a social media consultant that is upfront and honest about their pricing. They should tell you the details of your plan and how much it will cost to implement those strategies. This will help you pick a better social media consultant for your business.
8. Research their team and company values
It takes time to develop a social media strategy and implement it. Since you'll be working closely with your consultant, you want to make sure it is a positive process for your business. So, when you're looking at social media consultants, choose one with a great team and great values.
First, you want to look at their team. It is important to see who will be working on your campaign. You can comb through their website to get insight into their team members.
This is a great opportunity to see if they have any special qualifications. Some members of the team may have certain certifications in social media, so it is important to note if any of those members have special certifications.
In addition, look at the company's values so you can choose a consultant that meshes well with yours. If you aren't on the same page, it will make it difficult to build a strong social media marketing campaign.
By researching a company's team and their values, you will pick the social media consultant that is right for you.
Not happy with your social media engagement?
We've got just the blog post for you.
Read the Blog Post & Watch the Video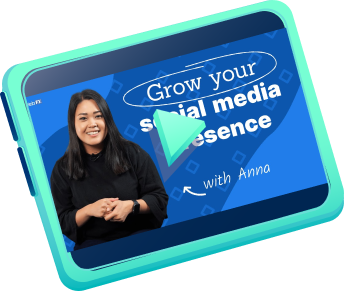 WebFX is a top social media consultant
Social media marketing is a great opportunity for your business to connect with leads and build a relationship with them. This enables you to build your reputation and earn more conversions for your business. A great social media marketing plan starts by partnering with the right social media consultant.
At WebFX, we have years of experience creating social media marketing campaigns. We're a full-service digital marketing company that specializes in social media marketing.
We have a team of 450+ experts that will bring their knowledge and expertise to your campaign. Our award-winning team of social media savvy experts will help you create an effective campaign that draws in leads and nudges them toward conversion.
If you're looking for a company that drives results, look no further. To date, we've driven over $3 billion sales and over 7.8 million leads for our clients. We focus on driving success for our clients first.
Our clients love the work we do, too. In fact, we have 863+ client testimonials from a variety of industries. Check them out to see what it's like to partner with a top social media marketing consultant like WebFX.
Start shaping your social media plan today
If you're ready to start creating a social media plan that works for your business, contact us online or call us today at 888-601-5359 to speak with a strategist. We'll help you create a social media marketing campaign that drives results for your business.
We look forward to hearing from you, whether you need marketing services in New York or California!