Social Media Consulting Services That Grow Your Brand
Whether you use Facebook, Twitter, LinkedIn, or Instagram, social media is a powerful platform for advertising your businesses. With social media, your company can promote your brand, engage your audience, build your customer loyalty, and more.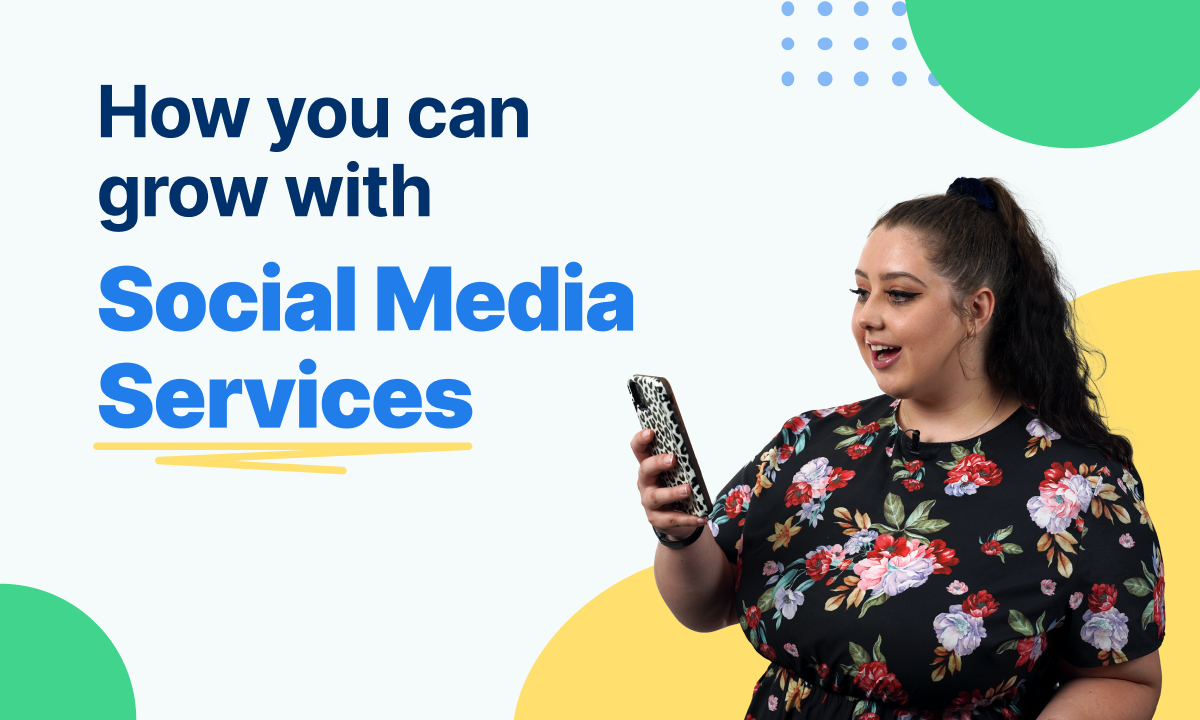 Marketing or advertising yourself on social media, however, isn't easy.
Social media consulting services from WebFX can change that. With our experienced social media consultants, your company can receive expert advice tailored to your brand, audience, industry, and goals. Learn how to thrive with social media by signing up for a social media consultation.
Get started with your social media consult by contacting us online or calling us at 888-601-5359!
Get the social media consulting services you need with WebFX
At WebFX, we offer dedicated social media consulting services for advertising and marketing on social media. Whether you're looking to use Facebook, Instagram, Twitter, or another network, our consultants can help you build or revise your strategy for success.
Social media marketing consulting services
Get actionable advice from our dedicated social media consultants for improving your presence on social media. Learn how to create engaging organic posts that drive likes and follows, as well as how to nurture those followers into customers.
Social media advertising consulting services
Learn how to build a results-driving ad campaign with an experienced WebFX social media consultant. Receive guidance for audience targeting, ad copy, landing pages, and more to drive follows, likes, and revenue.
Contact us online or give us a ring at 888-601-5359 if you have questions about our consulting services!
What do our social media consulting services include?
Social media consulting is a personalized service.
When it comes to our social media consulting services, we customize your deliverables to your business and your needs. If you're looking to improve your engagement rates, for instance, we'll build a plan that focuses on achieving that goal.
Since WebFX is a full-service agency, you get all the resources, skill sets, and tools you need to achieve your social media consulting goals. Whether you're looking to focus on management, marketing, advertising, or all three, we can help.
No matter your consulting needs, though, you can count on receiving a dedicated account manager and transparent reporting. These two features make your life easier because you have a dedicated and experienced point-of-contact, plus a reliable resource for sharing your social media performance fast.
How do our social media consulting services work?
While every social media consulting plan is different, our social media consulting services tend to follow a similar process for onboarding your business, building your strategy, and reporting your results.
For perspective, when you choose our social media consulting firm, you can expect:
Getting matched with a dedicated account manager with experience in your industry
Answering some helpful questions, like about your audience, products, or services
Receiving a strategy that outlines how your account manager will achieve your goals
Getting custom reports throughout our partnership that detail your strategy's performance
You can learn more about how our social media consulting services work by speaking with an experienced strategist. Just contact us online or call us at 888-601-5359 to learn more about working with our award-winning team!
Discover how a social media consultation can help your business
A social media consultation from WebFX is more than a meet-and-greet. Our consultants take an in-depth look at your social media presence, as well as your brand, industry, competitors, and audience to develop actionable steps for your business. They also talk to you to learn what you want from social.
Keep reading to learn more about how our social media consultations will help your company:
Uncover your most valuable social media networks and attract your audience
You can choose from dozens of social media channels, some well-known, others not so much. Our social media consultants look at every possible network for your business, using your audience and industry to find the most valuable social media channels.
In most cases, you'll find the most success with one of the following platforms:
Researching every possible option, however, allows our social media consultants to provide you with data-backed recommendations customized to your company. You can start marketing and advertising yourself on these channels with confidence.
Investing yourself in the social media networks that offer your business the most value allows you to find and connect with your audience with ease. When you find your target audience faster, you can move towards engaging them and building a lasting relationship sooner.
At WebFX, we help you with every step, from finding your network to engaging your audience.

Build your brand voice and your audience's brand loyalty
Your brand is one-of-a-kind, and our social media consulting services will help you show it.
With the expertise of our social media consultants, your business can establish and refine its brand voice for social media. Whether you're looking to create a caring and nurturing tone or fun and sarcastic, we can help you create the perfect balance between professional and relatable.
Your dedicated WebFX social media consultant can also provide advice for adapting your brand voice to channels. For example, your consultant can offer guidance for balancing your brand voice with Twitter's character limit for posts. Or, they can suggest ways to convey your brand via images, like on Instagram.

This feature of our social media consulting services can provide your business with confidence and peace-of-mind about your social media presence. You know that someone who understands your brand, audience, and voice is guiding your strategy.
A consistent and memorable brand voice will help your company accomplish a few goals, including:
Attracting your audience's attention
Engaging your audience with social media posts
Moving your audience towards conversion, like visiting your location or calling your business
Building your audience's interest and loyalty
Using social media to build your brand, as well as customer loyalty, delivers a positive impact on your bottom line. You reduce your churn rate, plus minimize the costs of earning a new customer. Did you know, for example, that acquiring a new client costs 10 times more than keeping a current one?
Start taking full advantage of these benefits with social media consulting from our award-winning team.
Engage your audience and improve your social listening
Every social media strategy, no matter its goals, revolves around audience engagement. Whether you want to attract more followers, website traffic, product orders, or store visits, you need to get your followers engaged.
With our social media consulting services, you can get your audience interested.
Our social media consultants help your business make new and old followers excited about your latest posts, shares, and offers. Using our extensive experience (which extends across more than 10 years), we develop social media content that people can't resist.
Examples of social media content our social media consultants can create include:
Shares for blog posts on your website
Funny, relatable posts that stay professional
Posts that poll or ask users questions
And more
When our social media consultants create posts for your company's social media strategy, they diversify those posts and tailor them to each platform. Each network will feature unique content, upping the value for users to follow you on each social media channel.
Learn how we increased traffic by over 40%, and conversions by over 100% for an ecommerce client.
Read the Case Study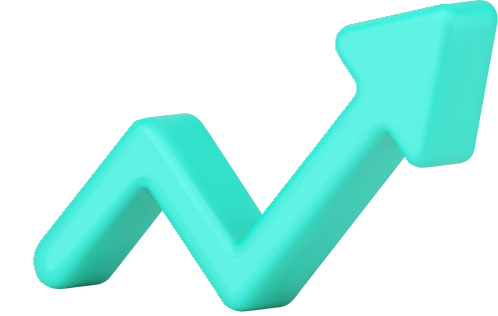 With more engaging content, your business can start to hear from your target audience.
You can learn which posts grab their attention the most, as well as what content captures their current thoughts or challenges. As users like, comment, and share, you have the chance to practice social listening on your profiles.
Social listening can help your company learn:
How users feel about a topic, product, or company policy
What users want from a service, product, or company
Where users experience pain points in their shopping experience
How users would like you to improve your service
What users want to know about a product, topic, or service
Besides practicing social media listening on your social media profiles, you can also practice it across networks. Watch for brand and competitor mentions, and use your findings to improve your strategy, processes, and client experience.
Your WebFX social media consultant can also help you leverage the full power of social media listening.

Via your social media services, your consultant will take an active role in monitoring your social media accounts. They'll track and respond to user comments (following your brand standards when they do) and compile user highlights and feedback for your business to review.
In this supportive role, your social media consultant helps you practice social listening. Since you have a trusted consultant, you don't have to spend time following brand mentions on social media. Instead, you can learn everything in a regular, monthly meeting.
Start interacting and building a relationship with your audience by partnering with our team.
Develop your social media strategy and grow your business
A social media strategy is essential to your business, whether you're a name-brand company or brand-new startup. That's why our social media consulting services help your organization develop a competitive strategy for your industry.
With our consultation services, we help you answer the following questions:
Who should our social media strategy target?
Which social media channels should we use?
What kind of results do we want from social media?
When do we want to see results?
How are competitors using social media?
Should we partner with influencers?
Do we want to run social media ads?
How much do we want to invest in social media ads?
What tools, if any, will we want to use?
Your answers help your WebFX consultant build a realistic yet competitive campaign for your business.
In addition to your answers, your consultant may also provide advice. For example, due to social media algorithms suppressing organic content from businesses in user feeds, your consultant may recommend setting aside some funds for advertising on social media.
Or, your consultant may recommend a different goal, like brand awareness versus sales generated.
Listening to your social media consultant's guidance can help your business launch and manage a successful social media strategy. That strategy can result in more than follows and likes for your company but also leads, sales, word-of-mouth recommendations, and more.
For perspective, in the past five years, we've helped our clients grow their businesses by earning over:
$3 billion in revenue
7.8 million leads
5.2 million phone calls
12.9 million managed transactions
If you find managing your social media campaign challenging after your social media consultation, you can always sign-on for social media marketing and advertising services from WebFX. As a full-service agency, we make transitioning from consulting to full-time management seamless.
WebFX is a partner businesses trust.
Hear from HydroWorx, who saw a 236% increase in organic sessions with WebFX services.
Watch the Video Testimonial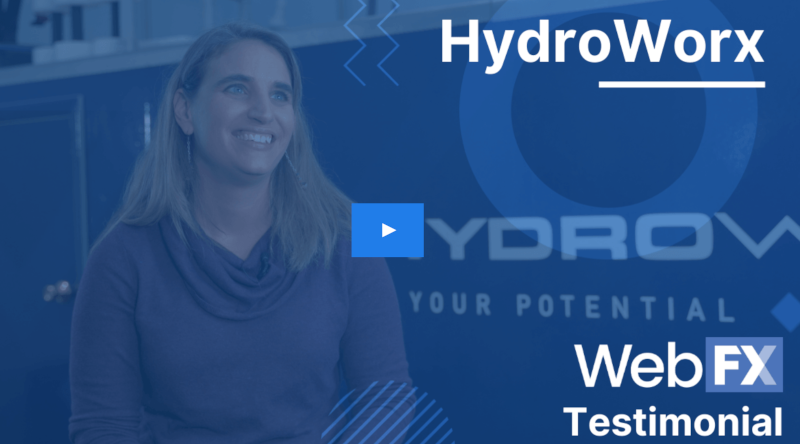 Keep your business relevant and your competitors distant
Almost 75% of people use social media when making a purchase decision, whether by asking friends about a product or viewing a company's social media profile. Becoming inactive on social media makes it easy for people to cross your business off their list and go with a competitor instead.
Our social media consulting services prevent that from happening.
As your partner, we will help your company use social media to remain relevant and outmaneuver your competitors. From developing a custom strategy to targeting competitor weaknesses, we will give your company the tools, techniques, and tips for success.
With our advanced, client-exclusive software, MarketingCloudFX, we can amplify your competitive advantage when it comes to social media. MarketingCloudFX features not only lead tracking but also competitor tracking.
Monitor the strategies of competing companies, as well as their market share. Plus, get data-backed insight from IBM Watson (the industry's leading artificial intelligence application) on how to improve your approach to social media.
Your social media consultant can also review and implement MarketingCloudFX's data for you. You'll always, however, have access to MarketingCloudFX and its data. Log in on your computer, laptop, or mobile device and see the return on investment (ROI) of your online marketing strategies.
Support your social media strategy with digital marketing services
Complementary digital marketing strategies can amplify the performance of your social media strategy. As a full-service Internet marketing agency, we offer a suite of online marketing services, which makes it easy for your company to market yourself online.
A few examples of some strategies that support social media include:
If you have questions about how these services can support your social media plans, you can always ask our experienced strategists. Give us a ring at 888-601-5359 or contact us online to learn how these strategies could upgrade your social media campaign.
Choose the social media consulting company that brands trust
Finding and signing with a social media consulting company is a significant investment of your time. You want to select an agency that you can trust. With a client recommendation score that beats the industry average by almost 500%, WebFX is that agency.
Learn more about why businesses choose to work with our award-winning team:
Experience: With more than 1.6 million hours of expertise, as well as more than two decades of digital marketing history, WebFX knows social media marketing and advertising. You gain instant access to some of the most experienced social media specialists in the industry with our agency.
Results: You care about results, and we do too. That's why we measure our performance by the results we drive for your business. As your partner, you can trust us to focus on achieving your goals, whether it's followers, likes, shares, or sales.
Technology: Making WebFX your social media consultant provides you with one of the industry's most advanced marketing applications, MarketingCloudFX. Monitor leads, personalize site experiences, track competitors, and more with this artificial intelligence-powered platform.
Reviews: Our client testimonials and reviews demonstrate the work, commitment, and expertise of our team. They also emphasize why our client retention rate is 91%. We invest ourselves in your business 100%, using our knowledge and technology to drive results for you.
Services: As a full-service agency, we provide a turnkey solution to digital marketing. You can access all the services you need with WebFX, eliminating the hassle of hiring, coordinating, and meeting with multiple agencies. Instead, you get everything you need with WebFX.
Get the level of service and results you expect by choosing WebFX for social media consulting.
FAQs about social media consulting services
Looking to learn more about social media consulting services? Browse our FAQ:
What is a social media consultant?
A social media consultant provides one-time or ongoing social media services to help organizations increase brand awareness, follower engagement, and social media conversion rates. Typically, social media consultants will audit, manage, and monitor your social media strategy.
How much does a social media consultant cost?
Prices for social media consultants vary and depend on factors like your social media networks, social media needs, and social media consultant. On average, social media consultants cost $75 to $500 per hour. For the most accurate pricing, though, request a custom quote.
Start your social media consultation today
Social media can help your business move from one level to the next when it comes to your brand's reputation and revenue. At WebFX, our social media consulting services can provide actionable recommendations for creating, launching, and managing a successful campaign.
If you're looking for initial consulting services, followed by full-time management, we can help too. Our social media management services include social media marketing and social media advertising, as well as social media design, to provide your business with everything it needs to excel at social media.
Start moving your social media towards success by contacting us online or calling us at 888-601-5359!
Earn a 20% greater ROI with WebFX