What Is Amazon Marketing and How Does It Work?
Amazon marketing is the process of promoting your brand and products on Amazon. Marketing on Amazon can include ad campaigns, search engine optimization, monitoring reviews, and answering questions. Keep reading to learn more about Amazon marketing!
Online Amazon marketing can drive results for your business
Does your business sell products on Amazon? If so, it's critical that you market your products so people can find them and buy from you. With Amazon marketing, you help increase your product visibility to attract more qualified leads and boost revenue for your business. So, what is Amazon marketing? Read on to find out!
You've just finished listing all your company's products on Amazon, and you're excited to watch the boost in sales that you're sure will follow. But as the days roll by, only one or two people buy from you. They leave positive reviews, so you're confused — why aren't more people buying?
The answer is most likely that you've failed to market yourself on Amazon. Amazon is one of the largest ecommerce platforms on the Internet, and it's an optimal place to sell your products. Like with any other form of sales, you'll only have success selling your products if you take the time to market what you offer.
But what is Amazon marketing, and how can you get it started? We'll answer both of those questions below, so read on to learn more.
Then subscribe to Revenue Weekly — our email newsletter — to receive more digital marketing tips from the agency with over 1020 client testimonials!
What is Amazon marketing?
Amazon marketing involves using promotional strategies and tactics to help you sell more products on Amazon.
With Amazon marketing, you can help your products rank better in search results, put ads in front of relevant shoppers, and more.
Learn About Enterprise Amazon Marketing
Why do you need an Amazon marketing strategy?
Now that we've covered what Amazon marketing is, let's look at why you should invest in building an Amazon marketing strategy.
The answer boils down to one word: Visibility. If you don't market your Amazon products, people will struggle to find them. When people can't find your products on Amazon, they can't buy from you, and you miss out on revenue for your business.
For your Amazon presence to be of benefit to you, you must market your products on the platform. With a solid marketing campaign, you'll drive more people to your product pages and increase sales.
How can you start with online Amazon marketing?
Marketing on Amazon involves more than just one strategy. There are several tactics you can use to promote your Amazon store.
Here are the three best ways to market yourself on Amazon!
Amazon SEO
Amazon Search engine optimization (SEO) is one of the most effective ways to increase product visibility. People search related terms in the Amazon search bar and drum up results relevant to those terms.
If you want people to find you, you need to get your product pages as close to the top of those search results as possible.
You can do that by optimizing your product pages for relevant searches by writing plenty of copy about your products, which will give Amazon's ranking algorithms more helpful information to rank your products.
Additionally, you can incorporate relevant keywords to help your products appear in the right searches.
With SEO-driven product pages, you'll rank higher in Amazon searches, helping more people find and buy your products.
Amazon PPC
In addition to helping your product pages rank organically, you can display pay-per-click (PPC) ads on Amazon to advertise your products. There are three main types of ads that you can display on Amazon:
Sponsored Product Ads:

Sponsored Product Ads appear at the top of Amazon search results. They advertise specific products you sell and direct users to the corresponding product pages.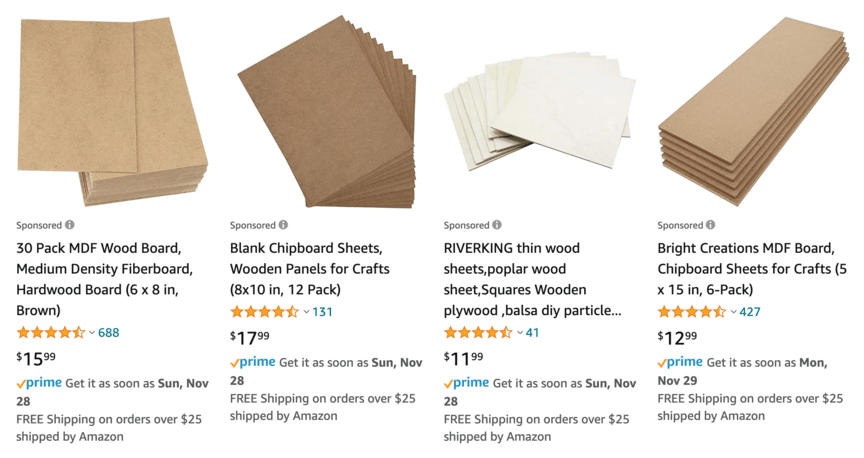 Sponsored Brands:

Sponsored Brands are like Sponsored Product Ads, appearing at the top of relevant search results. However, instead of advertising specific products, they advertise your brand as a whole and direct users to your Amazon storefront.

Product Display Ads:

Product Display Ads advertise specific products you sell in the context of related purchases. For example, if someone buys printer toner, they might see an ad on that page for your printer, recommending they buy it as well.

When you use a combination of different Amazon PPC ads to market your Amazon store, you can reach more users looking for your products.
Amazon review management
The third strategy you can use for marketing on Amazon is product review management. Once you've successfully driven people to your product pages, some of them may leave reviews of your products, and you should pay attention when they do.
Ideally, all the reviews people leave for you will be positive. That doesn't always happen, though, and when negative reviews come along, you'll want to address them quickly and effectively. You want to contact the reviewer and attempt to resolve the issues they had.
If you successfully resolve negative reviews, you'll turn unhappy customers into happy ones and change negative reviews into positive ones.
You can also boost your marketing by encouraging your customers to leave reviews. You can do that by sending out emails about it, as well as by selecting your products to participate in the Early Reviewer Program, which rewards users for reviewing products within a certain period after buying them.
Other ways to market your Amazon store
Not all your Amazon marketing tactics have to take place on Amazon. You can promote your Amazon store elsewhere on the Internet.
Here are some great off-site Amazon marketing strategies to try out:
Just as you can use SEO and PPC on Amazon, you can also use these tactics on search engines like Google. The same SEO practices that help your product pages rank in Amazon searches can also help them rank in Google searches and help people to find your store that way.
You can also run paid ads in Google and on third-party websites that advertise your Amazon products. When people click on your ads, you can direct them to landing pages that encourage them to visit your Amazon store, or you can direct them right to the appropriate product page.
Incorporating Google promotional tactics into your Amazon marketing strategy is a fantastic move to help you reach more shoppers.
Email marketing
Another way to market your Amazon products and store is to send out emails. You can set up email forms on your website where users can submit their email addresses. As users fill out the forms, you can create a list of subscribers.
From there, you can use your subscriber list to send Amazon marketing emails to people. You can promote your store, or you can advertise specific products that you want to encourage users to buy.
You can also practice remarketing, which involves advertising products to people who already made purchases. If a user on your email list buys a skillet from your Amazon store, you can send them emails encouraging them to get one of your spatulas as well.
Social media marketing
The average user spends 33% of their Internet time on social media platforms like Facebook and Twitter. That means those platforms are some of the best places to advertise online, since they give you access to a vast audience.
You may already have social media pages, but if not, they're a great way to market your products and services online — including the products you sell on Amazon. You can make posts advertising your Amazon store or promoting the latest products you're offering there.
You can even run paid social media ads to reach users who might not find your social media page on their own. Most platforms let you target users based on demographics like age and location, enabling you to reach the most relevant possible audience.
Website advertising
A final way to promote your Amazon products online is to market them on your website. You can place calls to action (CTAs) between blocks of text or create pages directing users to your Amazon store.
Marketing your Amazon store on your website is an excellent way to drive traffic there, since most of the people visiting your site will already have an established interest in your business.
This method of marketing is especially useful if your website doesn't feature an online store. In that case, Amazon might be the only place users can buy your products online, so promoting your products on your website can help drive traffic to your Amazon store.
The first step to increasing your SMB's Amazon sales is getting a FREE proposal.
One of our experts will be in touch within 24 hours!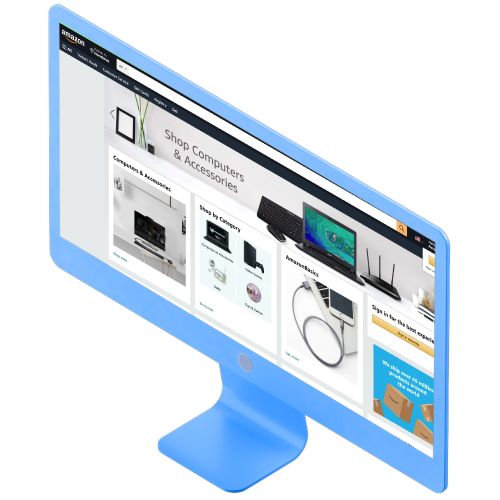 Get help marketing on Amazon from WebFX
Looking for help driving results with your Amazon marketing strategy? Let WebFX help you! We've been driving stellar marketing results for over 25 years and have all the expertise you could ask for when marketing your Amazon store.
With our Amazon marketing services, you'll get help with all the tactics listed above and more! You'll even be assigned a dedicated account representative who will keep you up to date on everything we do for your Amazon campaigns.
To get started with us, just call 888-601-5359 or contact us online today!
Earn a 20% greater ROI with WebFX