Short-form videos are quickly becoming necessary tools in businesses' social media marketing arsenals. Through videos, marketers can increase brand association by 139%!
With major platforms like Instagram Reels and TikTok available for brands to use to connect with large audiences, it's no surprise there's an "Instagram Reels vs. TikTok" debate. Both social media platforms give brands the chance to express their personalities through entertaining, attention-grabbing videos.
With that said, what is the difference between Instagram Reels and TikTok? In this article we're addressing the "Instagram Reels vs. TikTok" debate, the video-creation features both platforms offer users, and which one might be the best choice for your business's social media efforts.
Looking to create a lead-generating social media strategy that increases brand visibility online? WebFX is home to 450+ digital marketing experts who can help. Learn more about our social media marketing services by contacting us online today, or give us a call at 888-601-5359.
74% of people use social media when making a purchasing decision.
Make their decision easy with a stellar social media presence. See how your brand can level up by requesting a no-obligation proposal today.
One of our experts will be in touch within 24 hours!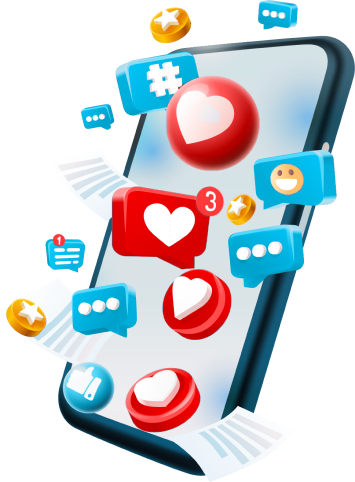 What are Instagram Reels?
Instagram Reels are vertical videos that appear in the Reels tab on Instagram. Like your normal Instagram feed, Reels are formatted for users to simply scroll for endless amounts of uninterrupted video content.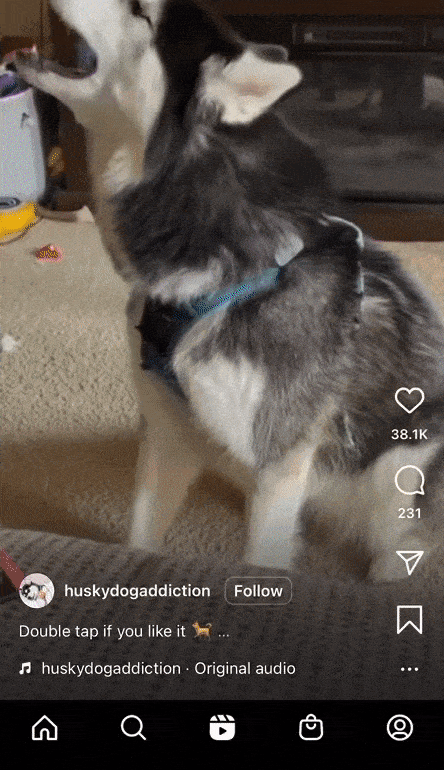 Instagram Reels are short, only up to 90 seconds long. They give your business the opportunity to show off your brand's personality while still promoting your products or services.
Instagram Reels for businesses
In the last few years, Instagram has been making a shift toward video content, so sharing Reels can help you gain favor with Instagram's algorithm.
With Instagram Reels, businesses can create organic video content that's not necessarily stylized with graphics and backdrops, but still just as attention-grabbing. Some of the most common types of video content businesses post on their Reels feed include:
Product launches
Product demos
Collaborations with influencers and celebrities
"Behind the scenes" videos about the brand
What is TikTok?
TikTok is a video-sharing social media platform that's taken the Internet by storm in recent years. Over 3 billion people have downloaded the app since it entered the social media scene in 2017, and by the end of this year, the number of active users is expected to grow to 5 billion!
Unlike Reels, which is an additional feature within the Instagram platform, TikTok's platform is solely dedicated to short-form video content, up to 10 minutes long. This means users and businesses need to get creative with their video content to reach audiences and make an impact.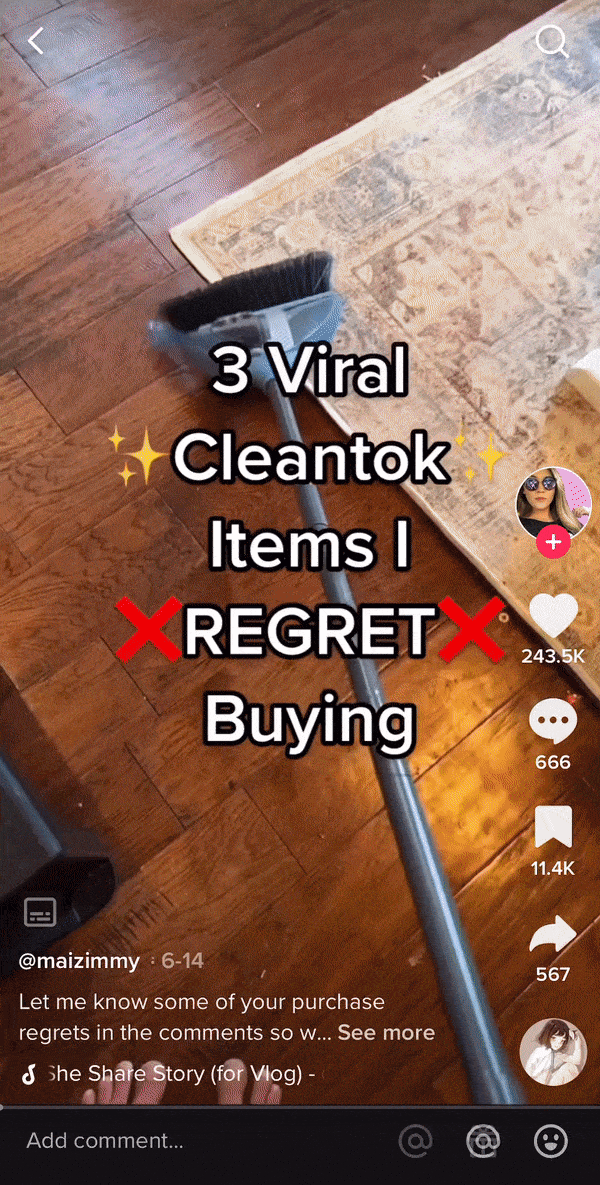 TikTok for business
Businesses that use TikTok have the opportunity to significantly increase their brand's visibility and awareness because of its vast user base. If your brand's target audience is active on the platform, you should consider jumping on the TikTok bandwagon.
TikTok is a place for users to discover new things — a study from TikTok showed that 67% of users were inspired by the platform to shop, even when they weren't looking to do so in the first place. So, what better place for you to advertise your brand and reach audiences than TikTok?
Some of the most common types of content businesses post on their TikTok pages include:
Videos paired with trending music or sounds
Influencer collaborations
Product demos
Humorous, lighthearted videos
How do Reels and TikTok compare?
The difference between Instagram Reels and TikTok comes down to each platform's overall capabilities and features. Let's take a look at how the two compare when it comes to specific tools and content characteristics.
Video duration
Since their initial launches, both apps have maximized their video length capabilities as more users have taken to using videos for ads and creative business content.
TikTok
TikTok originally allowed for videos up to one minute long. Now, as we mentioned earlier, you can post videos up to 10 minutes long! This is great news for companies looking to post longer videos on their pages, and it gives them more flexibility with video creation.
Instagram Reels
Instagram Reels only allow videos up to 90 seconds long, so if you were planning on doing a 10-minute video on there, think again. Don't fret though because data has shown that shorter videos are ideal for these platforms!
Ad capabilities
Both platforms offer advertising opportunities to maximize your brand's reach.
TikTok
TikTok offers paid advertising for companies looking to do a little more than just organic marketing. Businesses on TikTok have the option to choose between several paid ad formats, like:
TopView ads: The first videos users see when they open the app
In-Feed ads: Appear within a user's For You feed
Branded Hashtag Challenge: Invite users to interact with the brand by using certain hashtags
Branded Effects: Customizable stickers, filters, and special effects related to your brand
Instagram Reels
Instagram Reels gives businesses the capability to create shoppable ads in Reels that include product tags. Users can interact with these tags to buy, save, or learn more about the product. It's a great way to sell directly to customers on Instagram.
Video editing options
TikTok and Instagram Reels give you plenty of effects to choose from to spruce up your videos. From filters to stickers, both platforms give you the tools to make your videos unique.
Both platforms offer similar video editing tools that let users upload pre-recorded content, film new content, and collaborate with other users.
TikTok
With the Duet and Stitch features on TikTok, you can create videos that allow you to interact with other users. You can post your video side-by-side with a video from another TikTok creator with Duet or combine a video from another creator with the one you're creating through TikTok's Stitch tool.
Instagram Reels
Similarly, Instagram Reels' Collab tool gives you the chance to create content that can be posted on not just your own account, but a collaborator of your choice. Simply create a post, tag another account as a "collaborator," and when the other account accepts the request, your post will appear on their account as well.
Music and sounds
TikTok and Instagram Reels give users access to sound and music libraries that house everything from trending memes to the hottest songs. TikTok does have a larger selection to choose from than Instagram Reels, and unfortunately, business accounts on Instagram don't currently have access to copyrighted music.
On the plus side, both platforms have text-to-speech and voice effect features that increase accessibility for users.
Video analytics
Finally, as marketers, we know analytics tools are a must for business accounts on social media. You've got to have some way to evaluate your posts' success, right?
Have no fear, because whether you choose Instagram Reels or TikTok, you'll have access to built-in analytics tools, so you can ensure your videos are reaching the right audiences and raking in those likes, comments, and shares.
TikTok
TikTok analytics give you video insights like total views, likes, shares, and more. They also show you the percentage of viewers who watched your video to the end and where users found your video.
Instagram Reels
Instagram Reels analytics show users the number of likes, comments, saves, and shares your videos get, as well as the unique accounts you reached and the number of plays your videos get.
Which do you choose?
So, we've laid out the basics of the "Instagram Reels vs. TikTok" debate. Now would be the part where we tell you, definitively, which platform is better and which one you should be dedicating your time and money to.
Unfortunately, we can't make that decision. Instagram Reels and TikTok offer similar variations of features and tools, and both have pros and cons that appeal to different businesses:
Businesses who are looking to have more flexibility with their video lengths may prefer to use TikTok over Instagram Reels.
Those who collaborate with other companies often might want to use Instagram Reels for the Collab option.
Depending on where your target audience spends their time on the Internet, your decision in choosing one or the other could be pretty clear. Or your social media marketing goals might require the benefits offered by one of the platforms.
Our social media experts can help you choose the right platforms
If you're unsure of which social media platforms your business should be active on, one of our 450+ digital marketing experts can help you. With the help of WebFX's dedicated strategists, we can help you create a social media strategy that drives revenue.
Whether you're looking to step onto the TikTok advertising scene or revamp your Instagram marketing strategy with some eye-catching Reels, WebFX has got you covered. Contact us online today or give us a ring at 888-601-5359 to speak to one of our strategists!
How is your website's SEO?
Use our free tool to get your score calculated in under 60 seconds.
Get posts by email
Join 200,000 marketing managers and subscribe to Revenue Weekly!
"*" indicates required fields
WebFX Careers
Join our mission to provide industry-leading digital marketing services to businesses around the globe - all while building your personal knowledge and growing as an individual.