Instagram Reels help you create attention-grabbing content that boosts your engagement, improves your brand awareness, and increases your followers. Plus, with Instagram becoming more video-focused, now is a great time to start creating Reels for your business.
But how do you create Instagram Reels in the first place? If this question is on your mind, this complete Instagram Reels tutorial is for you!
Keep reading for your easy step-by-step guide to learn how to make Reels on Instagram like the pros!
Bonus tip: Did you know that 60% of consumers discovered a new product on Instagram? If you're not already promoting your products or services on Instagram, it's time to start. Learn how to launch a revenue-driving Instagram marketing campaign with our free guide!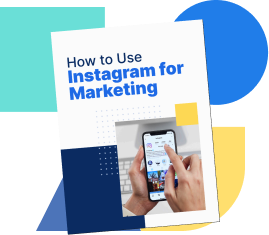 You may now how to post a picture of your cat, but do you know how to use Instagram for marketing? Check out our
FREE

Instagram Marketing Guide to learn more. Show Me the Guide
What are Instagram Reels?
Instagram Reels are short videos, up to 90 seconds long, that appear in the Reels tab on Instagram. Like TikTok, Instagram Reels are vertical videos, so you can scroll for endless amounts of video entertainment.
Reels offer businesses like yours a unique opportunity to show off your brand's personality, build relationships with your audience, and promote your products or services.
7-step Instagram Reels tutorial for 2023
Are you ready to learn how to make Instagram Reels? We've got you covered.
Check out our step-by-step Instagram Reels Tutorial for 2023 below:
1. Pick the perfect settings
Before you begin recording your video, you'll need to select the perfect settings for your Instagram Reel.
To start creating your Reel, click on the plus icon at the top right corner of your screen.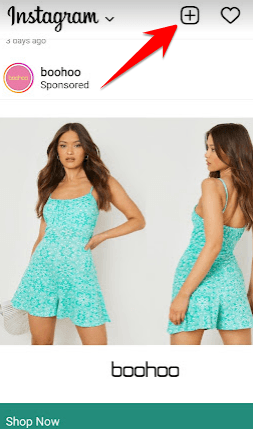 Next, you'll need to adjust your settings:
Video length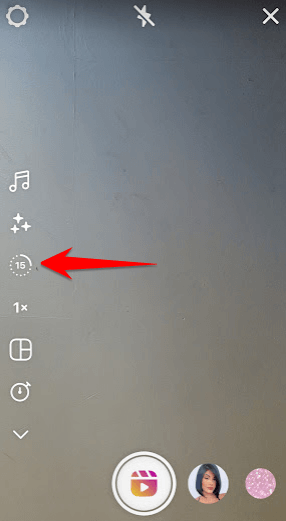 Click on this icon to select the length of your video. You can choose a video length of 15, 30, 60, or 90 seconds.
Video speed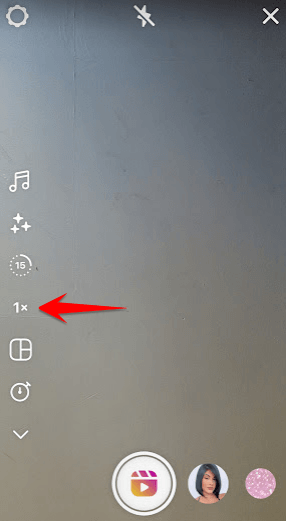 You'll also need to select your video's playback speed. 1X is the standard, real-time speed. You can also choose .3X or .5X if you want to create a slow-motion video. And if you want to speed things up, select 2X or 3X as your chosen playback speed.
Filters and effects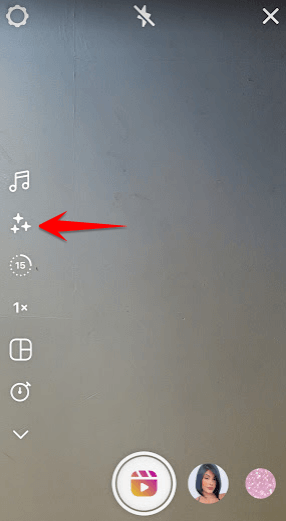 Tap on the stars icon to select your filters and effects. You can choose from several voice effects, filters, and backgrounds.
Timer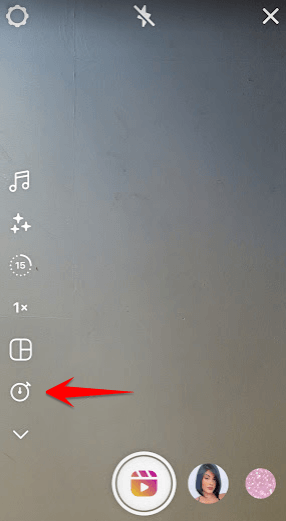 You'll need to set a timer if you want to delay when your Reel starts recording. Drag the slider to select the perfect countdown for you. You can set a timer between three and 10 seconds to record a hands-free Instagram Reel.
2. Add music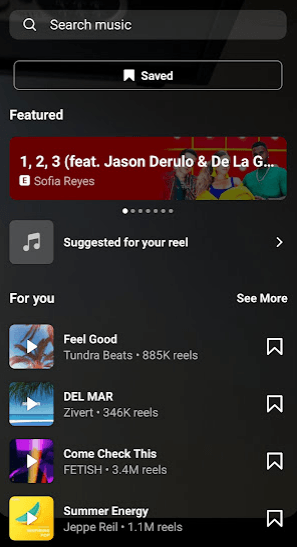 Adding music is a great way to spice up your videos and grab your audience's attention. Wondering how to make Reels on Instagram with music? Follow these steps:
Tap the music icon when creating your Reel
Search for the perfect song or select one from your suggestions
To play a specific segment of your chosen song, tap the album thumbnail in the left menu of your Reel
Choose the segment of the song you want to play during your video
Once you start recording, your song will begin playing
3. Record your video
Now that you know how to make Reels on Instagram with music, let's progress to the next step in our Instagram Reels tutorial, which is to record your video.
Simply press the large record button in the bottom center of your screen to get started.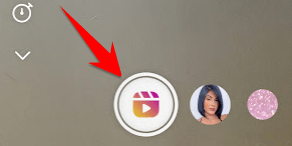 You can choose to record one video for the entire duration of your Reel. Or if you want to spice things up, you can combine multiple video clips into one large video or stop and restart your video to add fun objects, like a costume or another person.
Find out how to create different types of Instagram Reels below:
How to make multi-scene Instagram Reels
To record and combine multiple video clips for your Reel, follow these easy steps:
Start recording
When you're done filming, press the record button again to stop your video
Repeat steps one and two until you've finished recording all of your clips
When you're finished, all of your clips will play back-to-back
How to make Instagram Reels with the align tool
Wondering how to use the align tool in Instagram Reels? The align tool enables you to add or remove an object in your video to create a fun appearing or disappearing effect.
It helps you start your video in the same place your previous clip ended to make it seem like your object magically popped into your scene.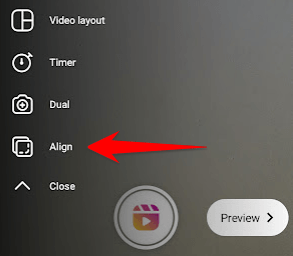 Here's how you can use the fun Instagram Reels align tool:
Start recording
Press the record button again to stop your video
Click on the arrow on the left-side menu to view additional settings
Tap on the new align setting
Add your new object or outfit change
Line up the translucent version of the final frame of your video before you start your new clip
Start recording
When you're finished recording, your clips should play back-to-back with your new object or outfit change seamlessly appearing in your Reel
4. Upload a pre-recorded video
You don't always need to start your Reel from scratch. Instead, you can opt to add a pre-recorded video from your gallery.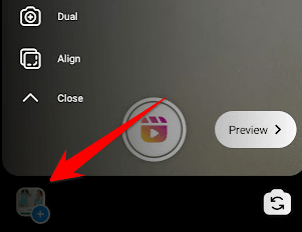 To add an existing video to your Reel, tap on the image of your camera roll in the bottom left corner of your Reel editor and select any video on your device to open it in your Reels editor.
5. Add text and effects
The next step in our Instagram Reels tutorial for 2023 is to add text. After you've recorded your Reel, you'll navigate to a new screen where you can add text, stickers, and other effects, like drawings, to your video.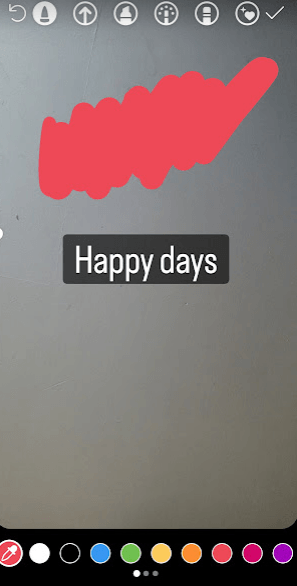 To add effects to your video, click on the following icons at the top of your screen:
Music note: If you didn't choose to add music in step two, but now decided a song would go great with your video, you have another opportunity to add music to your Reel in this step. Tap on the music note icon to add a song, voiceover, or sound effect to your video.
Smiley face: Tap on the smiley face to add fun stickers and pop-ups to your Reel. You can choose from one of the suggestions or search for the perfect sticker to fit your video.
Line: Tap the squiggly line icon to draw images or write text directly on your video. Tap on the new icons at the top of the screen to select from various line types, such as thin, thick, glowing, or chalk lines.
Text: Tap on the "Aa" text icon to add text to your Reel. Choose from various fonts and colors, and then type your message using your keyboard.
Stars: Tap on the stars icon to add a filter to your Reel if you haven't done so already.
You can also select the exact point in your video you want your text, drawings, or stickers to show up.
6. Add captions and tags
In our sixth Instagram Reels tutorial step, you can add your caption and any relevant tags.
After you add your text and stickers, click next to progress to the final screen before you publish your Instagram Reel.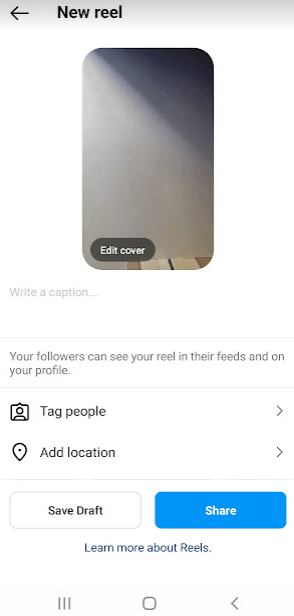 Write an attention-grabbing caption that describes your video and encourages your audience to watch. Your caption will display at the bottom of your Reel once you publish it.
You can also add tags to your Reel. Tag any relevant people or businesses, your location, and add trending hashtags to expand your video's reach and boost your brand awareness.
7. Share your Reel
The last step for how to make Instagram Reels is to share your video with your audience.
Simply click the share button at the bottom of your screen to publish your video to your profile and in the Instagram Reels feed.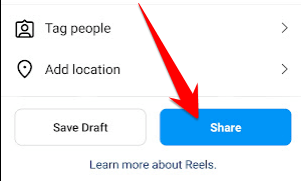 And that's it! Congratulations! You created and published an Instagram Reel, and now you're ready to start reaping the benefits of increased engagement and awareness for your business!
Growing your social presence with WebFX is a walk in the park.
"WebFX allows growing your social media platforms to be stress-free! They are knowledgeable and adapt to your company needs!"
Learn More About Our Social Media Services

Need help implementing effective Instagram reels?
Need help reaching your target audience on Instagram? WebFX can help!
Our Instagram marketing agency offers completely "do-it-for-me" Instagram marketing services. So, whether you want to create engaging Instagram Reels or advertise your products or services, our team can do it all with little effort on your part!
Want to learn more about how our team can grow your business with Instagram marketing? Chat with one of our strategists by calling 888-601-5359 or contact us online. We can't wait to hear from you!
WebFX Careers
Join our mission to provide industry-leading digital marketing services to businesses around the globe - all while building your personal knowledge and growing as an individual.