Social Media

What Is Social Media Advertising? Boosting Engagement with Social Media
What Is Social Media Advertising? Boosting Engagement with Social Media
16 minute read

Trevin serves as the VP of Marketing at WebFX. He has worked on over 450 marketing campaigns and has been building websites for over 25 years. His work has been featured by Search Engine Land, USA Today, Fast Company and Inc.
Did you know 28% of users spend their Internet time on social media? As more businesses realize the impact of social media, they rely more on it to get themselves in front of customers. While social media marketing is a great way to build your profile, social media advertising will help you reach more interested leads and earn conversions.
So, what is social media advertising, and why should you use it? Keep reading to find out!
If you want to stay up to date on the latest social media advertising tips and trends, subscribe to Revenue Weekly!
Guide to
Social Media Marketing for Businesses
Recommendations and tips straight from our subject matter experts!
Get My Free Guide
What is social media advertising?
Social media advertising is a digital marketing strategy that enables you to run paid advertisements on social media platforms. This strategy involves paying to promote content on social media sites to reach interested leads and get them to check out your business.
One of the biggest benefits of a paid advertising campaign on social media is that it lets you reach a much larger audience than the people who currently follow you.
Your ads aren't just shown to everybody, either (not unless you want them to). Social media networks know a lot about their users:
They know general demographics such as age, gender, language, and location.
They know about their user's preferences and behaviors.
They even know emails, phone numbers, and friend circles.
With that information, social media ad platforms let you target just about anyone you could want within reason. With social media ads, not only are you finding new audiences, you're finding qualified audiences, the ones that will most likely be interested in your products and services.
Bonus Reading: How to Rebrand Your Social Media
Why should I use social media advertising?
Now that you know the definition of social network advertising where you can advertise, you're probably wondering why you should invest in this type of social media. Here are five reasons to build a social media advertising strategy.
1. You increase brand awareness
Want something seen? Social media is probably the best place for that. Posting and promoting content that's on your website to social media is a highly effective way to drive traffic to your website and increase people's awareness of your brand.



And with the ability to target people based on information that social media sites have on them, you'll reach new and interested audiences quicker and easier than any other method.
2. You encourage engagement
Social media is where people go to engage with others, including brands. If you want to build lasting relationships, which need quality engagement to grow, you need to be interacting with audiences on social media. That means the ads you sponsor need to be what your audience is interested in.
3. You target more people interested in your business
Boosting your brand affinity is a step up after visibility and engagement. By targeting people interested in your business, you'll start building brand affinity in your audience. Your audience feels an affinity with your brand after they've seen it multiple times and after they've engaged with it, either through interacting on social media or making a purchase.
When you have an affinity with your audience, you build a potentially long-lasting relationship with them. With that relationship, they'll be that much more likely to become a regular customer of yours, relying on and trusting your brand with their future wants and needs.
4. You generate more leads
Each social media ad is connected to a landing page on your website. Some social media platforms like Facebook allow you to place a landing page right in the ad. Because your landing page includes a call to action (CTA) like "Buy Now" and often a form to fill (such as email or phone number), your landing page is how you generate and monitor leads.
5. You earn more sales
Increased leads will naturally boost your sales the more you perform paid advertising on social media. The result of your social media advertising strategy is that the more often people interact with your ads, the more you'll be at the top of their mind when they feel ready to make a purchase.
What type of social media advertising is right for me?
We're glad you asked. In 2023, the top social media ad platforms include:
Each platform offers unique targeting options and ad types to help you reach your audience. Ultimately, the type of social media advertising you choose will depend on:
Your target audience
Your target audience's preferred social platforms
Where your target audience engages most with ads
Let's dive in and look at each platform, so you can choose the best types of social media advertising for you.
1. Facebook advertising
With 1.5 billion active users, Facebook is most popular among adults aged 18-29.

Facebook ad objectives
When advertising on Facebook, you'll first want to set your ad objective. This type of social media advertising offers numerous ad objectives to help you accomplish your goals online. They include:
1. Awareness
If you're looking to reach new customers or boost awareness of your business, products, and services, you'll want to select this objective. Facebook offers two awareness objectives to help you increase buzz about your business.
Brand awareness: Connect with users who are likely to have an interest in your brand, products, and services
Reach: Reach the maximum number of people in a target audience
2. Consideration
After creating awareness, you'll want to drive people down the purchase funnel with consideration objectives. Facebook advertising offers six consideration objectives, including:
Traffic: Drive more traffic to your website
Engagement:

Post engagement: Increase engagement on Facebook content
Page likes: Boost Facebook page likes
Event responses: Earn more Facebook event responses

App installs: Encourage app downloads
Video views: Increase views of video content
Lead generation: Drive sales leads via email and information collection
Messages: Start more conversations with your target audience via direct messages
3. Conversion
If you're looking to drive conversions with your Facebook ads, this objective is for you. For Facebook ads, you can select from the following conversion objectives:
Conversions: Boost purchases, quote requests, form submissions, and downloads.
Catalog sales: Increase sales of Facebook Product Catalog products (for ecommerce stores only)
Store visits: Drive visits to your physical location
Pro tip: You can use awareness and consideration objectives to drive larger audiences for conversion campaigns.
Facebook ad targeting
After determining the objective for your Facebook ad, you can move on to ad targeting. Facebook offers the following targeted ad options to help you reach your ideal audience.
Saved audiences: Create a custom ad audience based on demographics, age, gender, location, interests, and behaviors
Custom audiences: Use data and interactions on websites and Facebook pages to target users who engage with you online
Lookalike audiences: Target customers similar to those in your Saved or Custom audiences — they may share the same demographics or behaviors as other customers you target
Types of Facebook ads
Next, you're ready to choose your Facebook ad format. This type of social media advertising allows you to choose from the following formats:
Single image ads: A single image with a link to your site, headline, copy, link description, and call-to-action
Photo ads: Include photo and text ad copy
Video ads: Feature video ad content
Carousel ads: Add numerous photos in a scrolling carousel
Canvas ads: Combine videos, photos, text, and buttons to create a mini landing page for your ad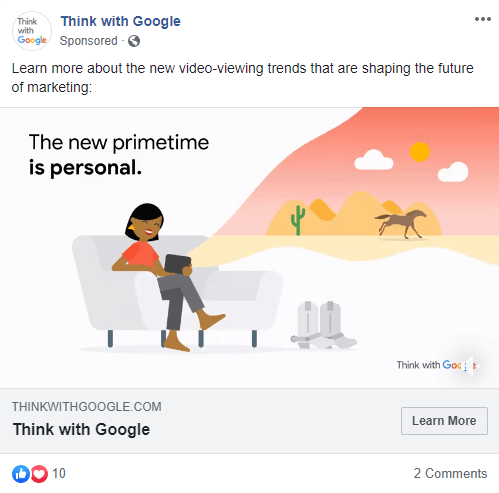 Facebook ad quick links
Want to learn more about how this type of social media advertising can grow your business? Check out these helpful links:
2. Instagram advertising
The second type of social media advertising — Instagram advertising — allows you to make creative photo and video ads to engage your audience. Instagram has a diverse user base with more than 1 billion active accounts each month. Much like Facebook, Instagram offers three ad objectives, so you can tailor your ads to reach your unique goals.

Instagram ad objectives
To recap, Instagram allows you to set ad objectives based on:
Awareness
Consideration
Conversions
Instagram ad targeting
Next, you'll choose between the following ad audiences:
Saved audiences
Custom audiences
Lookalike audiences
Types of Instagram ads
After selecting your objective and targeting options, you can select the ad format for this type of social media advertising. The format options include:
Photos: Include a photo and short snippet of copy
Videos: Include a short video clip to promote your business, products, or services
Carousel: Includes numerous photos in one ad that users can scroll to view
Stories: In addition to the paid ad options above, can also use Instagram stories — videos that appear on your account for 24 hours — to engage followers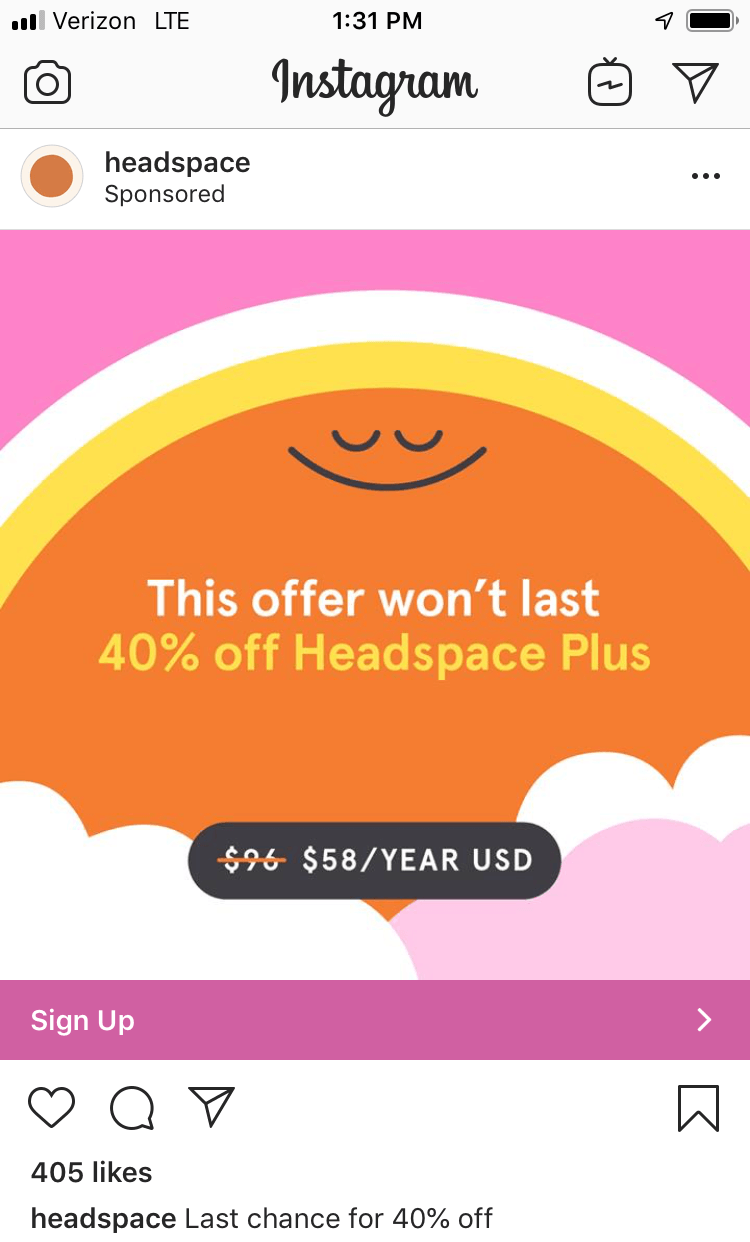 Instagram ad quick links
For more helpful information about Instagram advertising, check out these helpful links.
3. Twitter advertising
The next type of social media advertising is Twitter advertising. With nearly 336 million monthly active users, Twitter is ranked the fifth most popular social media network among adults in the U.S.

Twitter ad objectives
To get started with Twitter advertising, you'll first need to choose between the following ad objectives:
Awareness
Engagement
Traffic
App installs
Followers
Video views
Twitter ad targeting
Next, you'll set your targeting strategy based on:
Keywords: Connect with an audience based on the keywords and phrases they search
Demographics and interests: Target your audiences based on factors like age, gender, income, and general interests
Lookalike audiences: Target users who follow competitors' accounts
Remarketing: Target people who have previously visited your site or engaged with your tweets
Types of Twitter ads
Then, you can choose your Twitter ad format. Twitter offers the following options for ads:
Promoted tweets: Reach a new audience or boost engagement among followers with promoted tweets that appear in users' feeds
Twitter GIF: Engage users with creative GIFs in your Twitter ads
Promoted video: In-feed, auto-playing videos engage users in their timelines
In-stream video ads and sponsorships: Supplement pre-roll video with branded video content
Website card: Image and video website cards allow you to share creative image and video content that drives your audience to a designated landing page
App card: Drive installs and mobile app engagement with media-rich Twitter ads
Direct message card: Provide personalized brand experiences and spark conversations in Twitter's Direct Messages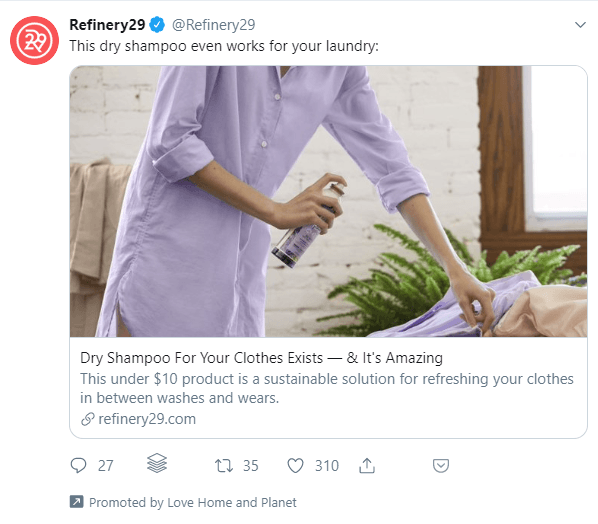 Twitter ad quick links
To learn more about this type of social media advertising, check out these links:
4. LinkedIn advertising
Next, we have LinkedIn advertising. This type of social media advertising gives you access to LinkedIn's professional network of more than half a billion users.
LinkedIn ad targeting
LinkedIn offers the following ad targeting options.
Demographics: Age, gender, geographic location, and more
Company info: Company name, industry, and company size
Job: Title, job duties, fields of study, education, and degrees
Matched audiences: users chosen based on LinkedIn's data and data like web traffic or email lists
Types of LinkedIn ads
After selecting your ad targeting options, you can choose from the following LinkedIn ad formats.
Sponsored content: Appears in users' feeds along with posts and content from other businesses
Text ads: Appears on the side, bottom, or top of users' feed and include CTAs to direct people to your website
Sponsored InMail: Send personalized messages directly to prospective clients via LinkedIn messenger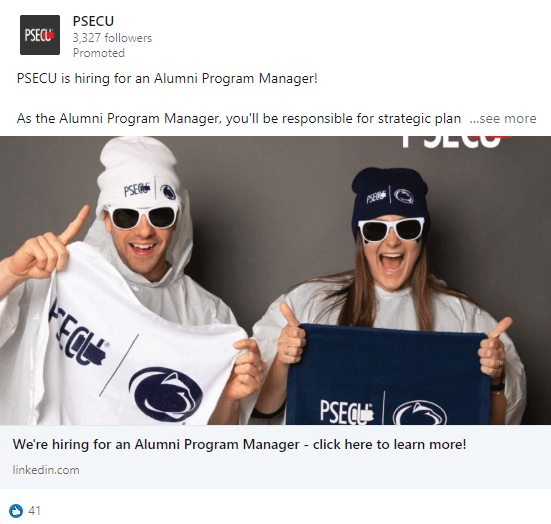 LinkedIn ad quick links
Learn more about LinkedIn advertising for your business by checking out these posts.
5. Snapchat advertising
Popular with millennials and Generation Z, Snapchat boasts a userbase of 300 million active accounts each month.

Snapchat ad targeting
On Snapchat, you can target users based on the following factors.
Interests and behaviors
Demographics
Location
Custom audiences
Lookalike audiences
Types of Snapchat ads
After choosing your targeting options, you can determine the type of Snapchat ad most likely to meet your goals. The ad formats offered by Snapchat include:
Snap ads: Appear in the midst of stories when users view friends' stories on Snapchat
Collection ads: Show a series of products and make it easy for users to shop and buy
Story ads: These ads appear in the "For You" and "Discover" areas of Snapchat and are located with other popular content from news sources and media outlets
AR lenses: Augmented reality (AR) lenses use animated filters to alter the appearance of users' faces
Filters: Create branded filters users can apply to their photos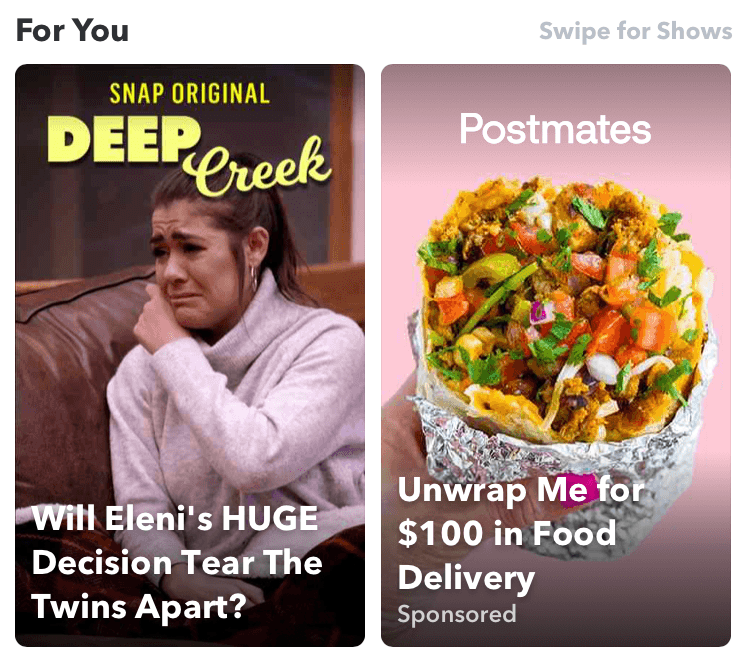 Snapchat ad quick links
Check out these links to learn how Snapchat ads can work for you.
4 tips for social media advertising
For social network advertising to work, you have to build up a social media advertising strategy. Here are four tips to keep in mind.
1. Know your audience
Knowing your audience is absolutely crucial for a successful social media advertising campaign. Paid advertising on social media requires you to know who you're talking to, just like with any type of conversation. If you're mentioning ponies and unicorns in a business meeting going over budgets, it's not likely that you'll be received well.
Same with if you're bringing up taxes and mortgages with kids in preschool. To connect with your audience, you need to speak their language. So, if you don't know your audience, get ready to put your research gloves on.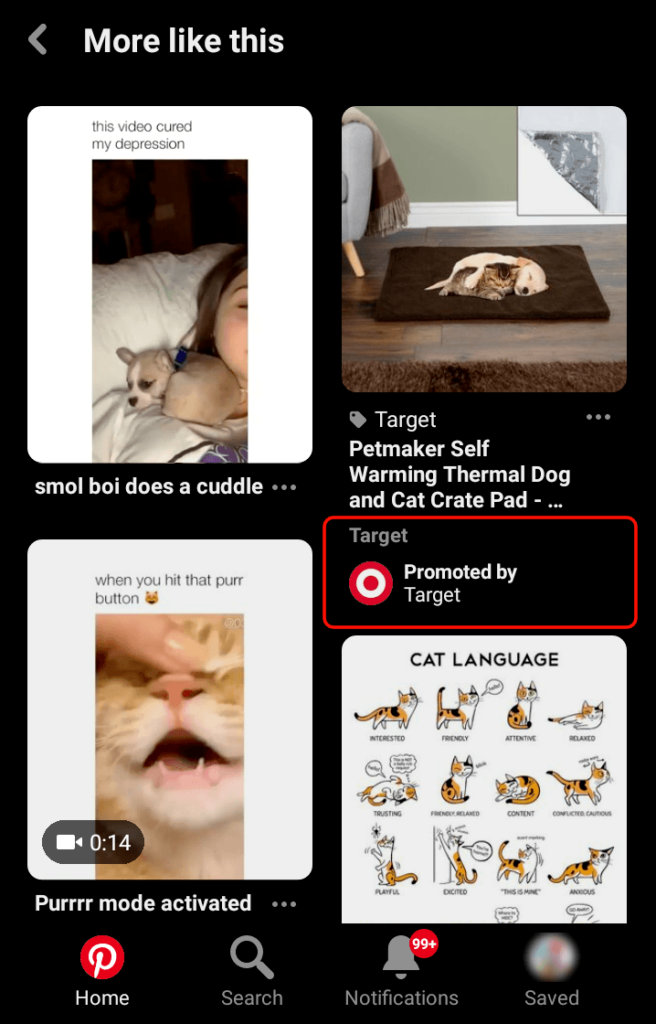 2. Choose a paid advertising campaign goal
What is it that you want to accomplish with your paid social media ads? Without a clear idea, it's hard to measure the success of your social ad campaign. Knowing exactly what you want out of your campaign will save you lots of time, money, and effort.
We've already outlined some social network ad goals above, but here's a refresher plus a couple more of common social media advertising goals:
Lead generation
Traffic
Visibility
Engagement
Brand affinity
Sales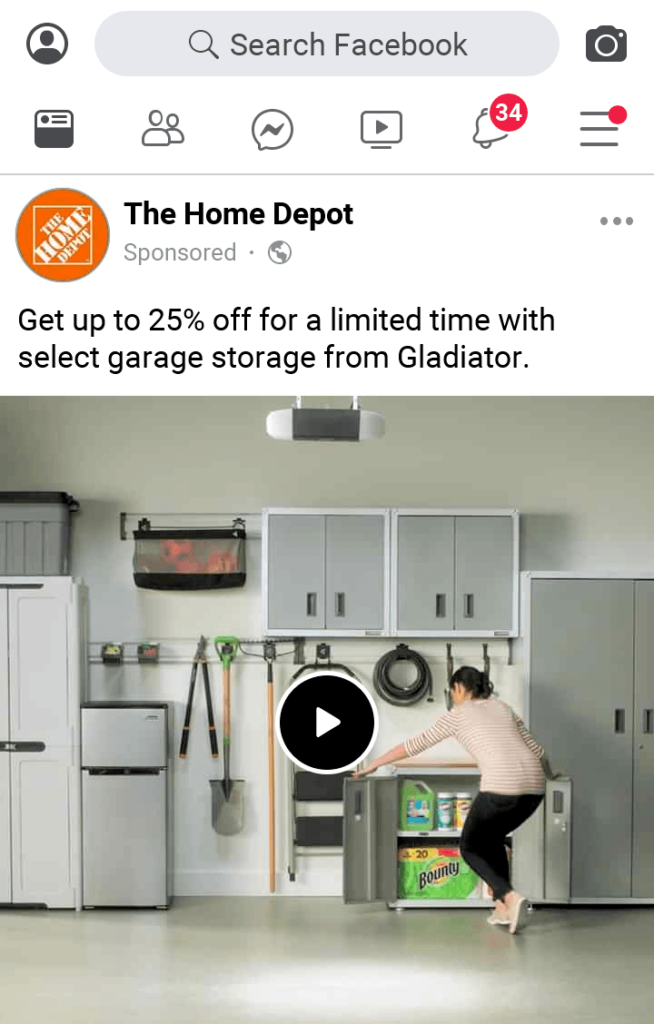 3. Pick your social media platforms
This goes along with knowing your audience. Where do they like to hang out online? Once you figure that out, test out your ads on those platforms and regularly check how they perform.
Not all social media platforms may work for your brand, even if you can find your audience there. Take into consideration the possible benefits of each social platform when choosing which one to stick with. Ask yourself:
Does the overall demographics of this platform match my brand?
Does my audience regularly engage on this platform?
Does my ad format (carousel, video, story, etc.) match this platform?
Am I performing well on this platform organically?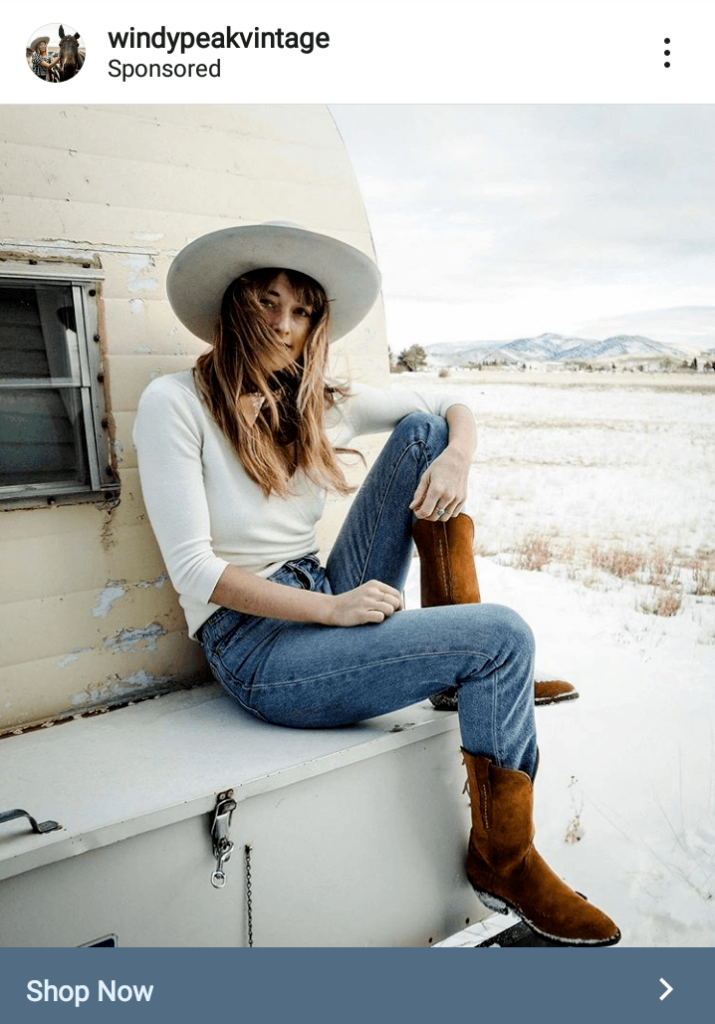 4. Blend social media ads with content
Now you start planning your campaign. You need content that your audience will like in an advertising campaign, so what content do you want to advertise? Your social media campaign should include a mixture of both organic content and your paid advertisements.
In other words, your social media campaign shouldn't be separated into two distinct categories: paid and organic. Think about how your organic content can blend with your paid content, and vice versa. The way to keep them tied together is to have a theme for your ads and posts, a theme that moves people to action.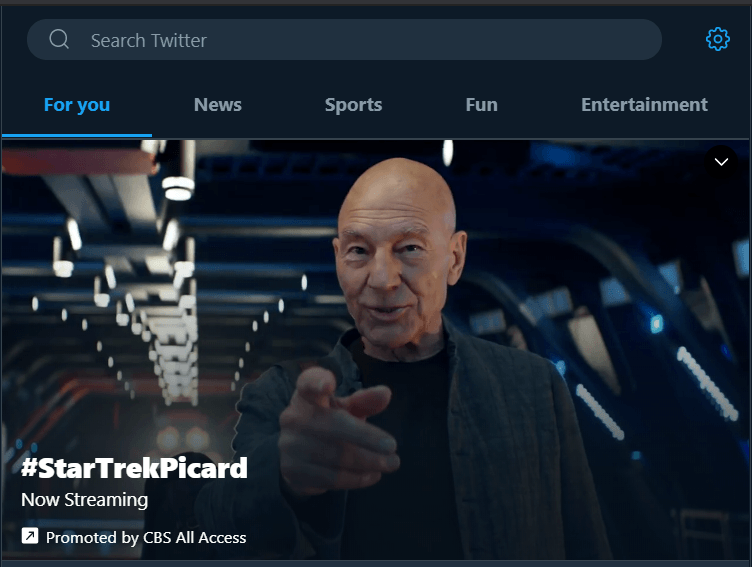 Bonus Read: Social Media for Chimney and Masonry
Get ready for social media advertising with WebFX's services!
A social media advertising campaign takes a lot of work. You have to plan, create, test, analyze, and manage ads. If you're feeling overwhelmed with running and monitoring your social media advertising campaign, WebFX can help.
With our social media advertising services, we'll help you set up advertising campaigns that drive results. Whether you want to drive traffic or boost sales, as a leading social media agency with over 500 social media experts, we'll be there with you all along the way. Contact us online or call us at 888-601-5359 to learn more about our social media advertising packages!
Trevin serves as the VP of Marketing at WebFX. He has worked on over 450 marketing campaigns and has been building websites for over 25 years. His work has been featured by Search Engine Land, USA Today, Fast Company and Inc.

WebFX provides digital marketing solutions with expert marketers, designers, and developers to increase visibility, conversions, and revenue.

Learn more
Twitter and Facebook Status Generator
Finding engaging social media content for your business can be difficult. Use our tool to quickly find ideas and post directly to your page.
Give Me an Idea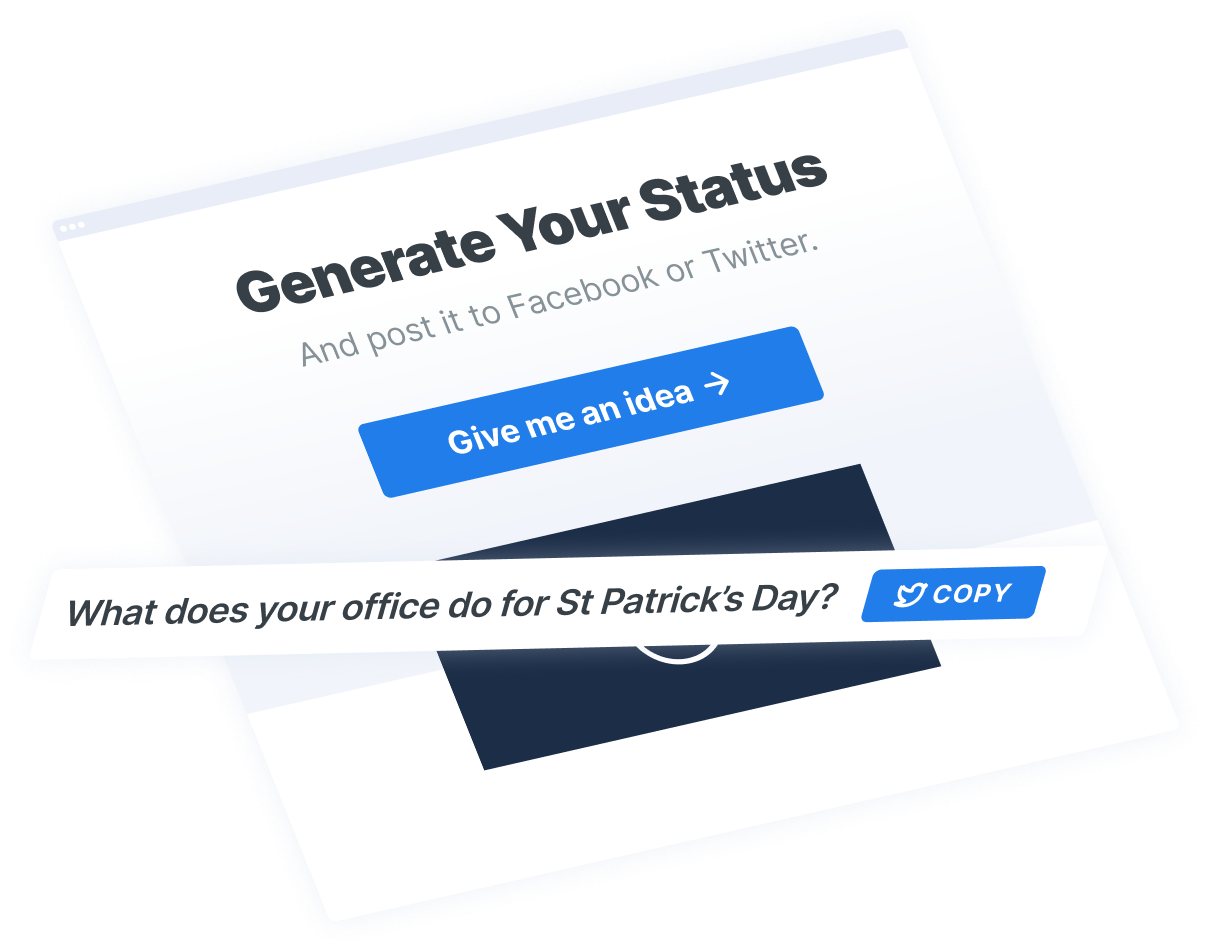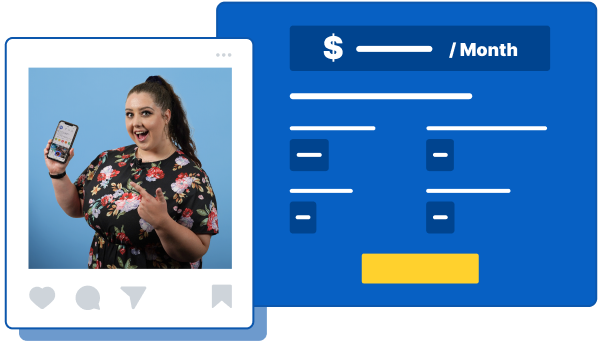 Twitter and Facebook Status Generator
Finding engaging social media content for your business can be difficult. Use our tool to quickly find ideas and post directly to your page.
Give Me an Idea