Content creation is an important part of your digital marketing plan. It drives traffic to your site and helps you earn new leads.
You can create blogs, video, and infographics to capture the interest of your audience. These are great options for your business to bring in traffic and capture new leads.
The goal of any piece of content is to engage your audience. You want them to interact with your page and spend time on it. It is important that you keep their attention, so they spend more time learning about your business.
So, how can you keep people engaged on your page?
One of the newest ways to catch your target audience's attention is gifographics. Gifographics are a newer form of content that focus on engaging your audience with visual elements that help them learn more about your business.
On this page, we'll discuss why gifographics are so important and best practices for incorporating this content into your digital marketing plan. If you want to start incorporating gifographics into your digital marketing plan, call us today at 888-601-5359 to speak with a strategist!
Good agencies have more than 50 testimonials.
Great agencies have more than 100 testimonials.
WebFX has over 1000+ glowing client testimonials.
See What Makes Us Stand out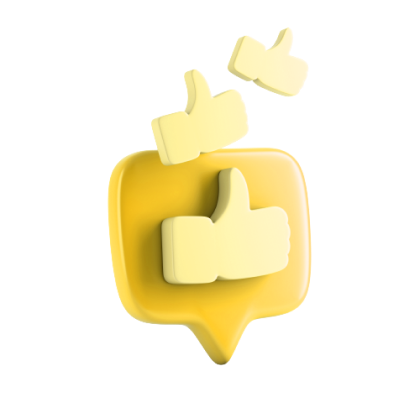 What are gifographics?
The term "gifographics" was popularized by marketing experts like Neil Patel in 2014. The phrase is becoming increasingly popular as more businesses use gifographics, but what exactly are they?
This term is a combination of three terms: GIF, info, and graphic. GIF stands for Graphics Interchange Format. These are popular moving pictures that you often see on social media pages.
The other components of a gifographic are the information and the graphic. Like an infographic, gifographics contain important information presented with visual elements like photos. These are visual pieces of content that catch the attention of your audience.
So, what's the difference between a gifographic and an infographic?
Gifographics have the same elements as an infographic, except they also include an animated portion. This is where the "GIF" part applies. Gifographics has important photos and information like infographics, but they also have the addition of animation.
The only real difference between the two is the addition of animation. To get a better idea of what a gifographic is, check out these great gifographic examples!
Gifographics take infographics to the next level. These graphics have the power to strongly impact your content marketing plan.
Why are gifographics important?
If gifographics are just animated infographics, what makes them so special? Why should you incorporate them into your content marketing plan?
1. They help your content stand out
With so many businesses using content marketing, there are tons of blog posts, videos, and infographics circulating the web. People are constantly exposed to content, which can make it difficult to get your content to stand out.
Gifographics help your content stand out. These graphic pieces add visual interest to your infographics. Since gifographics are still fairly new, there aren't very many out there.
This is an opportunity for your business to use gifographics before they become oversaturated in the content market. It is a great way to make your content unique and eye catching for your audience. Gifographics are a great option for freshening up your content.
2. They are effective
The hardest part about content creation is creating effective content. You want to keep your audience engaged and help them remember your content. Gifographics do just that for your audience.
Gifographics take information and condense it into one helpful photo. You can get the most important information on a topic out of the gifographic. It provides your audience will important information in one concise photo.
These pieces of content are also more memorable. Many people are visual learners, so they absorb a visual piece of information better than all text information. This is why content with visuals gets 94% more views than all text content.
Gifographics help your audience effective remember important information.
3. They build your brand
When people interact with your page, you want them to become familiar with your brand. This is even more important if your leads don't make a purchase right away. You want them to recognize your brand later and choose your business over the competition.
Gifographics make your business memorable. These graphics are unique and stand out to your audience. By creating them, your business will stand out.
If you want to make your business memorable, gifographics offer a great opportunity to help your audience remember your business. By building your brand with gifographics, you will capture more leads for your business.
5 tips for using gifographics
So, now that you know why gifographics are so important to your content marketing plan, you may wonder how you can make the most of using them. There are a few tips you can follow to make the most of using gifographics.
1. Keep your audience in mind
You don't want to create gifographics just to create them. You need to keep your audience in mind as you create them. Like any other type of content, you need to produce content that appeals to your audience.
Your gifographic should be relevant to your business. You want to keep it in line with your industry. This will ensure that you are attracting people that are interested in your products or services.
If you are creating gifographics, you want them to contain information that is helpful to users. You want it to be relevant and helpful for your audience. By keeping your audience in mind, you will see better results with your gifographic.
2. Be consistent
If you're going to create gifographics, you want to be consistent. This doesn't mean that all your gifographics have to be exactly the same. It just means that they should have similar characteristics.
Whenever you market your business, it is important to be consistent across all platforms. This helps build your brand. When people see your brand, they recognize it because you are consistent with your presentation.
The same idea applies to gifographics. You want them to be consistent each time you create one. This enables you to build your brand recognition, which will help your business.
3. Repurpose your content
Gifographics offer a great opportunity for you to repurpose your content. You can revive old posts that you think your audience would enjoy with an added visual.
It doesn't matter if the post was popular or not. You can choose any post that contains valuable information, and you can turn it into a graphic. This enables you to enhance your previous content by adding an engaging visual element.
By using gifographics, you can repurpose your content to generate more interest in your content and obtain more leads for your business.
4. Share them on social media
Like infographics, gifographics are great pieces of content to share on social media. You want to take advantage of the opportunity to share this content on your social media pages.
Gifographics are easy pieces for your followers to share with their friends and family. Many social media platforms, like Facebook and Twitter, have adapted to make GIFs easy to post. This applies to gifographics, too.
You have the opportunity to spread your gifographic to other people. This means you can reach more potential leads that you could not reach previously. You can expose your business to more people by creating and sharing gifographics.
Gifographics are a great way for your business to engage people on social media and boost brand awareness.
5. Use them on your site
You have a great opportunity to spruce up some of your pages by using gifographics. These graphics can be used on different pages of your site. It's a great way to add a visually interesting and engaging element to your page.
You'll want to use them on pages where there is information that can be made into a graphic. It is best to strategically choose pages that will benefit from a gifographic. You want to focus on pages that need high user engagement to get conversions.
As you put them on your site, be careful you don't use them too often. This will take away from the value of gifographics. Use these graphics in places where they will have the highest impact.
By integrating gifographics into your site, you will create visual interest on your pages that will engage your target audience.
Let WebFX help you shape your content marketing plan
Gifographics are an important part of your content marketing plan. This form of content has the power to attract leads and keep them on your page. If you're looking to create a content marketing plan with gifographics, WebFX can help.
We're a full-service digital marketing company with experience creating customized content marketing plans. We have a team of 500+ experts that will bring their knowledge and expertise to your campaign. Our award-winning team will build a customized plan that fits your business' needs.
We know how to drive results. To date, we've driven over $3 billion in sales and over 7.8 million leads for our clients. We focus on putting our clients' success first.
Our clients love the work we do, too. We have over 1000 client testimonials. Check them out to see what it's like to partner with a top content marketing company like WebFX!
Get started today
If you're ready to start gaining more traffic and earning more leads with gifographics, contact us online, or call us today at 888-601-5359 to speak with a strategist.
We look forward to hearing from you!