The Internet has created a wide range of new marketing opportunities for all professionals, including architects. It not only allows you to reach more potential clients for less money, but it also allows you to easily adjust if your current campaign isn't meeting its goals.
Over time, Internet marketing methods like SEO, PPC, social media, and email marketing have become standard tactics for marketers. Most websites already use blogs, emails, and social media pages to promote their business. However, it's important to use marketing ideas for architects that stand out from similar plans and help your business stand out from your competitors.
Here are six creative suggestions you can use to improve your marketing strategy. Keep reading if you want to learn more, and give us a call at 888-601-5359.
Our digital marketing campaigns impact the metrics that improve your bottom line.
See More Results

WebFX has driven the following results for clients:

$3 billion
In client revenue

7.8 million
Leads for our clients

5.2 million
Client phone calls
1. Turn case studies into compelling stories
Social media marketing for architects typically involves sharing photos and videos of projects, but what's the story behind these projects? Why did you choose one design over another? Which materials were used to create your vision? Write a narrative around each project and turn your photos into compelling case studies.
Treat each project as if it were a mini-documentary. Record the entire process, from the sketching phase to the last day of construction. Snap photos along the way, and take notes, so you can write a case story from a more personal perspective. Once everything is organized, you can present it as a blog post.
Alternately, you can also repurpose these case studies for an online portfolio, or submit them as a news story for the local press.

Hear What It's Like to Work With WebFX!

"WebFX did amazing work creating a new website for us on a tight schedule. They have taken the time to learn about our business and give us ideas of how to make our digital marketing better. We still have work to do with WebFX but overall very pleased."
Professional Service
2. Employ local SEO techniques
It's not uncommon for architects to work on projects all over the world, but many of your potential clients are likely local. This means that if your strategy doesn't include local marketing strategies and keywords, it's time to start. Creating pages that are targeted to local clients can have a huge impact on whether they decide to contact you.
SEO, or search engine optimization, is one way you can increase the likelihood of your website showing up in searches for relevant keywords. Local SEO refers specifically to improving your visibility for local keywords — for example, "architectural firm in Philadelphia."
Make sure your website copy includes references to the nearest big city. You might operate in West Chester, Pennsylvania, but adding a keyword like "greater Philadelphia area" to your site expands your range of potential clients.
Additionally, you should link to your website from directories or review websites like Yelp and the Yellow Pages. You can also reach out to local bloggers, so they start writing about you, linking to your site and driving more valuable local traffic your way.
3. Market to your industry peers
Many agencies that create marketing ideas for architects recommend this strategy. Like other professionals, architects are hired for their knowledge and expertise. That's why it's important to build a good reputation among your peers as well as potential clients.
Social media marketing for architects, for example, is as much about building credibility as it is generating business. Developing content targeted to other experienced architects is a great way to achieve this.
Your fellow architects are already familiar with the basics, so your content can sometimes be more technical. They already know how to make sketches, but they might not be familiar with the latest CAD software program or the latest architectural trends. You could write a blog post or tutorial about a topic like this, then share it within your community to gain more exposure.
Telling other architects something new builds your reputation and make you stand out even more among potential clients.
4. Create an infographic
Studies from TheNextWeb and other sources show a clear preference for visual content over text. Just as photos and videos bring your talents to life, an infographic can present your expertise in an interesting—and more shareable—format.
The next time you want to explain a topic on your blog or website, consider whether it would translate well into a visual medium. This format is especially useful if you want to present a lot of statistical data, and infographics tend to get shared more than regular blog posts or articles with no graphics.
A blog about trends in home size or the cost of construction could be overwhelming if it has too many numbers. By contrast, an infographic presents the numbers in a series of charts or graphs, which makes them easier to follow.
5. Host an architecture contest
Sometimes, you have to make news to get people to notice you. One way to do this is by creating an event that's so fun and interesting that it garners attention, even from people who aren't typically interested in architecture. A contest is that kind of event, and it can raise awareness of your business in the process.
Contestants could describe or draw their dream homes, buildings of the future, or some other interesting topic. Depending on your end goal, you could open the contest to children, teens, or adults, and give away prizes that are related to architecture.
You can also partner with other organizations along the way — they might provide additional prizes and develop content that makes your contest even more newsworthy.
6. Announce creative additions via email
Email has the potential to be a huge driver of website traffic. This means that regardless of your goals, you should be using it as a marketing channel.
People sign up for email newsletters to stay in touch with the businesses they're interested in. If you send an email announcing a fun new website feature like an interactive drafting board, for example, you could earn much more traffic than if you'd simply announced it on your social channels.
This kind of feature could serve two purposes. First, it's a way to bring people to your site and keep them there. Second, it could be used as a business development or RFP tool. For example, instead of drawing on a board, prospective clients could provide specs and see what their ideal building would look like — and then you could step in and offer it to them.
Attract more clients online with creative marketing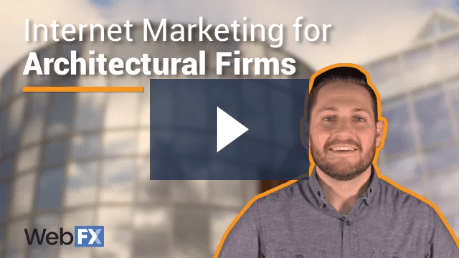 Now that you've heard some new ideas for marketing your architectural firm online, you may want help putting them into practice. At WebFX, we have extensive experience implementing SEO, social media, email marketing, and website design strategies for architects, which our creative digital marketing agency uniquely fit to help your business grow.
We'll work with you to develop innovative marketing strategies and then bring them to life. Whether you need help building content or measuring your online marketing efforts, we offer a wide range of marketing services to help you meet your marketing goals. We also offer completely customized plans created to suit your individual needs, as opposed to cookie-cutter packages that don't give you what you need to succeed online.
To learn more about what WebFX can do for you, contact us today with your ideas. We'll be happy to put together a no obligation quote for your marketing!
Earn a 20% greater ROI with WebFX